Facebook as a social media platform has amassed the largest number of monthly active users and members. Few social media platforms can dream of achieving the amount of success Facebook has managed to reach. Facebook has powered through its fair share of controversies and triumphs, and this boils down to one reason- its ability to empower marketers and entrepreneurs worldwide.
Facebook is a comprehensive social media network and is popular among all ages and varied demographics. As a result, it has long been a favorite platform for marketers and business professionals looking to build a highly focused and loyal customer base from around the world. Facebook is more than just a social media platform where you and your pals discuss birthdays and send memes. So what is the reason to use Facebook for your marketing needs?
The importance of Facebook Marketing and audience reach :
According to a recent study on marketers, Facebook is still the most lucrative social media marketing tool available. In The Future of Social Marketing study, a whopping 95.8 percent of participants selected Facebook as one of the top three contributors of return on investment (ROI) across all social networks.
In contrast, 63.5 percent of participants named Twitter as one of the top three ROI drivers, while 40.1 percent identified Instagram as one of the top three ROI drivers. These statistics come from a well-informed perspective of just how much Facebook can help you achieve in terms of marketing. If you're not yet convinced, take a look at the following statistics:
Facebook's revenue for the fiscal year ending on December 31, 2021, was $85 billion.
Facebook's annual growth rate in 2020 was 57 percent.
Fifty-six percent of people use Facebook to gather information.
With around 2895 million monthly active users, Facebook is the most popular social media network in 2022.
The last bullet point is especially significant to marketers worldwide. The number of monthly active users guarantees a massive audience base within which you can create your niche. The news cycle is Facebook's top pick for users. The allure for marketers is undeniably the marketing toolkit, which is always expanding. Facebook is primarily user-friendly and well-liked by the majority of people.
Marketers used it to embrace the potential to create witty content for their fans, which resulted in high interaction and the cultivation of relationships with prospective clients. The concept of "build it and they will come" is what pushes marketers to build an attractive profile on Facebook.
As Facebook evolved and expanded, so did the knowledge needed to successfully navigate the platform for social marketing. It is no longer enough to have a large number of posts on a Facebook Page. Facebook marketers must have a strong command of the platform and its capabilities. This, in turn, requires marketers to have sufficient know-how to engage users effectively.
Facebook profiles and pages are the stepping stones to advancing your marketing and sales efforts. In this post, we'll look at how to optimize your profile, pages, posts, target audience, build brand awareness, launch and track advertising, collect extensive audience information, and chat with users who need assistance. We'll be decoding the best ways to experiment with Facebook in order to offer you the results you need for your social media marketing strategy.
Let's get right into it!
Find your target audience, establish a niche and offer relevant solutions.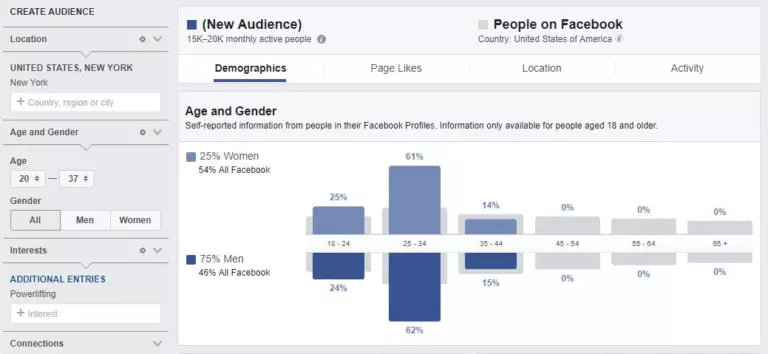 | Image Credit: Newsfeed |
Before we begin, let us discuss the most crucial factor we must keep in mind during our social media journey, not only on Facebook but also on all other platforms. Whether it's a service or a product, consumers always look for individuals or organizations who can cater to their unique needs. So, how do companies reach audiences with these unique needs? And how can we convince someone to place their trust in us in terms of our services or products?
This is where our brand image has a role to play. To help you better understand what I mean, let's perform a short activity:
What is the brand or service provider that springs to mind when thinking of eCommerce or online delivery? Or what brand comes to mind while thinking about electric cars?
The majority of us will undoubtedly say Amazon and Tesla. These brands come to mind as they've made a name for themselves in their niche. For instance, the idea of ready to assemble decor brings to mind the Swedish-founded business Ikea. Most of us associate certain products with brands that popularised the product. When it comes to marketing, this idea association is essential in increasing sales and revenue. So what's the precursor to Facebook marketing?
Find your target audience.
Ensure that your product caters to a unique niche.
Offer solutions that are relevant to the buyers within your unique niche.
Finding your target audience
The first step to marketing, no matter the platform, is to find your target audience. The four factors you need to figure out are:
Demographics: This includes basic details like age, gender, income, and so on.
Psychographics: This factor involves deeper considerations about your buyers' lifestyle, values, beliefs, and attitudes.
Location: If you're currently selling in a specific region, your buyers too will belong to the same area. Similarly, shipping and several services tend to depend on the region involved which makes it an essential factor to consider.
Value offering: Now, this factor depends on your business entirely. You need to ask yourself, what problem or challenge does your business help consumers overcome? The problems your product solves will help you find people facing the very same issues.
For example, you sell a B2B sales enablement software. In order to sell successfully, you will have to segment your target audience and find out who fits your ideal customer profile. Your ideal customer is someone who should display the following traits:
They must be a resident of your country as you don't offer international services yet.
They must be business owners facing problems in terms of empowering their sales teams.
They should have medium or small-sized businesses as you don't offer enterprise solutions.
Most of your buyers will be of older age groups as a majority of them make up the decision-makers in their company.
In this manner, you've narrowed down your ideal customer persona to a tee. Once you figure out your ideal customer, you can target users who fit those requirements first. This ensures high-quality leads who are looking for the solution you offer.
The next step is to create a marketing strategy that helps you reach your target audience and help you create your unique niche online. And this starts with creating a Facebook page that helps you sell to your target audience from wherever you are and whenever you want.
Now that you know what you should have covered before you start your Facebook marketing journey, let's get into our guide for Facebook Marketing!
Facebook Business Page: How to Build, Optimize and Target
The first and most critical step in your Facebook marketing journey is to create a business profile on Facebook. This is where you and the audience will be able to interact gradually. These are all the technical aspects you need to carry out before you settle on a marketing strategy.
So, let's start creating and setting up a business page.
Create a Facebook business page: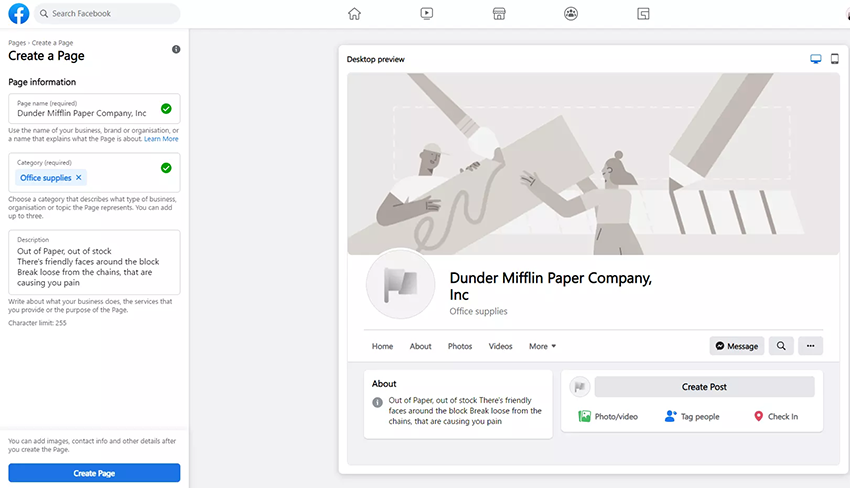 Most of us commonly see individual user profiles on Facebook within our friend and family circles. In fact, Facebook contains a majority of personal profiles instead of pages. Most people run their business and interact with your audience through a company profile, not business pages. This kind of interaction with people without creating a business page and committing oneself as a business can be banned or disapproved of by Facebook.
Business pages are considered more authoritative and function as a public profile for your business. These business pages let your audience get better insights related to your business alongside more information about your products/services compared to a simple profile. Connecting with people as a friend when you're trying to market your business makes little to no sense. Instead of a business page, you can directly connect with your ideal customers and create content that is relevant to their needs.
So, you should create a page for your specific business rather than creating a profile and interacting through it.
Steps in creating a business page:
Step 1: To create a new business page, simply click here or go to your Facebook account and navigate on the left sidebar to

Select the Unlock More Icon click on pages create a new page

If you are not signed in to your business account, sign in now, or it will redirect you to your personal profile or the profile you are logged into. But don't worry, the Facebook pages are private, and they will not display your personal information on the company page you build.

Step 2: You will now be prompted to select between a business page, a community page, and a public page.

These options are for better personalization of your business and how people engage with it. If you are a business, select business pages. In contrast, if you wish to build a community or public page, select the other option.

Step 3: Enter a name for your business page.

Always think twice before naming your page. Because much like your brand name, your business page name will represent your brand and how consumers choose to interact with your company. As a result, always choose a business page name with branding in mind.

In most circumstances, Facebook will allow you to alter your name and URL after you create them. But it can be a challenging and perplexing procedure. So, be prudent and pick your brand name consciously. When all of this information has been entered, click on the "create page" button at the bottom. After clicking on the "create page" button, save your edits to be uploaded for the next steps.

Step 4: Provide a description of your company's Facebook page.

Facebook will ask you to submit a brief description of your business page. Through this description, your audience and Facebook will learn more about your company and the reason for creating this page. Generally, your page description informs visitors about your company, services, and goods. As a result, strive to keep your description brief, engaging, and meaningful.

When drafting the company page description, there is a word limit of 255 characters. So, be expressive and catch your customer's attention in a limited number of words.

Optimizing Page Information And The Branding Factor (Advance Page Changes)

We have already entered the fundamental information for your business page- such as the page name and industry type. Now comes the real magic, in which we will focus on making your page more relevant, attractive, and search engine friendly. Doing this pushes the page's potential to boost your reach by 10X and is one of the most essential variables in Facebook marketing.

| Image Credit: adomasbaltagalvis |

Step 5: Select an Eye-Catching Brand Relevant Profile Photo

Your profile photo will serve as your brand's image in all areas where your page appears. This includes search results that appear directly next to articles or other content in the news feed. An attractive branded profile image will take your business page to the next level.

This image will assist you in defining and managing the branding of your Facebook page in order to improve brand and service recognition. Always select an image that represents your brand and boosts your public image positively. Choosing a high-resolution square image of preferred size 180 x 180 pixels would be ideal for a profile image. But, invariably this size can slightly differ according to your needs, so pick what you believe is the right fit for your team.

Step 6: Add an attractive cover photo.

Facebook will now advise that you upload a cover photo to your business page. When people visit your page, they will see this as a large rectangle cover image. The cover image is quite important in marketing your Facebook profile and getting customers to know you better.

To increase awareness among the audience, Facebook covers are frequently altered in response to special deals, seasons, and > business-related information. So, to improve your business and marketing on Facebook, always strive to use an attractive image > that may catch the audience's attention at a glance.

To upload cover photographs, simply click "Add Cover Photo" in the editing box or choose the "edit" option, which will take you to the image you want to use. Then, for your cover photo, you can make a slideshow or upload image alternatives. The recommended size for a Facebook cover image is 851 x 315 pixels. However, if your photo is not exactly the right size, you can reposition it by dragging. Once it's all done, you can press the "Save" button.

If you want to change the image in the future, simply click on the same edit icon in the bottom right corner of your cover photo. Choose one of the options as you want from the cover photo of your Facebook page.

Step 7: Claim A Brand Username that is easy to remember

One of the most crucial steps while setting up your Facebook business page is claiming a username. A username is a name specifically given to only you on Facebook and will work as a unique identity for your business over Facebook. The username will appear on the custom Facebook URL. Through searching this name on Facebook, people will be redirected to your business page.

You only have the 50-character limit for your username. So be wise while choosing it and always try to make it short and simple. Try to create user-friendly and catchy names for better Facebook marketing.

Step 8: Create Shortcuts and Personalize Notifications

On the desktop to enable access to your business page simple and convenient, you may easily create shortcuts that will allow you to instantly visit your business page from your Facebook dashboard.

Now, let's talk about customizing your Facebook page's notification. Notifications can be strange and frustrating at times, as we have seen and experienced. As a result, you can quickly tailor your notification settings to your specific requirements.

To manage notifications, go to "Settings" and then to the "notifications" tab.

This section allows you to customize how you receive notifications and alerts for activity on your page. Mark all comments read, set notification alerts to be aware when you receive a notification.

These are the key steps to creating a businesses page. The next task is to divide roles and responsibilities among your social media management team.
Create Facebook Page Roles (Manage Workflows And Distribute Responsibilities)
If you are working with a team to market your Facebook page, creating page roles is an excellent way to divide responsibilities according to their tasks. This option makes it easy to distribute work among members simultaneously and extract good results effectively.
Your entire team can work on the same business page based on the page roles and tasks assigned to them. You can easily monitor each of them and gain an overview with the help of their job reports. Page roles make it easier to assign work and exercise limitations over the controls that your page can supply.
Imagine you have a team of professionals who excel at specific jobs such as editing, graphic design, content writing, and so on. Consequently, by using a page role, you can easily assign them a post and editing level based on their work, and you can also be an admin.
Follow these procedures to configure page roles:
Setting on the left sidebar then navigate to and click on page roles.
Here you will be able to see the "existing roles" and "assign new roles." Choose the option that you're looking to implement and click save.
You may easily add new members by entering their email address or Facebook user name and creating a certain page role.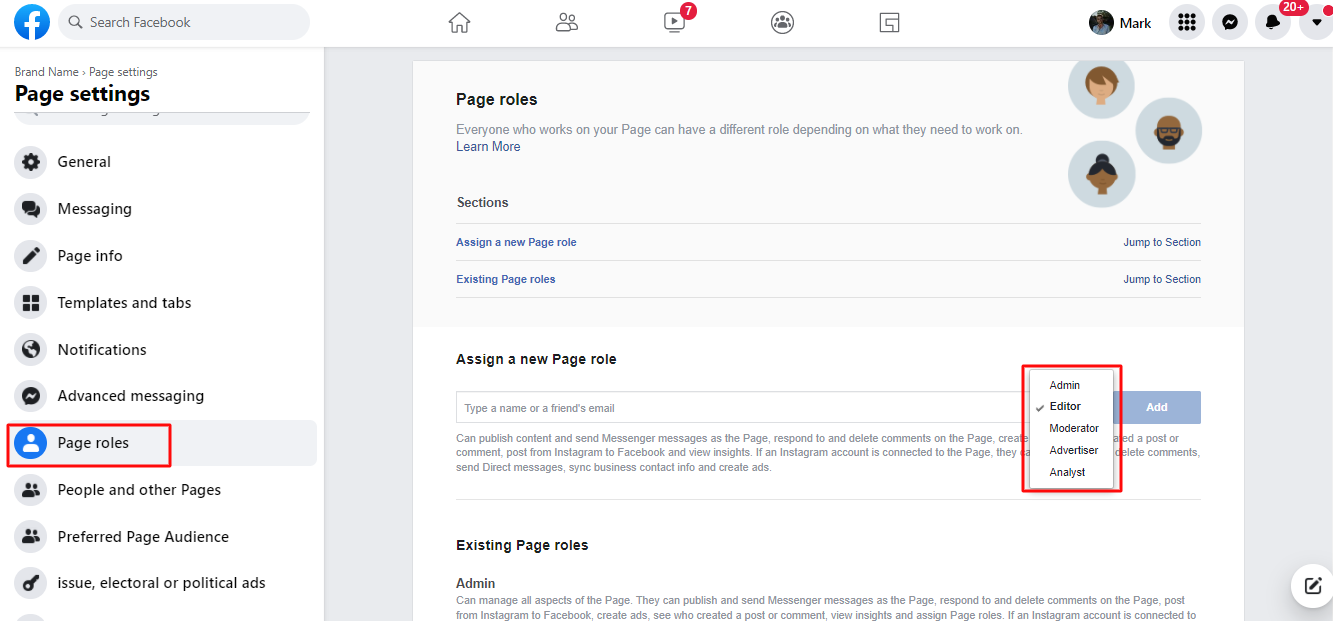 People can be assigned to one of five different page responsibilities. Moreover, each of these roles has a set number of functionalities and limitations.
Admin: The admin can carry out almost every alteration related to the Facebook page, which includes- posting content, managing comments, replying to customers, administering page roles, managing ads, and so on. You can say that the admin is known as the page owner and can perform all responsibilities.

Editor: The editor on a page has all the rights and power of an admin except assigning the page roles.

Moderator: The moderator can send messages as the page representative, respond to and delete comments on the page, create ads, see who created a post or comment, and view insights. If an Instagram account is connected to the page they can respond to Instagram comments, send direct messages, and create ads.

Advertiser: The advertiser primarily creates ads, views who created a post or comment, and garners insights. If an Instagram account is connected to the page, they can create ads.

Analyst: The analyst generally focuses on page insights and can see which admin created a post or comment.
Edit the information on the page according to your personalized offers
You can quickly edit the entire page information, which is displayed in strong letters to the page visitor. This may be quite beneficial to the audience in learning more about your company. In the page information area, you can tell readers everything they need to know about your company. Name, description, username, phone numbers, Whatsapp numbers, and others, business category, your service location, Email address, website address, opening hours, and many other details that a customer wants to know about a company.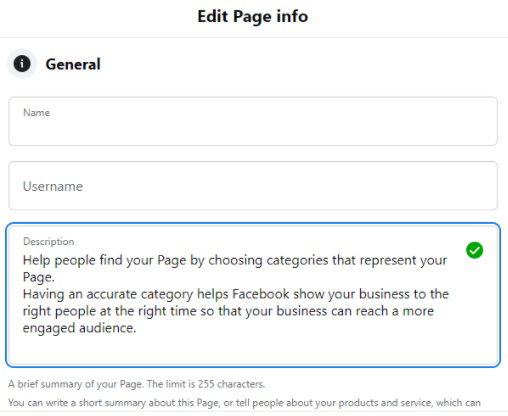 Simply go to edit all of your general page information.
Find the "edit page information" tab in the left sidebar and click on it to see and edit the information.
You can include as much information about your company as you like, as well as social links that will direct a lot of traffic to your other resources from your Facebook page.
To Market Effectively, Customize CTA Button
When we visit a highly customized Facebook page, we always notice a CTA button on the right side of the page that says "Massage Now," "Book Now," "Call Now," "Send Mail," "Shop On Website," and many other options based on their demands and company needs.
As a result, these buttons can quickly supply you with 10X greater outcomes and cause consumers to take swift actions based on their desire to purchase or gain information. At the moment, you can also include a featured Whatsapp button. In the future, add this CTA button to your Facebook business page according to your unique needs.
Click on "Add A Button" directly below your Facebook cover photo to bring up a popup with a long list of highly customizable buttons to help you with your marketing efforts.

Organize Your "Page Tabs" for Easier Navigation
Page tabs function as a menu for your Facebook business page. These tabs are links that are visible to your users when they visit your page, similar to a header on any website.

These tabs are accessible to your audience and urge them to take action on your page based on their needs. A highly efficient business will always attempt to organize all of their Facebook tabs based on their sales angle and how they want their audience to interact with their businesses.
For example, Nykaa is a beauty e-commerce company, and you can see its tabs and CTA Button targeting an audience that shows interest in its products.
You can quickly edit your Facebook tabs to suit your needs by doing the following: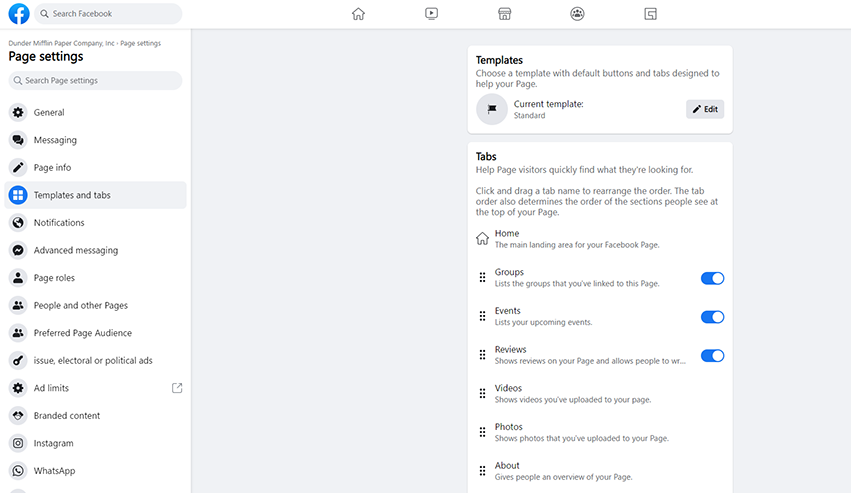 Go to settings in Left sidebar templates and tab.
You can also quickly and easily select pre-built templates based on your business categories by clicking on "Edit Template."
Verify your page to boost its credibility
When you visit a high-authority brand page, you will notice a right tick badge just after the brand's username and profile. So, how did they obtain this particular emblem, and what distinguishes these pages from others that do not have it?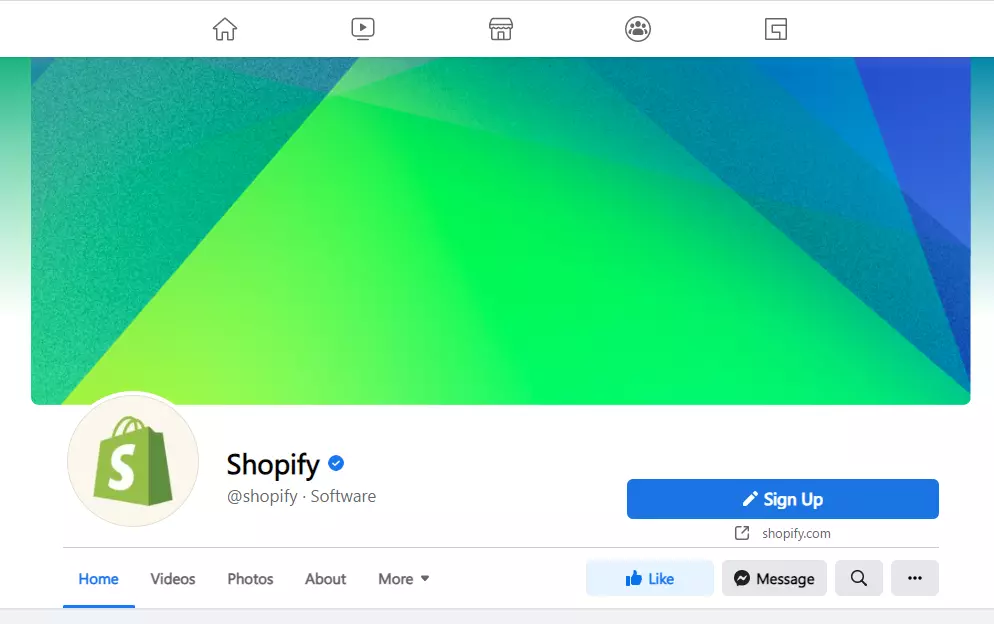 Facebook issues a verification badge to pages they recognize in order to give them a distinct presence on their network. A blue tick indicates that Facebook has verified the authenticity of a public figure, media company, or brand's page. A grey badge indicates that Facebook has verified the authenticity of a business or organization's page.
A verification badge isn't absolutely necessary or ideal in order to succeed. However, it can distinguish and elevate your brand or page from the masses, allowing you to keep your individuality. It instills a sense of branding and loyalty in the user's mind as they connect with your company. A verified page has earned the respect and trust of your audience, which will undoubtedly help you stand out from the crowd and competition.
You can also assist your business in becoming verified on Facebook by following these steps.
Before you begin, make sure your page has a profile and cover photo.
Navigate to "Settings" "General" "Page Verification," and enter your publicly available phone number, country, and language.
You will be contacted by phone and given a verification code.
Now that your Facebook business page is fully optimized, you're ready to take the next significant step in your Facebook marketing journey. This step involves content creation, post types, and more, so let's get right into it!
Facebook Posts: How to Create Captivating Facebook Content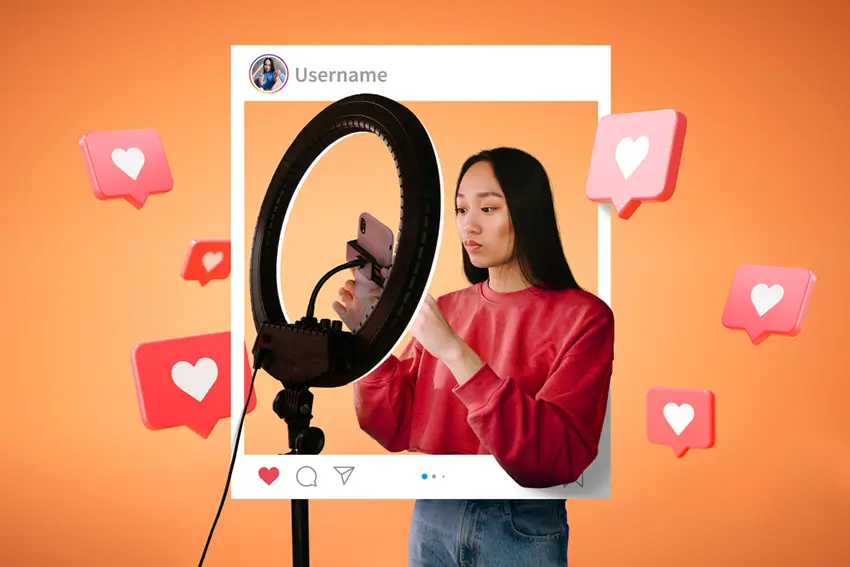 "Content is king," as the saying goes when it comes to standing out from the crowd, content is the first thing that comes to mind. When the audience thinks about our niche and associated services, it is common that they'll recall a post or piece of content from your page. Especially when you are attempting to sell on social media platforms such as Facebook, amassing a large fan base depends on your content's ability to capture views and likes.
Facebook is a massive platform with about 1.9 billion daily active users, and massive volumes of high-quality content are posted every second via large pages and profiles in every niche, including the one you're targeting. So, how do you stand out from the rest and get noticed?
In the next section, we'll reveal the finest and most tried-and-true tactics for growing your business on Facebook using an effective content strategy. Facebook gives you a lot of freedom over what you share and a lot of different content categories, such as image posts, video posts, stories, gifs, linked posts, live video posts, and text posts. In this article, we'll go over all of the different post types and how they can help your business, as well as which post type is optimal for your niche.
The different posts you can create using Facebook
To begin, we must understand how to post on your Facebook profile.
First, follow these simple instructions.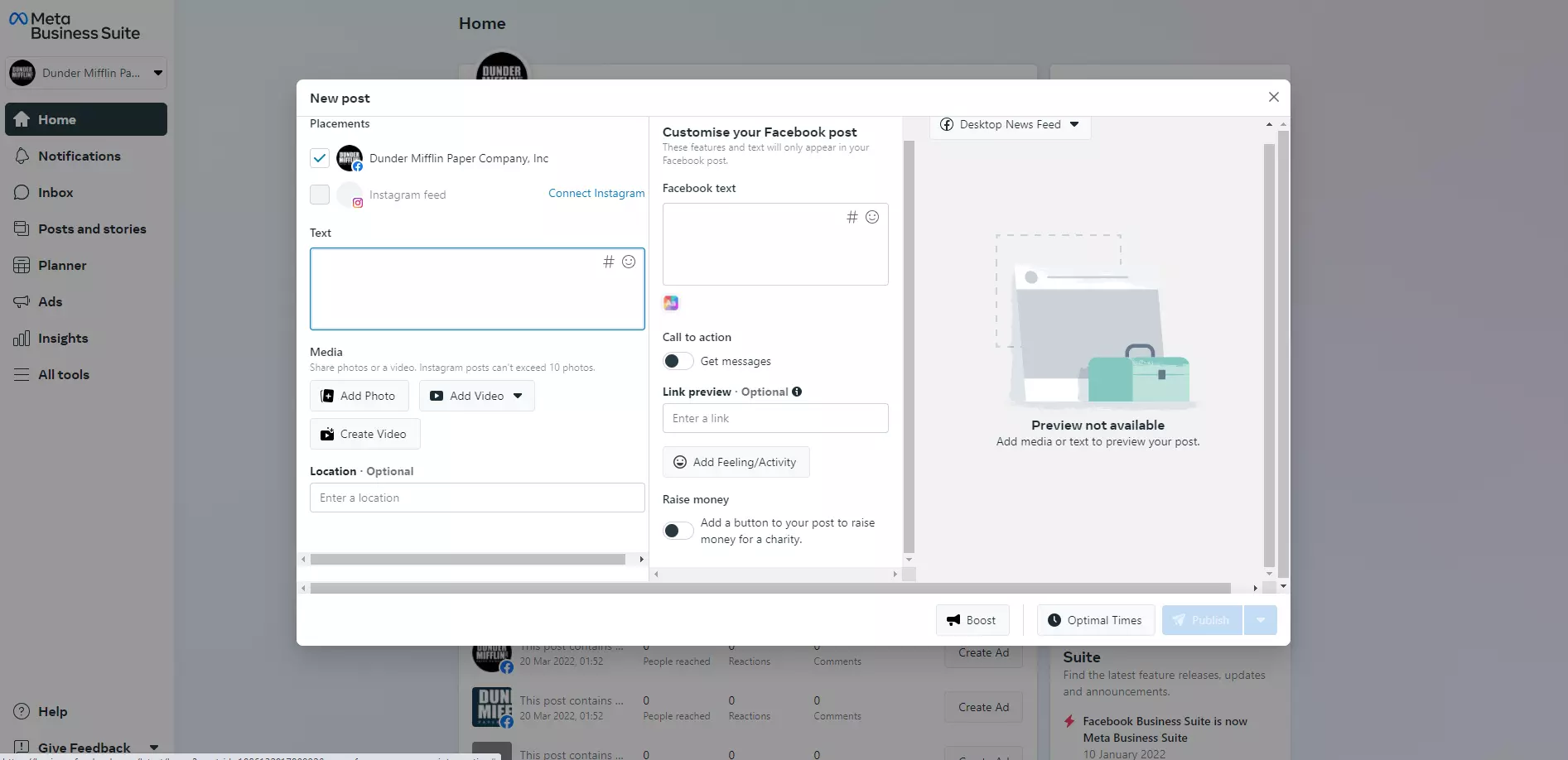 Just underneath your page's cover photo, click the "Create Post" button. When you click the "Create a Post link", a panel will appear. You will be asked to write anything for your page and simply share your opinions with the audience in the form of a text post by clicking share now.
You can also enhance your post by adding images, videos, and other features such as CTA links to WhatsApp, send messages, locations, and much more, which we will go over in more detail later.
1) Facebook Image Posts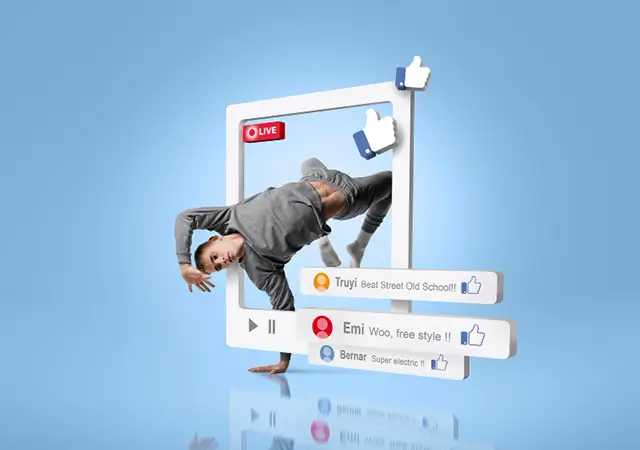 "A picture is worth a thousand words," this phrase is especially true for social media posts. Written content is wonderful and necessary, but your image will offer what psychologists call "social proof" to push your viewer to perform an action.
Author Robert Cialdini created the term "social proof" in his work "Influence" in 1984. This concept, also known as cognitive social influence, is based on the premise that people mimic the activities of others in an effort to duplicate conduct in specific contexts.
An image post is one of the most popular forms of content. An image post, as the name implies, has a visually appealing image that can grab user attention and generate higher interaction than simple text posts for your business. As a viewer, you are bound to feel more drawn and engaged to an image far more than a plainly worded post.
To post photos, simply click on add video/photo and then select the image or graphics from your device or directly upload. You can create a text caption for your image post in the same box and then upload it by clicking the "Post" button when finished.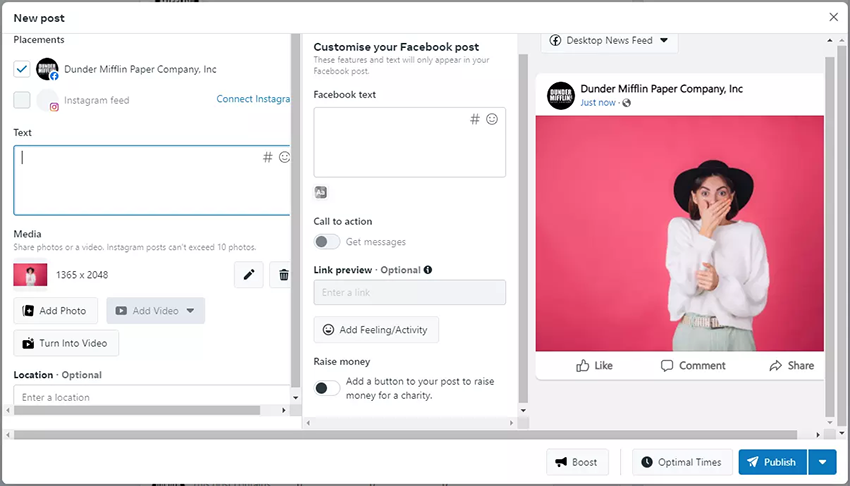 You can use graphic design tools like Canva to create visually appealing posts without paying a penny. In this manner, you can be at the top of your social game without ever spending too much time or money on creating attractive posts.
2) Posts with Videos
If you want to speak to an audience and have a specific goal that you want to convey to everyone, or if you have something that cannot be shown as an image or a graphic, a video post is an ideal option in this scenario. Furthermore, studies have shown that video posts capture 10X the attention of users, the following statistics prove that:
In 2020, 96% of consumers increased their online video consumption, and 9/10 viewers stated they wish to see more videos from brands and enterprises.
In fact, by 2022, it is expected that the average person will spend 100 minutes each day consuming online videos.
According to studies, 54% of customers want to see more video content from a company or brand they endorse.
We can deduce that people feel more connected to video content. Another clear example we have seen with the enormous success of Reels and Tiktok, which are video platforms that are showing tremendous growth and popularity as social media mavericks. In addition, Facebook's new algorithms are intended to give video and live video content higher importance among users in 2022.
To upload a video post, simply go to the website and click "create a post" under the cover picture. Then, choose the video you wish to share on your page by clicking on the photo/videos tab. After selecting the video to post, customize the title, caption, and hashtags for optimal reach on Facebook's targeted devices. You can also add the video to a specific playlist or set it to play automatically in the news feed.
3) Live Videos or Live Streams
This live video option differs from a traditional uploaded video. By going live through your desktop or mobile app, you can immediately communicate and engage with your audience.
This is the latest trendy method of getting to know your customers better and learning about their real-life, personal experiences with your products and services. LiveStream (in collaboration with New York Magazine) polled 1,000 adults to find out how they feel about live streaming.
Eighty percent of respondents stated they would prefer to watch a live broadcast from a brand than browse a blog from the same business. 82 percent would rather watch a live stream than scroll through a company's social media posts. 67 percent of those who attended a live streaming event purchased a ticket to a similar event. Because it includes behind-the-scenes footage, 87 percent of people prefer watching live-streamed videos.
This tool allows you to better understand what your niche's audience wants and how you can better meet their needs. As you can chat and read comments for information, you are bound to interact with your followers effectively.
To make a live video, go to the Create a Post section and look under the "Create" section for other alternatives such as live, events, employment, and many more.
Simply click on "live" to begin.

Then you will be redirected to a live video page to choose the live option you want between simply going live or creating an event. You can see both options in the picture below.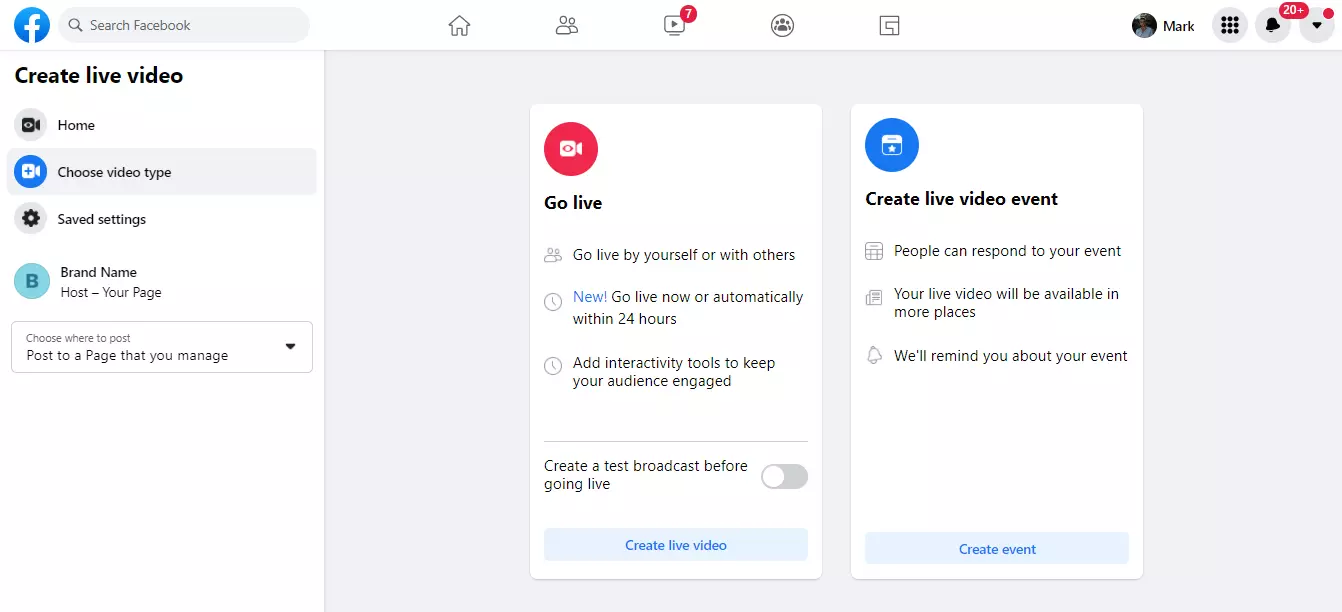 Going live
When you go live, Facebook will bring you to a page where you can authorize them to utilize your webcam and speaker. After that, you may add a title and description to your live post, and you're done.
Simply click "Done" to begin your live video and efficiently meet your Facebook marketing objectives.
Video Streaming Event
Create a live video event where you can set a premiere event and allow others to reply to the event you created, as well as make your live video available in more areas. A live event allows for far more customization, which you may easily configure by tapping "choose" on the "live video event" option.
You will now be taken to a panel where you can easily customize your event preview and fill in all details.
Customize the event name, cover image, date, and description. You can even include premium access, which requires visitors to pay to attend your live event.
Then you can click next and explore the event setting tabs, event distributors, and many other settings that are incredibly user-friendly and straightforward. After customizing the event as desired, click the "create event" button. A live event allows for far more customization, which you may easily configure by clicking "select" on the "live video event" option.
4) Link Posts on Facebook
When you want your audience to be redirected to your blog or website simply by clicking on the link contained within your posts, a Facebook link post is a great option. This is a particularly beneficial type of post since it allows you to direct the vast majority of your Facebook followers to perform a certain action. This action can range from downloading an ebook, visiting your website, watching a video, or more.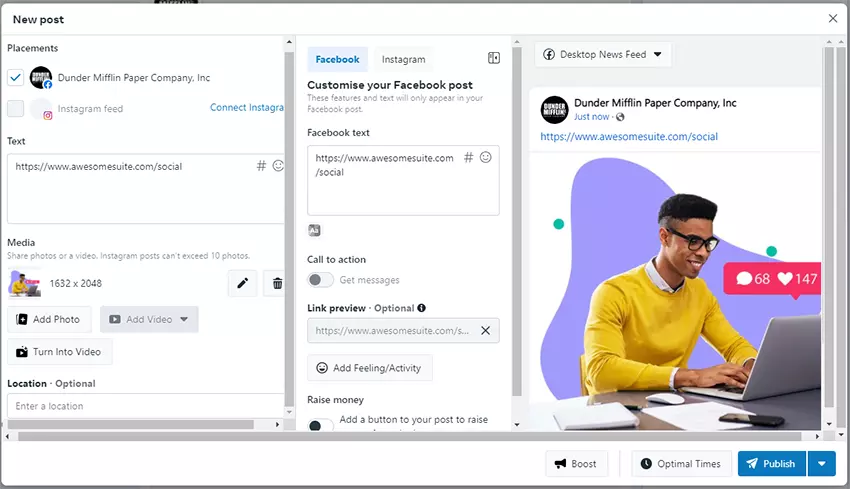 To put a link on your Facebook page, simply click the "create a post" link beneath the Facebook cover photo. Simply copy and paste the URL to the content you wish to share on your Facebook page. When you paste the URL, Facebook will automatically generate a post preview with a well-defined format, assuming it is a blog post.
By simply pasting the URL, this auto-generated link post retrieves the metadata from the internet, which includes their Title, Featured Image, and Meta Description. You can also create the post caption, including the keywords and hashtags that you want the post to include, and remember to erase the pasted URL before publishing the post.
5) Facebook Stories
Facebook stories are similar to Instagram's stories. These are vertical posts featuring text, photographs, and brief videos that can pique the audience's interest. Furthermore, these stories vanish within 24 hours of being posted.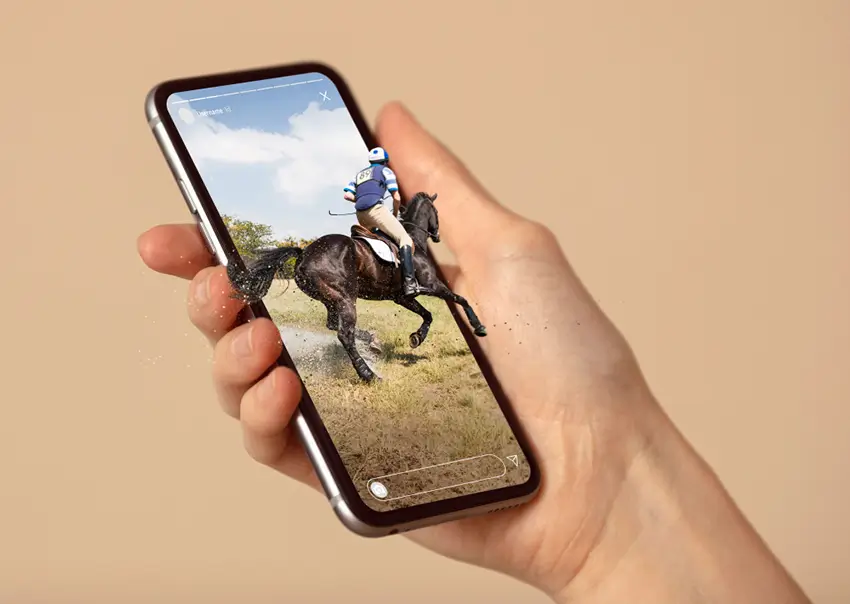 Facebook stories appear above the Facebook news feed. Statistics shows:

In 14 months, Facebook stories achieved 150 Million daily active users.
Stories have grown 15X faster in comparison to news feed sharing.

This indicates that they are highly regarded by Facebook's algorithms, which makes these stories visible to users when they visit the opening screen. So, simply follow these instructions to make Facebook stories.

Log in to your Facebook page first.

Step 2: Navigate to the page to which you wish to add the story.

Step 3: Scroll down to "Publishing Tools" and click the "add to story" icon.

Step 4: on your desktop, you can choose "Create a Photo Story" or "Create a Text Story." But on your phone, you'll have additional options.

Step 5: once you are done customizing the story just click "**share to story.**"
6) Pinned posts
Facebook pinned posts are posts that are chosen to appear at the top of your Facebook page anytime someone visits your page. As a result, this choice can play a significant part in the marketing of your Facebook page and what your visitors perceive at first glance.
Pinned posts are posts or pieces of information that you published and wish to change the way they appear on your page. You can choose the piece of content that appears at the top of your page by "pinning" a post. Whether or not the pinned posts are the most recent on your page.
You can quickly pin a post to the top of your page by pressing on the "three dots" on the top-right of the post and selecting "pin to the top of the page." Source
We've already covered all of the different types of Facebook posts, but now we'll go over some interesting alternatives that can greatly assist your Facebook post strategy as well as a better way to promote your Facebook strategy.
If you want to recruit or spread the word about a sale, you may use Facebook Pages to post job openings and special offers. A Facebook post can also be used to raise funds for a charitable cause. And much more; simply be creative and post what your target audience would enjoy.
How to choose the perfect post for your brand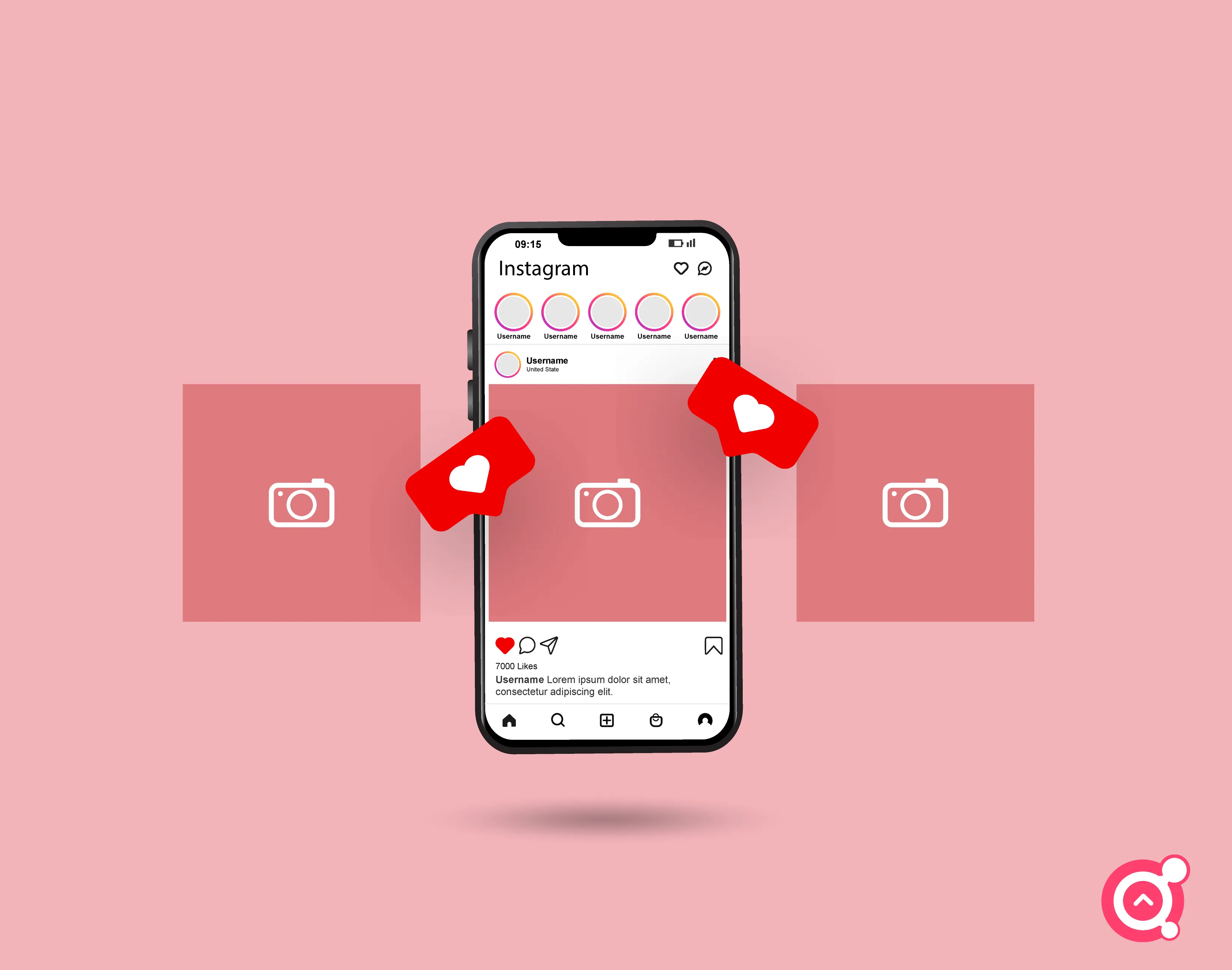 It is absolutely essential to figure out what type of post works best for your brand's engagement levels. It makes little to no sense to post without understanding what content gets you the most likes, shares, comments, and interaction from your audience.
The first step to figuring this out is measuring your post in terms of a statistical analysis based on various factors that we'll cover in the coming section. But for now, let's concentrate on how you can choose the perfect post for your Facebook page.
Measure your social media using key performance metrics: Make judgments based on statistics. This is one of the most effective ways to determine which post type works best for your Facebook marketing strategy. You may easily use an analytics tool or social media management software and learn about your best-performing posts and use a similar format for your future posts.

A/B Test your posts by posting several types of content based on your services and specialty and then review the statistics to see how they fared and what did well. And once you've determined what works best for your Facebook postings, you can use it as and when you see appropriate. But, as we all know, interest fluctuates with time, so give other post kinds a healthy try and see what happens.

Social listening: Learn about your audience's perspectives by participating in social listening to learn about what they think and say about your content, as well as what concerns and difficulties they want to address in your sales journey. Social listening tools can help you figure out certain repetitive keywords, patterns in replies, and more. So if you're finding difficulty figuring it out on your own, you can depend on a social listening tool.

Conduct SWOT analysis based on your posts and understand the areas where your competitors are crushing the game. Knowing what your competitors are posting and when they are posting is better to carry out before you start posting. Their product and content should give you an idea of what performs well on Facebook and what doe not. Because you both are from the same niche and generally share the same audience, it would be very efficient for you to know which post type works for your industry to get the best results.

Crosspost your engaging content: This is a very unique tactic for choosing a better post that gets engagement is to post what is already performing better for you. Whether it is from a different platform like Twitter where a tweet is getting better engagement or a comment that is getting a lot of traffic or you can crosspost it to Facebook for similar results. But again, context matters in this area so it would be best to do it minimally.
With that, we've found out what post works best in terms of engagement levels. We can now move on to the next stage of long-term Facebook marketing, the strategy for content marketing.
Facebook Marketing Strategy for Long-Term Success
1) Plan Your Content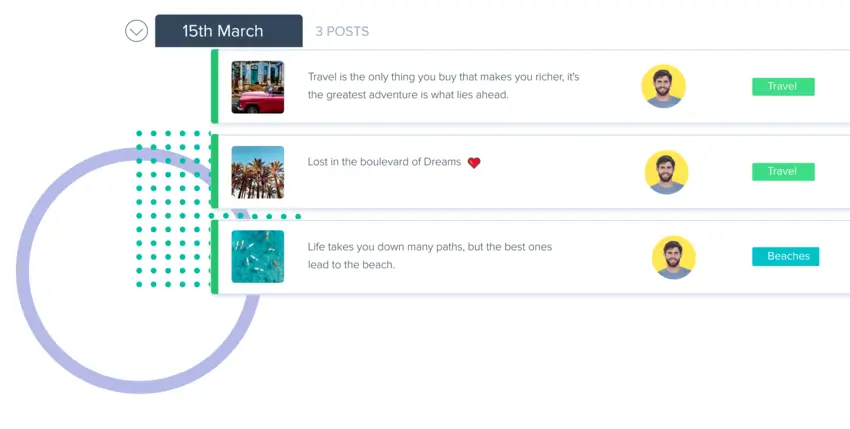 If you want to achieve great success with your effective Facebook marketing strategy, content planning and analysis will be an essential part of your Facebook marketing journey. Determining the ideal piece of content that drives engagement takes time, effort, and creativity. In this case, we spend most of our efforts trying to consider what our audience is searching for, and how our product or service can meet that need. Once we figure that out and reach out to the target audience we can successfully meet our personal marketing goals as well.
In the beginning, apply a hit and trial method and try to find out the core interests of your targetted niche. Try to provide value to and build engaging and meaningful relationships with your followers. Give them content that they'll enjoy regularly, and they'll be more open-minded to hearing about your products.
One mantra of success in Facebook content strategy is never to talk about your service. Rather you should concentrate on providing organically engaging content and try to be the best intent or query solver with whom the audience could relate and rely on, during the time of need. Be as organic as you can with your product and meet the needs of your audience by helping them to use it.
For this, you need to plan your content weeks, or even months ahead of time in a way that matches the seasons, holidays, and events to prepare correlating offers. So, the first step is to use a content calendar.
2) Content Calendar
A content calendar is one of the best ways to plan an effective content strategy for social media that helps you generate positive outcomes. Through a content calendar, you can easily create an effective content strategy for multiple social channels according to the audience and their behavior.
A content calendar will help you keep track of links and organize them in a structured format. This will make it easier to evaluate the overall mix of formats and topics you're posting. A content calendar will assist you to sustain the relevance of your posts and content over platforms and maintain a healthy reminder of content created in the past.
An effective content calendar must contain:
Posts to be posted on each platform specified with proper data such as the title, description, and images.
Time slots specified for a particular post.
Links to the posts if posted.
3) Schedule Posts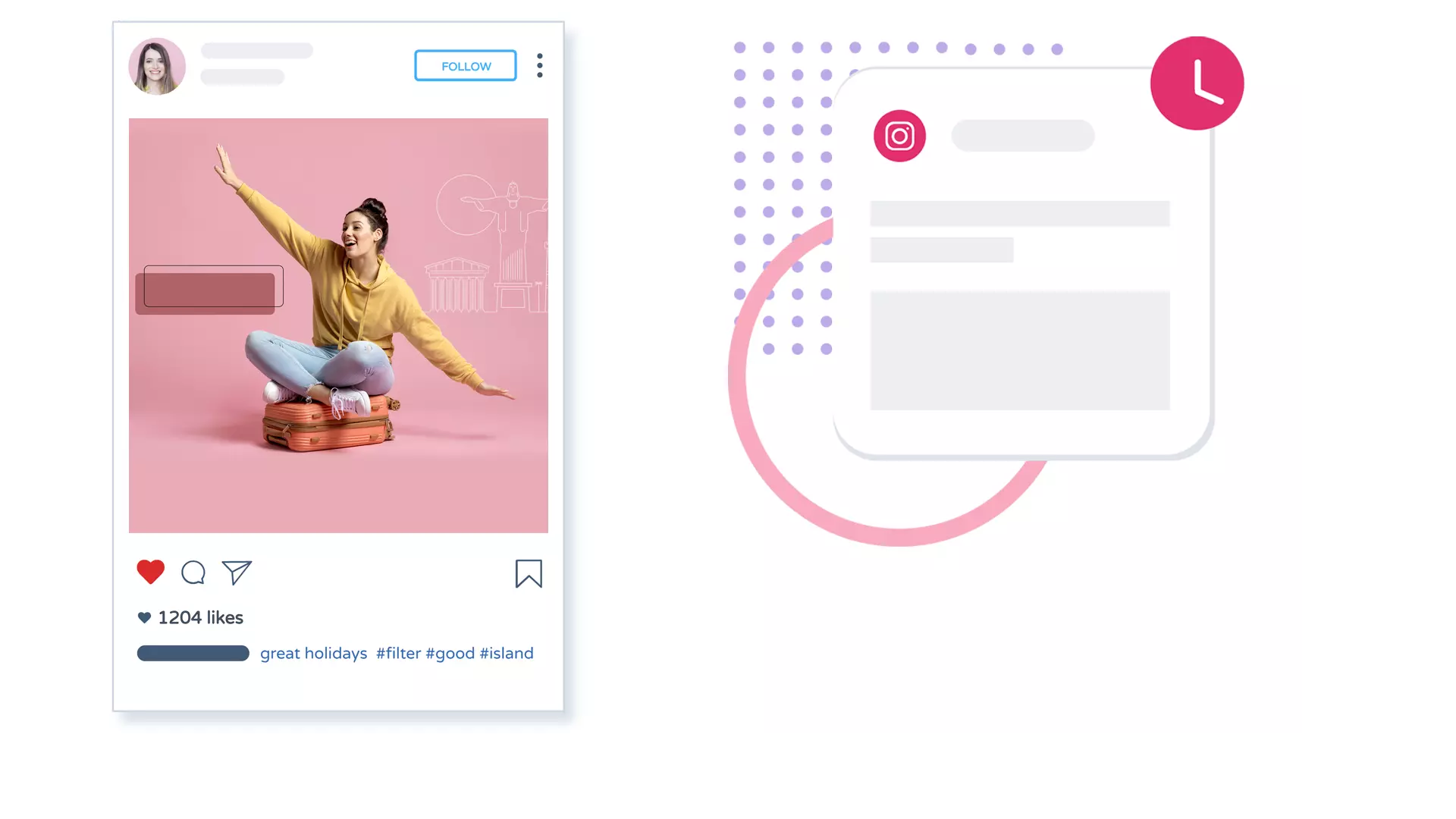 Creating a highly helpful and studied social media content calendar will not save you a single hour if the content is not scheduled as planned. So these two factors are completely intertwined since we also need to save time and use it on improved ideation for quality content.
So, with an effectively constructed social media calendar, you must side by side schedule all of the material as scheduled in the calendar to free up time for other tasks. To schedule a post, simply create one as described above, and instead of clicking on publish, click on schedule, which is located immediately below the publish button for a post. Additionally, you can visit your business page and from here you can go to the posts and content section then create posts as we discussed and schedule posts for both Instagram and Facebook.
4) Post at The Right Time To Get Better Outcomes
The content planning part for your Facebook marketing strategy is going to be a game-changer. But as we know with love or war, timing is one of the most important factors in attaining profitable results. And posting social media content at the right time can provide you with results that boost your engagement levels by 10x.
So, considering the timing while posting on Facebook is also a vital part of an effective marketing strategy. Posting when your targeted audience members are active is one of the best ways to redirect and make them engage with our piece of content. Once you figure out what times your audience is paying attention, you can provide them with relevant valuable pieces of content. This requires a good amount of measurement and figuring out your KPIs. We'll get into those in the next section!
Key Performance Metrics for your Facebook Marketing Strategy (Formulas + Examples)
These metrics are ways to measure the Ads and promotional content you post on Facebook. As we've mentioned before, measuring your performance is crucial to building an ironclad marketing strategy that keeps you focused on reaching your goals. Without correct measurement, you won't be able to analyze where you're going wrong or right and will fail to understand your audience's likes and dislikes.
1) Clicks or click-through rate (CTR)
This is defined as the number of times your ad is clicked on. Clicks are a way to measure customer engagement and their levels of interest. The number of clicks tells you how many times people came to your website through your Facebook ads. This also means you require a social media management tool that points out the source of your clicks and conversions. The formula to calculate the click-through rate is:
CTR is calculated by dividing the amount of clicks on your ad by the number of times it is displayed:
For instance, if you got 10 clicks and 100 impressions, your CTR would be 10%.
Each of your advertisements, listings, and keywords will have its own CTR, which is displayed in your account. A high CTR indicates that people find your adverts and listings to be useful and relevant.
2) Conversions Rate
A conversion is defined as "the stage at which an audience of a marketing campaign or activity, carries out the desired action," according to Marketing Sherpa. To put it another way, a conversion is when someone responds to your call to action. This could include things like sending an email, signing up for a newsletter, or scheduling a demo, among other actions.
This could mean different things to different businesses. In general, it refers to the desired action you want to take place. The formula to measure your conversion rate is as follows:
Conversion rates are determined by dividing the overall number of conversions by the overall amount of ad interactions that may be linked to conversion over the same time period.
So, if you had 10 conversions out of 1,000 interactions, your conversion rate would be 10%, because 10 ÷ 1,000 = 5%.
3) Return on Ad Spend (ROAS)
Return on ad spend (ROAS) is defined as revenue divided by advertising spend. This metric should be used for advertisers looking to drive sales immediately. The higher the return on ad spending, the better. Most advertisers look to at least break even on their advertising campaigns with a ROAS greater than 100%. The formula for ROAS is as follows:
For instance, your ROAS is 2 if you invest $100 in an advertising campaign and make $200 in revenue from it.
4) Impressions
This is defined as the number of times your ad is shown. More impressions lead to higher brand awareness for your company. If you're reaching new customers, promoting an attitude about your brand, or launching a new product, brand awareness should be one of your top priorities.
The impressions statistic in Facebook advertising allows you to check if your target demographic is seeing your ads and if they have the potential to generate the needed conversions. You don't have to click, respond, or reply on the post for the impression to count since Facebook measures impressions as the amount of times the ad displays on the screen. The same holds true for video impressions. In reality, the video doesn't even have to be playing to be counted as an impression on Facebook.
So how exactly do you measure it? There are three formulas that give you answers to the different questions you may have about your impressions. They are:
CPM

A CPM, or what is better known as cost per impression, is a measurement of the average cost per 1,000 impressions. The cost per thousand impressions (CPM) of an advertisement informs you how much you're paying for every 1,000 impressions you get. This is a standard statistic for determining the cost-effectiveness of your advertising initiatives.
If the cost of 1,000 impressions is incredibly expensive, for example, you should target the correct demographic (you don't want to show advertising to individuals who are uninterested in your service or product), develop an appealing offer, or generate attention-grabbing graphics or videos. The following is the formula:

As an example,

$3,000 Ad Spend ÷ 900,000 Impressions X 1,000 = $3.33
Reach
Reach is a measure that's easy to mix up with impressions. The overall number of individuals who see your post is what Facebook terms as reach. While impressions count the number of times your ad is shown to users, reach counts the variety of different people who have seen it.
For example, if you viewed an ad three times in your feed, Facebook will calculate the impressions and reach of the ad as three and one, respectively, because only one user viewed the ad three times. The reach, on the other hand, would be two if only two individuals viewed the ad. Frequently, the quantity of impressions is less than the amount of reach.
So the formula for reach is as follows:
Reach is impressions divided by frequency ie,
These were the two ways you can calculate your impressions when measuring your marketing performance. This leads us to the end of this guide to perfecting your Facebook Marketing Strategy.
Facebook Marketing: In Conclusion
This article has covered a lot of ground in terms of good Facebook marketing strategies, from the ground up to become verified a brand. But, as you may be aware, this isn't all there is to know about the vast field of Facebook marketing. Being a Facebook marketer is one of those professions that cannot be covered in a short guide; there is always more to learn.
However, this article will be quite useful to anyone looking to create a foolproof Facebook marketing strategy as a beginner, and even in the future. Start your Facebook marketing initiatives and give all of these wonderful methods a go to see your Facebook page develop tremendously.
But, when you get started on your Facebook marketing journey, remember that we can't do it without the right tools. Throughout this article, I've mentioned the importance of social media management tools in strengthening your marketing strategy. And if you're on the lookout for one such tool, Awesome Social is here for you!