When you hear the terms 'digital signature' or 'electronic signature,' it's tempting to believe that these terms are the latest in a long line of technological breakthroughs. The COVID-19 outbreak, on the other hand, has only increased its importance. But, a digital, electronic, or online signature is a concept that has been around for quite some time.
An electronic signature, as defined by the eIDAS is the following:
"'electronic signature' means data in electronic form which is attached to or logically associated with other data in electronic form and which is used by the signatory to sign;" (eIDAS Article 3.10)
In contrast, a digital signature is a scientific and cryptographic notion that is commonly utilized to provide actual and practical examples of an electronic signature. The ETSI TR 119 100 definition is as follows:
"Data appended to, or a cryptographic transformation of a data unit that allows a recipient of the data unit to prove the source and integrity of the data unit and protect against forgery e.g. by the recipient."
It's important to distinguish between the two technologies since not all electronic signatures are digital signatures.
Moreover, the user understanding of electronic signatures is another concept you should know. Electronic signatures have the same appearance and functionality as written signatures. When you sign your e-signature, the same things eventuate as when you sign your initials on paper. The only distinction is that you won't need a pen this time. Instead of printouts, you may receive electronic versions of the signed documents.
One of the main advantages of e-signatures is their simplicity. Because they take less time to complete, turnaround times are reduced. Lower expenses, more effective document management, and more privacy are all benefits of an e-signature solution. E-signatures, in a broader sense, refer to any signature that is made electronically rather than on a tangible piece of parchment. E-signature software gives users a faster way to prepare, send, sign, and verify papers, agreements, and contracts when compared to the traditional pen and paper signatures. Not convinced? These are some of the top digital signature benefits:
Benefits of a Digital Signature Solution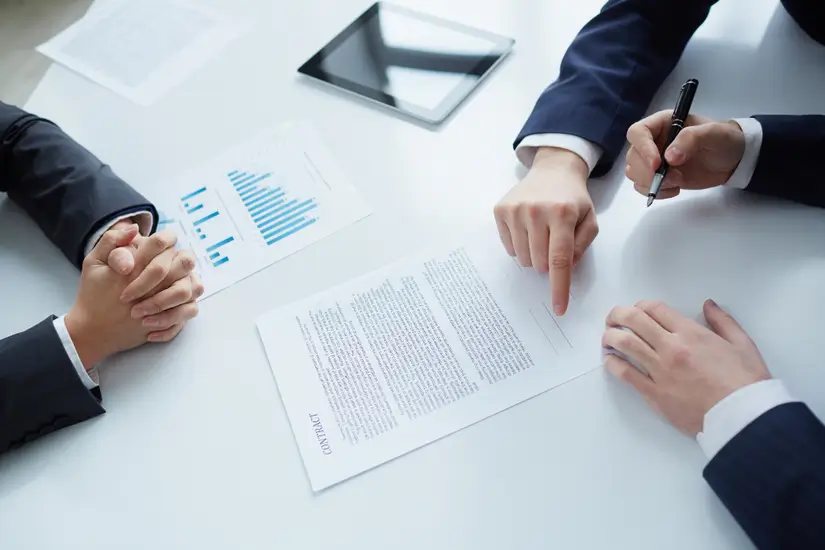 Electronically signing a document is virtually as quick as signing it on parchment, but it saves time in the processing of the paperwork. When documents do not have to be downloaded or printed and mailed as paper mail, a business can be administered more quickly. If necessary, the paper can be stored in a location where the authorized people can access it. Sending an online document to a receiver takes a few moments.

Because resources like water and trees are preserved, the digital signature contributes significantly to environmental conservation. Did you know that a regular package of printer paper (500 sheets DIN A4, 2.3 kg) uses 7.5 kilograms of timber, 130 liters of fresh water, and 26.8-kilowatt-hours of energy to manufacture?

The usage of online signatures makes it simple to have the signatory sign the document regardless of where he or she lives. Users of E-Sign can collaborate in a contract from a distance, saving time and resources. It serves as an appropriate entryway to personalized services for isolated towns and rural populations.

With electronic signatures, the consumer can sign the deal as early as he or she agrees to buy your product or service, avoiding any hassles or waiting. Client satisfaction skyrockets since they don't have to travel to sign a document, ship signed documents back, or copy and scan a signed agreement to send through email. They may log on in milliseconds, from any gadget, online. Customers desire convenience, and they now prefer to complete contracts such as insurance, energy, and mobile phone plans from the comfort of their own homes.

Some signing providers also offer document management and/or a digital record for signed papers, ensuring that they are not lost. In addition, searching for a document in digital format is generally easier than searching for a document in paper format. Organizing your paperwork becomes a lot easier when it's stored in a single, secure location on the cloud.
For instance, you may sign your first internship contract online with the help of a pdf signature tool. Companies worldwide offer online signing opportunities for their employees, customers, partners, and more. These are just some examples of who could use an online signature for important documentation purposes. So, if you're looking for e-signature software alternatives, we'll delve right into it in this post. These are the top 22 electronic signature alternatives for individuals worldwide.
Top 22 Electronic Signature Solutions
1) Awesome Sign : Free Electronic Signature For Small Businesses & Teams
Awesome sign is a robust cloud-based electronic signature application for companies and teams to organize their document and signature workflows. It aids businesses in handling and tracking multiple signature requests collected from prospects, customers, workers, and vendors. Awesome sign is part of the AwesomeSuite's business suite application.

AwesomeSuite helps organizations easily automate their processes, with an emphasis on enhancing efficiency and providing an exceptional customer experience. Not only will they be able to minimize their carbon footprint, but they will also be able to reduce their office costs.

Awesome Sign is one of the latest e-signature solutions hence it offers highly innovative and user-friendly e-signature software for small and mid-sized businesses worldwide. Irrespective of how technologically adept you are, using Awesome Sign is simple and easy. It's something your employees can use regularly, and its navigable layout helps them keep track of the status of forms that were sent out to signatories.
2) DocuSign : Electronic Signature For Enterprises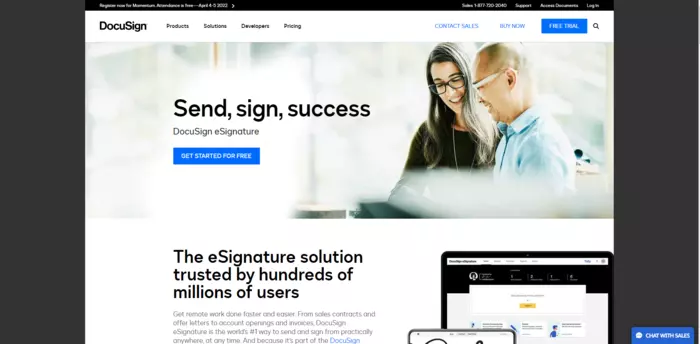 DocuSign was one of the first companies to develop electronic signature software, and it now offers one of the most frequently used e-signature solutions available. It's part of their larger cloud-based System of Agreement Platform, which allows businesses of all sizes and industries to rethink and automate their whole contracting process.
They can accomplish everything from preparing contracts to signing, implementing, and managing them from almost anywhere in the globe, on almost any device. DocuSign is also available in a total of 43 languages around the world. DocuSign is transforming the way businesses are done by enabling more than 250,000 businesses and 100 million customers in 188 nations to share, sign, and handle agreements with ease.
To do negotiations, DocuSign eliminates the need for printing, photocopying, photographing, and overnighting copies of documents. Their application allows businesses of all sizes, industries, and locations to fully digitize all agreements to maintain life and work moving ahead.
3) Adobe Sign : Electronic Signature Businesses of All Sizes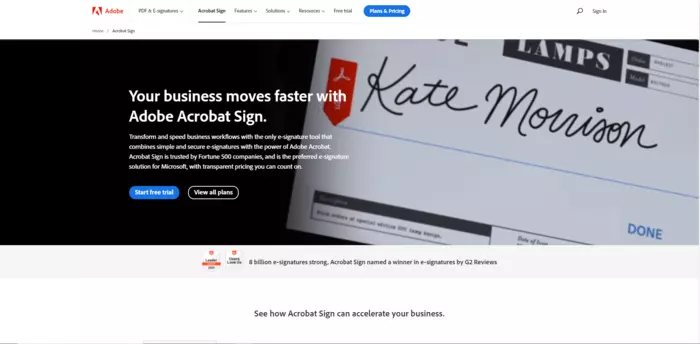 Adobe Sign allows users to capture and process documents and forms with the use of electronic signatures that are trusted and recognized. You may sign the paperwork, obtain signatures, and track operations from anywhere using the web and mobile devices. Internal programs that you use regularly are provided as well. Additionally, Adobe Sign offers some unique features like:
Document Workflow Triggers with Customizable Time Stamps
EU-approved time stamp
Customers can sign using e-signatures or compatible cloud signatures on their mobile and desktop devices without having to download anything. Users can create templates for common materials and workflows to ensure that their entire team produces consistent outcomes. Beyond signatures, Adobe Sign assists clients with paperless operations such as form creation, collaboration, and other document approval kinds. In the last year, Adobe apps opened almost 300 billion PDFs.
4) PandaDoc : Electronic Signature with Quotes, Contracts, and Proposals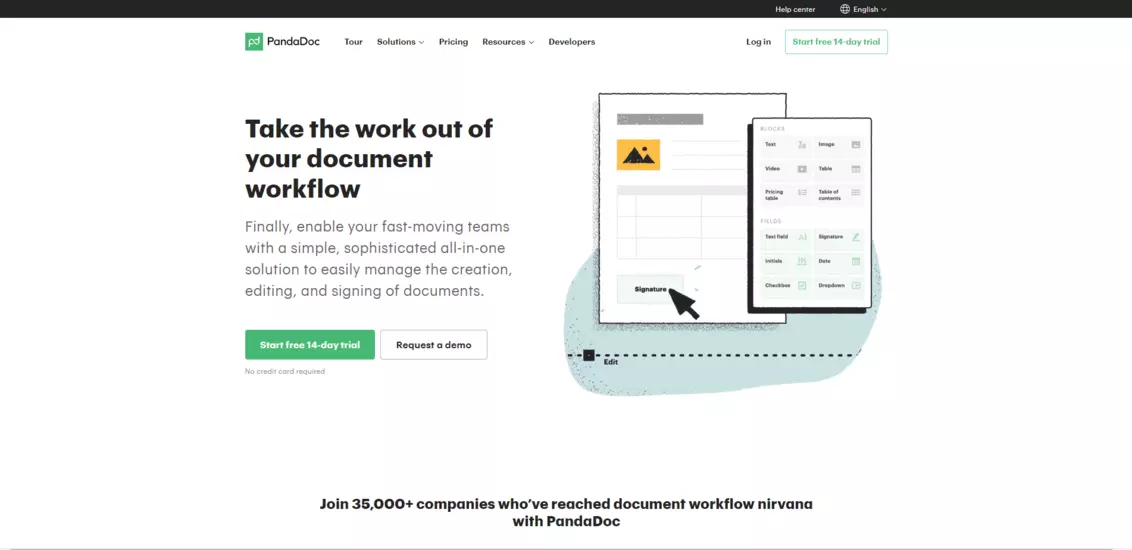 PandaDoc, which was founded in 2011, assists over 30,000 developing enterprises with document workflow organization. PandaDoc is an all-in-one automated paperwork workflow platform that helps fast-growing teams produce, organize, and sign electronic files like proposals, bids, and contracts more quickly. PandaDoc is a cloud-based document management system that lets users create reports, quotations, HR documents, contracts, and other documents.
PandaDoc gives you all the tools you need to create your proposals or customize one of their pre-made designs. You may generate proposals, save them in a cloud-based library, distribute them to clients, and track your overall progress all in one place.PandaDoc proposes to streamline sales and marketing tasks while speeding up the proposal process, making it appropriate for marketing organizations and established businesses. You can either upload a previous proposal or modify one of PandaDoc's contract templates after customizing your PandaDoc profile to match your needs.
5) SignNow : Electronic Signature with Workflows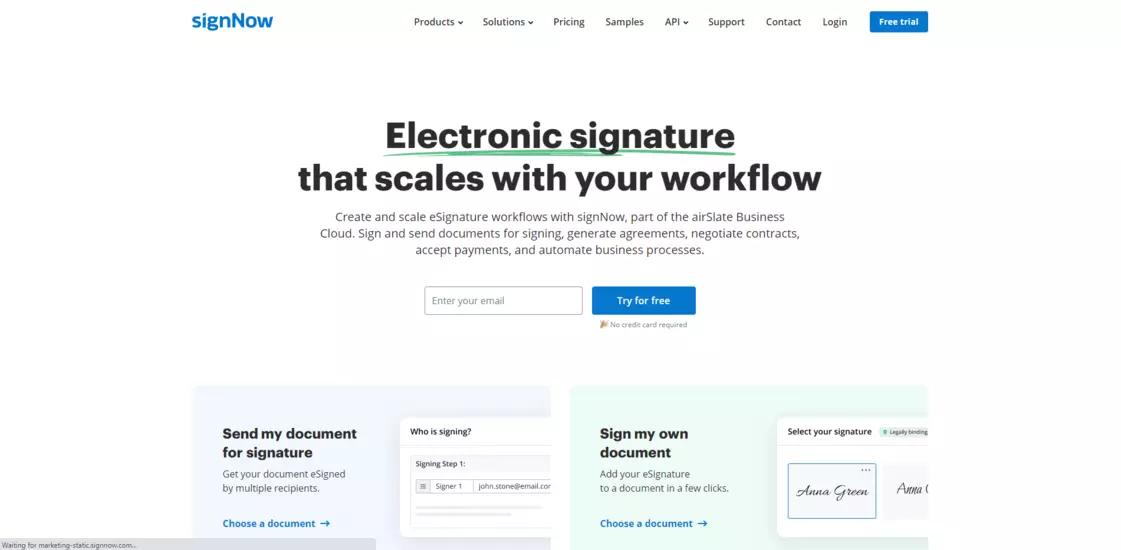 The airSlate Business Cloud's SignNow aims to make online signatures more convenient and easy to use on any platform. Because of its emphasis on cross-device accessibility, automation, and a simple customer experience, SignNow has developed swiftly. SignNow was initially created with almost every market in mind. Hence it performs effectively in any sector and team. Since its inception in 2011, SignNow has been at the forefront of electronic signature development.
It is compatible with the most major online services, including the Google suite of applications. It also integrates with a variety of workflow and document management apps for Android and iOS devices. SignNow guarantees a HIPAA-compliant electronic signature system, sophisticated conditional fields, and the ability to generate document templates. These are just some of the several features now available. All of SignNow's functions are contained within a clean, user-friendly interface that has garnered dozens of five-star evaluations.
6) PdfFiller : Electronic Signature with PDF Editing
pdffiller is an all-in-one digital document administration platform that includes an electronic editor, cloud-based storage, and a signature claim manager. This is another app similar to SignNow which falls under the airSlate Business Cloud.
Over 120,000 firms in practically every industry use PDFfiller's services across the world. Our technologies assist businesses in streamlining document management, achieving paperless workflow, and freeing up time, effort, and materials that may be better invested in corporate operations. Organizations can utilize pdfFiller to migrate to a digital workflow by collaborating on and sharing files online from any location.
A drag and drop interface, inputting a URL, browsing the pdf filter documents library by title or term, importing through email, requesting from external parties via email, or interacting with third-party providers such as, and DropBox and Slack are all available and usable with PdfFiller. Users can write, digitally sign, and distribute documents in Word or Pdf using Pdffiller.
7) Dropbox Sign (formely Hellosign) : Electronic Signature with Document Management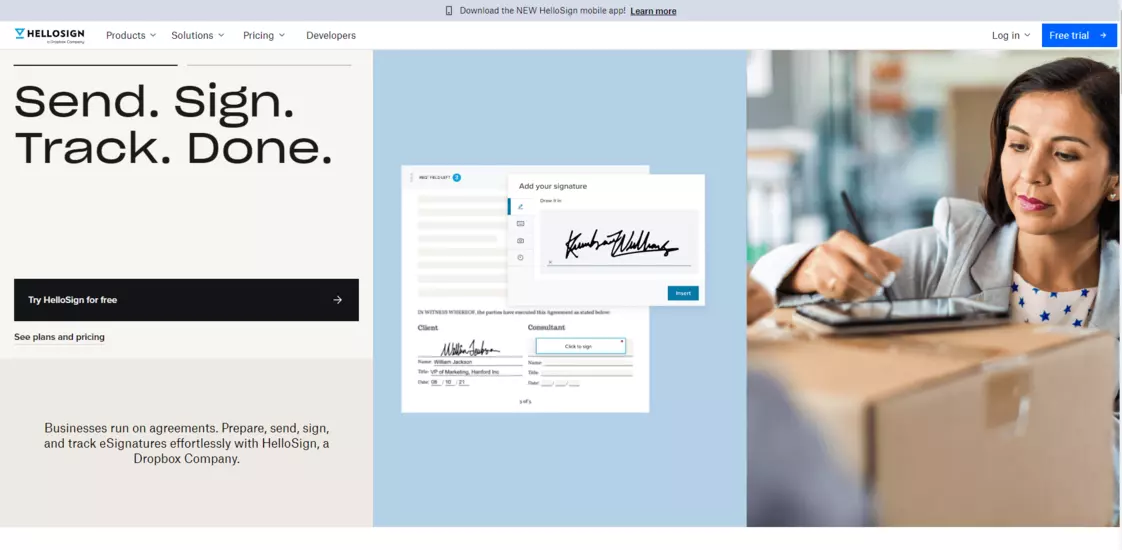 Dropbox Sign is a digital transaction management (DTM) and electronic signature program that combines document verification, signature tracking, and compliance with regulations. HelloSign's most expensive tier, which is above the free version, provides a significant advantage in that it allows for practically infinite signatures. The HelloSign products are divided into three categories, each with its unique set of characteristics.
Dropbox Sign is meant to streamline your business and make DTM easier, whether you use the online app or the smartphone app, with automatic mail notifications, in-person signature grabs, and more. Dropbox Sign is currently available in 22 languages, allowing document creators and recipients all across the world to use it. It's ideal for freelancers because it offers a free edition that gives you access to all of HelloSign's basic capabilities. HelloSign is a good option for individuals who want to establish simple and elegant signature processes.
8) Foxit PDF Editor: Electronic Signature with PDF editor
Foxit PDF Editor, previously Foxit Reader, is a multinational freemium PDF e-signature solution with which you can view, edit, and print documents. Foxit Editor's original releases were noted for their quick startup times and minimal file sizes. The Windows edition contains features such as annotation and storing incomplete Pdf files, FDF import/export, text conversion, highlighting, and sketching.
Foxit is a major software supplier of PDF solutions that are quick, economical, and secure. Foxit's cost-effective technologies for securely working with PDF files and forms help organizations and consumers enhance productivity. Foxit is the most popular PDF reader, and it comes pre-installed on one-third of all modern Windows PCs. Foxit Editor offered PDF production tools until version 9.7.2, along with a "Foxit PDF Printer" for Microsoft that allowed all programs to "print" data to PDFs; these were discontinued from later versions though the app is still commendable as a simplistic e-signature tool.
9) DotLoop: Electronic Signature for Real Estate Companies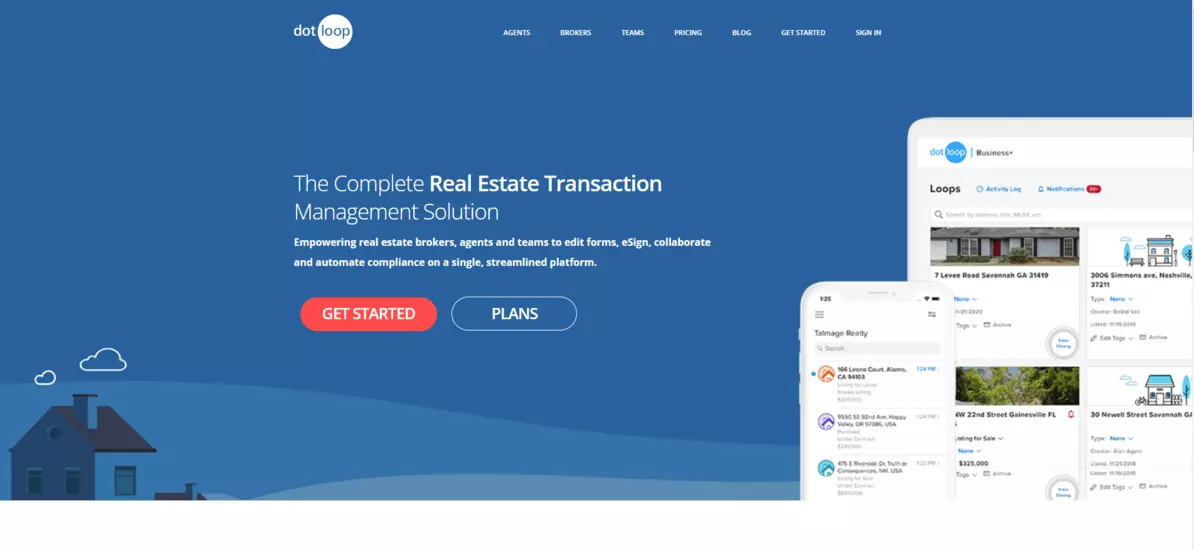 Real estate companies are constantly looking for innovative solutions that will help them market and sell homes more quickly and efficiently. The generation, administration, and transfer of legal papers related to a property or company transaction are all improved by employing an electronic signature system. DotLoop is a powerful e-signature software solution for brokers that incorporates transactional organization as well as broker functionality.
It is one of the most extensive, transparent, and reliable e-signature solutions available for agents, organizations, and brokerage divisions. DotLoop is a tool designed exclusively for the real estate sector to help clients organize their documentation and keep track of signatures. The system's setting is straightforward. It all starts with a real estate agent creating a listing. The realtor is then given access to a work area where they can concentrate on making the sale.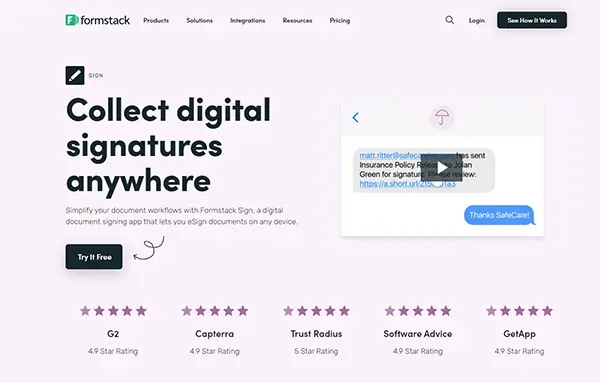 More than 25,000 businesses around the world, notably Netflix, Twitter, and Butler University, rely on Formstack to digitize the content, streamline workflows, and revolutionize operations. Formstack is a comprehensive office productivity tool that creates innovative alternatives to mundane tasks that slow down businesses. Formstack Sign is one of the easiest, finest, and safest ways to digitally sign any document. Formstack Sign, which is used by multiple businesses of all industries, allows your users to sign a form from their computers, ipads, and mobile platforms, as well as by text message.
Formstack enables anybody to quickly and easily develop custom forms, create contracts, and gather signatures—all without requiring specific expertise or code. The app is user-friendly and intuitive making it easy for new users to organize documents quickly. For instance, you can employ "Text Tags" in Formstack Sign to specify where you want the signature to appear in the file. Adding your signature tags is straightforward with Formstack Documents.
11) SignRequest : Electronic Signature for teams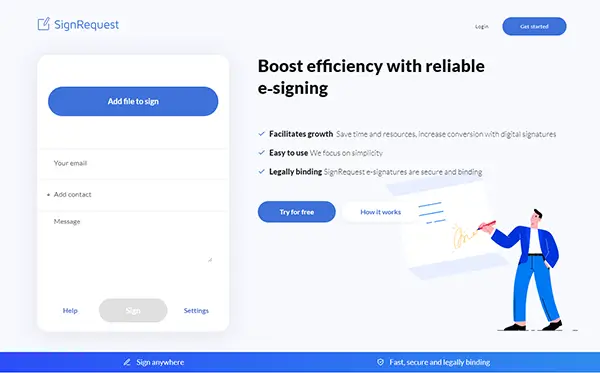 The world is advancing to being a paperless and digitized environment. The digitized (online) signatures provided by SignRequest are an important part of this change. Digital signatures should no longer be a high-priced niche item, but rather a staple available to everyone, according to SignRequest. They profess to be uniting to build the best content cloud for businesses in the world, as well as to improve e-signatures and expand their use globally. They make digital signature requests and administration simple to implement.
Add your PDF document, specify where signatures are necessary, compose an email message, and send it to anyone who needs to sign it. Then, using your dashboard, go over the signatures you've collected. The process is easy, quick, and legally binding while maintaining the highest standards of protection. It's now one of the industry's top-rated e-signing systems, thanks to its ease of use and lower cost than other competitors.
12) SignEasy : Electronic Signature for Small Businesses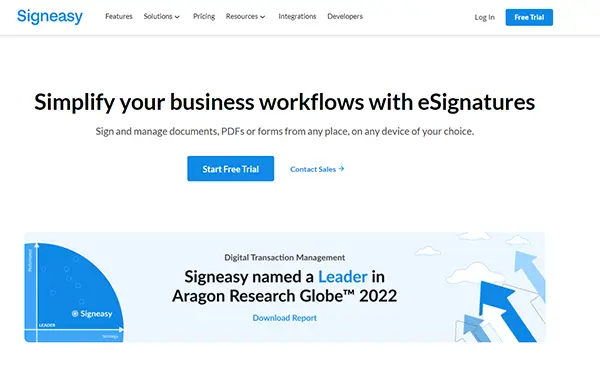 When Signeasy initially appeared on the App Store in 2010, it was one of the first document e-signature apps ever produced for mobile, ushering in a new era of automation and enabling electronic signatures to be used across both web and mobile platforms. When new gadgets like the iPad and new platforms like Android were announced, SignEasy was among the first to support them. Signeasy has stayed on the cutting edge of electronic signature development, riding the wave of our fast-changing SaaS-powered digital world.
Over 130,000 customers from 150 countries rely on Signeasy's simple and dependable technology to reduce contract turnaround times, finalize agreements faster, improve customer experience, and reduce environmental impact. Signeasy supports a wide range of efficiency and productivity tools, including G Suite, Office 365, Dropbox, and Box, as well as popular email providers like Outlook and Gmail. The iOS and Android apps for Signeasy have been downloaded over 6 million times, and it is routinely included among the App Store's top 100 bestselling business apps.
13) EverSign : Electronic Signature for Streamlining Business Processes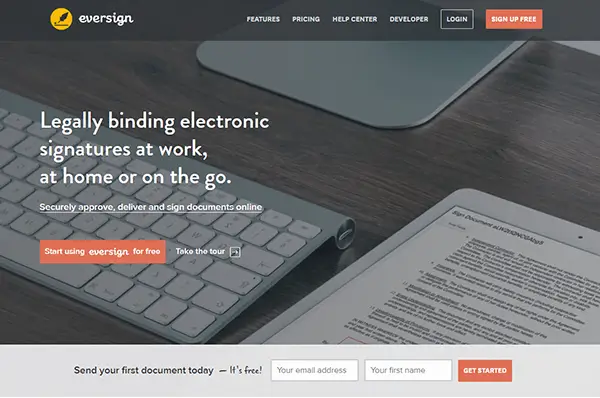 Stack Holdings, a small but well-known SaaS IT corporation with around 4 million active customers across all platforms, owns Eversign, which is based in Vienna. The company's offering is a straightforward electronic signature program that only does one thing well. Small and medium-sized businesses (SMBs) account for around 90% of their clients. Eversign is an electronic signature solution that allows you to sign and authorize electronic files from anywhere in the world, facilitating corporate operations and ensuring legal compliance.
The program is ideal for organizations of all types and sizes, including startups, expanding firms, and huge corporations looking to shift away from paper-based processes and toward electronic and paperless solutions to finalize agreements, certify approvals, and more. Your speed increases dramatically when you use eversign to expedite internal and customer signs and approvals. Eversign documents are encrypted with 256-bit SSL and processed by a secure infrastructure that is constantly monitored. It's simple to interface with popular corporate applications. Furthermore, you can use any device to enter your electronic signature on any file without jeopardizing security.
14) SignWell : Simple and easy Electronic Siganture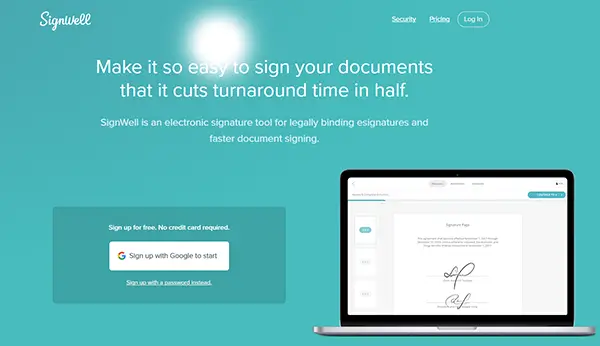 SignWell is a cloud-based electrical signature solution that empowers organizations of all sizes to record contractually enforceable electronic signatures on files. Configurable templates, flexible workflows, audit summaries, document access, monitoring, and more are all included in the application. SignWell's goal is to assist organizations in minimizing document wait time while also assuring that all papers adhere to US and European e-signature standards.
Corporations may use SignWell to create personalized workflows that define who is accountable for signing paperwork and in what order. Each signatory obtains an immediate notification when it is their time to sign the paper, which can be specified by the administrator. SignWell also allows consumers to share slideshows and other files online. For specialized use cases like assessments, offers, agreements, bills, and more, text templates can be generated and retained within SignWell.
15) Electronic Signature - Signaturely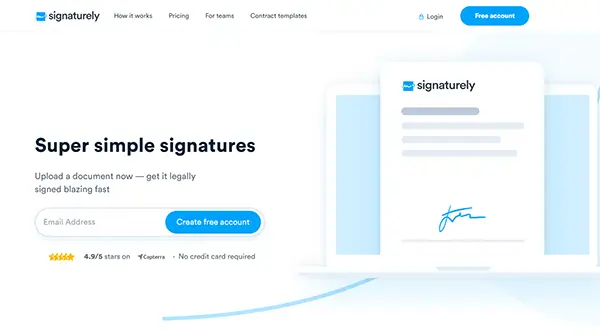 Signaturely is a cloud-based e-signature system that allows organizations to seamlessly acquire document confirmations. Notifications, mass send, team supervision, version controls, configurable branding, compliance log, and information import are among the features. Customers can submit files or create files using pre-defined designs, with needed data included to help readers navigate the content. Signaturely integrates with Dropbox, OneDrive, Google Drive, and Box, among other third-party tools. It is accessible on a yearly and monthly subscription basis, including email and phone service.
Records can be sent to signers through emails and viewed virtually on any platform. Managers can create automated notifications to keep track of queued, approved, and unsigned papers in a centralized location. Signaturely retains electronic traces of signee actions, such as IP address, region, identity, and email id, among other things. Supervisors can also keep track of how many times a document has been viewed, approved, or emailed.
16) Lightico : Electronic Signature
Lightico aids customer care employees in resolving service difficulties on the initial call by enabling them to view the problem rather than having to manage it offline. Consumers can specify their point of view by sharing photographs or recordings if they face any service issues. Compliance inspectors follow requirements thanks to video and photo recognition, as well as, electronic document signature. Consumers can authenticate transactions by sharing photo IDs or other appropriate documentation.
Users can keep a long track record of files with Lightico's cloud-based server to guarantee compliance with regulatory requirements. When on the smartphone, contact center agents can use Lightico's real client engagement solution to gather forms, paperwork, e-signature captures, photographs, permission to disclosures, and authenticate ID from the user's mobile.
17) GetAccept : Electronic Signature for Clients and Contract Management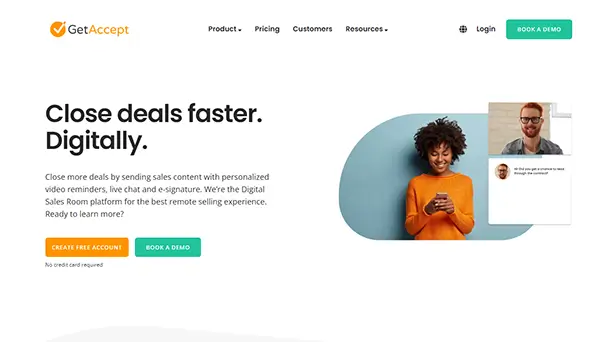 GetAccept is one of the premier Virtual Sales specific e-signature platforms, delivering outstanding and seamless buyer interactions for the final mile of the buying process. Their Digital Sales Room (DSR) provides a unified location for sales representatives to communicate sales content, transmit tailored videos, save essential papers and forms, handle contracts, and obtain final approvals. Your sales force can use the capabilities of GetAccept's Digital Sales Room in a unified framework thanks to their comprehensive suite of APIs.
GetAccept integrates with CRM solutions like HubSpot to enable documentation processes to be as smooth as possible whilst your sales staff are generating and completing contracts. To verify that papers are submitted in the correct order, create signature sequences and add obligatory signature fields to them. In addition, the software verifies that your paperwork complies with all signing rules, such as eIDAS, ESIGN, and UETA.
18) RSign: Electronic Signature
RPost's e-signature platform, RSign, has been a worldwide powerhouse for RSe-signature users over a decade. It is a feature-rich platform that is also finely simple to operate and affordable at mass.The flexibility of RSign is visible I its automatic e-signature processes while covering all of your document, form, or process circumstances. E-Signatures made simple is RSign's specialty.
Both the presenter and the signatory will have a better e-signing experience. RSign simplifies the signature process by allowing signatories to finalize and sign a form using any web browser or search engine in an assisted registration procedure. RSign has a highly user-friendly interface that is customisable, has sharable templates, real-time reporting, and more. RSign generates a Signature Certificate that may be used as a historical document and can self-authenticate, allowing all transfer tracing, material, and timestamps to be provided regardless of the receiving system.
19) SnapSign: Electronic Signature
SnapSign's eSignature collection software is simple and easy to use. The technology is compliant with US ESIGN and UETA, making contracts legally valid. This solution also comes with pre-built integrations, allowing you to implement signature gathering into your present workflow smoothly and correctly. SnapSign also has a large library of templates for popular forms like Non-Disclosure Treaties, contractual agreements, and more.
SnapSign's user interface is simple and appealing, and it was created to assist you get started quickly. SnapSign was created in the cloud, so you may access it from any gadget, wherever you are. SnapSign allows you to email and sign papers from anywhere, including the beach, an aircraft (wi-fi required), and – of all places – the boardroom. The built-in workflow allows you to control how a document progresses through your organizational processes. Whether your procedure requires a simple sign or multi-form papers with several ordered signings, as well as thorough approvals and inspection, the workflow may be swiftly designed to match your requirements.
20) Yoti Sign: Electronic Signature
With cheap pricing, biometric verification, and a user-friendly solution, they are a digital startup challenging the e-signing sector. Many firms are switching to Yoti, which saves them time and streamlines the process of receiving, verifying, and maintaining papers. It is one of the safest ways to create a contract or agreement executed from anyplace in the world and on any platform, thanks to the strong encryption used. Their team researched the industry and available products before creating a user-friendly e-signing platform. Themes, list boxes, adjustable text fields, as well as a signature order allow you to tailor papers to your specific requirements.
The e-signing system is a solution for both small and big organisations aiming to enhance customer experience and helps accelerate their sales processes. They have a large number of customers in a variety of industries, including technology, real estate, law, finance, and employment. Their clientele have given us an average rating of 9.6/10, with an emphasis on the customer care and integration help that the team provides.
21) OneSpan Sign: Secure Electronic Sigantures for Enterprises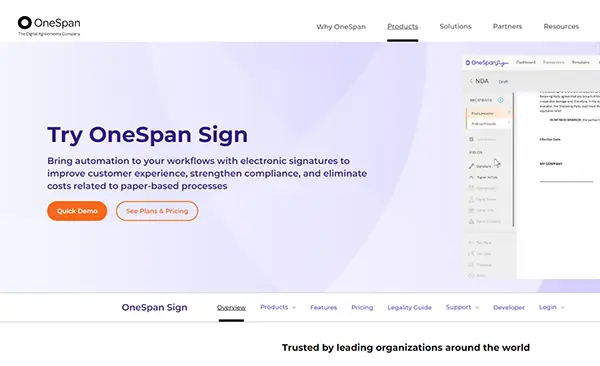 Dozens of businesses, large and small, rely on OneSpan Sign as their electronic signature platform. These include financial institutions, insurance, healthcare professionals, pharmaceuticals, and federal agencies. The e-signature technology is based on digitized signature software, which ensures the document's and supporting signatures' authenticity. This generates a digital identity or hash of the document, which can be used to validate the electronic file at a later time. The e-signature will be immediately invalid if the file is altered in any way.
You won't have to settle with OneSpan Sign, no matter how simple or sophisticated your e-signature operations are, regardless of whether you require to sign the periodic electronic contract or execute hundreds or thousands of operations online. OneSpan Sign is based on a single SaaS system that can be implemented in the cloud, on-premises, or microservices, and it offers optimal e-signing capabilities as well as solid legal and legal adherence.
22) YouSign: Simple Electronic Signature for Businesses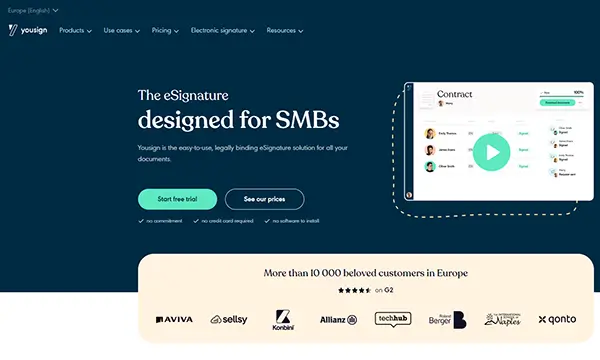 Yousign is a simple, lawfully enforceable eSignature system that helps small businesses fulfill their contracts. Their platform automates approval processes, protects agreements, and allows you to provide a superior service to your clients, collaborators, and employees. Yousign is a European alternative that has been available since 2013, intending to reinvent the electronic signature workflow. Yousign empowers your company to increase productivity.
All forms can be approved, sent, and signed with only a few clicks, from any location. Simplify signature monitoring and verification while integrating with your current services with ease. In terms of safety and security, you can enhance the security and transparency of data and create a centralized system for legally binding signatures. You can experience quick adoption and improved teamwork with the help of YouSign. Processes will be streamlined and standardized, and you can provide both readers and end-users with a high-quality authentication process.
Now that we have a run-down of some of the best electronic signature software, let's get into the different types of signatures used worldwide.
Types of signatures
Wet-ink or handwritten signatures
A wet signature is when someone signs their name with a pen ("wet ink") on a tangible piece of paper. A person uses wet ink to directly mark a paper, generally by signing a name in cursive. Penned signatures are rarely required to complete contracts and agreements nowadays, as numerous forms of electronic signatures have taken their place. Contract administration has become considerably more simplified thanks to the ability to sign a document or give permission online. As a result, businesses that still rely on wet signatures are sacrificing precious time and energy.
Electronic or online signatures
The phrase "e-signature" relates to any means of electronic authentication used to verify a contract or agreement. That method just requires the signer's identity to be verified, which may be done using anything from a business ID to a confirmed email account Appropriate, multi-factor authentication can be added to e-signatures to correspond with heightened security standards while also generating an audit trail.
Digital signatures
E-signature is an easily accessible and affordable type of digital signature. Digital signatures, on the other hand, are a more advanced form with extra security features. A certificate-based personal ID is often required for digital signatures, which provides an extra layer of security to the authenticity verification process. The digital signature is next authenticated by a trusted service provider (TSP), which is usually a trusted entity or certified authority (CAs).
Simple or standard electronic signatures (SES)
The use of a simple or standard electronic signature does not necessitate any verification. It's the most convenient and often used signature method, but it's also the least secure. The simple signature fails to meet the EU's requirements for legally binding electronic signatures. For employment contracts and leases, we typically utilize simple signatures. While an SES may pass the legal test, the risk of fraudulent activity is increased because the signer's identity is more easily fabricated.
Advanced electronic signatures (AES)
In comparison to SES, this e-signature adds more stages to secure user verification. The AES demands the signer's existence to be validated, which is a significant difference between SES and AES. To be recognized as an AES, the signature must be:

Distinctively linked to the signatory,
Ability to recognize the signer,
Invented utilizing electronic signature creation information that the signatory can use under their direct command,
And linked to the information signed to trace any subsequent changes, according to the eIDAS Regulation.

These standards reduce the risk of fraud and strengthen the agreement's legal validity. AES can be used for a variety of things, including job applications and entering a one-time passcode to verify identity before signing into systems.

A unique link belonging to the signatory must be included in an advanced electronic signature. It should be linked to the signatory to aid in their identification. It should not enable any changes and must demonstrate the signatory's unambiguous agreement. Complex procedures, such as creating bank accounts or purchasing life insurance, require advanced e-signatures.
Qualified electronic signatures (QES)
Finally, a qualified electronic signature generating device is used to create the qualified electronic signature. Because they are created after receiving certification from authorities, qualified electronic signatures are fully legally binding. They utilize a cryptographic key as verification of the QESCD for this (Qualified Electronic Signature Creation Device). Qualified electronic signatures are used infrequently, and usually for law-related acts or actions requiring high degrees of public security.

This sort of e-signature offers the highest level of security and is the only one recognized by the EU as being tantamount to a wet ink signature. QES is unique to the European Union and does not exist in the United States. To be designated a QES, the SES and AES standards must be met, as well as extra requirements for the device that delivered the signature.

QES is established with an electronic signature device and necessitates vetting procedures by a Qualified Trust Service Provider (QTSP). The additional restrictions put on QES increase the authenticity of the data and reduce the risk of deception or tampering. Because QES is the only type of e-signature recognized by the EU as being comparable to a handwritten signature, it should be used for legal purposes.

Now we know that most people typically have no use for a QES or AES when signing documents for simple tasks. In contrast, electronic, online, and digital signatures are far more accessible and straightforward for users globally. Which brings us to the next question, who is a common e-signature solution user?
Top 5 E-signature software users based on industry needs
1) Healthcare e-signature

HIPAA-based electronic signatures and global federal privacy regulations protect sensitive records in the biomedical research and healthcare industries. Secure data storage, confidentiality, and authorized forms of e-signature and e-documents have long been major concerns. A signature that complies with federal rules improves document security while simultaneously increasing compliance is essential.

The degree of documentation that doctors must complete is disproportionately high in comparison to the time spent with patients. Doctors spend 27% of their time in their clinics treating patients and 49.2% of their time on documentation. Even when physicians were in the doctor's office with patients, just 52.9 percent of their time was spent chatting with or evaluating them, while 37 percent was spent on paperwork. Healthcare professionals should use an eSignature service to speed up the collecting of doctor and patient authorization while retaining a standard of compliance that equals or exceeds conventional signatures.

2) Real Estate

Paperwork associated with real estate transactions has always been a large undertaking. To execute a deal, multiple authorities must sign off on it. It has been a long and winding road. Realtors that use E-Signature for Real Estate documents, on the other hand, have been able to avoid all of these headaches.

This is primarily because of the following reasons:

All institutions and organizations benefit from an 83 percent increase in approval speed and an 86 percent reduction in document expenses with an e-signature solution. 2017 (ESRA)
Organizations that employ e-signature software can save up to 85 percent on paperwork handling costs.
Compliance tools for requirements such as the ESIGN Act, UETA, and eIDAS are now included in most e-signature solutions. They assure that e-signatures are lawful in all countries, using encryption technology and auditing trails for enhanced privacy. A normal property sale entails a large amount of documentation, such as a Sales Contract, No Opposition Certificates from several authorities, and an Agreement To Sell, among other things. All of these papers can now be prepared online with immediate legal assistance. Things are made easier by the fact that they can be electronically signed from the comfort of a computer or smartphone.

3) The legal sector

In recent decades, the legal business has developed at a fast pace, with revenues expected to reach $908.26 billion in 2025, rising from $713.7 billion in 2020. Lawyers must handle reams of paper daily to finalize deals in this industry, which is heavily reliant on reports and documents. Law firms are one of the highest consumers of paper, spending an estimate of $1,000 per individual per year, or $83 per month. According to another study, a single attorney produces 20,000 to 1,00,000 copied pages each year.

It demonstrates how an increase in the market for legal assistance has a direct impact on physical paperwork. If you're a lawyer who's frustrated with signing dozens of papers for hours on end, you should use electronic signatures to instantly sign each official document in under a minute. Professionals can use this software to produce, sign, and use legally binding papers online from their workplace, on the go, at home, or in a remote place at any time and from any region.

4) The financial sector

There is a lot of paperwork processing in the finance industry. Almost every transfer of funds, as well as the registration of other documents, necessitates the use of a signature. Financial institutions as well as other industry participants have learned that paperwork signing has cost them a lot of revenue and time. The documentation needed has proven to be time-consuming and tiresome, frequently costing firms a significant amount of money.

Electronic records strive to solve this situation, and they are just as secure as physical records, if not more so. Instead of wasting funds and effort on faxing and mailing documents, financial corps and professionals can use computer files that reach their clients swiftly and can be signed promptly. Clients used to go to financial institutions to open an account, get access to loans, and complete other transactions and activities.

5) The retail industry

Although most businesses have implemented electronic signatures, the retail industry has been a bit delayed in integrating this software. It's unclear why this is the case, but it could have something to do with the notion that it's less visible how electronic signatures can help retailers. The advantages of e-signatures are significantly more obvious in industries where documents are crucial to everyday operations (like real estate or healthcare). But the truth of the matter is that there are numerous advantages to employing e-signatures for any business that has transactional operations. For instance, it can aid in the speeding up of the purchasing process and the reduction of paper waste.

Electronic signatures are also more confidential and tamper-proof when compared to handwritten signatures, which can improve security and protect your company from future threats. Moreover, e-signature software is also effective and streamlining onboarding processes within any industry. The retail industry is constantly hiring and training recruits which further drives the need to implement e-signature software to speed up these processes.

The next sub-topic to explore is the teams within these industries that make the most out of an e-signature solution's features.
Top 3 teams who use e-signatures worldwide
1) Sales

We'll divide this department into two main categories-

Inside Sales
Field Sales Both branches within the sales department garner major benefits from using a robust and intuitive e-signature solution. For every sales department, the main benefit of an eSignature system is that it shortens the "sales cycle." Getting estimates, contracts, nondisclosure agreements, and intermediary papers approved in an electronic form can cut down on time spent waiting in phases of the process. As a consequence, the entire process has been sped up and organized.

According to Hubspot, barely 39% of a sales representative's time is dedicated to selling or communicating with leads and clients. Additionally, HBR research recently found that administrative tasks account for 21% of a salesperson's work. Offering your agents the tools to be productive and economical is the best way to enhance performance.

When your sales staff uses electronic signatures, you'll discover that the business's workflow efficiency improves. Consider that for a moment. All of your documentation becomes digital, allowing you to effortlessly communicate accurate information inside the same framework without the fear of information leakage.

2) Accounts and finance departments

Before capital can leave a company, bills, budget approval, projections, and customer agreements must all be signed. Accounts and finance are one of the most paper-intensive departments, with thousands of papers passing through daily. Each document must be thoroughly reviewed, approved, and returned to the right person.

The authorization process can take a long time, and a typical workflow requires several persons before reaching the final sign-off stage. Documents staying in one division for days before going to the next is a regular problem, and keeping track of progress can be challenging.

Currently, 30% of all agreements are accessed through a smartphone web browser. This emphasizes the importance of implementing an e-signature solution for your team's necessities. Biometric authentication technologies, such as writing intensity and rhythm, are currently being integrated into E-Signature solutions. They also integrate with well-known third-party programs such as HR, ERP, finance, and workflow management software.

Regardless, with extensive proposals and agreements typically spanning multiple pages, even the most skilled financial experts run the risk of skimming a paper and signing anything without thoroughly understanding every clause. Due to the confidential nature of many papers, security is also a major concern.

E-signature solutions that include powerful long-term digital signatures, as well as support for the PDF/A archive format, assure that papers cannot be manipulated and will be usable for many years to come – regardless of software platform changes. This is especially important when huge sums of money are at stake. This makes e-signature software an indispensable tool for professionals within the financial industry.

3) The Human Resource Department

When onboarding a new employee, an e-signature system can help HR staff speed up their internal operations. Simultaneously, a business that uses such a device to make this task easier stands out from the crowd for its innovative use of the software. This use of convenient software is critical in today's highly global environment to recruit top intellectual talent. Electronic signing software ensures positive first contact with prospective future employees, particularly at a time when millennials make up a large portion of the market.

Additionally, research shows, that during COVID-19, employees had to make do with restricted availability of workplace photocopiers, scanners, delivery services, and more due to lockdowns and temporary disruptions. As a response, HR professionals have adapted to this paperless document ecosystem by making extensive use of E-Signatures.

This fuelled an increase in professionals signing papers in the cloud from their smartphones, tablets, and PCs. As a result, self-signing increased by 3,173 percent among HR professionals in Q2, while requesting signatures increased by 2,158 percent.

Most small-scale and mid-sized businesses are better off investing in cloud-based solutions due to the lack of space and equipment. In general cloud solutions tend to be more secure as well making them a viable option for bigger businesses as well. So what is the best type of online signature software for you?
How to choose a digital signature solution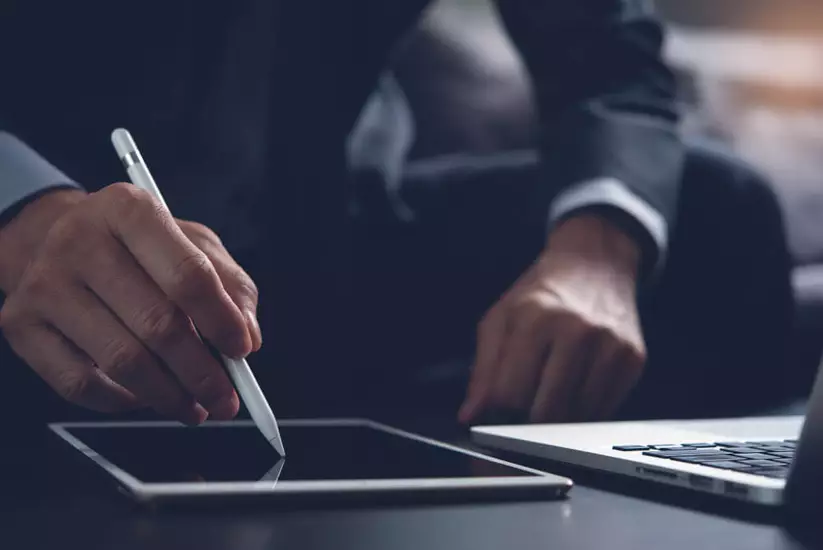 When it comes to purchasing e-signature software, there are a few things to keep in mind. In an evaluation of E-Signature Software, the following features are critical.
Does it work across devices?
To begin, consider platform compatibility. What operating systems is the software compatible with? Is it compatible with Windows, Mac OS X, Android, iOS, and other platforms? One of the primary things to look at is your solution's ability to work across devices and platforms. With extra assistance, you may rest assured that everybody who gets your documents will be able to sign them without difficulty.
Personalized Branding
Is your e-signature solution allowing you to keep your brand consistent throughout the e-signature process? Customization is important for lowering abandonment rates, and a fully tailored e-signing procedure can assist develop client trust in the transactions made and increase adoption rates.
Recognize your requirements
Wasting money on functions that aren't necessary is a waste of money. Examine your genuine requirements. Will you be dealing with a large number of documents? Does your company require strong branding capabilities? Do you need white-labeling features? Or do you just need to sign documents on the go? Once you figure out what your unique needs are, you'll be more focused on selecting a product that gives you the most bang for your buck.
Compliance and legality
Is the online signature solution compliant with all signature types specified in significant e-signature legislation, such as eIDAS, UETA, or the Electronic Signatures in Global and National Commerce Act (ESIGN Act)? Also, make sure your e-signature system adheres to industry-specific standards relevant to your use case. For example, in a healthcare setting, how will your e-signature system comply with HIPAA requirements?
User-friendliness
One of the main advantages of e-signatures is the ability to sign paperwork in real-time, but a software package with a bad user experience or user-friendliness might negate this benefit. Is it easy for all users to use the e-signature solution? Is it simple to use and available to anyone who submits signature inquiries or signs company documents? Is it simple to design and operate for IT professionals? These are the questions you must answer before purchasing the software.
Other Software Platforms Integration
Is the online signature solution API-enabled and SDK-supported, allowing developers to quickly create integrated solutions? Do they provide pre-built interfaces for popular corporate systems such as Salesforce, as well as sample code and developer team support? Are there any extra charges for programming environments? If you're already using a CRM or other software, you need to choose a solution that can access data from such systems. So lookout for the in-app integrations when you make your purchase.
These were some of the significant aspects to go through when selecting an online signature software. I hope this post gave you ample information about each e-signature alternative and helps you choose one in the near future. Signing paperwork online can take a long time. You may need to open your digital document, change the structure, copy it, sign it, scan it back into your desktop, and reorganise it before sending it to the recipient. Electronic signature apps, often known as eSignature apps, can aid in this situation. You can sign and email documents in a matter of seconds.
If you're looking for one such e-signature alternative to meet your needs, check out Awesome Sign! You've come to the right place if you're looking for some terrific tools to utilize to e-sign your next document. Awesome Sign is one such tool that lets you skillfully e-sign your documents. Awesome Sign enables you to easily update, sign, and manage your papers from any device. Click here to sign up for a free trial and discover awesome possibilities for signing all of your future contracts.