Instagram has become essential for several brands' social media presence. It increases sales, drives valuable traffic to websites, and cultivates interested audience members. The Instagram app is used by 130 million users to shop daily and make direct payments. Even though Instagram's shop app is still a relatively new function, it gets better each year. You can now purchase goods without ever leaving the Instagram interface with the new checkout feature.
Which makes the perfect time to discover how to hone your techniques for attracting genuine, authentic followers on Instagram. This can be especially helpful if your Instagram visibility isn't nearly as strong as you need. You have greater chances to interact with users and provide them with fresh experiences as your platform grows.
The organic difference is crucial since, when attempting to increase their Instagram following, some firms opt for the quick fix- buying followers. Numerous sites offer sponsored followers and likes. But using these shortcuts is never worthwhile because the Instagram algorithm is always being modified to screen out engagements and relationships from sponsored, low-quality profiles.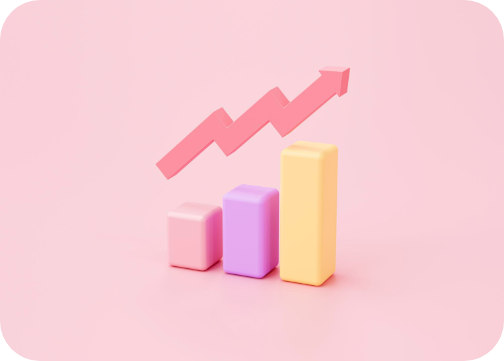 But first, why is it necessary to increase your follower count? Isn't an engaged small number of followers better than an inactive large following? Let's address these questions before delving into how you can increase your follower count.
Why do we need a large following on Instagram? How does a large follower base help Instagram Marketers?
Instagram followers can significantly widen a person's visibility and reach on the platform. An ever-increasing follower count can help strengthen both interpersonal and professional contacts. It's crucial to have as numerous Instagram followers as possible for several reasons.
First off, possessing a larger Instagram following lends credibility to a company or brand. Those attempting to establish a brand on Instagram must project an honest, trustworthy public persona. A large follower count is necessary to create and project this persona.

People may question the authenticity of a profile, for instance, if it just has a few dozen followers on the network. On the other hand, individuals are more inclined to take a business page seriously if it has thousands of followers.

The ability to participate in affiliate income is generally only available to those with a larger following. For individuals who may not be aware, this is when a different business hires people to promote and sell a specific good or service on Instagram. A portion of the proceeds from the sale of that product will go to the account.

A user's account will have more prospective clients as they gain more followers. Significant affiliate marketing and promotional sales programs will be accessible with a greater number of followers.

Finally, an Instagram user's experience will be more joyful the more followers they acquire. The ability to communicate with more people and receive reviews on the profile and its content increases with the number of followers.

Opportunities continue to increase more than ever when you have a large audience. Having a social media account ultimately serves the purpose of engaging in social interaction. But one point to note is the fact that quality will always beat quantity.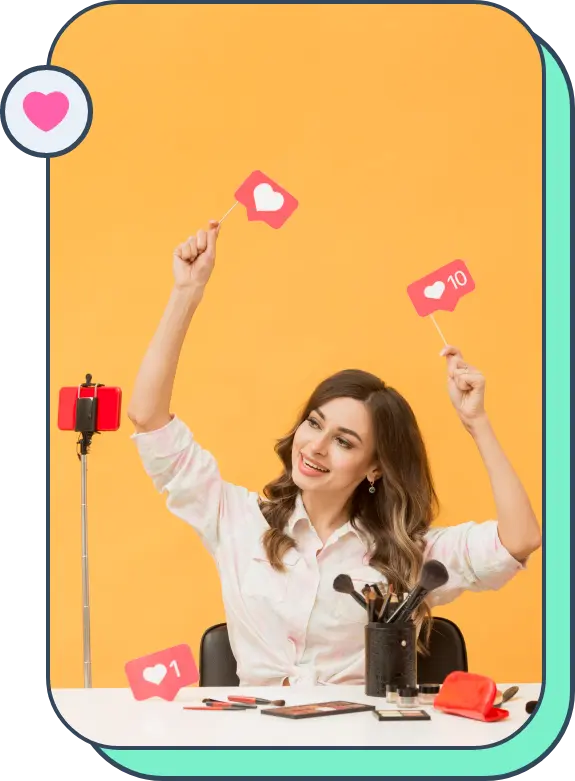 For instance, a recent Hootsuite survey found, that brands with 10,000 followers or fewer, interact with customers more than those with 100,000 followers. This serves to highlight the following factors
Engagement is wholly reliant on the quality of the brand's content. Most brands with a small number of followers generally focus on increasing this figure.

A large number of fake followers or bot accounts are easily noticeable to users worldwide. If an account has 100,000 followers but each post receives less than 10,000 likes, users realize that the page may not have any authenticity. This is one of the most critical reasons why brands need to invest in organic follower growth.

It is tempting to purchase followers and use solutions that help increase follower counts. But rest assured that you won't gain anything by acquiring fake followers in the future. You might be questioning how having a few thousand fake followers could be harmful to you rather than just allowing you to integrate links to your stories and have them appear at the head of your profile.

Your engagement ratings, reach, exposure, and more metrics will all suffer from fake growth. This will also negatively impact your digital media marketing efforts. We strongly advise you to follow our recommendations and only employ organic growing methods.

Despite the complexity of the Instagram algorithm, fake followers won't be identified as such. The algorithms will deem your content uninteresting if, out of 3000 followers, only 30-40 liked or even saw your post. Therefore, even the most devoted fans who genuinely like your posts will not see your content.
This is why Instagram marketers need to focus on organically engaging their audiences consistently. A big reason for the need to release content regularly is also the user demographics of Instagram. Most Instagram users fall under the young adult age group. For instance, more than 50% of all Instagram users worldwide are under the age of 34, according to Statista.
This is not shocking to us because millions of adolescents and young people frequently use this social media site. 13.9 percent of all active Instagram users worldwide as of October 2020 were females between the ages of 18 and 34. Additionally, a quick snapshot of the platform's age-related characteristics among US citizens to help you understand who uses Instagram the most: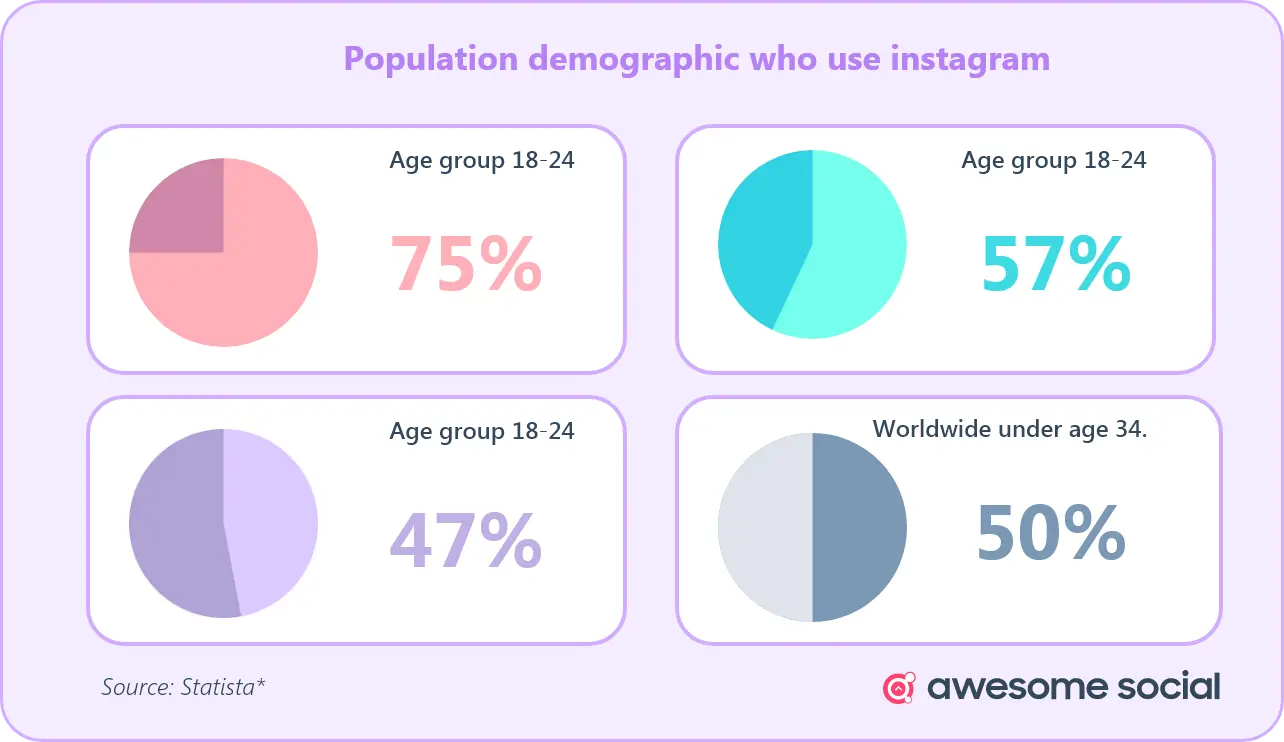 75% of people between the ages of 18 and 24 use Instagram.
57% of persons between the ages of 25 and 30 use Instagram regularly.
47% of people between the ages of 30 and 49 use Instagram
The percentage of 50- to 64-year-olds using Instagram is 23%.
Barely 8% of adults over 65 use Instagram regularly.
The average attention span of teenagers and adults has shrunk. The best way to capture their elusive engagement is to post consistent, creative content without compromising quality. Instagram is a finely targeted visual marketing platform for your business and a chance to develop a devoted following that expands with your company. In this article, we'll demonstrate the best practices for using Instagram to boost interaction and develop a significant following over time—one that's made up entirely of engaged genuine fans rather than unhelpful fake profiles.
Top 12 Strategies to Boost Instagram Follower Growth
1) Create and develop an Instagram marketing strategy
Your presence on Instagram can greatly depend on your Instagram content strategy. A content plan for Instagram will keep you on course and ensure that you've identified the aims you're intending to pursue. One of the first goals any Instagram business account should reach is to create posts that fit its brand image. Instagram is a highly visual platform that depends on the aesthetical value you bring to its users.
Kim Kardashian promoting a new line of beats earphones.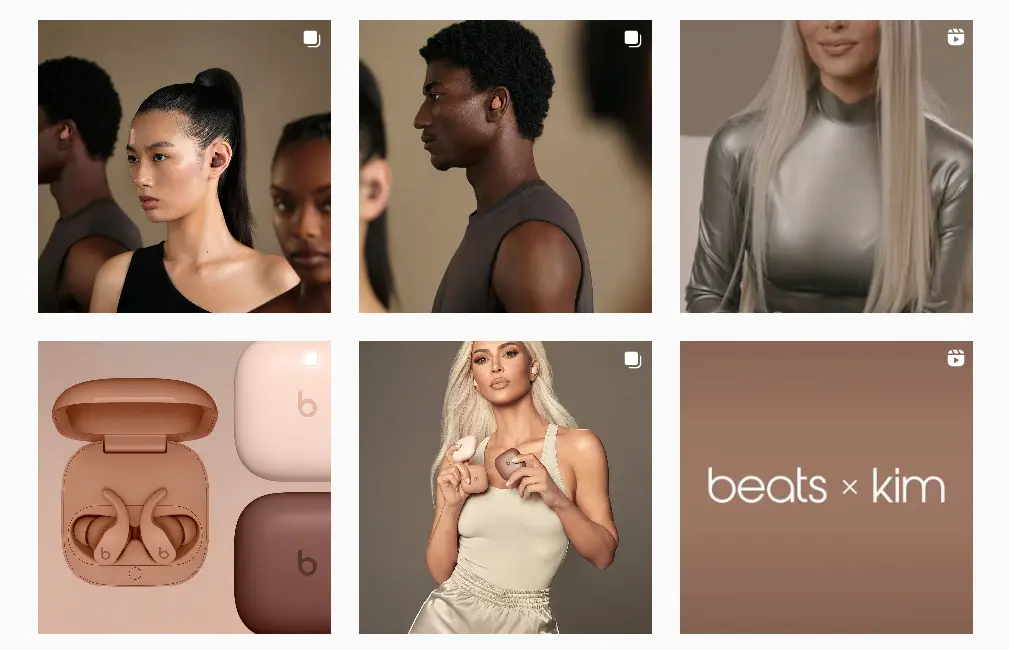 Your marketing strategy will alter over time to take into account the continuing societal and behavioral changes. To ensure that you achieve your marketing objectives, it is essential to have a defined short-term goal. Know how your profile will represent your company and what theme it will be centered around. This is the best strategy for reeling in your target demographic.
Curating and posting high-quality content is the first step toward growing your followers. One of the best ways to go about this is to convey your brand's aesthetic and express your brand identity. Some easy ways to achieve this are by using brand-specific fonts, colors, symbols, and images. For example, if your brand's logo colors are red, white, and black, incorporating these colors into your content can help cement your brand image in the eyes of your followers.
Another aspect of your content strategy must focus on creating an easily distinguishable presence on the social media app. Several brands and services are constantly competing on Instagram to gain more followers. Differentiating your brand and showing your unique appeal can be a major game-changer when building your Instagram presence. Doing this can be immensely difficult if your brand markets a commonly available or accessible product.
But difficult does not mean impossible and Instagram users appreciate brands that make an active effort to engage audiences. Even if your brand or product is competing in a highly saturated industry, for example, beauty or makeup products, you can still differentiate your brand from the masses by showing your brand's unique selling points. This has become all the more achievable with the help of reels and video content where you can use trending audio bites to bring followers to your feed.
Additionally, to remain relevant, your Instagram business account will require a regular posting schedule (we'll go into more detail about this in the following section). However, take care not to oversaturate your followers with posts. Determine what will benefit your brand the most first. Check the results after posting at various intervals and times. You can make a collaborative posting schedule once you discover what works for you to stay on top of what you intend to post and when.
2) Post content consistently with the help of scheduling tools
The simplest technique to save time on Instagram so that you can concentrate on what matters is to understand how to plan posts ahead of time. A planning tool becomes increasingly valuable when your Instagram marketing techniques become increasingly elaborate. Regardless of whether you run a modest business or oversee a large workforce, this is essential. Planning, creating, and sharing timely, high-quality content becomes simpler when some of the tedious tasks are automated. Investing in a robust Instagram content scheduling tool can save you time and energy in the long run.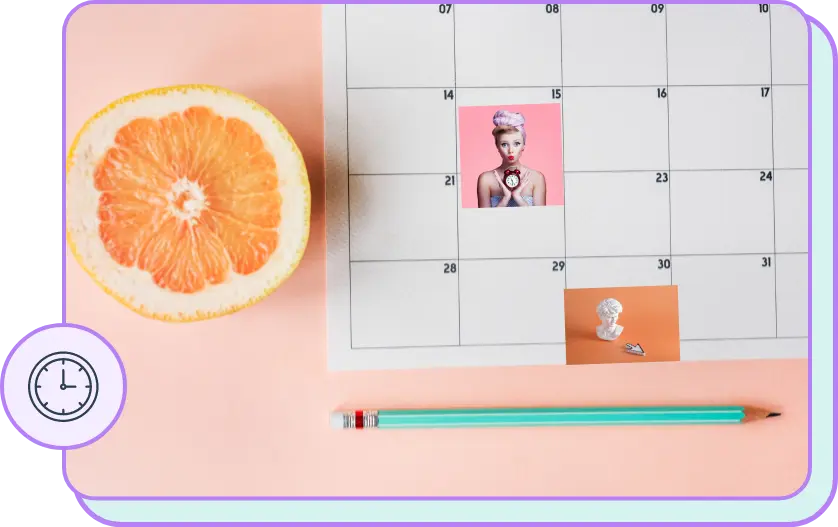 Posting once a day or whenever it's convenient limits your Instagram post's capacity to reach your target audience. It's ideal if you post frequently. However, be sure that whatever you upload is of optimum quality. The posts of users you follow appear on their Instagram feeds, this includes Instagram Stories, Reels, Videos, and Image posts. The most relevant ones appear near your profile logo, however, in the app, only 4 Stories appear at once. To remain in touch with your viewers, you must post frequently.
It's a good idea to use a social media planning or content calendar for your Instagram Stories. Assuming you maintain an Instagram Business profile, you can create and organize Instagram Posts using Meta Business Suite. If you only publish to Facebook and Instagram, Facebook Business Suite is a wonderful tool. But most contemporary media marketers can save time and effort by using a social media management platform and managing all social networks from a single platform.
Understanding how to plan Instagram content will save you a bunch of time and make posting less disruptive to your day. Instead of creating and posting content on the fly numerous times each day, you should sit down and plan out your entire week's worth of posts in one meeting.
Whenever it's time for your planned posts to go live, all you have to do is click a few buttons. Of course, if you want to keep your audience up to date on anything that is happening right now, you can publish live Stories or share images interspersed with your scheduled ones. Planning also ensures you have a consistent set of high-quality content to post no matter what happens in the future. As I've mentioned in the previous section, figuring out what periods bring the greatest amount of engagement is essential to creating a content schedule.
For instance, Later looked at over 35 million feed posts to see when the optimal time was to share your content. The greatest times to post on Instagram during the week, according to Later's study of 35 million global Instagram posts, are:
Monday at 5 a.m.

Tuesday, at 6 a.m.

6 a.m. on Wednesday

5 a.m. on Thursday

6 a.m. on Friday

6 a.m. on Saturday

6 a.m. on Sunday
They also determined that Saturday and Sunday are the greatest days to post on Instagram, with the greatest average interaction for posts uploaded at 6 a.m. on Sunday. These are just the timings they found based on their location and brand though. It is equally or doubly important for you to test when your posts gain the most traction on your feed. There's no other way of going about the Instagram algorithm game as it favors authenticity over everything else.

The hashtag is still a key factor when it relates to categorizing your content on Instagram, although the search functions have improved over time. Hashtags are a significant ranking indicator since they assist the algorithm in determining the topic of the content. As a result, using highly meaningful and prominent hashtags in your posts is a terrific approach to boost your visibility and presence on the platform.
By using topical hashtags, you can make it easier for users to notice your content after conducting a keyword search or clicking on one from a related post. So, even if they do not yet follow your account, those who see your hashtagged content in their feeds may end up following you after finding your content. Instagram posts allow for up to 30 hashtags, but quality over quantity is frequently the key to a successful hashtag strategy. Learn which number of hashtags works best for your specific account by experimenting.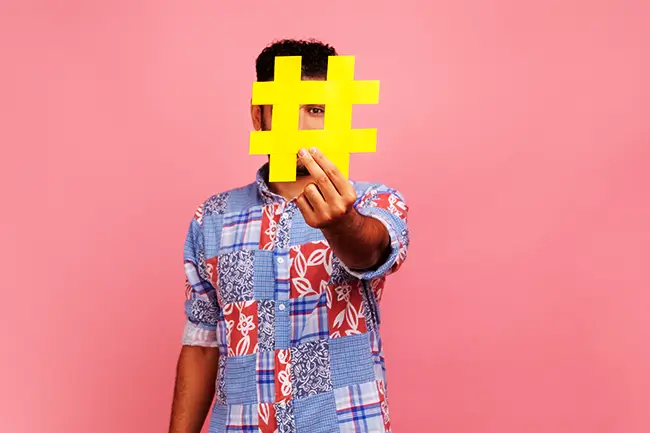 Avoid using hashtags like #followme, #likeforlikes, or #followforfollow. These might temporarily increase your following. But it's possible that they're bots or followers who merely want their users to follow them back. And that won't assist you in creating a loyal, interested following on the social media site.
If you want to strengthen your hashtag approach, start with these four suggestions:
Avoid using hashtags that are prohibited or banned as it can easily get your account shadowbanned by the app. Even relatively harmless hashtags can end up on the restricted list, so do your homework and verify every hashtag you use on Instagram.

Popular posts in your industry can serve as brilliant a source of inspiration. Browse the posts on your Instagram Explore Page that are useful to you and take notice of widely utilized hashtags.

Ensure your hashtags are suited for your post's content, intended audience, sector, region, or branding.

Select hashtags that have a reasonable number of postings, but forgo oversaturated hashtags. Your work will have the best chance of getting viewed if it is around 10K and 250K.
Increasing social interaction with your company by using hashtags is a terrific method to draw more people to your social media sites, reach more people, and create an audience for your brand. By doing this, your consumers are encouraged to interact with both new and old clients as well as your organization. Here are three tactics you can take to increase social interaction by using hashtags for your business:
Be sure to match your hashtags to your brand identity. Strengthening your hashtags with your brand image is a great way to increase engagement on social media. An effective method for developing hashtags that users will interact with and like is to employ clever puns or wordplay that somehow ties back to your primary advertising message or philosophy.
4) Understand and make use of Instagram's Algorithm
The Instagram algorithm is continually changing to provide users with relevant and entertaining posts. Instagram recently announced that it would prioritize original content across the platform, promoting new Reels and feed posts against re-shares. Learning about the newest algorithm modifications is beneficial if you deal with social media. You can adjust your strategy to "crack" the algorithm's priorities, allowing you to reach more people and grow a community of enthusiastic followers.
One of the most effective strategies to beat the Instagram algorithm is to make use of the most recent features as soon as possible. Because Instagram places a priority on fresh features to encourage adoption, getting a head start adapting them while the competition is still minimal can be a major benefit.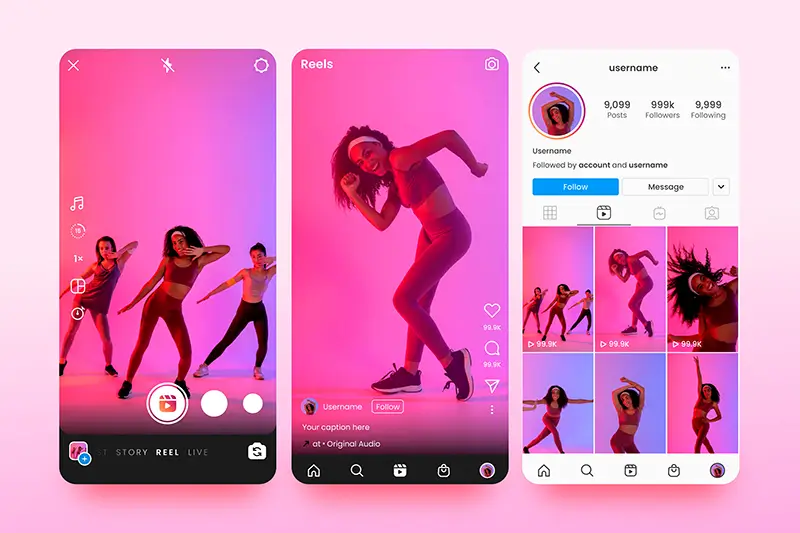 Instagram Reels is a wonderful example of this. Instagram reels enable users to produce 15-second movies and post them in a feed that is easily searchable within the app. The main advantage of Reels is brand recognition. It will allow your work to appear on the Explore page as well as a never-ending stream of Reels. When your content appears on the Explore and Reels tab, it reaches consumers who might not otherwise be exposed to your brand.
Some quick Reel Instructions for Beginners:
Make use of current audio.
Incorporate relevant hashtags to give it your twist.
Post Reels on your Story and/or Feed Frequently
Apart from following Instagram trends, you should also try to apply engagement stickers on your initial Instagram story slide to increase engagement. Interactions are one of the most important factors in the Instagram algorithm, and Instagram Stories stickers are one of the quickest and most effective ways to increase participation.
Polls, emoji sliders, and quiz stickers are all entertaining and have a low entrance threshold, making them a surefire winner for audience participation. Discussion stickers, on the other hand, are a terrific method to encourage DM exchanges with the Instagram algorithm, indicating a deeper, more intimate connection. Instagram Stories are an excellent way to strengthen audience interactions. Encourage your followers to participate and express their thoughts by polling them or sending them a direct message.
Moreover, the most effective method to continue to empower the algorithm is to stay consistent in your area (from the information you share to the people you connect with). The quicker it is for the algorithm to "categorize" your profile and its content, the further likely your updates will rank for individuals who have expressed an affinity in your niche in the past.
This includes the algorithm favoring content that hasn't been shared by anybody else on the app; and the algorithm de-prioritizing content with obvious watermarks from other apps. Your account is also more likely to be seen by the intended audience members in recommended accounts to follow, strongly suggested Reels, and Explore Page results after the algorithm has a good idea of your specialty.
5) Focus on brand collaborations and giveaways (with influencers and people in your niche)
Knowing the potential of your following is crucial while mastering how to increase your Instagram followers. The more followers you amass, the more potential clients and customers you'll attract. Being visible and getting in front of shoppers is the best approach to attract them to follow you. Being active on both your own and other Instagram accounts is essential.
To promote your brand in the feeds of consumers, consider promoting user-generated content. To spread the word about your brand to more people, you can also run Instagram contests. These types of activities build brand awareness by demonstrating that your audience cares enough about you to share your content or produce original UGC.
The next stage is to see if an influencer is significant to your brand after you've established that they are credible. Check to determine if the influencer regularly produces content that is related to your niche. Influencer identification for brands comes in a variety of forms, but at this point, choosing a brand-relevant influencer is crucial. This is because brand-relevant influencers bring followers who have an interest in the same industry with them.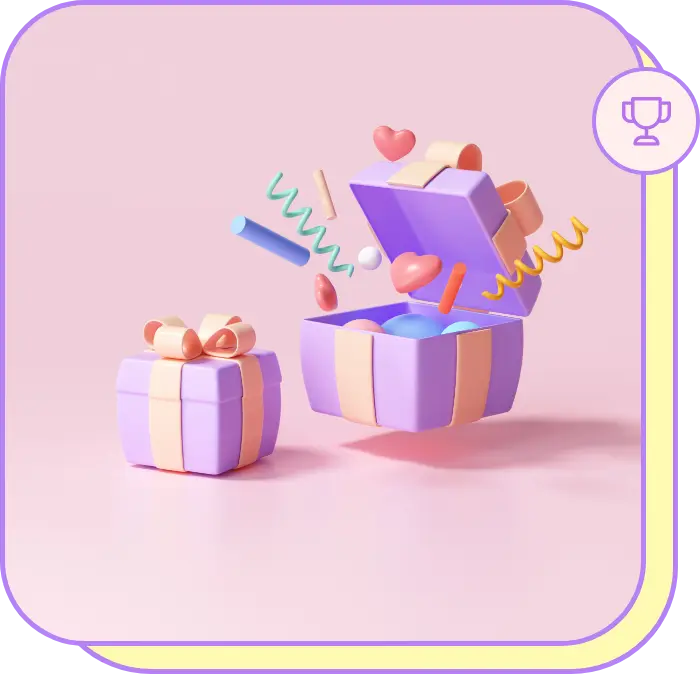 You and the influencer you identify will have a logical connection if they are more knowledgeable about your industry and have fewer followers. In light of this, you may now promote your products on the appropriate platform and draw in potential clients. For example, a clothes company would logically want to collaborate with an influencer who frequently produces content for the fashion industry. However, a company that sells outdoor clothing might rather collaborate with an influencer who frequently vacations.
A follower who tags a friend in the comments of one of your posts is another way to gain followers on any social media network, not just Instagram. Not only do these responses increase the interest in your post, which benefits the Instagram algorithm, but then every tag also exposes you to a prospective audience member who found you through a referral and who you might be able to convert into a follower. Publishing relatable content that calls for 1:1 sharing is one method to promote this behavior. But organizing a giveaway that entices your audience to tag a friend and follow your profile is a more effective strategy to persuade them to do so.
Next, think carefully about the gift you'll be giving away; the goal is to build a prize that inspires interest and encourages users to participate. Make doubly sure the prize is appropriate for your demographic and meaningful. You should pick a prize that will appeal to both your current and target audience, whether it be a good, service, or experience. Here, you have a lot of creative room. What other company would your audience enjoy if you partnered with them? What services or events would currently make your community feel wonderful? By working with another company, you can gain access to their audience and vice versa.
6) Focus on keyword SEO
Instagram SEO is the process of making your content more search engine-friendly. You want your profile or post to show up near the front of the results when somebody uses the Instagram search bar to look for a meaningful keyword or hashtag. Generally speaking, SEO is a blend of science and art. SEO on Instagram is similar. There isn't a precise recipe that will catapult your profile to the top of the search results.
Instagram is transparent about the algorithms it employs to prioritize search results, which is a good thing. Here is how the Instagram search bar chooses what results to display. It should come as no news that the keyword signal that is entered into the search field is the most crucial. Instagram searches for related usernames, profiles, captions, hashtags, and regions depending on the search keywords.
How this affects brands: You must be aware of the search terms people use to find content similar to yours. You can gain insight into the keywords people use to search for your company using Google Analytics, Hootsuite Insights, and other social media monitoring applications.
The greatest location to use significant keywords and search queries is in your Instagram account (also known as your Instagram bio). Instagram profile Instagram name SEO is the beginning of SEO. Pick a handle and account name that is appropriate for the content of your page. If your handle or username has an area for a keyword, incorporate that as well.
In order for your work to rank in as many spaces as possible, including search results and recommended content feeds, it must be specifically tailored for Instagram. It's an important strategy to use to increase your visibility on search engines. You have a better chance of increasing your following and creating a vibrant Instagram community the more folks notice your post. Additionally, be sure to add pertinent keywords to your bio. What do you stand for and who are you? What sort of content can users (and Instagram's search tool) anticipate finding in your grid?
Last but not least, if it pertains to your company, make sure to provide a locality in your bio. This is yet another reason, if you haven't already, to upgrade to a business account since only Professional and Creator profiles can add a region. Launch the Instagram application and tap on your profile icon to add a profile location for Instagram bio SEO. Select Contact Options, then edit your profile. You can be as descriptive or vague as you wish when entering your location information. But this too will help followers searching for these locations find you faster.
Why should you spread the word about your Instagram account on various social media platforms?
Why not is a smarter question to ask? You have little to lose and plenty to gain. Your Instagram posts will receive more engagement if they receive greater social media visibility, and more people will follow your profile as a result. It's also a brilliant way to boost your reputation. Most likely, your Instagram photographs rank among your best-looking photo assets. Getting that out there doesn't hurt at all.
Additionally, it costs money to create new material for social media. By cross-promoting, you can repurpose some of the existing content while still getting the same returns at a significantly lower cost. Cross-promoting your profile on other channels is a wonderful place to start if you're looking for additional strategies to increase your Instagram following.
An important channel for cross-promoting your Instagram profile is Facebook. TikTok is another popular new-age platform. Linking your Instagram profile to your TikTok page is one of the first steps you can take to maximize Instagram traffic. Then you can make a couple of reels and post them on TikTok. This can inspire users to click through to your Instagram page and drive traffic from one network to the other.
Make finding your Instagram account simple for users. Nobody should have to search through your website's pages to discover your Instagram account. The social media accounts of Buffer are linked at the footer of our website.
Add the following to your Instagram bio:
Email sign-offs
the footer and/or sidebar of your website
Profiles on other social networking sites
Team member posts on social media
Cross-posting techniques that work well include:
Share a video you've posted on Instagram through your other accounts. Make the user go to Instagram to see the video, though. Your video's total views and the final number of followers will go up if you drive traffic to it.
Through Instagram's new algorithmic timeline, your more activity will also aid in increasing your exposure there.
Try to promote any contests you hold on social media using your other profiles. If they want to enter the event, followers will be compelled to follow you on Instagram. It's a simple method to make every contest you run more effective.

8) Get into the reels game
One of the most effective strategies to beat the Instagram algorithm is to make use of the most recent features as soon as possible. Because Instagram places a priority on fresh features to encourage adoption, getting a head start adapting them while the competition is still minimal can be a major benefit.
Instagram Reels is a wonderful example of this. Instagram reels enable users to produce 15-second movies and post them in a feed that is easily searchable within the app. The main advantage of Reels is brand recognition. It will allow your work to appear on the Explore page as well as a never-ending stream of Reels. When your content appears on the Explore and Reels tab, it reaches consumers who might not otherwise be exposed to your brand.
Some quick Reel Instructions for Beginners:
Make use of current audio.
Incorporate relevant hashtags to give it your twist.
Post Reels on your Story and/or Feed Frequently
Reels are typically 15-30 second videos, inspired by TikTok, and may be made with Instagram's camera or shared via the Image Library. Scripted text, Augmented filters, green screen mode, timing and speed options, and connectivity to an audio library are among the available effects.
Reels are one of the most well-known of Instagram's current features that helps users constantly create trends and captivate audiences due to the content's short length. Once or twice a week, experiment with Reels to discover what works with your core demographic.
Although a reel can last up to 60 seconds, most creators have discovered that shorter reels perform better. If you're looking into one of the fastest ways to reach new audiences, try your hand at making a Reel. Use these steps to create and share your Reels on Instagram:
Open the Reels feature-

Press the "+" button in the bottom center of the page after you've opened the Instagram app. Swipe to the right until you reach the Reels option.

Choose the runtime of your video-

Determine whether you want to capture a 15-second or 30-second video by pressing the top button on the left side.

Make your Reel more interesting by adding music to it-

Browse or explore the songs you want to utilize by pressing the music icon on the left side of the screen. Then, by tapping on your music, select the part of the song you wish to hear.

Select a video speed-

After that, you'll want to choose your video's speed. There are five different speed settings available, ranging from to. 3 to 3 times.

Select your effects.

You can use filters or effects from Instagram's gallery, just like you can with Instagram Stories. You can also film numerous clips with various effects at the same time.

Setup a timer-

It's now time to start your timer. Select the length of your video by pressing the clock icon on the left side of the page. Then select a 3-second or 10-second countdown by pressing the countdown button. Press "Set Timer" when you're ready.

Record the reel-

Press the record button in the center of the screen when you're ready to start recording.

Share your Reel-

Tap the arrow icon at the bottom of the screen when you're done. You can opt to share the Reel to Reels in your Feed, the Reels section, in Explore, or your Stories.
Try to use trending music, dances, and issues when you're creating a reel. Join in the fun and pick up a few new trends. Simply put your unique spin on it to make yourself stand out from the pack. Aside from that, don't restrict the variety of ways your new Reel can be discovered.
It can be shared not only on the Explore page and in your Feed, but also your Stories. Additionally, if you have a business profile, you can also use Instagram Insights to monitor how well your Reels are working and what content your followers are most interested in. Make use of this data to help you produce the types of Reels that your target audience wants to view.
9) Write compelling captions with convincing CTAs
Even while Instagram is mostly a visual site, writing excellent Instagram captions can significantly increase your reach and engagement. And as you've previously seen, engagement and exposure are important components in getting free Instagram followers.
The following are important tactics to bear in mind:
Put the most crucial words first. Users must press "more" to view the entire caption if it is more than 125 characters. Make the most out of the opening phrases to encourage an additional tap. If at all possible, include your CTA in this section of the post captions.

Post a question. This makes leaving a response irresistible to your audience. Your account will become more visible thanks to that engagement and more users will take note of your page.

Emojis are also suitable for most types of profiles on this pictorial social media platform and can aid in catching the reader's attention.

Test out various caption lengths. If your post calls for it, you may try out some in-depth narration with Instagram's long-form captions, which have a character limit of 2,200. When the images speak for themselves, fairly brief subtitles can also be incredibly powerful. Long captions, however, are more likely to increase engagement, according to our research.
A call to action is a request that urges your audience to take a particular action. This is the section of your post, advertisement, or website where you ask readers to take action. A Call to Action on a webpage is often a button, an image that may be clicked, or a link. A CTA typically appears at the end of a blog post or website, but it can also be placed elsewhere on the website or in a social media message.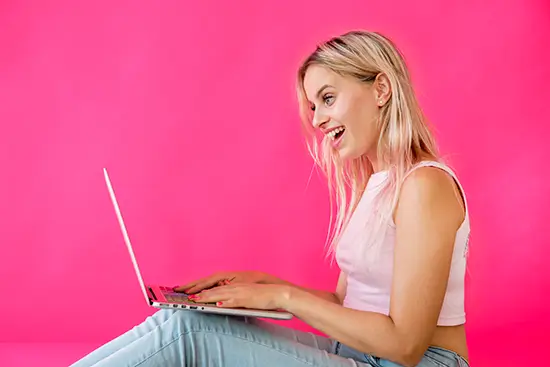 This could be done by:
Creating a profile
Getting a price quote
Joining a competition
Petitioning by signing
Enrolling in a course
Following your page
It's the button or link that starts your funnel's next stage. It is an essential element to incorporate into your content while posting on Instagram. Promoting as many interactions as possible is one of the key strategies to handling the Instagram algorithm. The following are the most significant interactions for account ranking, according to Instagram:
Time spent viewing your posts
Saved posts
Comments and story replies
taps on your profile
What is the most effective approach to promote more of these interactions? Incorporate a strong call-to-action in the subtitles of your posts! This might be as simple as posing a question to your audience or encouraging them to mention a friend in the comment thread to join your newest event.
Any product descriptions, including articles and postings on social media, newsletters, web page copy, and so on, should use a CTA. Every bit of content produced by a brand needs to have some sort of objective. The objective may be to attract new followers, maintain relationships with existing clients, advertise a service, increase traffic, etc. And the best method to motivate people to act in order to accomplish that goal is through a CTA.
Though it may seem like you don't need to push users to do anything because they will do it anyhow because CTAs are so transparent, this isn't always the case. It's crucial to express yourself on social media because our attention spans there are so limited and fragmentary.
10) Tag locations and users
Many individuals use Instagram to look for nearby businesses to find goods or services. Fortunately, the platform has the ideal functionality for your company: the location tag. Therefore, you must ensure that your position is accurately labeled if you wish to be located. Your Instagram followers will be grateful. Let's imagine you own a flower store and offer a large selection of blooms and plants.
You would like to be discovered by individuals traveling to your city from all over the world in search of the ideal florist experience. You want to entice people to visit your shop so they can view everything for themselves when you publish images of your bouquets online in addition to urging them to purchase one for the experience.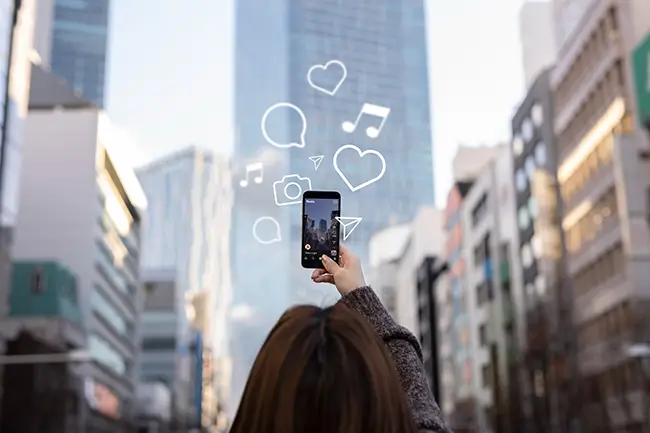 You want to make it simple to find your company. The Instagram location tag works its wonders at this point. A location based on longitude and latitude where your company selects to host all of your Instagram content is what an Instagram tag is, in this case. Once a post is uploaded, the location is shown at the top, immediately beneath the user name or brand. To create a personalized location, make sure location services are enabled on your device. Once your GPS has been activated, provide your unique location name, which is typically the name of your company.
The "Add" button will lead you to a page where you may select a category for your region. It's critical to pick a precise category so consumers can locate your company when they conduct a specialized search. For instance, you would want to select the Restaurant category for an eatery. If you're still unsure whether it's worthwhile to do this, keep in mind that posts with tagged locations receive 79 percent more interaction than posts without them. When someone clicks on it, they can see all the other posts that have been published there. More visibility translates into more followers, and more followers translate into profitable growth.
Additionally, Instagram and other social networking sites like Facebook use algorithms that determine which images or videos to display in users' news feeds based on their past searches and how likely they are to enjoy that content. Your Instagram followers who enjoy food will see more posts about it if they search for food or food-related content. When you have a customized location switched on, there is a greater chance that your company will show up in their feed.
Besides this, you can also interact with other Instagram users better. Your company can gather user-generated content by using geotagged posts (UGC). If your audience members have public accounts, all of their posts will appear in the geotag search, and you can promote them to your followers.
11) Measure your metrics
If you have an Instagram business account, you get access to Instagram Insights, which is a free analytical tool. The Insights tool can tell you when your main demographic is on Instagram, which among your posts are the most successful, and how many impressions and influence your account has.
One of the many reasons we encourage upgrading to an Instagram business or creative profile is because Instagram Insights (Instagram's in-app statistics) is only available to company or creator profiles. You can simply check your metrics if you have an Instagram company or creator profile by going to the Insights tab in the Instagram app.
Begin by hitting the menu symbol in the top right-hand corner of your account, then choose the Insights tab to access your business or individual profile's metrics. You can also go to your profile page and tap the Insights icon. You'll find a wealth of stats and insights for your posts, stories, and consumer characteristics once you access your Insights.
You may also evaluate your initial post to a promotional version of the same post to see if your advertising efforts are paying off. Admittedly, you can exclusively use the tool inside the smartphone (there is no web version), and it isn't the most user-friendly, but it gives you a good basic description of your Instagram metrics for individual posts as well as your entire account.
Once you start posting keep track of the following Instagram Insights:
Number of people who have seen the story
The number of times a link shared in a Story has been clicked.
The overall number of taps to exit your story
Backward taps, or the number of people who pressed to see the earlier Story Forward taps or the number of people who tapped to see your upcoming Story
How many distinct or unique accounts watched your Story?
The number of likes and comments on an Instagram Story.
Determining which Instagram indicators to monitor can seem difficult if you're new to the realm of research and analytics. Studying and evaluating these indicators can be transformative for your brand's development once you're up to snuff. When it relates to tracking your brand's Instagram progress, one of the most crucial metrics to consider is reach.
If you want to raise brand exposure and reach the largest potential audience, you should concentrate on expanding your Instagram reach. Although the app's statistics may not arrange in terms of reach, you can independently check it. Some great social media management tools like Awesome Social, HootSuite, and Sprout Social offer great insights into your Instagram analytics and can even help forecast your future growth rate.
Growing Instagram Followers: In Summary
You must consistently provide your target audience with high-quality material if you desire continuous growth on Instagram. For personal accounts, fragmentary social networking is acceptable, but corporations need to be more planned. The Instagram Suggestions Guidelines are also used to determine search results on Instagram. Accordingly, accounts that violate these rules will have their search results shown below the fold or not at all. Recommendations Specifications are more simplistic than Community Rules, so keep that in mind. In other words, your material will be completely deleted from Instagram if you break the Community Guidelines. Your work will still be available on the platform if you violate the Recommendations Guidelines, but people will have a harder time finding it.
Information that is "low-quality, offensive, or upsetting" or that "may be inappropriate for younger viewers" is avoided by Instagram search recommendations. Here are some examples of what NOT to do:
Attention-seeking or clickbaity content
Purchasing likes
Content or statements that are inaccurate
You can use all of the strategies we discussed to increase your Instagram following, but they can't all be checked off at once. It's critical to maintain control over your social media content strategy. Post planning and scheduling take time. Additionally, engagement management might be difficult. In these cases, Instagram Schedulers or a social media scheduling tool can be of great assistance. Some key points to note when trying to grow your follower count is:
Look into how you can land yourself on the Instagram explore page of your potential followers. This is where "you can locate photographs and videos which you might like from profiles you don't yet follow," according to Instagram. Posts, Stories, and IGTV from Instagram are available on the Explore tab.

Users initially view a grid of items that Instagram's algorithm has selected. Utilizing the topic feeds at the top of the screen, they can then select to delve deeper into particular content themes. Every month, half of Instagram accounts go to Explore. That is a fantastic opportunity for businesses trying to expand their customer base. Always aim to promote yourself on this explore page.

Knowing what times of day your following use Instagram is one of the most important things to keep track of so that you can publish when individuals are more likely to view and interact with your post. A social media marketing tool might be something social media enthusiasts who wish to go further should think about.

Additionally, focus on establishing a consistent SEO strategy for your business; you'll soon start to reap the benefits of greater exposure and reach. You can quickly enjoy the benefits of Instagram searches and recommended posts with a few simple improvements and modifications.
With that, we come to the end of this article. Do invest time in increasing your follower count from time to time and ensure that your audience enjoys the content you release.