Instagram Stories is a feature that allows users to upload images and video clips that disappear after 24 hours. It was first introduced in August 2016. It immediately appeared to be quite popular with consumers, boasting 200 million daily active visitors as soon as April 2017. That was only the start. With a little more than a billion active users worldwide, Instagram is without a doubt one of the most widely used video and photo-sharing programs worldwide.
Instagram users post a staggering volume of images and videos as well as frequently exchange direct messages. In fact, 70% of Gen Z watch Instagram stories. Additionally, according to data on Instagram story views, 59% of Millennial consumers watch Instagram stories. Instagram Highlights are analogous to Stories, with the exception that they remain linked to your profile until you decide to delete them.
Instagram Stories are an excellent way for brands to market themselves and spread the word about their products. However, Stories only last for 24 hours, and it involves a great deal of effort to produce something that will only be seen briefly. Whenever you need to keep a Story permanently y our Instagram Stories Highlights will be relevant and necessary in this context.
With the help of Instagram Highlights, you can keep and organize your Stories on your account so that prospective and existing followers can access them even after the initial 24 hours have passed. Your Instagram profile's highlights are strategically placed, making them ideal for guiding new visitors toward learning more about your business. Instagram Highlights are a fantastic way of representing your company to everybody who visits your profile. Much like your Instagram Stories, it is highly beneficial to take the time to plan and proactively consider what highlights you want to keep on your profile and how you want it to look.
So let's dive right into what Instagram Highlights are, the benefits of creating Highlights, and how you can better engage your followers with the help of your Highlights!
What are Instagram Highlights?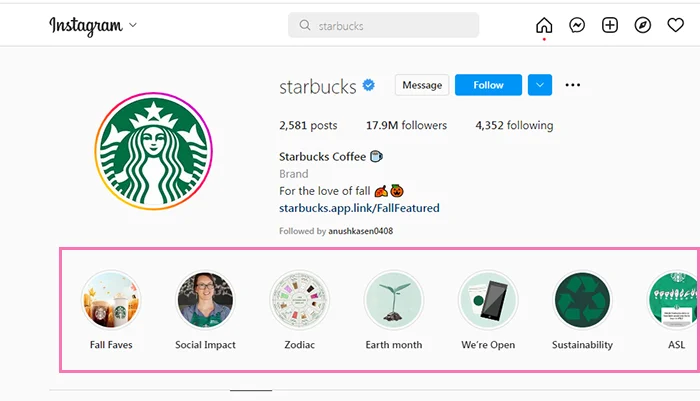 Instagram offers a feature called Highlights that allows users to choose which stories they want to preserve and display as a pin in their account. You may use these Highlights to display your Instagram story footage on your feed for as long as you like. Simply referred to as Instagram Highlights, Instagram Story Highlights are compilations of images, videos, and content that you've previously made and uploaded on your Instagram Story.
These carefully chosen pieces are frequently referred to as albums, and the content typically consists of several relevant, categorical images, videos, and more. Instagram Highlights are a lasting part of your profile, unlike Instagram Stories, which disappear after 24 hours. You can edit the information in Instagram Highlights at any time. These collections are shown directly above your default feed and beneath your account's bio.
The Highlights' primary characteristics are:
Cover images- You Highlights include cover images, which allow you to add a customized icon or image to symbolize the stories that are stored within and their subject;

Title- Your highlight can be named using the same approach as you would for category or file folder names.
While Instagram Stories emphasize the platform's initial "temporary" nature, Instagram Highlights provides businesses with a reliable space to showcase their greatest content, valuable resources, and much more. Highlights on Instagram Stories are incredibly useful because they let businesses quickly pick and present the information they want consumers to see first.
They're a fun way to promote your brand, advertise your products, and express your brand. Sometimes the information in your Highlight's posts may be exactly what your readers are seeking, such as further details about a recent product launch or a current campaign. Instagram Highlights are the ideal platform for marketing this kind of material because they don't have a viewing limitation.
Brands have discovered that by filtering, preserving, and showcasing Instagram Stories, they can improve customer engagement on the app and open up fresh possibilities for meaningful interactions with their followers. Here are some additional reasons why every business should utilize Instagram Stories Highlights.
The Top 8 Benefits of Instagram Story Highlights
The capacity of the Instagram story highlights to aid in traffic generation is the first advantage. Placing Instagram story highlights on your account enables you to consistently advertise online sources instead of just the URL in your bio as Instagram stories now allow you to post a clickable link if you possess at least 10,000 followers.

Secondly, Highlights can help firms who are infamous for posting on a similar handful of subjects to organize their material. Highlights are a great framework to convey a corporate identity.

Brands may offer their distinctive experiences, welcoming people inside their workplace, whether it be via showcasing office culture, content development, or product development.

The third advantage of Instagram story highlights is the capacity to showcase the key elements of your company, such as your goods or offerings.

If you work in the cosmetics industry, for instance, you might utilize Instagram highlights to advertise a new line of products. Or, as we've previously mentioned, if you're offering discounts and special promotions, you could very well use Instagram highlights to spread the word and perhaps reach a wider audience.

Last but not least, Instagram story highlights are a fantastic way to showcase eye-catching information, such as consumer and client testimonials, instructional videos, how-to guides, and product placement. If they sell primarily on Instagram, many small businesses make it a point to create highlights.

Highlighting their client testimonials and interactions helps them in their path to building credibility and marketing their brand. This is noteworthy in the Indian Instagram community for Thrifting known since one of the largest Indian Thrift Stores, Thriftiness. in, has displayed a highlight for this very purpose.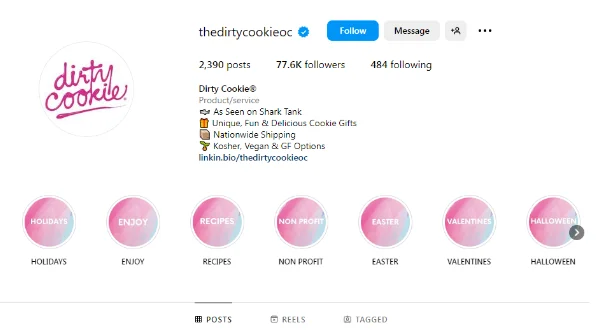 Brands can also use Highlights to effectively post open positions on a frequent basis. Brands attract their devoted Instagram followers by proactively posting job openings on their Highlights in an effort to build a stronger recruitment strategy.
Those were some of the top benefits of creating, uploading, and engaging audiences using the Instagram Highlights feature. Now that we know why you should invest time into creating Highlights, let's delve right into how you can post a Highlight and the different kinds of Highlights you can make to market your businesses.
How To Create Instagram Highlights
Before you start posting beautiful Instagram Stories Highlights on your page you need to ensure that your Story Archiving feature is turned on. This is how you do it:
How to use Instagram's Auto-Archiving Function:
For marketers, one big advantage of the new Instagram Stories Archive option is that it minimizes any anxiety about losing important information. The new Instagram Stories Archive function works similarly to the Snapchat Memories feature in that it will instantly archive your stories into the cloud so that even if you fail to store them in your photo library, they won't be permanently gone.
Your finest Instagram Stories can be saved and shared again even after the 24-hour mark has elapsed if you activate the auto-archiving option. Here are the steps to activating your Automatic archiving feature:
Go to your Instagram account, open your settings, select Privacy and Security, then select Story Controls.

The Save to Archive feature can be turned on from this page.

Once you've done this, your Instagram Stories ought to be saved to your archive instantly. By selecting the "clock" image in the top-left corner of your Instagram account, you can access your previously published content.
Now that we know how to activate the automatic archiving feature, we can get into how you can post a highlight!
Typically, there are two methods for creating Instagram Story Highlights:
First, a live story can be used to design a Highlight. To do this, you must directly preserve a story as a Highlight after posting it.

Second, you can make a Highlight using the stories you've archived. As previously noted, if you have the Archive feature enabled, your stories will directly upload to your archive folder, and you can later decide which stories to group together in a Highlight.
Now that we've got the two types covered, let's understand how to generate a Highlight using the first method:
Simply follow these techniques if you have an existing story and want to ensure that it is featured on a Highlight:
To access the current story, tap on it.
Click the bottom option- "Highlight"
To add a fresh Highlight, tap the + sign.
The new Highlight's title should be typed.
Press the blue button "Add". Choose the Instagram Stories you wish to include in your highlight and add them.
You'll be asked to pick a name and a cover image after you've chosen your Stories. Following this, your new Highlight will be seen on your profile picture and will be accessible to your followers even beyond the 24-hour story duration.
The option to retrieve highlights from the archive of stories is also offered. You can retrieve the stories you upload to the archive by using settings and choices for each story.
Use these guidelines to upload Instagram stories from your archive to a highlight and add them to your account: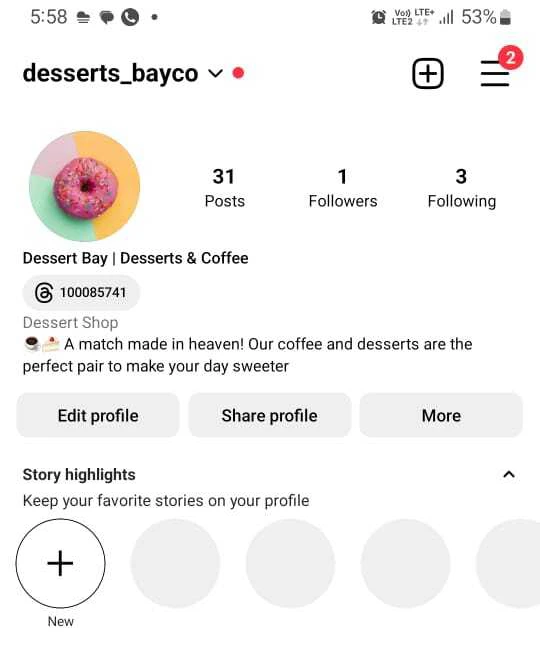 Visit your Instagram account and select Story Highlights from the bio section.
Click the + sign.
Choose the stories you wish to highlight in the new window by tapping them, then tap the Next option.
Select which story will be represented by a Highlight icon by tapping "Edit Cover," or just add an icon.
Give your Highlight a title.
Depending on the type of your phone, choose the Add or Done options to complete the process.
The next step of this process is to figure out how to add new Stories to an existing Highlight. Let's explore how you can do that in the next section of this post.
You may always add more pictures or recordings to your highlight by doing the following:
Go to your account and select the Edit Highlight option while keeping your finger placed on the Highlight you would like to change.
Tap Done after selecting the stories you would like to share.
Text, as well as the cover image, are both present on this "Edit Highlight" panel. And if you would like to remove the Highlight, simply hold and press on it while selecting the choice to "Delete Highlight."
You can select a picture from your photo library or select a snapshot from one of the stories in your highlight for its cover. We strongly advise selecting a suitable highlight cover rather than a Story image. The style and vibe of your Instagram profile page can provide a cohesive structure with your whole Instagram aesthetic by making customized highlight covers.
Make sure the content you're presenting isn't only appropriate for your target audience; it should also be perfectly styled to go with your broader aesthetic. Once everything is set up, you may tap and hold a highlight on your account to update or delete it. You can update the cover, add or delete stories from your highlights, and change your title from this moment. In the next section, let's delve into how you can add exciting Highlight covers and icons.
Steps to add exciting Instagram Highlight cover photos and icons:
Because these miniature images represent the very first impression a new user of your Instagram account will see, the cover and wording of the Instagram Highlight are becoming necessary aspects of your Highlights around the world.
You'll note that the cover pictures are typically taken from the stories you chose for that specific Highlight. However, this section will demonstrate how to alter the Highlights covers independently of a story.
Simply follow these instructions after adding the graphic images to your phone's camera storage:

Hold your finger over the Highlight you wish to update in your profile.
Click "Edit Highlight" and "Edit Cover"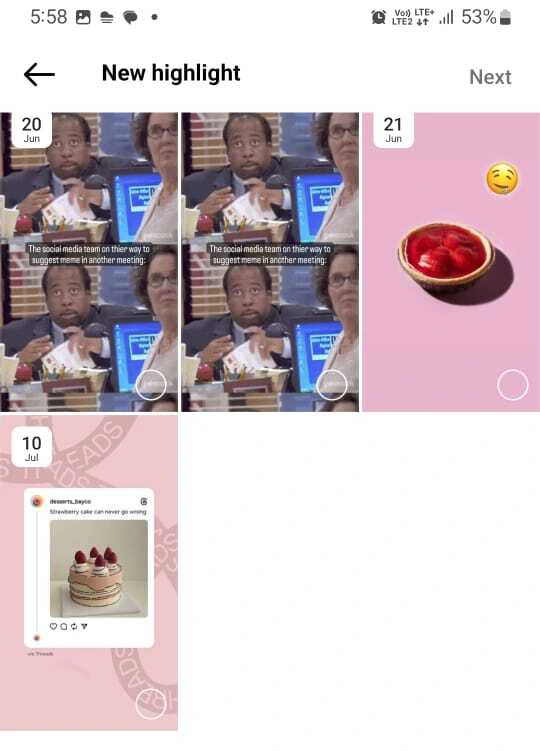 Pick the picture from your photo library.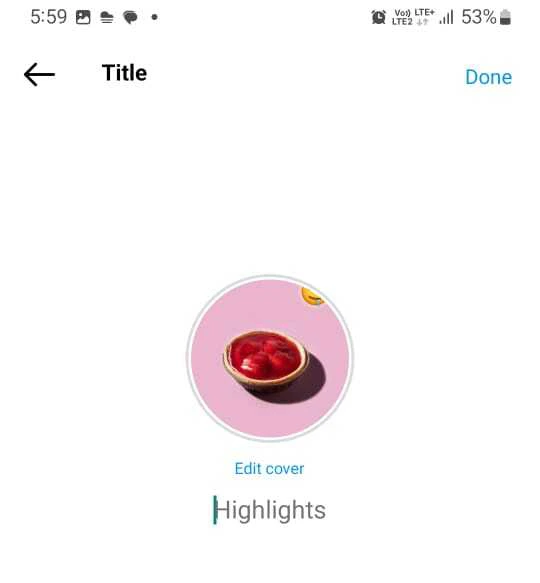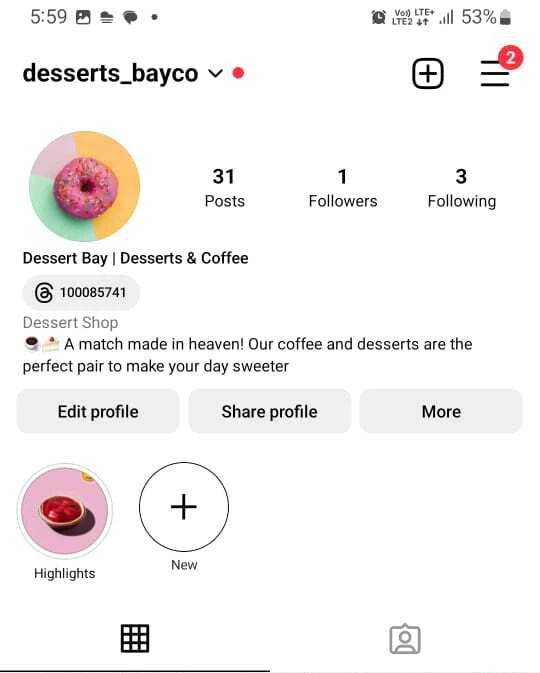 You may create your personal free icons for your Instagram stories just like you can for your various accounts on social media and Instagram profile. We wholeheartedly endorse Canva for this task. It's a pretty simple tool with built-in iconography you can quickly reuse to create Instagram highlight themes.
With that, we can get right into the next section, how you can engage your followers with the help of your Instagram Highlights.
Top Tips to engage audiences with your Instagram Highlights
You could always just put all of your Instagram Stories in a single Instagram Story Highlight, but again that won't attract many followers and won't do much to increase consumer interaction. If you have many highlights that showcase the various Instagram Stories you make, this function will be much more useful. Here are some suggestions for Instagram Highlights that you may utilize to engage your clients and fans.
1) Answer common customer queries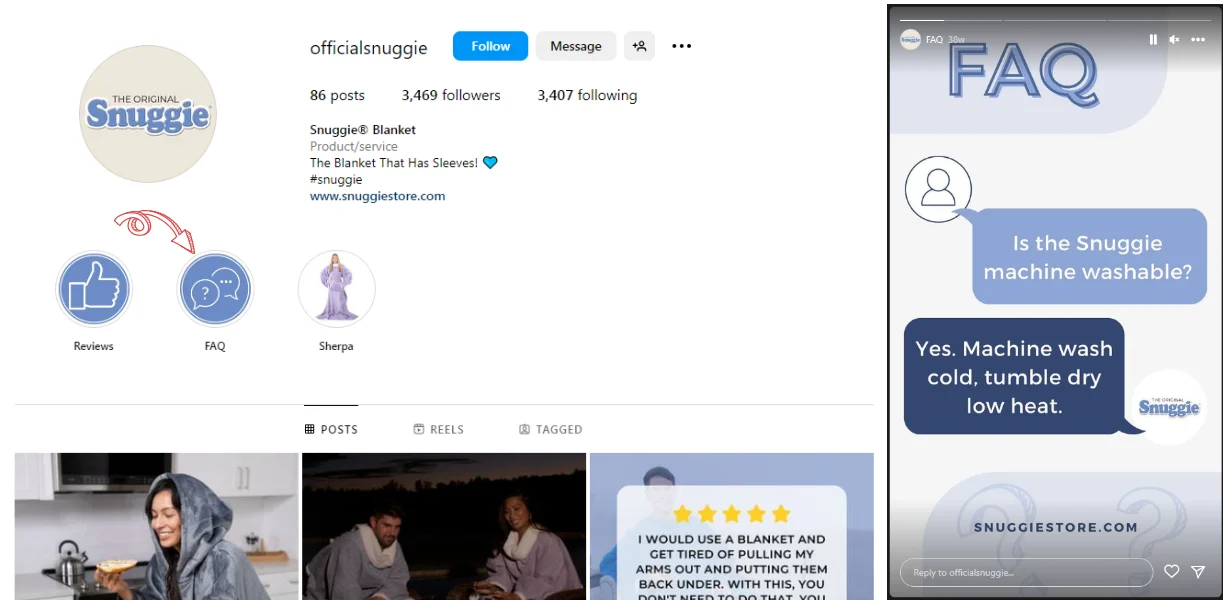 An Instagram Story Highlight with responses to commonly asked questions is an engaging feature you can utilize to draw in your followers' curiosity. When you put the "Questions" sticker on your Instagram Story, it enables your viewers to ask questions about your company. Instagram debuted this sticker in 2018.
You can share somebody's questions or remarks, but their photographs, accounts, and identities won't be made public. This is one of the Question sticker's numerous advantages. You can also browse the accounts of the persons who replied. This enables you to publish the queries users have submitted or their answers to queries you have posed while keeping their identities private. Start by posing typical inquiries regarding opening times, new items, features, or services.
Consider what information you would like to discover if you were one of your clients and browsed through the business Q&A feature. For instance, a boutique owner might inquire " What's something you would like to see on our catalog?". What's your favorite social media ad that we've made for you, the agency might inquire. Or a real estate salesperson can inquire, "Do you value being close to a public school?" As an alternative to submitting a question, users can type an answer as well. This can make your Highlights more interesting, informative, and interactive for your followers.
Another way to increase engagement with pictures is by using the Polls sticker. Asking engrossing, varied questions to your viewers can help you better understand them, acquire perspective on their struggles, and encourage them to engage with your business. Additionally, the findings of your Instagram Story polls might help you more strategically rethink your advertising and promotional efforts. Your fans and users will appreciate seeing that you care about their comments on your offerings or dialogues if you make a highlight of all the commercial polls you've published on your Instagram Stories.
Leverage Instagram Stories Highlights to establish sources for new launches, seasonal styles, and sharing discounts and other incentives when creating Highlights for your account. It can be particularly helpful to create a Highlight specifically for products on sale. It's a good idea to make an Instagram Story Highlight specifically for promoting the latest coupons, specials, and deals.
Discounts or gifts draw potential customers organically, motivate them to interact with the information on your Story, and persuade them to purchase your products and services. Special discounts or freebies are among the best strategies to increase Instagram revenue and convert new users into followers who remember to keep up with your content. Offering great deals on your items also raises awareness of your company, which could lead to a rise in purchases, prospects, and website traffic.
A fantastic strategy to keep your profile up-to-date and relevant is to make Highlights where you share stories about national and global holidays and events. The majority of businesses offer fantastic specials and discounts throughout the holidays. For instance, you might organize a Christmas giveaway and post information about it on your Highlights that explains how followers can participate in the event. Highlights are a fantastic tool for increasing sales since they show both current and potential customers your greatest offers.
3) Provide behind-the-scenes anecdotes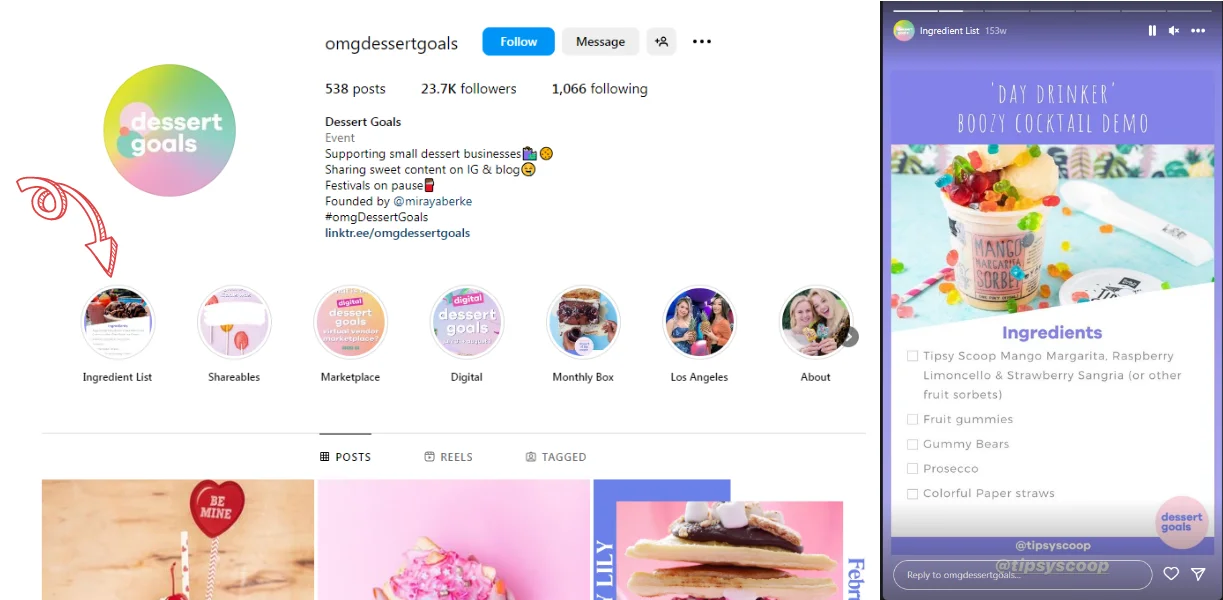 Presenting a behind-the-scenes peek as to what your company has been working on and managing to keep clients updated is often one of the most vital goals of businesses. Stories like these can help humanize your brand by allowing your fans and prospects to see employees at your business or fresh-new projects.
Listed below are some fantastic ways your company can accomplish this right now:
Give the audience a sneak peek at a few of your upcoming products to intrigue them.
Start sharing any images, clips, or screenshots you may have captured during business meetings.
Display the branches where your staff has recently visited.
Utilize Instagram Highlights to give your followers access to exclusive supplementary content. Share with your viewers the inner workings of your company. Instagram Highlights are a great way to showcase your production processes and delivery of products, as well as to promote the team members who keep your company going. Instagram Highlights are also the ideal platform for sharing Instagram versus Realities content, such as high res photoshoot setups or pre-edited images adjacent to the finished piece. Including tips in your Instagram Highlights is another method to provide your followers more value.
It helps to strengthen your reputation and develop confidence in your business to create a Highlight exclusively for instructions and recommendations for using your products or services. Genuine consumers enjoying your service or product can be featured in part of the slideshow to demonstrate how convenient it is to use. With the help of this Instagram Story Highlight, you can also provide them with a closer look at how your solution or product works.
It helps give them an insight into what they can expect from it when they, ideally, decide to buy. The buying process takes longer for companies offering products at higher price points or lesser-known brands. By providing a sneak preview of what your customers will receive when they make a purchase, you can get right to the point with your leads.
4) Show products and any new launches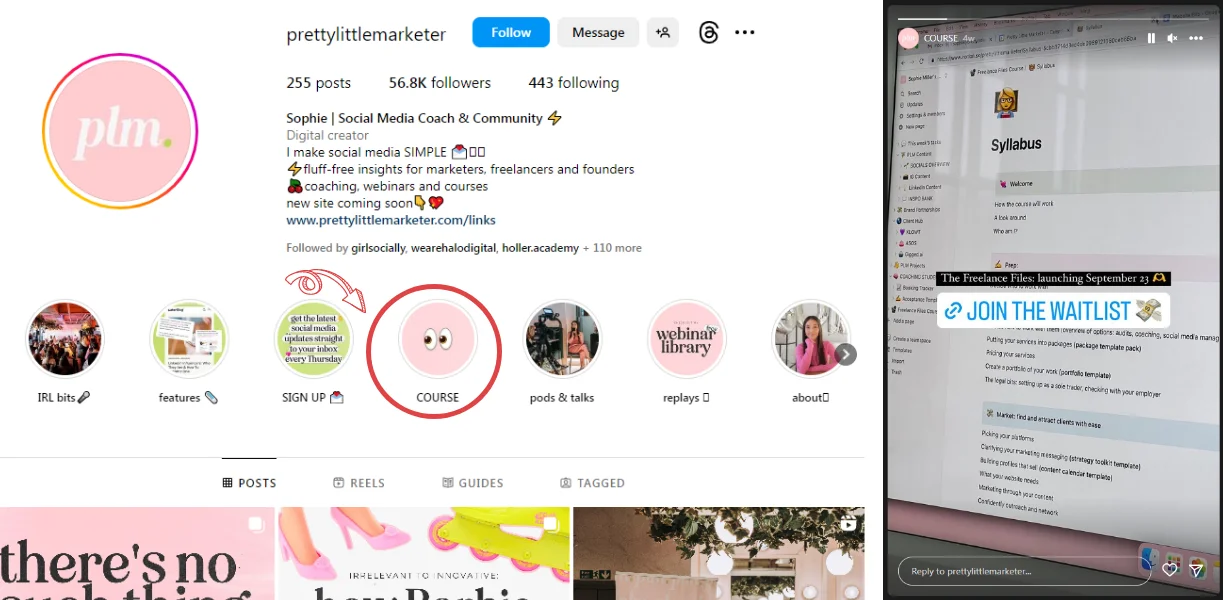 One of the best ways to promote your business and engage with your customers is by creating an Instagram Story Highlight promoting your products or services. According to Instagram, 75% of users take an action, such as visiting a website or making a purchase, after looking at ads on the platform. Whether or not active Instagram users have engaged with your business before, if they're browsing your profile and see a highlight dedicated to Products, they might be more likely to click through the content included in your highlight versus scrolling through your entire feed.
Your highlight will be an easier and faster way to find information about your offerings, and you can direct customers to your website, to sign up for a newsletter, or, ideally, to make a purchase via Instagram. You can exhibit your merchandise more imaginatively and in less aggressively obvious ways by marking them with Instagram Stories stickers in your highlights. These interactive components let you communicate with your followers.
Users can learn more about the particular product qualities they are interested in by viewing Highlights about them. Making distinct product highlights that are focused on regular designs, new launches, promotional campaigns, and more is a wonderful idea. By using a similar strategy, you could compile all product-related stories into a unique Highlight reel, depending on how many things your company sells. Using the See More link, as a CTA, is another terrific approach to interact with your audience and point them in the direction of more interesting content through your Highlight.
5) Add positive customer testimonials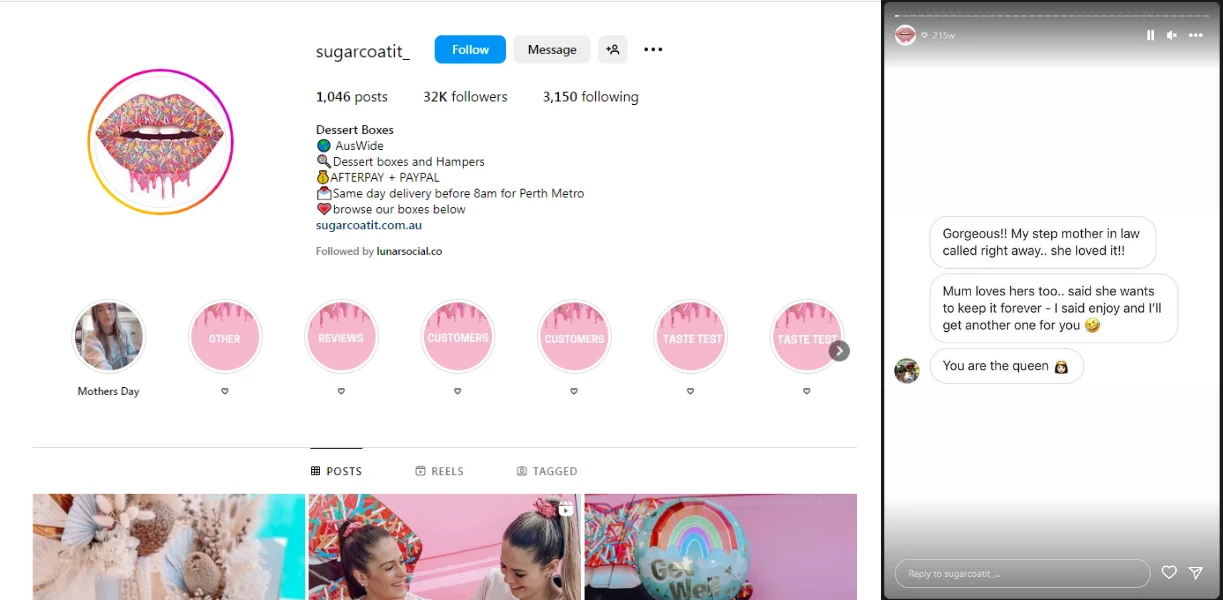 Promote the reviews of your business with your audience as we're all aware of how important they are. Making a highlight on your Instagram profile specifically for sharing screenshots or client testimonials about their experiences with your brand, solution, or product is a terrific way to showcase the emotions of your satisfied consumers.
Customer acceptance is useful for highlighting the advantages users have experienced with your goods or services. You could wrap up the story by including a link at the conclusion for people to swipe up and order the product after publishing 10–12 positive customer feedback posts.
A customer's positive review is indeed one of the best experiences. One of the easiest strategies to increase social proof for your company is to share these positive comments. It not only demonstrates the reliability of your company and the worth of your items, but it also gives viewers a chance to buy the same products.
Nobody wishes to pass on a fantastic item or piece of content that other people are raving about. A terrific way to encourage people to swipe up and buy the item your clients were talking about is by using the "See More" option in these customer reviews. Just be careful to ask clients if they would be comfortable being featured on your company's Instagram account before you post their reviews.
6) Highlight ongoing campaigns and events
Most of us are aware that social media is a terrific way to spread the word about events and increase brand recognition, especially since people use it to search for news. With the pandemic restrictions finally easing up worldwide it's a lot more common to host events that draw in large numbers. Even if your company may not be conducting physical events, you can still utilize the Stories feature to highlight previous events, advertise upcoming ones, and spread information about other events.
Create an Instagram Stories Highlight classification for events if you're a company that frequently covers them to organize everything in one area. Doing this will help build interest in upcoming events and give followers a better understanding of what the activities your company offers are like. Football clubs may decide to generate Instagram Stories Highlights for important games, much as performers might do the same for live performances.
How to delete Instagram Highlights
Regardless of how well you choose your Instagram highlights, there could come a point when they begin to resemble your outtakes rather than a highlight reel. Don't worry, you're not shackled to these choices forever if there's a highlighted category you don't want to be attached to your account for everyone to see. In this section, we'll cover all the information you require regarding erasing Instagram highlights. You should start by going to Instagram's profile page. Locate the highlights package that you want to completely delete or from which you want to exclude certain stories and long-press upon that.
Simply select "Delete Highlight" from the pop-up box if you wish to remove all of the highlights from a folder.
Click "Edit Highlight" if, consequently, you have particular stories from your highlight that you wish to remove from the list.
You'll then be directed to a screen with thumbnails for each story in your highlights underneath the "Selected" option.
Simply select the story, or stories, that you want to discard to remove the tick off of their thumbnails.
The revised highlight will appear once you click "Done" in the upper right-hand corner.
Repeat this process if there are several highlight categories you want to remove or several stories within various highlight folders. Your account will soon be completely free of any negative or unnecessary highlights. But the next question or challenge you may face is when you accidentally delete a Highlight that matters to your brand.
It's still rather simple to recover a highlight if you unintentionally lost one by accident. You may simply add a deleted story back into your highlight folder, just like you would add a new one, to bring it back to your highlight list.
To do this, navigate back to the tale and choose it while holding down the mouse button on the folder, "Edit Highlight," "Stories," adjacent to the default "Selected" tab.
You're good to go as long as you didn't remove the story from your archive.
The technique for retrieving a highlights folder that was unintentionally erased in its entirety is still doable but a little more laborious. Basically, you will simply need to start over and create a brand-new highlight folder for the category.
To achieve this, select "New" by clicking the plus (+) symbol icon next to your highlight categories.
Choose the pieces from your library that you wish to include in the highlight category next.
Type your name and choose your cover picture before clicking "Next."
With that, we reach the end of this section and we can move on to understanding how you can create some fun Instagram Highlight covers and why they're important.
Tips to develop creative Instagram Highlight covers
Also known as Instagram highlight covers, The stylish circles that reside under your Instagram profile invite followers and potential followers to view your brand's posted stories. These circles are known as Instagram story covers.
They help organize material and provide customers with a quick overview of what your company has to offer, including any deals, products, or services. Here, we'll look at a variety of style, dimension, and design tips for your Instagram highlight covers.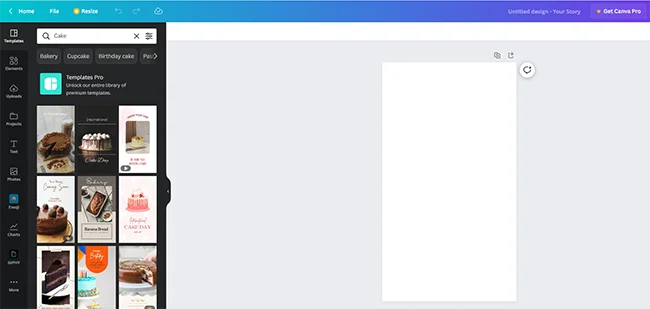 On Instagram, visuals are essential, and maintaining a great aesthetic requires consistency. Commit to a consistent style for all of your Instagram story covers. Instead of, for example, using a photograph for one, a graphic for another, and a logo for the next. Since IG highlights are an embodiment of your business, their cover artwork should reflect your business's voice and style (color scheme, typefaces, etc.).

For instance, if your company is bright and optimistic, your highlight covers ought to exhibit that same vitality. Additionally, each highlight cover only has a tiny display area, so it's crucial to create designs that are simple and straightforward to interpret.

For highlight covers, iconography and other straightforward designs work best because they can be legible at even the tiniest sizes. Additional story covers may be required the more information you have, but bear in mind that having too many can soon become excessive.

Because Instagram story covers are so small, having the appropriate file formats and sizes is essential. You won't need to edit any of your artwork if you begin with the correct height and width.

The Instagram highlight image is 1080 pixels by 1920 pixels, or a 9:16 aspect proportion, just like Instagram stories. Ensure that all of your cover images are the same size for clarity since only a little section of the highlight cover will be visible on the profile area.

In a similar line, place your branding or most crucial content in the center of the cover to avoid having facts neglected. It's simplest to stick to using only one or two words or graphic design features. Photoshop, Canva, or any other graphic design program of your choice can be used to create these graphics.
With those tips and tricks, hopefully, you'll be able to dazzle your followers and create brand-relevant Highlight covers for your Instagram business page. In the next section, we'll explore how you can check who's viewing your Instagram Highlights.

How to check who's viewing your Highlights
Your Instagram profile page's highlights allow you to showcase who you are or what your company does best. You can change Highlights on a regular basis to keep your account interesting and innovative as they don't disappear after 24 hours as Stories do. Here's how you can find out who has seen your Instagram Highlights and the number of views a specific highlight has generated.
You might occasionally wish to know how many people viewed an Instagram Highlight, whether for personal or professional reasons. View tallies are useful since they tell you when, depending on their effectiveness, to modify or remove them. However, a 48-hour timeframe is the only window of time for viewing overall numbers and identifying viewers of a specific highlight. These stats are permanently lost after that time frame.
As we previously indicated, you have roughly 48 hours to verify who has viewed highlights, so be sure to do it promptly.
Access your Instagram account first, then tap on the cover photo in the bottom right corner.
To open a highlight, click on it.
The present view count is displayed in the bottom-left corner next to Seen by, which you can swipe up to view.
To find out if a specific user has seen your Highlights or if you're just wondering who has, proceed by following the instructions listed below. The view stats have a certain amount of time, thankfully your highlights are everlasting until you delete them. Additionally, you have the option of hiding a highlight from somebody, and you can always redo it by adjusting the privacy controls in the Settings menu.
In general, Instagram Highlights are a fantastic method to save your favorite stories and promote them to your audience on an ongoing basis. They are helpful to those who have established firms in promoting their goods and entity. Nonetheless, Instagram is certainly a brilliant way to showcase your life or business with the option to know who has seen your Highlights and the number of people who have seen them as well as the opportunity to remove and edit your highlights as you see fit. Now that we've covered most of the technical aspects of Instagram Highlights, let's move on to some of the best Instagram Highlight examples.
Top 8 Examples of fun Instagram Highlights
1) Glossier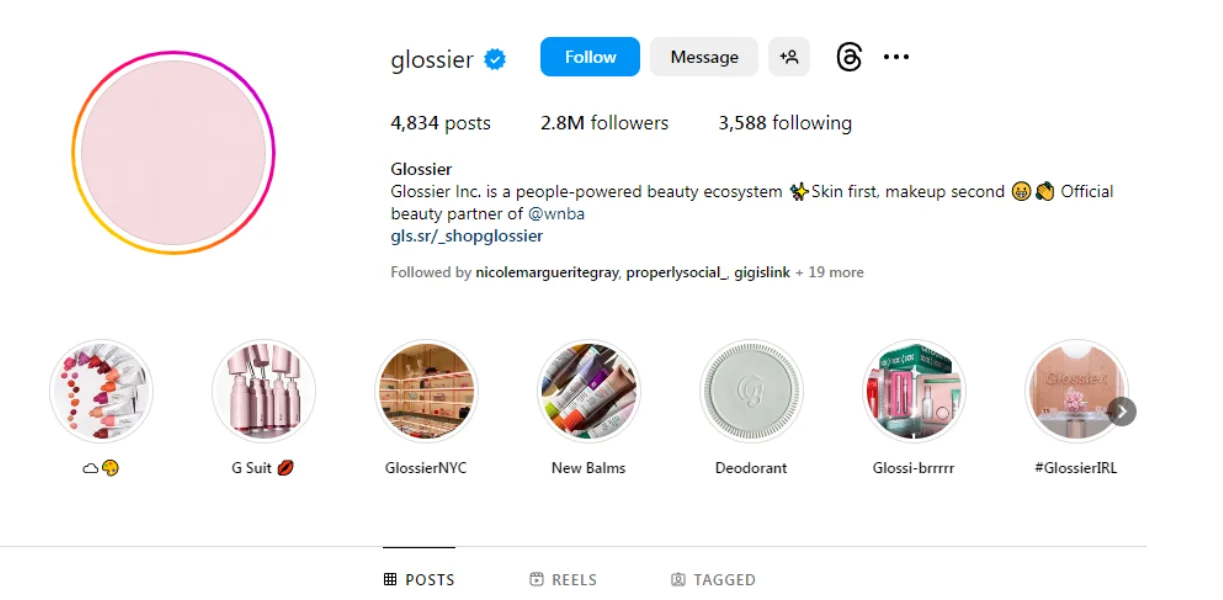 Glossier Glossier is a well-known beauty company that is noted for its minimalist style and emphasis on improving natural beauty. Their product collection consists of skincare necessities like as cleansers, moisturisers, and serums, as well as makeup goods such as tinted moisturisers, blushes, and lip balms. The Brand's Instagram page promotes its products in highlights "New Balms", "Deodrants" and "Gsuit" line of products.
Their brand's pastel colours and minimalistic design is continued even on their Instagram highlights. As a result, they've also built a strong online community by actively connecting with customers on social media channels, which allows for real-time feedback and product recommendations.
2) Nike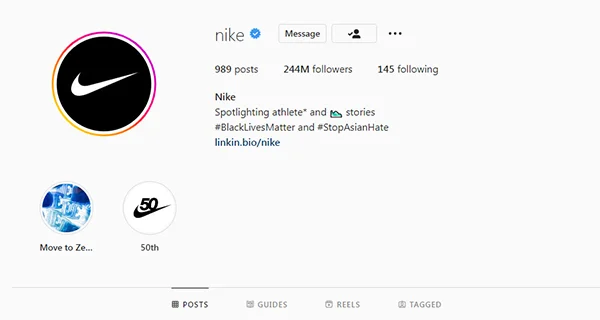 Nike is a widely-liked sneaker and sportswear company, and it's also renowned for its incredibly effective advertising campaigns. They firmly follow the maxim "less is more" on all of their social media channels. Currently, they have two highlight reels on display, one of which commemorates their 50th year as a company and provides visitors with a snapshot of their growth over the last few years and how far they've come. This Highlight consists of a mixture of films and polls that ask viewers about their brand and its many well-known ambassadors. The second feature, "Move to Zero," provides viewers with quizzes as well as useful facts and tips regarding design.
3) M.A.C Cosmetics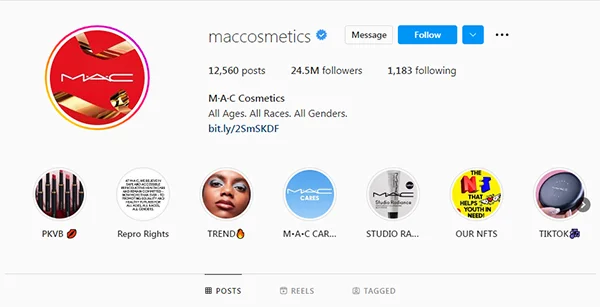 M.A.C is a massive beauty brand that has branches worldwide and their Instagram Highlights are a great example of how visual brands can promote their newly launched products on their Stories. Their most recent Highlight PKVB is a reel of images and videos of their latest product "Powder Kiss Velvet Blur" stick and its different shades and properties. Another important point to note is their reproductive rights Highlight which can seem out of place in a more gender-neutral brand, but as MAC is most widely used by women, highlighting and promoting support for women's causes can help build their brand image and create positive PR. Apart from this MAC uses its Highlights to mainly display their products and their uses.
4) Salesforce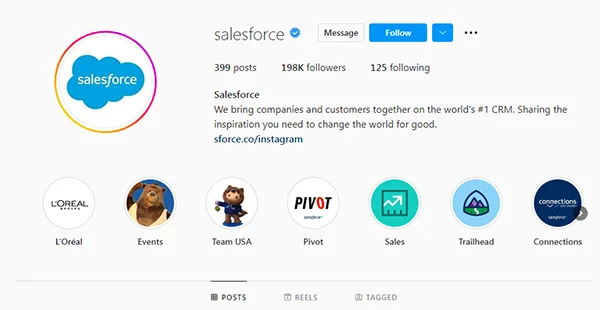 Salesforce is one of the pioneers in the CRM industry and their Highlights give a clean, approachable, and straightforward feeling. They're one of the first companies on this list to use their company mascots as their Highlight covers. These covers are cute and fit well with their overall brand image giving us a great example of sticking to an aesthetic or color pallet while designing Highlight covers. Much like we've previously highlighted in this article, Salesforce makes the smart move of showcasing information about their events and sales in their Highlights. Their sales highlight is among the later reels but gives viewers insights into the prime days to shop at Salesforce. They also emphasize some of their wins in their News highlight which can boost their PR image and keep followers informed about any exciting developments.
5) Airbnb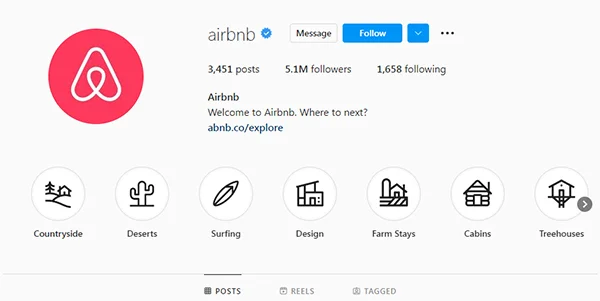 Airbnb is a popular option for travelers worldwide and their Instagram Highlights majorly focus on providing users chances to explore various exciting getaways and stays. They use a mixed combination of photos, videos, and written information regarding the stays and their unique landscapes. Their highlights act as a brilliant preview of what vacationers can experience with their brand and they even provide links to the specific stays highlighted to push viewers into booking a stay. One of their more interesting Highlights called "Design" showcases some effervescent and unique stays and their designers. This can create an image of intrigue and fascination with and motivate viewers to explore the different designers' styles and book the stays similar to that in their region. Airbnb does a great job of marketing their stays without overwhelming users with too much content and similarly have stuck to using title relevant icons for their Highlight covers.
6) Apple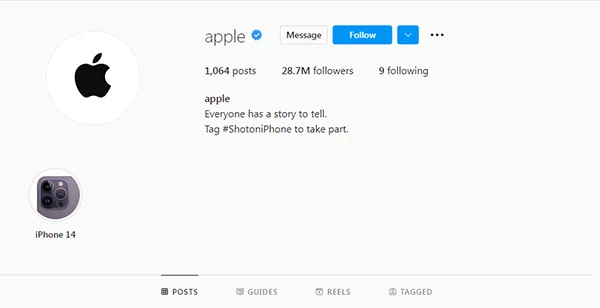 Apple and Nike both adhere to the less is more philosophy. The well-known smartphone company limits its Highlights to four main categories. The first displays their brand's message and vision by highlighting the variety of smartphone users and how they benefit from having one in their lives. In their cultural Highlight, they feature a mixture of clips and pictures that provide insight into the lives of encouraging Apple customers. The second highlight of tutorials is where they reveal some of their unique features to users. The iPhone 13 and experimentation sections display a variety of exquisitely captured photographs and clips of the unique and fascinating videos people have made with their iPhones.
7) Architectural Digest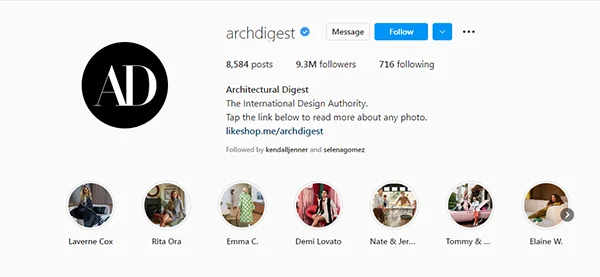 Architectural Digest's Instagram Highlights are all generally in video formats that give viewers a tour of the homes of different actors, musicians, rappers, and even ordinary white-collar workers with palatial homes. These tours are a chance for followers to get a sneak peek into the lives of homeowners who live in luxury and style. Most of the Highlights offer links that direct viewers to an article that contains a deep dive into the inspiration behind the home's design and its various structural elements. Their Highlights are a great example of creating intrigue by displaying the homes of celebrities that we've most likely not seen beforehand. The Title of each Highlight is the name of the homeowner which guarantees their fans click to gain insights into their favorite stars' homes.
8) Marvel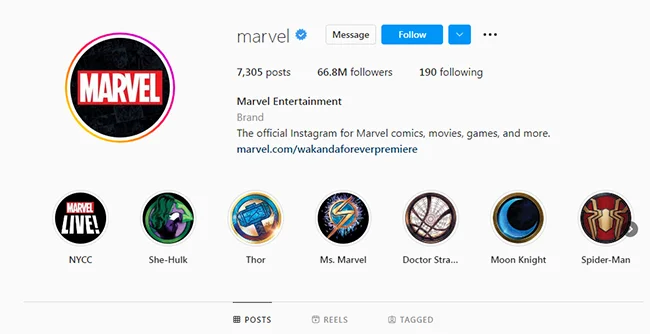 Marvel's Instagram Highlights are all generally snippets of their upcoming TV shows or movies. They have dedicated individual highlights for each intellectual property. This is an effective way as most fans want to follow-up and wish to read about recent development on their favourite TV shows, and movies.
Conclusion
It's more crucial than ever to produce amazing Instagram Stories posts. Instagram Stories Highlights encourages you to be more tactical with your Instagram Stories while still allowing you to post in-the-moment, fleeting stuff on a regular schedule. Here are some tips to keep in mind while creating Instagram Highlights:
Only stories that were published to your Instagram Stories as of December 2017—or after you began archiving—can be included in your Highlight.

Your Instagram Stories Highlights can contain up to 100 images or videos, and there is no restriction on the number of Highlights you can make.

The initial item you post to your story will be deleted and transferred to your Archive if you add upwards of 100 Stories to it.

The return procedure, mission of the company, and other key details of your small business should all be highlighted on Instagram. Instagram Highlights are also useful for reusing content as well. Share post excerpts to use as sneak peeks for upcoming content using some older archived footage on your Highlights.

Keeping company updates in your Stories Highlights is another fantastic function for them. It's advantageous to have these available long after the initial statement so that potential customers may view all of the accomplishments your business has made.

Plan, organize, and schedule your Highlights ahead of time. It can save a good amount of effort to make use of a social media scheduling tool to share your Stories with your followers. Creating Highlights in a timely and strategic manner requires a good amount of planning in which case a scheduling tool becomes a must for businesses worldwide.
Utilizing the photos, videos, and content you've already spent time and resources creating is easy with Instagram story highlights. They make it possible for new users who accidentally come across your profile to discover more about you, your company, and how to follow you. Therefore, be sure to utilize these Instagram highlight techniques to your benefit.