Because the world revolves around social media, practically every brand has many social pages. But, these brands should ensure that all the social pages are active and handled appropriately. We all know that a decent digital marketing plan couldn't go without including social media in this digital world. As a result, having a complete social media management platform is critical.
To be successful on social media, you must generate and moderate content, cultivate active groups, and evaluate a large amount of data. That's a lot of work, but happily, there are a few social networking tools out there that may assist lighten the weight of an otherwise daunting task. One such tool is Buffer.
What is Buffer?
Buffer, which was launched in November 2010, soon became the go-to tool for social media marketers wanting to efficiently schedule posts across various platforms. One of the most important features of Buffer is that it is simple to use and integrate. Buffer allows you to write your articles ahead of time and schedule them for when you want them to go live. Buffer's price options, on the other hand, may be out of reach for many individuals. And nobody wants to pay a hefty amount to manage social media accounts.
We now have more participants in the field, and many of these technologies, in comparison to Buffer, interact with more social media channels, provide more detailed data, and make team collaboration much easier. We'll go over 15 of the best Buffer alternatives for 2022 in this article.
What Are The Alternatives To Buffer?
As a Buffer alternative, you may join up for a variety of other social media management platforms. These Buffer alternatives are a great option because they offer almost identical functionality and support for many social media platforms. Let's take a look at a few Buffer alternatives.
1. Awesome Social : Free Buffer Alternative for Brands & Agencies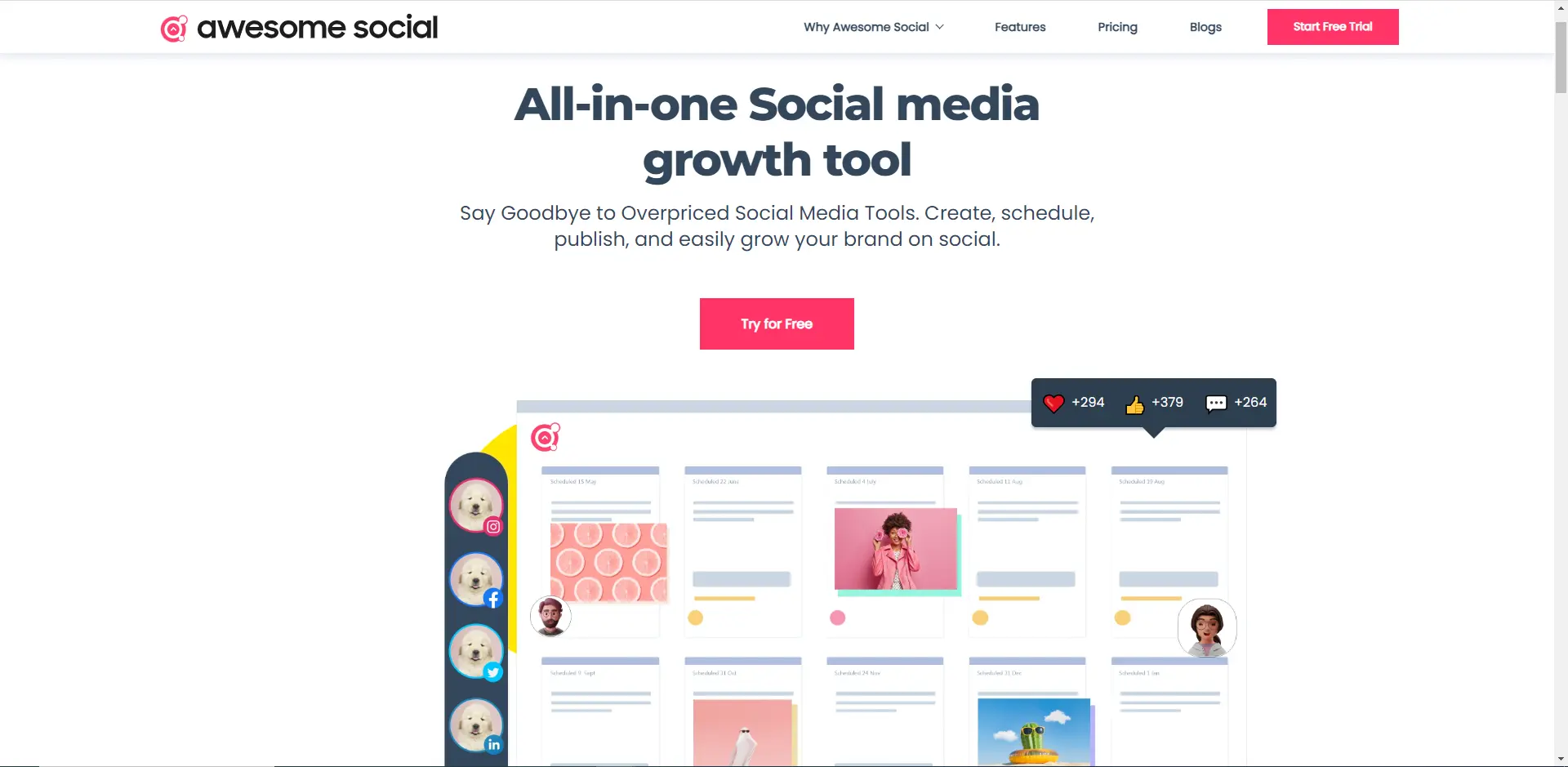 Awesome Social is a tool for managing social media accounts. Because of its many comparable automated capabilities, Awesome Social is undoubtedly one of the finest Buffer alternatives available. Users may plan, schedule, and administer many social media profiles from a single application. It includes a calendar view of all published and scheduled posts, which you can edit, remove, or reschedule directly from the tab.
Awesome Social also offers a simple and intuitive content dashboard where you can create, curate, edit, schedule, or save a draft post. It's an all-in-one and one of the best social media management tools. It is a high-functioning social media management tool that offers all the needed features to get full control over your social media and get immense growth with minimal effort.
📑 Awesome social provides you with all the important features like:
managing multiple platforms and workflows
Management
Post statistics
Scheduling
Approval & Rejection
Team management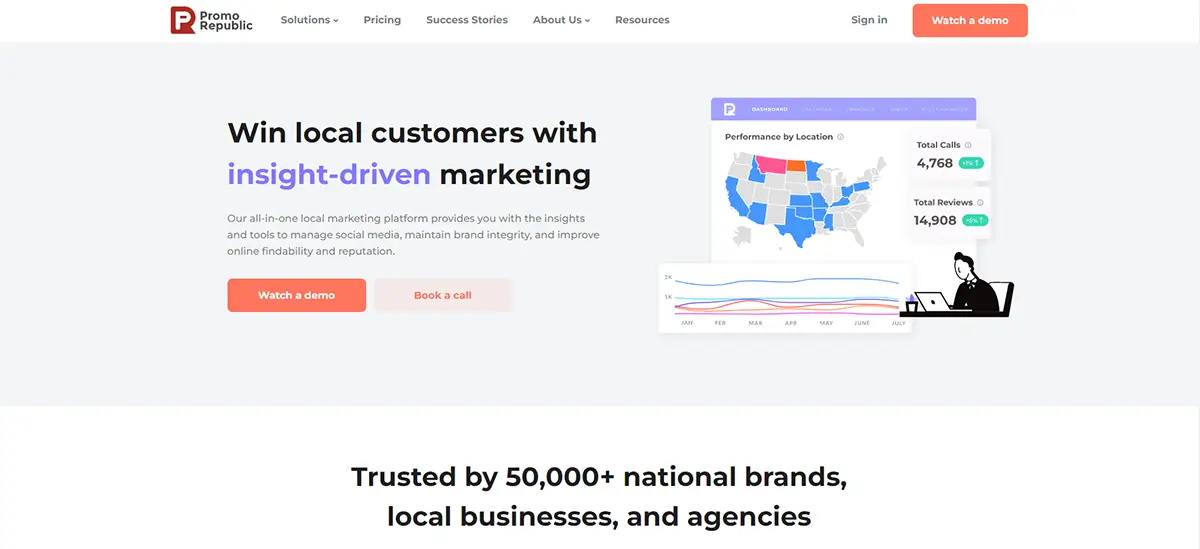 PromoRepublic is ideal for companies and marketing agencies that manage many social media identities at the same time. It contains a social media calendar that allows you to automatically submit information to social media networks. For best interaction, you may plan posts manually or utilize PromoRepublic's recommended time windows. You may also recycle posts, which means your evergreen content will be repeated to maximize its long-term value. You may also utilize PromoRepublic to locate articles, photos, and graphics to share with your audience. Templates are also available to help you make your posts more attractive to your audience. You may use the reporting option to examine your statistics to determine how effective your campaigns are.
You'll be pleased to learn that there is a white-label option accessible for agencies. You may also automate the reuse of your best-converting content. It provides collaboration tools that make collaborating with customers and your social media staff a breeze. Best of all, you'll be able to communicate with all of your clients on the same platform. You may respond to comments, reviews, and direct messages in PromoRepublic. You may also manage all of your location listings from a single location. The outstanding features makes it a great social media management tool and a wonderful Buffer alternative as well.
3. ContentCal : Free Buffer Alternative for Scheduling Content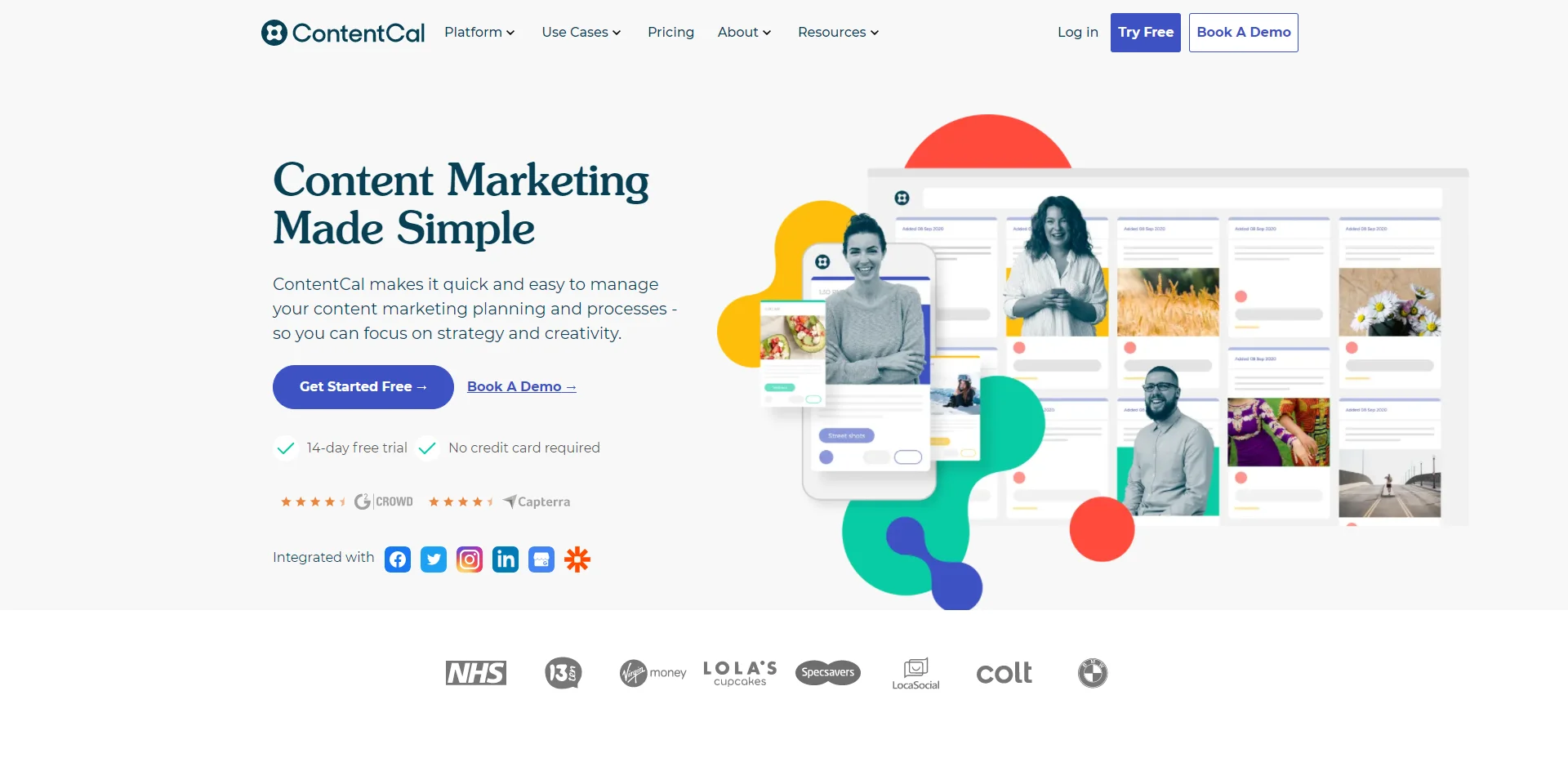 ContentCal makes managing social media easier. It's so simple that even folks who aren't familiar with social media marketing may automate a portion of the process. Content IQ, an AI engine that assists customers with channel performance analysis, is the company's major edge. You may also use it to analyze the quality of your material, set standards, research rivals, and more. Collaboration is something else that ContentCal excels at. It offers a content center where everyone can get together and collaborate on pieces that will be published. You may share fascinating ideas with the rest of your team by using the inbuilt web clipper. Consider it a holding space for upcoming social media content.
You'll only have to compose the post once after you've decided on a topic. It will be published across all of your social platforms when you schedule it to go live. You may manually schedule posts, but we recommend using one of the preset times because these are the best times to publish. You may communicate with your customers or followers using ContentCal's functionality. It's also easy to engage with all people because all direct messages are consolidated into one platform.
4. Pally : Buffer Alternative for Agencies
Pallyy is mostly used for Instagram, but it may be used for other social media sites as well. It's a visual social media planner that makes it easier to keep track of the posts in your queue. Its Instagram Feed Planner tool is just what you've been looking for to finish polishing your feed. You may rapidly upload new material to your Instagram account and then reorganize the feed by dragging and dropping them into different positions. This unifies and professionalizes your Instagram feed. If you wish to manage your Instagram account from your phone or tablet, you may download an app.
There's also a tool called Instagram Bio Link that allows you to add extra links to your Instagram bio. This should increase traffic to your other company sites or social media platforms. Built-in statistics allow you to monitor the performance of your Bio Link. You may also schedule Instagram posts. You just upload your desired material, drag it on the calendar, and write a caption. You should have no problems using Pallyy because it leverages the official Instagram API infrastructure. It's just as easy to share material on Facebook, Twitter, and LinkedIn. You may even use Pallyy to update your Google My Business listing with new material.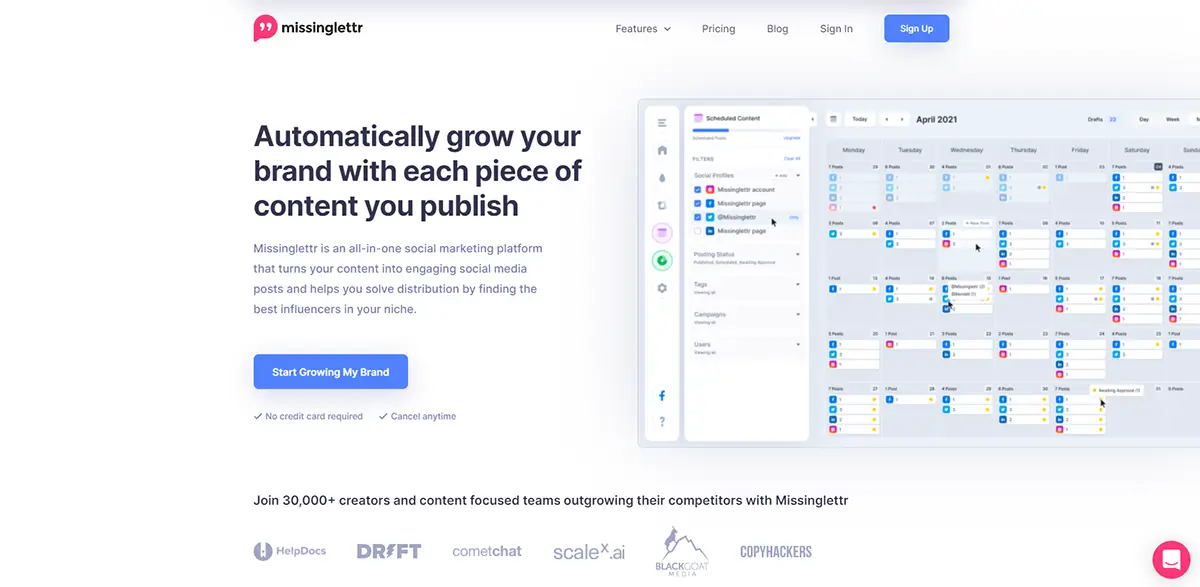 Missinglettr differs from the other Buffer alternatives on this list in a few ways. But, don't worry, it differs in a good way! The platform not only helps you plan material, but also assists you in creating posts to share with your audience. You may develop drip campaigns, as Missinglettr refers to them. It will automatically produce posts for all of your social media accounts based on the social media postings you make on your blog, e-commerce site, or even YouTube. Its AI can pull quotations and photos from postings that readers would find most appealing.
It can also match them to popular hashtags and themes to help you increase interaction. Missinglettr may also be used as a social media scheduler. You may plan and compose your social media posts in advance and leave the tough labor to Missinglettr. It also gives you access to stock photographs so that all of your social media posts are aesthetically appealing.
The analytics area will tell you whether or not your postings are performing well. It will also inform you whether your brand is being discussed online. You'll be able to view all of your analytics in one place if you link all of your social media networks.
6. NapoleonCat : Buffer Alternative for Social Customer Care and Marketing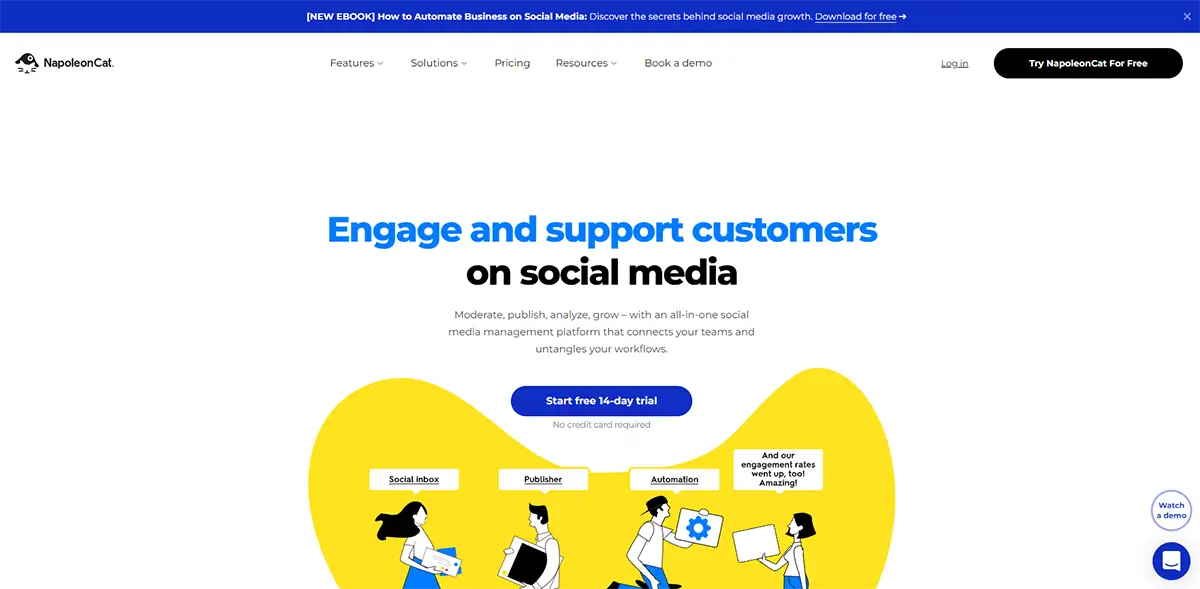 Napoleon Cat is one of the most effective Buffer options available, especially for those that value customer service. NapoleonCat, like some of the other social media management tools on our list, lets you respond to direct messages and comments from across all of your social media accounts. It can, however, automatically respond to the most frequently asked questions. You may assign messages to various team members and tag messages for future reference. When a new post or review is received, team members can be alerted through email automatically. Facebook, Messenger, Instagram, Twitter, LinkedIn, YouTube, and Google My Business communications are all supported.
NapoleonCat can publish your updates simultaneously on Facebook, Instagram, Twitter, LinkedIn, and Google My Business. Simply submit photographs to your dashboard, and the material will get synced and be posted as a group. You may make your postings more effective by making changes to them. You can use UTM tags to measure conversions, alter the image ratio for each social platform, and add CTA buttons to your Google My Business postings, among other things. You'll also have access to an analytics tool that will assist you in improving your social media posting strategy and analyzing your audience.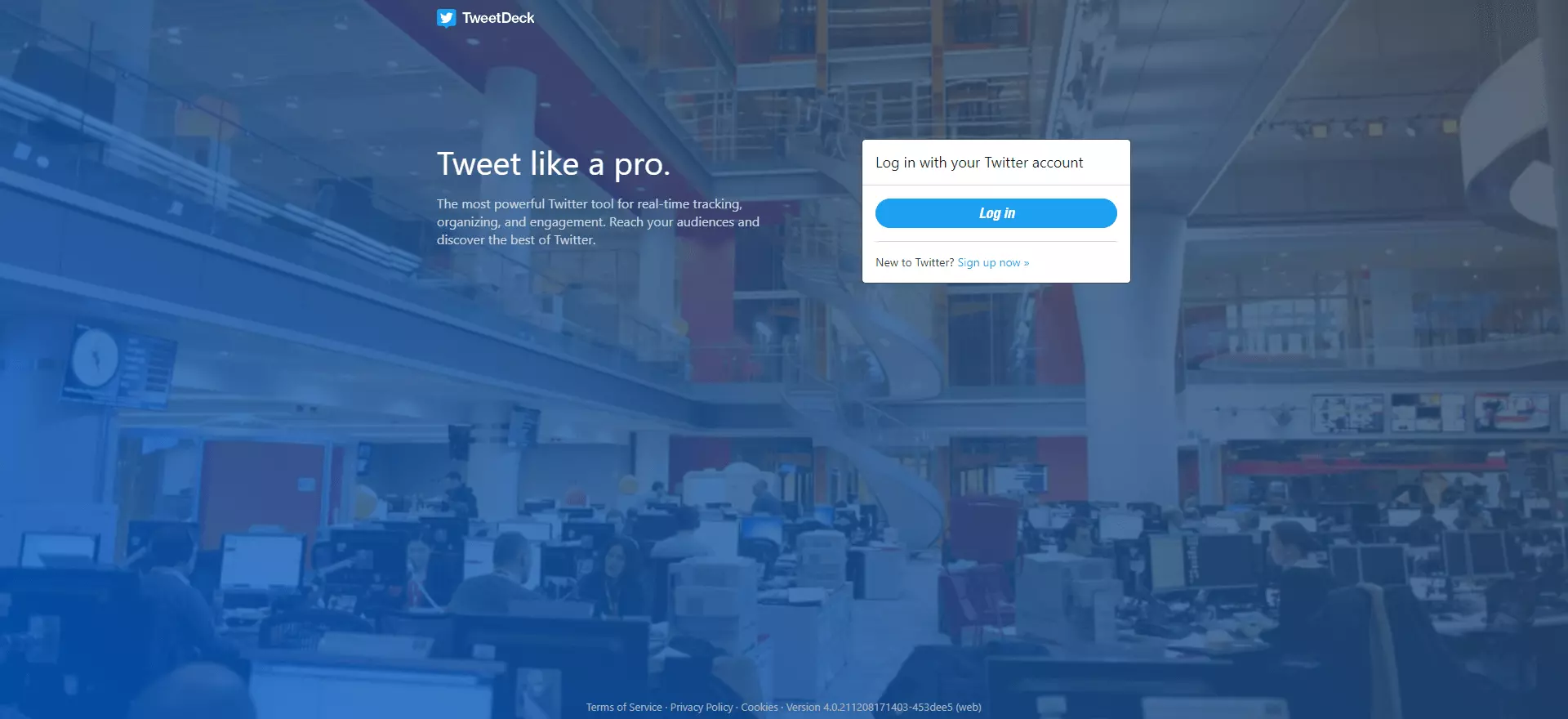 The native social media scheduling tool for Twitter is TweetDeck. This is a great option as a Buffer alternative that makes the most sense if you're only going to be managing Twitter accounts. It's also completely free to use. Only a Twitter account is required to join up for the service. It's simple to utilize this tool. Multiple timelines can be viewed at the same time. You may create tweet collections, manage several Twitter accounts, and schedule tweets.
Multiple accounts can be used to tweet. Simply construct your tweet and then pick the username of the account from which you want to tweet. Scheduled tweets go through the same procedure. Another feature worth experimenting with is TweetDeck Columns. Instead of having just one timeline, you may create columns to display certain items that you're interested in. You'll be able to compare and contrast them all. You may, for example, have columns that display brand mentions. You may also include a column that displays the results of a search query. There may also be a column that shows the most recent postings with a certain hashtag or trend. It's all up to you. For Twitter, Tweetdeck gives you the most liberty.
8. Sendible : Buffer Alternative for Agencies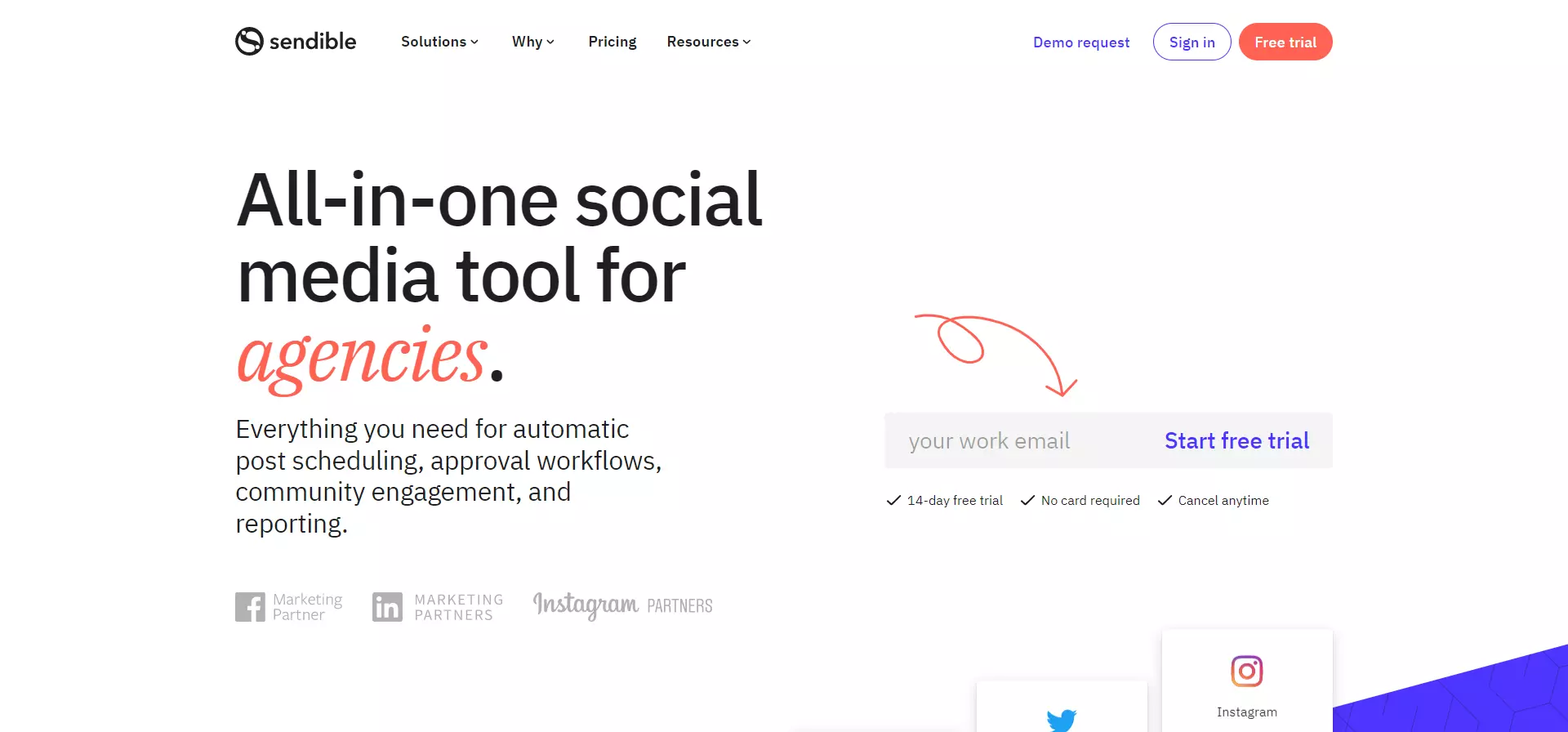 Sendible is a well-known all-in-one social media management application. The platform not only streamlines your marketing processes, but also uses social listening to keep an eye on your competitors. Let's begin with that!
Social listening is a function that allows you to monitor your brand's online performance. You may, however, utilize the same functionality to keep track of your competition. You'll also have a better idea of how well your posts are being received across all of your social media platforms. On Twitter, you may use social listening to get keyword alerts and locate new prospects. It's also a useful tool for sharing stuff on social networking. You may customize your content to fit the platforms you're using. Sendible is ideal for marketing companies with a large number of clients for this reason. You'll be able to cater to each individual's requirements. It is possible to categorize postings into campaigns. As a result, you'll be able to plan a batch of postings for specified days and times. This will aid in the promotion of evergreen material as well. Anyone with access to your account will be able to see which posts are scheduled to go live and when using the visual calendar. RSS feeds may be used to generate content from items on your website.
Sendible allows you to collaborate with other members of your team. Anyone with access to your calendar can contribute to it. If necessary, you may also delegate communications to other teams. Finally, you'll be able to use the analytics tool to produce reports. Your post interactions, mentions, audience, and other vital metrics will teach you a lot. Along with the right guidance, the features makes it easy for you to manage all your social media channels.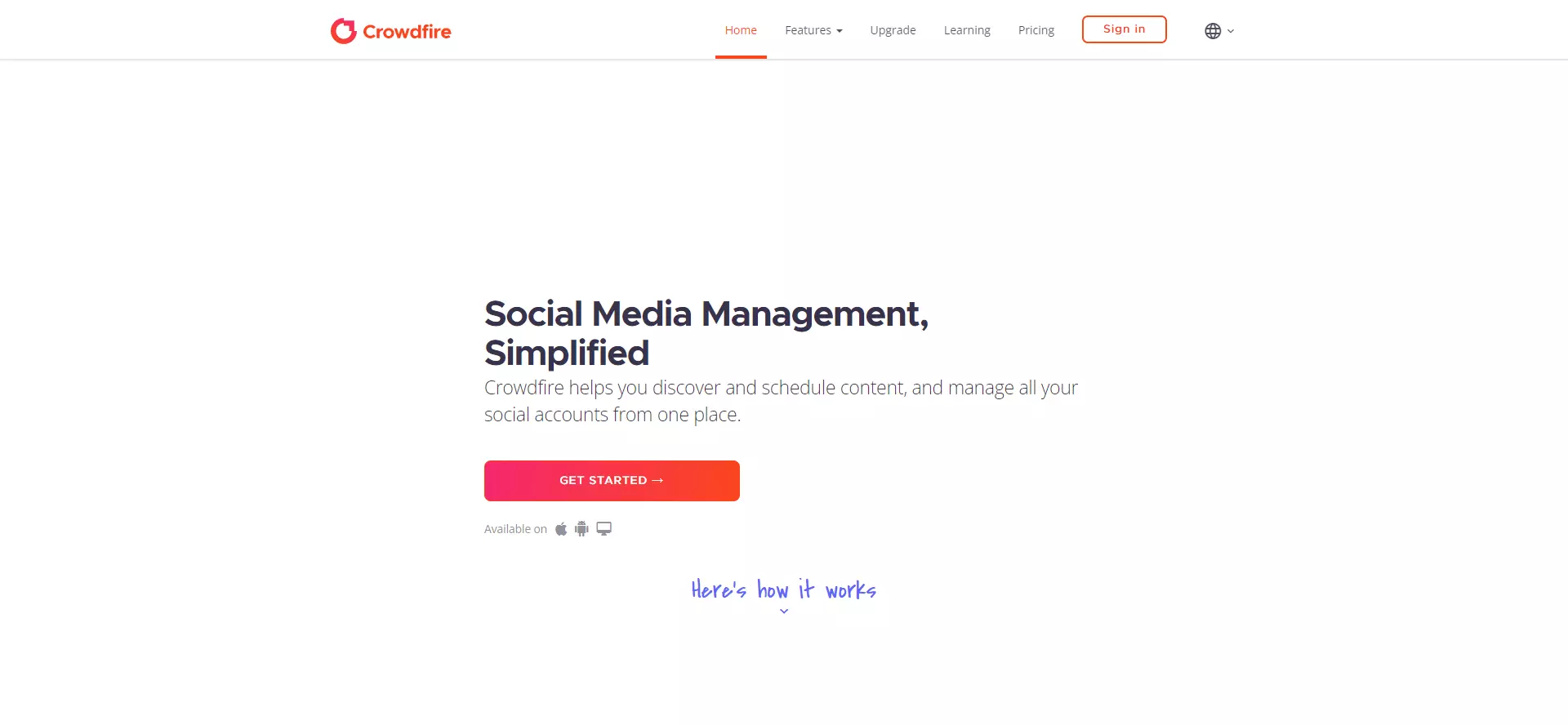 Crowdfire allows you to plan and post to all of the main social media platforms, including Facebook, Twitter, Instagram, LinkedIn, and Pinterest, all from one place. When you schedule a post, you'll see a preview of how it will appear when it goes live. Crowdfire is programmed to post automatically at appropriate times or you can manually select the time and date. This social media management tool also has an Article Curation feature that searches the web for relevant content that your target audience would find interesting.
This allows you to devote your time and attention to more important things. Alternatively, you may add RSS sources from which Crowdfire can pull material. This is also applicable to photographs. Crowdfire also allows you to keep track of every mention, remark, and reply made on Twitter. Text, photos, videos, and GIFs can all be used to respond effectively which leaves a good impression on your potential customer.
10. Sprout Social : Buffer Alternative for Enterprises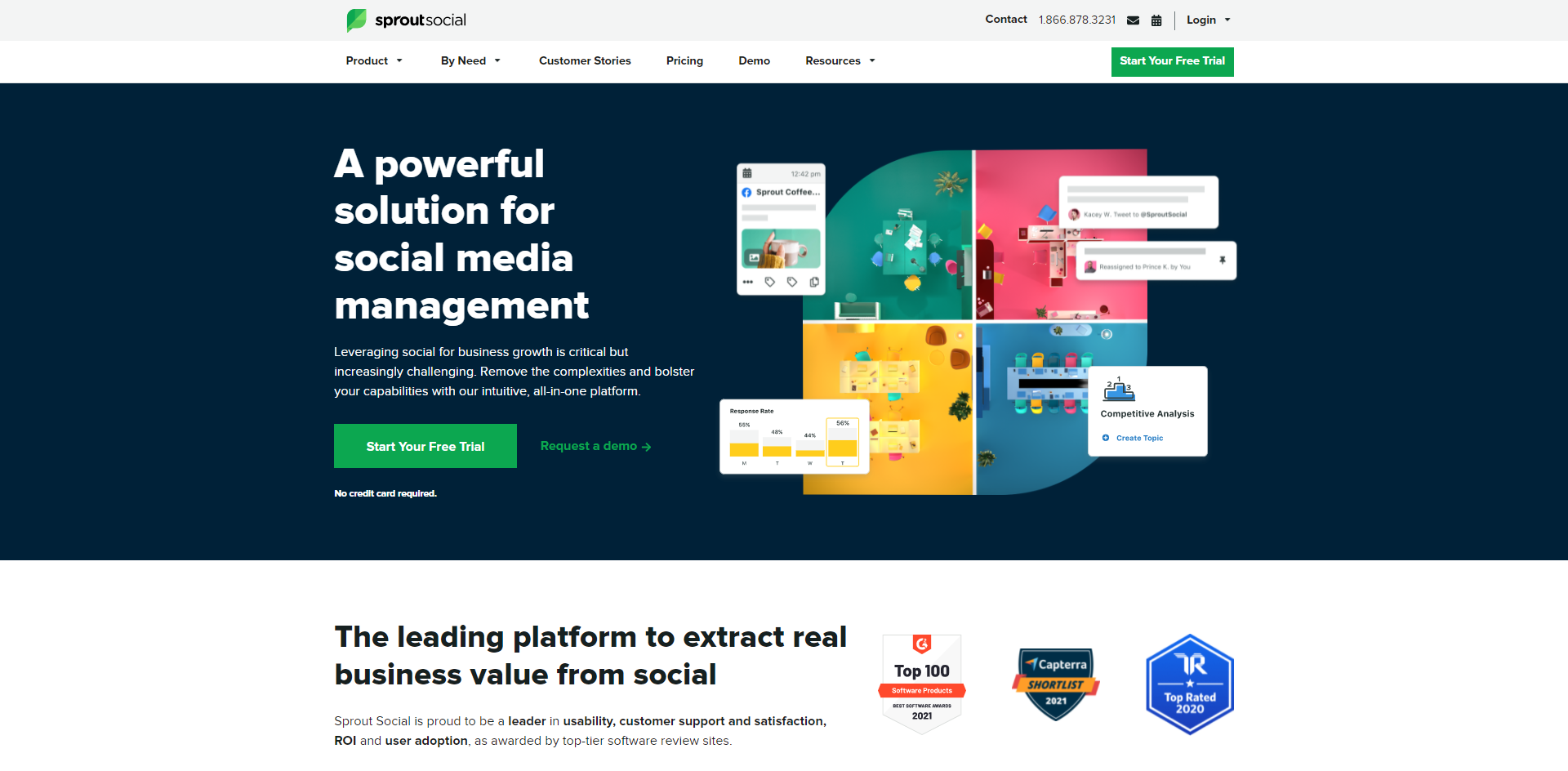 Another amazing Buffer option is Sprout Social. It's best defined as a "one-stop shop" for social media management. It offers a scheduling tool that suggests the best time to send an email. You may develop, organize, modify, and publish material from the same tool's asset library. It supports message tagging and also has a URL tracking capability. You may use the SproutLink function to include extra links in your Instagram bio.
You may have Sprout Social collect all of your communications so you can respond to them all in one spot. It will also notify you if there is a sudden increase in messages. You can even create chatbots to automate some of your responses. You may analyze brand interactions, do market research, examine customer attitudes, conduct campaign analysis, and much more. In short, you can do whatever you think of, and that too that you can't even think of.
11. Social Champ : Buffer Alternative for Small Teams and Agencies
Social Champ is a social media management application that allows you to produce, edit, design, and schedule up to 2000 social media posts for all popular social media platforms. Bulk upload, auto RSS feed, content suggestions, queue, sentiment analysis, social media calendar, team collaboration, analytics, and more capabilities are available. It also has Canva and bit.ly integrations, as well as a royalty-free graphic library. Social champ simply up your graphics game and make it eye-catching for your target audience.
You may modify each post for a certain social media network straight in the content composer as a Buffer alternative. You may quickly white label all the reports and repeat your postings, unlike Buffer. Furthermore, Social Champ provides recycle posting options, which allow you to construct a library of your evergreen posts and use them in campaigns for optimum interaction.
12. Fanbooster : Buffer Alternative for Agencies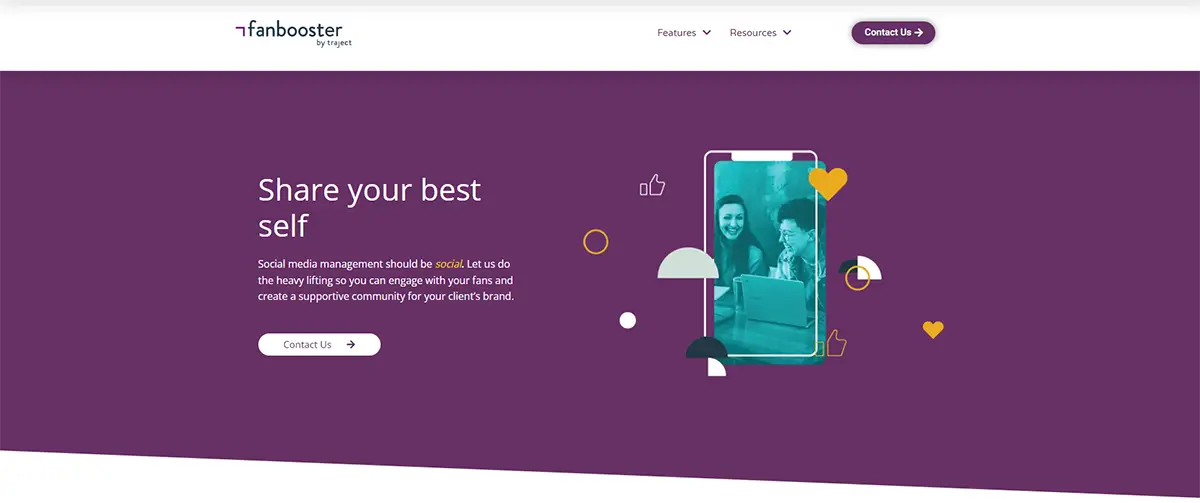 Fanbooster allows you to post, plan, and track content across the most popular social media sites including TikTok. The amazing "Evaluate tool" allows you to compare network performance to discover which social platform delivers the best return on investment. Fanbooster is a good solution for agencies since it allows you to create bespoke reports and plan them ahead of time.
The Fanbooster app has many of the same features as their PC dashboard. You may create and schedule material, track the performance of your posts, share online information, and make personalized messages. Geocode your publication, Bulk Schedule, Native Canva integration, Content syndication, Automatic publishing, Unlimited Presentation-Ready Reports, Editorial workflow, and Intelligent Analytics are just a few of Fanbooster's key features. The platform gives you very diversified features.
13. StoryChief : Buffer Alternative for Creatives
StoryChief is a multi-channel marketing solution that includes a variety of social media management functions. StoryChief, just like Buffer, includes statistics, content production choices, and engagement tracking. StoryChief, on the other hand, comes with a slew of other capabilities that make social media management and content management in general a breeze. You may schedule, publish, and track the development of social media and blog pieces with the content calendar tool. This content calendar also works with Google Calendar and Microsoft Outlook. StoryChief also has tools that enable teams to produce and collaborate on content from a single centralized dashboard.
Users can leave real-time comments and modifications on the material. Once you've published your social media content using StoryChief, you can track its success and generate detailed data to share with clients. Employee Advocacy capabilities are another noteworthy aspect of StoryChief. These tools let you leverage employee-generated material to boost your brand's image. You may use the application to encourage your staff to distribute curated content across social media platforms by monitoring and approving material shared by your brand's ambassadors. Large enterprises or content marketing teams who need a single center for developing and releasing content would find StoryChief's wide feature set and ease of use appealing.
14. Metricool : Buffer Alternative for Brands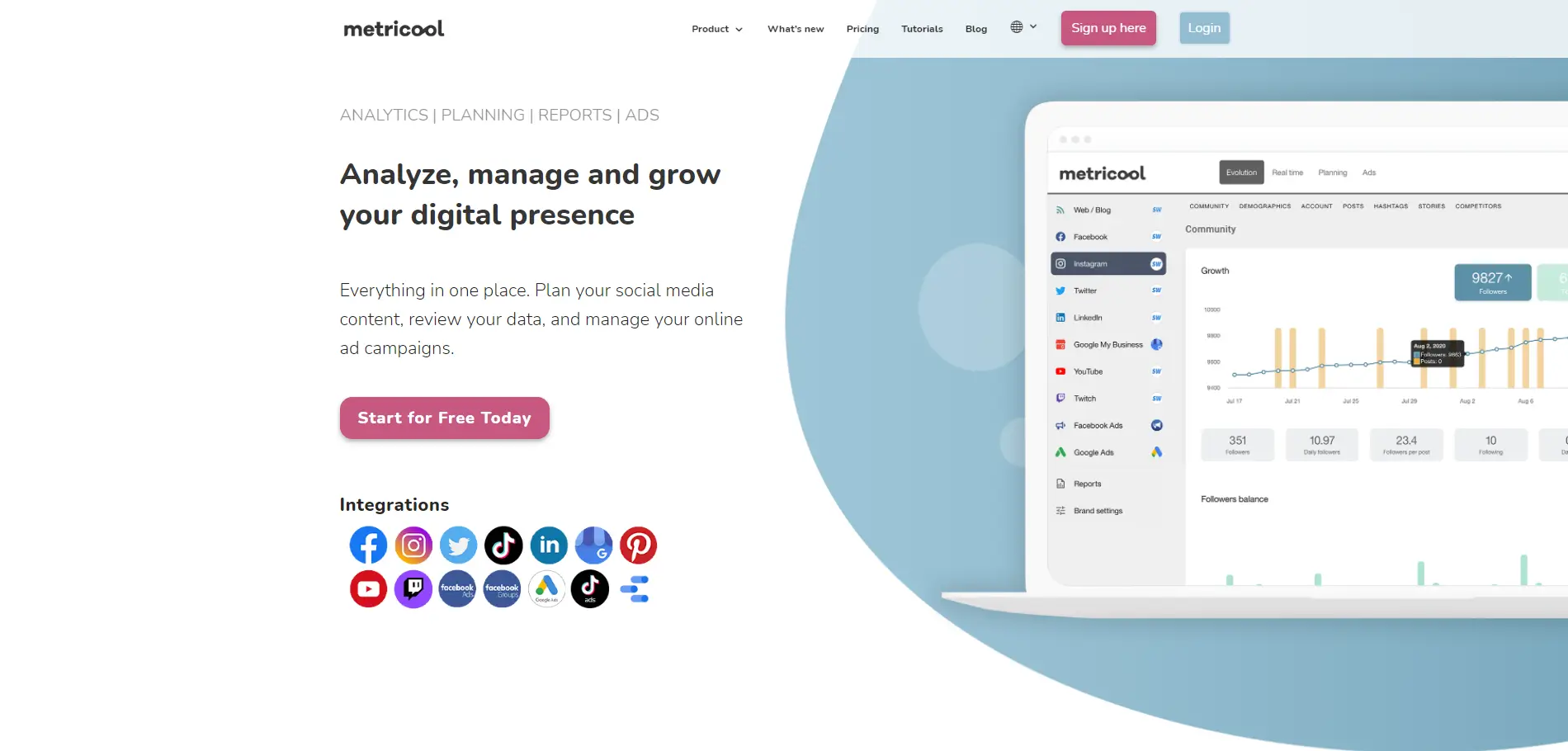 For individuals that want scheduling and analytics, Metricool is a superb option as a Buffer alternative. Metricool offers a variety of advanced analytics tools, such as hashtag tracking, competition analysis, real-time monitoring, and more. Metricool may be used to prepare and manage content across a range of social media networks, including Facebook, Instagram, Twitch, and LinkedIn. Metricool features everything you need to remain on top of your social media analytics, including a reporting function that allows you to simply export and display your analytics data to other members of your team or clients.
Metricool also delivers its best results when it comes to publishing. From the same dashboard, users may see a visual calendar for content planning and posting across all social media channels. You may also create clickable bio links and schedule and automate posting. Overall, it's an excellent publishing platform with robust analytics capabilities that would be ideal for teams or freelance social media managers. Metricool offers a free service that lets you link one account to each of the major social networking platforms. Paid plans start at 10€ per month and go up from there.
15. MeetEdgar : Buffer Alternative for Teams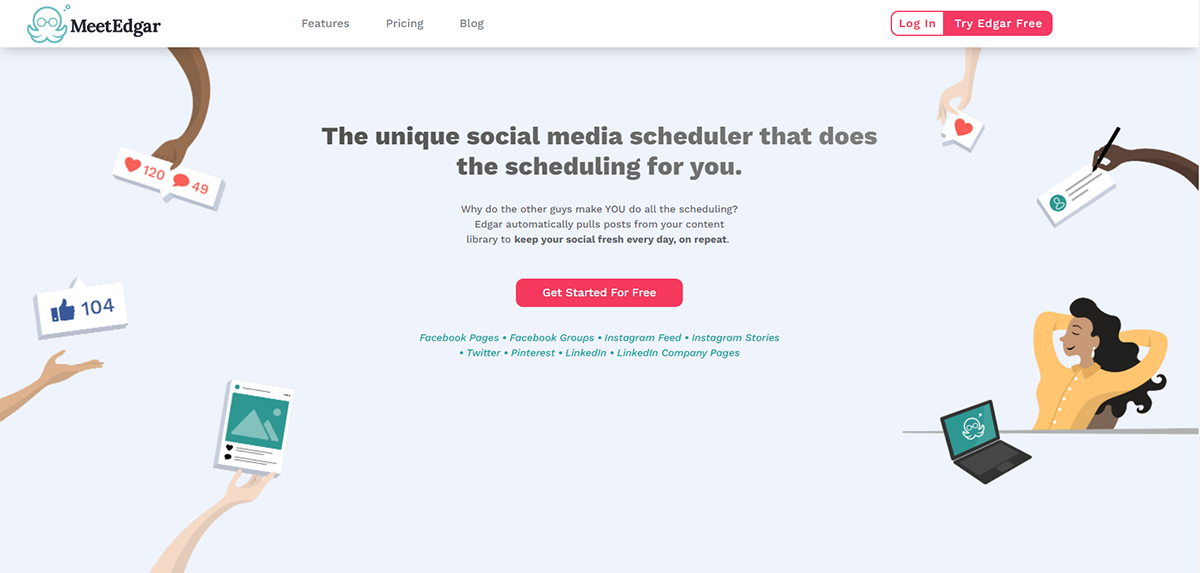 MeetEdgar is a social media scheduling tool aiming at small companies and entrepreneurs. The firm takes pride in targeting the demands of freelancers and small businesses looking for a simple and quick way to publish on social media. MeetEdgar helps with this by including some useful automated capabilities that may help keep social media planning and scheduling to a minimum. The application allows you to plan frequent social media updates and repurposes existing material to keep it fresh and entertaining for your followers.
All of your social material is saved in a library over time and may be repurposed automatically to keep your social channels active even when you don't have time to generate new content. The content-creating tool may also be used to produce social posts in a matter of seconds. It's a savior in urgent times and even if you feel short of ideas, it won't let you lose track. If you're stuck for ideas, simply paste a link to an article you like into the tool, and it will automatically choose a noteworthy quotation. MeetEdgar, on the other hand, isn't merely a publishing platform. It also contains tools such as A/B testing and link monitoring to help you remain on top of your social media game. Overall, it's the ideal tool for businesses that are short on time and want to cut down on their social network posting time.
Conclusion
And that's it! These are some of the most effective Buffer alternatives for social media management. These Buffer alternatives that we have listed above are among the best on the market today and won't disappoint you. You'll need the greatest tools for your team if you want to automate your social media management operations and make sure your social media strategy is one of the best. With such a broad list, you're sure to pick one that best suits your squad!