Marketers and aspiring influencers are always looking for new ways to get rapid attention across a variety of social media channels. Despite finding a safe haven to communicate with followers and conduct promotional campaigns, marketers must juggle many accounts across different media. This is where social media management tools may help.
Hootsuite is an application that lets users manage several social accounts, company sites, and profiles from a single, easy-to-use interface. It aspires to be your "one-stop shop" for everything related to social media. It also includes a social advertisement platform for creating, running, and monitoring social media campaigns. You can simply schedule, post, monitor, and analyze your social media activity using Hootsuite. In short, you can do everything that comes to your mind when you think of social media scheduling and management.
However, this isn't the only choice available to you. of Plenty Hootsuite alternatives offer comparable capabilities at a fraction of the cost. Let's take a closer look at why these solutions are worthwhile.
Why Should You Consider Hootsuite Alternatives?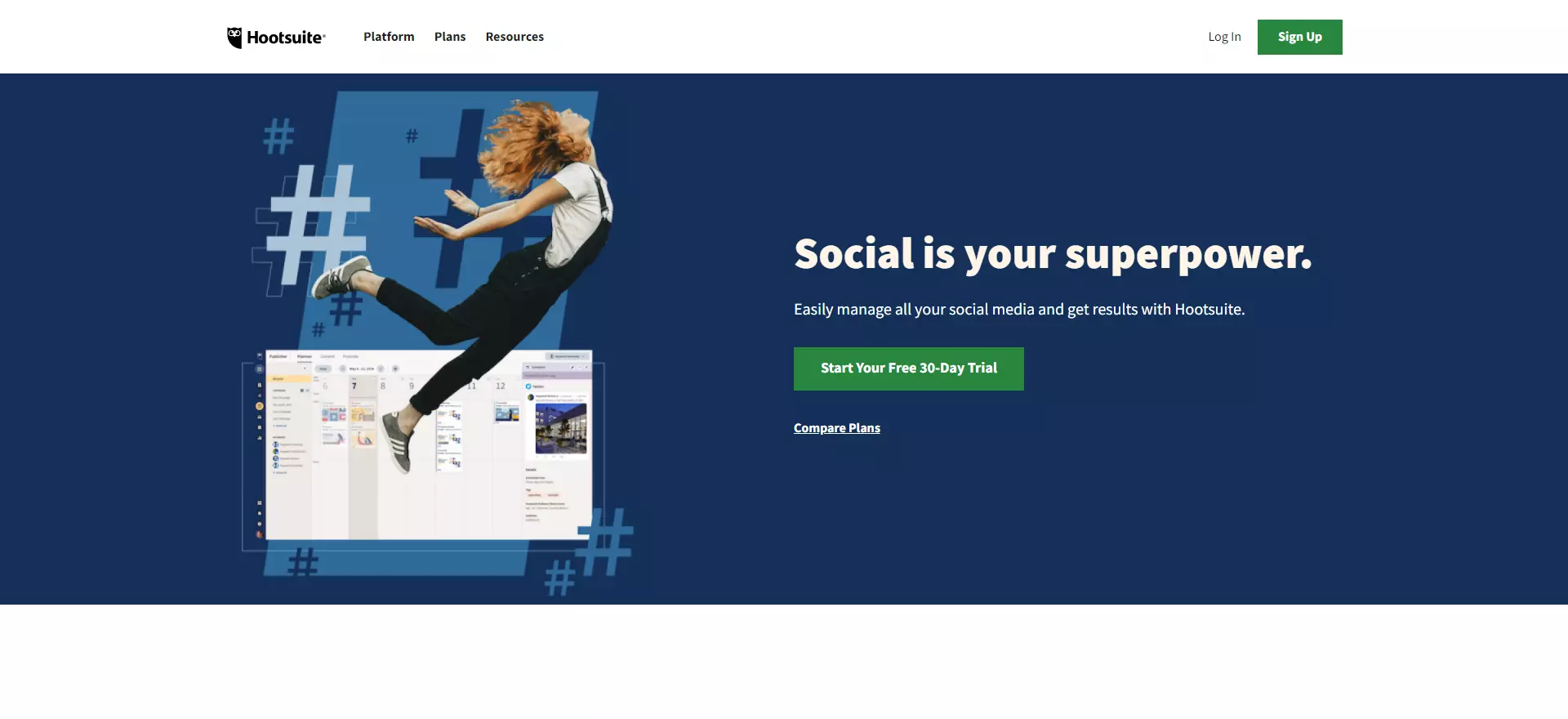 Even though Hootsuite offers a variety of customizable plans with free trials, small businesses may not be able to fully utilize the tool's potential without investing a large amount of money in subscriptions.
We'll go through the best Hootsuite alternatives for social media marketing tasks including post scheduling, content development, posting, and analytics in this piece. We'll go through each Hootsuite alternative so you don't have to. When we're done, you'll be able to choose the social media management solution that best suits your marketing requirements.
But before, check out our informative webinar on "How to Increase Engagement for Marketing Agencies?" Learn the greatest ideas and tactics from industry professionals on how to create long-term relationships with customers and prospects for your marketing firm. Returning to the list now.
Top Hootsuite Alternatives
1. Awesome Social : Free Hootsuite Alternative for Small Businesses & Agencies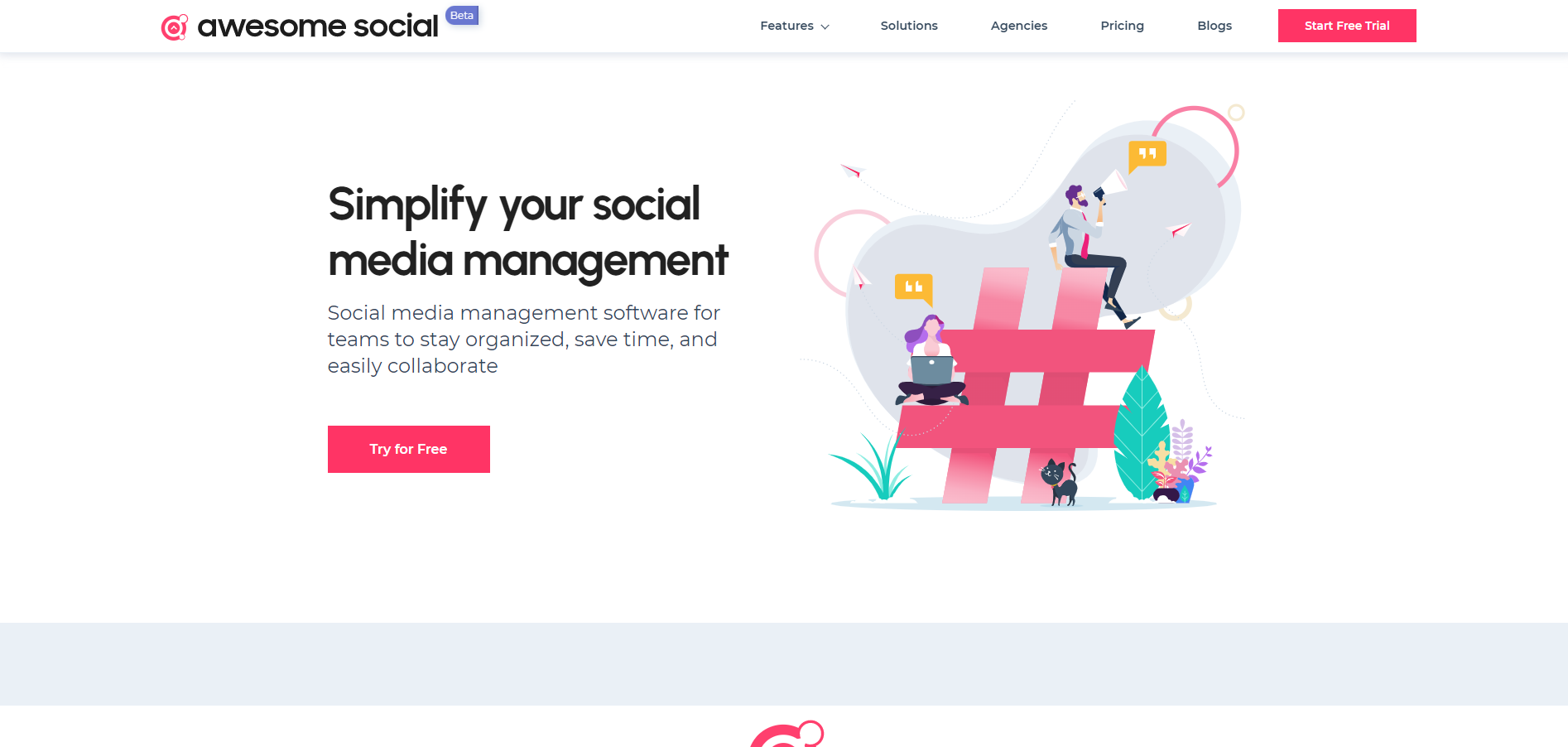 Awesome Social is an all-in-one social media management and scheduling tool. It is a high-functioning social media management tool that offers all the needed features to get full control over your social media and get immense growth with minimal effort.
Awesome social is a social media scheduling tool, where you get all the important features like:
managing multiple platforms
workflows
management
Post stats
scheduling
approval & rejection
team management
And that's not all! It has a lot to offer that can give youfull control over your social media and make it to the top. Awesome social will definitely empower your social presence to the next level.
🌟 Key Features
Social Media Scheduling Awesome social allows you to schedule as much as you want across a variety of social media platforms. Advanced capabilities include Twitter thread scheduling, Instagram post, and story scheduling, and so on.

Instagram Direct Story Scheduling Awesome social allows you to schedule your Instagram stories immediately. It will motivate you to keep posting content and keep your audience interested. This will improve your engagement rate while also increasing your following.

Social Engagement Awesome social offers a unified inbox that is efficient and simple to use. Your social media inboxes are combined into one dashboard. You can see and participate in all of your social chats in one spot, which is a useful tool.

Hey.bio Hey.bio is a great "link-in-bio tool" offered by Awesome Social. It lets users share their content and add a share a link with their community on Instagram or any other social platform. It's one of the easiest ways to manage multiple social links all in one place.

Analytics Post insights are an advanced feature of Awesome Social. It shows you how your post may have performed. Calculate your engagement rates to discover your best-performing Instagram posts. The statistics tool will also show you when your followers are most active.
⚡ Awesome social vs Hootsuite
Using Awesome Social can be beneficial when planning posting schedules for many social networks. It helps you easily curate and plan content across multiple social media channels. Hootsuite offers a similar function, but it is limited to a single schedule.
Awesome Social provides a free plan. Following the trial period, you may upgrade to the premium plan as your brand and social media planning requirements increase.
2. Salesforce Marketing Cloud : Hootsuite Alternative for Enterprises

If you're looking for Hootsuite alternatives because you want to create a single-platform marketing solution, Salesforce Marketing Cloud should be one of your first choices. If you already use Salesforce CRM and/or Pardot, this is most likely the only option to consider. Salesforce's Marketing Cloud is the system of record for some of the world's most respected brands, with cross-channel functionality including mobile, email, social, retargeting, and much more.
Marketing Cloud has a solution for almost everything that you may need. It, has four main editions available:
Email/Mobile/Web Marketing
Social Media Marketing
Advertising
B2B Marketing Automation.
For the purposes of this article, we'll concentrate on the Social Media Marketing edition, which outperforms Hootsuite. Salesforce Marketing Cloud lets you schedule posts for LinkedIn social media profiles and company pages, Twitter accounts, Facebook profiles, pages, and groups, Google+ pages, Pinterest boards, Instagram, and YouTube. So when we say it is the best out there in the market we are not wrong as it covers almost every social media channel that your brand needs. You can easily create and use publishing macros to automate repetitive tasks, delegate posts to other users, and even access an audit trail for engagement, which allows you to paint a more accurate picture of how a specific post performs based on specific user interactions.
Salesforce Marketing Cloud is tightly integrated with other Salesforce products such as Service Cloud, Pardot, and Salesforce CRM, but it also provides some of the best two-way integration with social networks available, including the ability to like, favorite, quote, retweet, or share social posts on various networks from within the platform, follows/unfollow users, and track private messages sent via Facebook or Twitter.
Salesforce Marketing Cloud force:
This bundle includes four editions: Basic, Pro, Corporate, and Enterprise. Licenses for this bundle range from $400/org/month to four-figure sums that aren't even mentioned on the website.
3. Khoros : Hootsuite Alternative for Large Businesses & Enterprises

Some of the world's largest corporations rely on Khoros to simplify and amplify their social media marketing. All of the major social networks, including Facebook, Instagram, LinkedIn, Twitter, Pinterest, YouTube, Google+, and others, have designated the company as a preferred/strategic partner.
Khoros comes in three flavors: Social Marketing, Experiences, and Intelligence. This segmentation has both advantages and disadvantages. If you want to use Khoros as a full-fledged digital marketing platform, you'll need to buy all three products.
However, if your company is already use one or more marketing software tools then you may not need to buy all three, as it will simply be a duplicate product. This is especially true given the Khoros platform's open nature; they provide pre-built integration with a wide range of platforms and/or services, including CRMs, link shortening, web analytics, and others.
All four versions of Khoros include social media scheduling tools and profile monitoring features, making it difficult to choose between them. Having said that, the Social Marketing product appears to have the most functionality. You can use Social Marketing to schedule posts and publish them to all of the major social networks (including LinkedIn company pages), respond to incoming social conversations, and monitor general sentiment and brand mentions on major networks. The Khoros platform is a comprehensive customer experience platform that includes SMS marketing, email, messaging, chat, and other features via owned properties and social media channels. Khoros can be costly, depending on the number of seats purchased and the version(s) chosen. But, as you can see, it's not lacking in features.
4. Agorapulse : Hootsuite Alternative for Growing Teams

Over 17,000 social media marketers worldwide use AgoraPulse. It is a social media management tool designed for serious business owners and agencies with multiple clients. It not only allows you to easily schedule content for social media platforms, but it also allows you to manage and respond to comments through a simple inbox that all of your teammates can access. The best feature of AgoraPulse is that it includes a CRM to help you manage all of your customers on social media platforms.
AgoraPulse allows you to connect and manage your Facebook, Twitter, Instagram, YouTube, and LinkedIn accounts from a single dashboard. Although AgoraPulse has dozens of amazing features that can change the way you manage social media, I don't recommend it for beginners because it can be quite expensive. AgoraPulse is better suited for businesses with a large number of customers. It provides a simple CRM for managing and tracking your customers across supported social media platforms.
💸 Agorapulse Pricing:
Agorapulse has two paid plans: Pro ($99/month) and Premium ($199/month). You can try both for free for 15 days and save 20% off the monthly rate if you sign up for annual plans. If you need to manage more than 20 social profiles or have social media accounts of more than 4 then , you must contact Agorapulse directly to discuss a suitable enterprise plan.
5. SocialPilot : Hootsuite Alternative for Agencies

SocialPilot is an all-in-one social media marketing management tool used by marketing guru Neil Patel and others. It allows you to schedule posts for all major social platforms, including Twitter, Facebook, LinkedIn, and Instagram. It also allows you to visually schedule posts using a calendar view. Unlike the other tools on this list, SocialPilot is designed for small businesses, bloggers, and those just getting started. For $30 per month, their starter plan allows you to connect up to 25 profiles, 3 user accounts, and unlimited scheduling.
SocialPilot is up to three times less expensive than Hootsuite because it allows you to connect 25 social media profiles and three user accounts for $30 per month, whereas Hootsuite only allows you to connect 10 profiles and one user account for $29 per month.
6. EClincher : Hootsuite Alternative for Businesses & Agencies

EClincher is a robust social media scheduling tool that supports Facebook, Twitter, Instagram, LinkedIn, and other major social media platforms. It includes everything you'll need to manage and expand your social media presence. You receive a content calendar that allows you to schedule posts weeks or months in advance. You also get a social inbox where you can manage all of your customers' and followers' comments and conversations in one place.
One thing we don't like about this tool is that if you want Twitter CRM features, you must subscribe to an add-on that costs $50 per month per profile. Some of the other tools on this list provide it for free. Users also like eClincher for its Social Inbox, which allows them to manage all of their social media accounts at once. The hashtag effectiveness reporting feature, brand monitoring, social listening, and post queues are also popular.
Finally, agencies will appreciate the ability to obtain client approvals without requiring them to log in first. You can simply share the URL, which allows them to view, edit, comment on, approve, and reject posts. EClincher is a sophisticated social media management tool designed for power users. EClincher is a great choice if you want more insights and advanced features.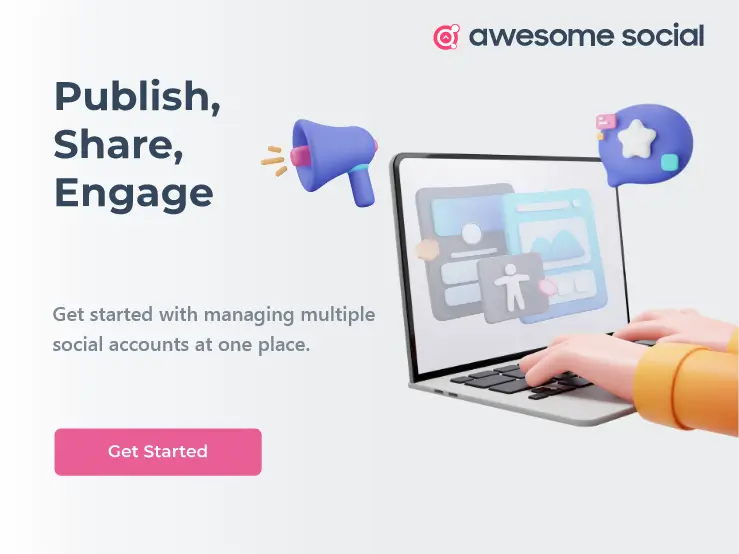 7. Buffer : Hootsuite Alternative for Small Businesses

Buffer is one of the most well-known and widely used social media scheduling tools. They have been around for a long time and provide a plethora of features to help with social media scheduling and content creation. If you're just getting started, we highly recommends Buffer because their plans are very affordable and the tool is one of the simplest to learn/use. Aside from social media scheduling, you also get access to the buffer browser extension, which allows you to schedule a social media post without leaving the page you're on.
For example, if you want to tweet about an interesting article you're reading, you can do so by clicking on the Buffer browser extension icon. One thing we dislike about Buffer is that the starter plan only allows you to schedule up to 100 posts at once. Most of the other tools on this list allow you to schedule an unlimited number of posts at the same time. Buffer is a much better alternative to Hootsuite for new users because for $15 per month, you can schedule up to 100 posts for up to eight social media profiles.
8. Sprout Social : Hootsuite Alternative for Large Teams & Enterprises

Sprout Social is one of the more flexible Hootsuite rivals on the list, including scheduling, monitoring, content Curation, analytics, and security features. Sprout Social positions itself to be your one-stop shop for everything social media. It also includes a social advertisement platform for creating, running, and monitoring social media campaigns.
The extremely configurable dashboards are one of Sprout Social's assets, according to its users. Sprout Social lets you create bespoke social feeds depending on the streams and networks you wish to see. This allows you to keep track of your social media posts, brand mentions, particular followers, and keywords. You may select which "boards" to display in your reporting dashboard and delete or add these feeds with a single click.
9. CoSchedule : Hootsuite Alternative for Marketing Teams

CoSchedule is a social media tool that includes two products:
Marketing Calendar (for creating marketing schedules)

Marketing Suite (for coordinating teamwork, projects, and marketing processes). It's an excellent tool for teams looking to move away from spreadsheets.
🌟 CoSchedule features:
Automatic notifications.

Integrations with content management systems (e.g., WordPress).

Various internal tools to improve workflow.

Personalized ROI reports

Assistance with collaboration and task management.
It's a good Hootsuite alternative because it has a cross-functional calendar that allows you to see your team's daily, weekly, and monthly progress. Its content calendar can be customized with different colors, project types, and tags. Email campaigns can be created and managed. CoSchedule is an expensive option among the various Hootsuite alternatives due to its pricing structure, and if you want to scale up, you must pay even more. Even though it has many advanced features, it may be too expensive for smaller teams.
10. Oktopost : Hootsuite Alternative for Brands

Oktopost is primarily marketed as a social engagement suite for business-to-business (B2B) organizations. Because other social media management tools offer a one-size-fits-all approach to social media engagement, this context switch alone provides a unique and powerful value proposition. Oktopost, one of the best social media management tools on the market, provides a suite of tools tailored to B2B businesses.
🌟 Oktopost Top Features:
Social media administration – With ease, prepare and schedule multiple posts. A calendar allows you to see the big picture while dragging and dropping posts as you go.

Employee support – Increase your reach by training your team members to be valuable brand advocates. You can train your employees to be brand ambassadors as well as thought leaders.

Social listening – Participate in all relevant brand-related conversations to learn what matters most to your followers.

People database – Track people rather than accounts. As you observe how your followers interact with your brand across all social media platforms, you will learn more about them.

Social analytics – Built-in reports and powerful custom dashboards enable you to measure every metric required by your business.
While Hootsuite is a powerful tool, it is designed primarily for B2C businesses. If your company caters to other businesses, you'll have to modify its features to make them work for you. Oktopost, on the other hand, was created specifically to meet the needs of B2B enterprise brands.
Given its emphasis on enterprise-level solutions, it's not surprising that its customer support is far superior to Hootsuite's. Standard packages are not available from Oktopost. Instead, it offers tailored services to each organization. To get a good idea of how much it might cost, contact Oktopost directly and work with them to determine exactly what features you require.
11. SocialOomph : Hootsuite Alternative for Marketers

SocialOomph is a tool for scheduling social posts. It has a variety of features that increase productivity. It can be used by individuals as well as groups. It can be used for social media posts, blog posts, and so on. It has many features and functionalities, such as post queues, RSS feeds, post-flood control, and so on.
🌟 Features:
Precise scheduling at a specific time and date, with bulk uploading of filtered data.
Webhooks are its key feature for automatically creating social and blog posts.
Automatically add tags for a low cost.
Some of its key features include bulk uploading, webhooks, post queues, and an RSS feed.
Has an auto-direct message and the follow-back feature.
Using the auto-publishing feature, create an amazing blog post.
Aids in the partitioning of client data using team attributes and tags.
Demonstrates the success of the content and aids in reaching the largest possible audience.
With the keyword tracking system, associates with the user's account, assigns privileges, and organizes them into specified teams. SocialOomph also configures post-approval as needed and feeds the social network on time.
12. Later : Simple & Easy Hootsuite Alternative for Brands

Later is a social media management tool that integrates with Instagram, Facebook, Pinterest, Twitter, LinkedIn, and TikTok. However, Instagram is the main focus of this platform – Later even has an Instagram Training program for businesses. Most users praise Later for providing the same features as CoSchedule and Hootsuite at a lower cost. If your budget is limited, this platform is a better option. But before we get into pricing, let's take a look at Later's main features.
🌟 Later's Features:
Scheduling.
Instagram statistics.
LinkedIn.com (shoppable blocks).
User-generated content Curation
Stories on Instagram.
Hashtags on Instagram
Pinterest planning.
Scheduling on LinkedIn.
TikTok time management.
You can also save all of your visual assets to the Media Library and access them at any time. If you're not sure how to use the dashboard, all users have access to a Learning Center. Hashtag analyzercan assist you in increasing social media engagement and reach. It suggests hashtags based on your followers' preferences and provides hashtag analytics to help you find the most popular options. Finally, we must mention Later's social media analytics feature which you can use to .track your whereabouts. This tool also generates reports containing information about your social media growth.
💸 Later pricing: Later is available for free for an indefinite period. However, access to features will be restricted. Paid plans start at $8 a month.
13. Sprinklr : Hootsuite Alternative for Enterprise Marketing Teams

More than 1,000 of the world's largest consumer brands rely on Sprinklr to manage or track all aspects of the customer experience. Sprinklr is the first choice for many globally-focused businesses, with over 20 social channels (including the basics like Facebook, Instagram, and Twitter) and more than 85 languages supported.
Sprinklr, unlike the previous products discussed, provides a unified customer experience marketing (CXM) platform with basic functionality for content and campaign management, planning, and publishing, audience segmentation and engagement tracking, approvals and policy management, reporting, and even an easy-to-use mobile application that helps you manage your campaigns when you're not at the office.
Customer analytics and sentiment analysis within the CXM platform assist marketing teams in making data-informed decisions based on actual customer feedback rather than gut instinct. Automated workflows and approvals, smart bidding, and AI-assisted campaign optimizations will help social media managers speed up their work and scale campaigns. The customer experience platform integrates with your CRM to provide more personalized experiences based on audience insights.
Integrations with over 30 data sources will help you create targeted campaigns that align with your marketing strategy.
14. Contentstudio : Hootsuite Alternative for Growing Social Media Teams

The content studio is a newer platform in the industry. However, its distinct features appear to match all of the characteristics marketers expect from the best Hootsuite alternatives. It is a social media marketing tool that has won several awards.
It also has features to assist individuals and social media agencies with publishing, planning, content discovery, composing, and analyzing. You can stop paying other software to search for trending content by purchasing one of their plans, and you'll also get a two-month free trial. It provides a two-month free trial before committing to a plan, and there are four paid plans to choose from Unlike most of its competitors, Content studio's most basic plan allows for one user while providing access to ten profiles across platforms; it costs $49 per month.
💸 Content studio Pricing:
The content studio has five pricing tiers, with the Pro plan being the most basic, starting at $49 for ten social media accounts for one user. These plans can be upgraded to $299 per month. They also have a separate plan for enterprise businesses, for which users must contact Contentstudio to receive a customized quote.
15. RecurPost : Hootsuite Alternative for Marketers

Assume you don't even have a small business and you want to start one or work as a social media handler on Pinterest and Instagram. If this describes you, it would be ideal to try out a Hootsuite-free alternative before committing to a paid tool. Recurpost is almost identical to what Hootsuite is.
Would you like to try a social media management tool for free for two months? Who wouldn't? Yes, Recurpost is a service that provides that cushion when you purchase one of their annual plans. They support all of the popular social media platforms and even give non-profit organizations a 20% discount. Following a few platform-specific products, here is another all-purpose social media management tool to consider.
Yes! Recurpost allows you to manage up to ten social accounts, including Facebook, Twitter, LinkedIn, Pinterest, Instagram, and Google My Business. In terms of features, Recurpost includes bulk scheduling, content libraries, URL shortener, advanced analytics reports, Google alerts, time scheduling, and many more excellent options to compete with high-end tools such as Hootsuite.
They only limit the number of users, recurring posts, daily posts, and the RSS feed, which we believe is unique to this platform. If you used it deliberately, it would allow your small business to complete the majority of its tasks without having to switch to more expensive plans.
💸 RecurPost pricing:
RecurPost offers three plans to meet the needs of your business, with the most popular plan, the Solo, designed for individual users, costing $25 per month. The best feature of RecurPost is that it includes all services in the
16. Friends plus Me

This one is a little less well-known that you may not have heard before this but it has a decent free plan. The free plan allows you to have up to two destinations, each of which is a specific social media account, with up to five posts scheduled per destination at any given time. It integrates with Google Plus, Facebook, LinkedIn, Tumblr, and Twitter, with Pinterest available as a paid add-on.
It also has a browser extension, a mobile app, a desktop app, and Zapier integration. Overall, it's a solid little app for minor scheduling requirements.
An Awesome Hootsuite Alternative
Finally, the greatest Hootsuite option is the one that best meets your demands. Consider the features your business requires, your budget, and whether your requirements may alter shortly. Rather than moving tools in the future, you may find it beneficial to use a tool that allows for future growth. Furthermore, agencies are usually on a budget and should think hard about investing in a platform like Hootsuite. With technologies like Awesome social this is no longer an issue.
Awesome Social is a terrific Hootsuite alternative for businesses searching for a simple social media management solution! You can simply start with a simple 14-day trial to see if it is the right solution for your business.