Sprout Social is a popular social media management tool, which helps marketers and social media managers manage their social publishing and engagement workflows. It can be used to handle a variety of social media tasks, including scheduling, posting, monitoring, and analyzing your accounts and actions. Sprout Social is a solution to every problem that social media managers face.
Why Should You Consider Alternatives to Sprout Social?
With a starting price plan of $99 per user per month, it comes as no surprise that a lot of SMBs and startups that may be interested in using this tool are actively looking for an awesome sprout social alternative. Obviously, no one wants a social media manager at the cost of a kidney. We have compiled a comprehensive list of social media management tools that are the most suitable alternatives to sprout social.
1. Awesome Social : Free Sprout Social Alternative for Small Businesses & Agencies

Awesome social is a well-designed social media management tool. It is specifically built and created for small digital marketing companies and organizations. It provides all the necessary and sophisticated features and all of this at a more reasonable cost.
If you're looking for Sprout Social alternatives because you manage many Instagram profiles for your company or customer, then Awesome Social may be the correct pick for you. It works with Facebook, Twitter, Instagram, LinkedIn, and Pinterest. It allows users to easily upload and schedule posts across all these platforms with ease.
🌟 Key Features:
Social Media Scheduling Awesome social allows you to schedule as much as you want across a variety of social media platforms. Advanced capabilities include Twitter thread scheduling, Instagram post, story scheduling, and so on.

Instagram Direct Story Scheduling Awesome social allows you to schedule your Instagram stories immediately. It will motivate you to keep posting content and keep your audience interested. This will improve your engagement rate while also increasing your following.

Team Collaboration Awesome social allows teams to collaborate effertlessly. The powerful workflow feature helps brands and marketers to plan and approve any design before it gets published on a social platform.

Hey.bio Hey.bio Hey.bio is a great link-in-bio tool offered by awesome social. It lets users share their content and add a share a link with their community on Instagram or any other social platform. It's one of the easiest ways to manage multiple social links all in one place.
2. MavSocial : An Affordable Sprout Social Alternative

MavSocial is a visual media-focused content management and publishing tool for businesses and advertising agencies. Users can upload media files to their cloud-based library to plan, evaluate, and schedule posts across several social media channels.
Users of MavSocial can also collaborate on the material. Approval processes are simple because employees may create a tweet and send it for approval via email or the app's handy built-in chat feature. MavSocial, on the other hand, has limited reporting possibilities. The reports appear to be a little out of the current and don't provide as much information as Fanbooster or the other Sprout Social options on this list.
3. Audiense : Sprout Social Alternative for Social Intelligence

Audiense Connect claims to be the most popular Twitter marketing tool, and they're probably correct. Thousands of the world's most well-known businesses and agencies, like Manchester United, TikTok, Apple, PepsiCo, and others, use it. Audiense provides several handy tools to assist you in managing your Twitter campaigns, including Unique Twitter chatbots. In just a few clicks, you can develop your own custom chatbot on Twitter to better manage interactions with your consumers via Direct Messages.
Identify your most important audience segments, listen in on their conversations, and more with rich audience analytics. Audiense analytics may help you learn more about topics like brand sentiment by calculating the percentage of favorable and negative tweets about your company. Audiense will examine your target audience and analyze patterns to determine who has the most direct and indirect effect on them. This might assist you in identifying the finest influencer marketing partners.
4. FS Poster : Sprout Social Alternative for Wordpress

FS Poster is a WordPress alternative to Sprout Social, with scheduling, monitoring, and reporting options. It's a specialized social media planner designed to help WordPress users scale their social media presence.
Compatibility with 15 social media platforms offers a steady and persistent online presence. The plugin may be used to schedule WordPress blogs, custom articles, and WooCommerce product auto-posting across several platforms. When scheduling posts on visual-oriented networks like Instagram or Pinterest, you may include highlighted photos or videos as well as a unique message. Users can utilize a bulk schedule to publish an infinite number of posts to social media networks.
This allows you to focus on content production while keeping your social media feed fresh. If you publish too many posts from the same IP address, social media platforms may consider them duplicates. You may circumvent this by giving each post its own URL. In this manner, you may incorporate your post's keywords to increase the number of people that see it. Unplanned postings, such as anniversaries or accomplishments, may not be published as normal posts on the site. FS Poster includes a unique post function for special situations. Increased postings will also assist to raise awareness of your site, increasing organic traffic and search rankings.
5. HeyOrca : Sprout Social Alternative for Agencies

HeyOrca isn't as complete as Sprout Social, but if you're searching for a social media calendar tool and want to manage customers from a single browser tab, this is the option for you. It lets you see, manage, and visualize all of your clients' calendars in one spot. HeyOrca is ideal for agencies with a large number of clients and social media profiles.
🌟 HeyOrca Features
Social Media Scheduling
Social Media Collaboration
Social Media Approvals
Social Media Reporting
Facebook Post Promotion
6. SkedSocial : Sprout Social Alternative for Instagram Marketers

Sked Social bills itself as "the only Instagram planner" you'll ever require. It allows you to graphically design your feed, publish items automatically, add tags and hashtags, schedule the first remark on a post, and more.
🌟Sked Social Features
Instagram Story Scheduling
Social media calendar
Visual Instagram Planner
Advanced Instagram Analytics
Product, Person & Location Tagging
Unlimited Free Users
Bulk Post & Story Upload
Post Approvals & Collaboration
7. Hootsuite : Sprout Social Alternative for Enterprises

You've probably heard of Hootsuite if you're searching for a social media management platform. Hootsuite is arguably the most popular social media management platform on the market. It is, however, one of the more expensive solutions, best suited to large agencies and enterprise-level enterprises.
Hootsuite is a well-known platform that includes features such as scheduling, monitoring, analytics and reporting, and a social inbox. It offers all of the features that a social media management tool should. The main issue with this application is its drab user interface, lackluster customer service, and exorbitant price levels.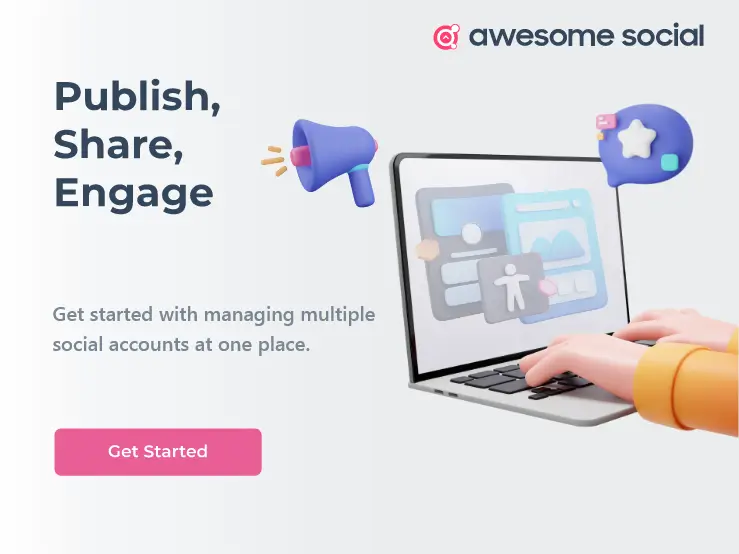 8. IFTTT : Sprout Social Alternative for Individuals & Solopreneurs

IFTTT is a unique type of social networking tool, but it may be a lifesaver if you have certain demands that you want to set and forget. IFTTT stands for "If This Then That," and it delivers on its promise. From your Hue smart lightbulbs and home thermostat to pretty much every social media service you use, you can link all kinds of gadgets and tools. Then you make recipes with triggers that make the following action happen.
For example, you can have a Tweet sent out or put to your Buffer every time you publish a post on WordPress, and you can choose what material will auto-populate in the Tweet so you know how the articles will appear. This might be a good solution if you're having problems finding a social networking software product that interfaces with all of your other tools and does extremely specific tasks.
It's quite adaptable, and while setup and preparation may take some time, it may help you with a variety of social media activities. The IFTTT website is fantastic, but there's also a very user-friendly smartphone app.
9. Everypost : Easy to Use Sprout Social Alternative

If you have a team and want to offer various members access to multiple social media accounts, Everypost is ideal. For example, one or two of your workers may be in charge of Facebook and Twitter posting, while another is completely responsible for Twitter customer service. Because you don't have to provide every employee login credentials and access, it's easier to manage security.
Access can also be restricted within media platforms. One employee or user group, for example, might be able to retweet messages, but they won't be able to remove your Tweets or edit your bio. Everypost connects to RSS feeds, Flickr accounts, and other content sources, making it simple to find and distribute your material.
10. SocialBee : Sprout Social Alternative for Content Creators

SocialBee is a well-known tool that specializes in posting and scheduling social media content. But, you may think that how can I get it in low price? It's because you don't have to pay for any additional feature that you don't need. There are a few features in this Sprout Social alternative that you might find appealing. It allows you to schedule articles by category, for example. You may also recycle your best-performing content by re-queuing earlier posts. You may also tailor postings for each of your social profiles to ensure that they adhere to all best practices. You may also make variants of the same post so that they don't all appear the same when you reuse them. You may also make bulk modifications from a single category.
This covers posting assignments, approvals, and deletions. Facebook, Twitter, LinkedIn, Instagram, Pinterest, and Google My Business are all supported by SocialBee. Other noteworthy features include the option to retire posts after a certain amount of shares, preserve hashtags, and receive email notifications whenever a post fails or a category is empty. You can simultaneously upload several media files and URLs. You may simply use a CSV file to import your existing material. To keep track of your conversions, you may establish unique URLs and enable tracking capabilities.

Iconosquare is an excellent platform for data-driven social media marketers since it prioritizes social media analytics. It has powerful social metrics that are simple to understand. It displays information like follower growth, post-level average engagement rate, reach, and impressions.
There will also be a clear distinction between organic and sponsored Instagram postings. You may add labels and albums to your campaigns to improve your analysis. Instagram Stories' performance may even be measured with a dedicated tool. Iconosquare can even automate your social media reporting for you. It simply takes a few minutes to set up and then it can start giving you information automatically or on demand.
It may even email reports to specific recipients. Its social media scheduling tools may take your campaign to the next level. From Instagram Carousels and Stories to Facebook videos and Twitter GIFs, you may share any form of material. Clients may accept or reject posts and offer comments as needed, thanks to an approval mechanism in place. Using Dropbox or OneDrive, you may also upload photographs in bulk. Location and account tagging, as well as hashtag recommendations, are among the additional features.
12. Tailwind : Sprout Social Alternative for Marketing Team

It might be difficult to find social media management software that includes Instagram and Pinterest, but Tailwind is designed specifically for these sites. Its feature-rich dashboard includes tools to help you plan content, track discussions, expand your reach, and find relevant information to share with your followers and influencers. It also offers a strong Pinterest analytics tool and a one-click hashtag tool. Tailwind is available for iOS and Android as a browser extension and a mobile app.
Keyhole may be used to track the success of any public social media channel like Twitter, Facebook, or Instagram account.Also, it watches all the metrics related to hashtags and keywords . You may track real-time and historical data like reach, impressions, sentiment, linked terms, and activity volume for the latter. Viewing graphs with demographic data, such as gender and geography, may also help you better understand your audience. In terms of account tracking, the tool makes recommendations for improvements based on statistics on engagement and follower growth. For example, you'll discover the optimum times to submit an update and the appropriate length of those updates, based on the social site.

Using the appropriately titled Mention, you can track and analyze your brand's mentions across prominent social channels, such as blogs and forums. You may engage with postings directly from the dashboard using your recorded keywords, as well as assign them to various team members. If someone uses your term in a post, the platform can notify you. The application examines the number of your mentions and discovers both good and negative related keywords in terms of metrics.

Use Quintly to compare your profiles to rivals if account analytics is more important to you than keyword tracking. It uses data visualizations to measure and compare your performance on key social networks, such as follower growth and engagement rate. It also delves into the data regarding activity levels and demographics of the audience. If we say that it is a go-to tool for competitive benchmarking because of these qualities, we won't be wrong
An Awesome Sprout Social Alternative
As you can see, there are other excellent Sprout Social options available. Each of these applications has its own set of features, pricing ranges, and advantages and disadvantages.
It may take some trial and error to discover the perfect match platform, but as long as you know what your business requires from a social media management tool, you'll be well on your way to executing effective social media marketing campaigns.
However, based on the features, and price plans Awesome Social is one of the best out in the market. Hence, we would suggest that Awesome Social is a great sprout social alternative. For marketers who are looking for an easy-breezy social media management solution! Awesome Social is the ultimate answer. You can simply start with a simple 14-day trial to see if it is the right solution for your business.