A well-optimized social media presence can make a world of difference for your company. Optimizing your social media presence can help you reach potential consumers and boost the profitability of your business. An optimized and eye-catching profile on several social media platforms such as Facebook, Twitter, Instagram, YouTube, and others will add significant value to your company's online presence.
As a result, there is no reason to overlook the advantages of social media optimization for your organization. In this day and age, it is difficult to establish a well-known and profitable business without a well-optimized social media presence. Businesses can find it difficult to improve their brand image without utilizing a social media presence.
The need for social media has boomed in the last decade for every business, individual, and content creator. It has provided great opportunities for increasing sales and improving brand awareness worldwide. According to the most recent social media statistics, there will be 3.78 billion social media users worldwide in 2021 - a figure that will only rise in the coming years. As things stand, that translates to roughly 48% of the present global population.
While most businesses embrace social media, many fail to implement optimization tools that may greatly improve their effectiveness. The best part is that improving your presence online does not require you to sacrifice your brand's voice and uniqueness. In this post, we'll look at the top two social media management tools that optimize your online presence effortlessly.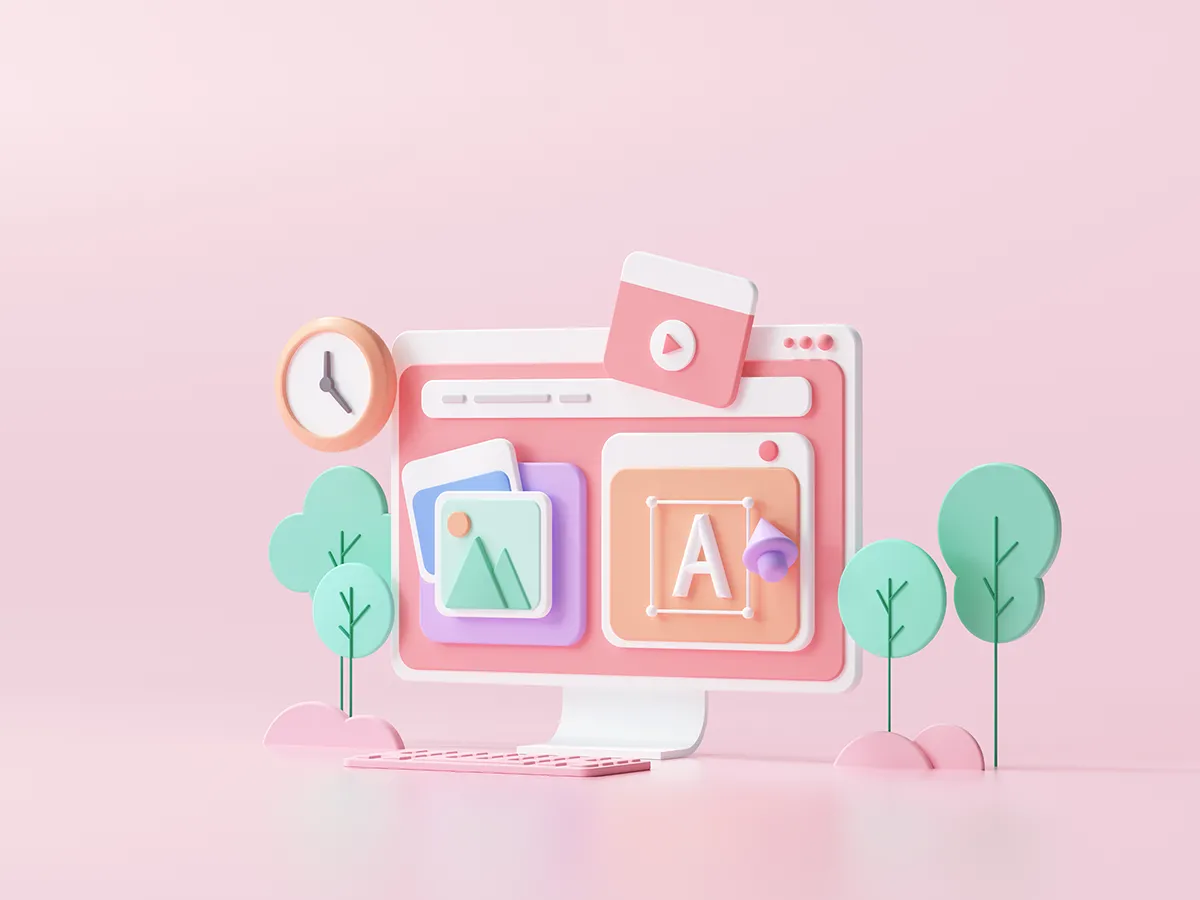 With the advent of social media platforms and increased competition, marketers do not want to miss any opportunity to capture the attention of their target audience and convert them into followers. There are numerous social media platforms available on the market, each of which caters to a unique niche within their online communities. Furthermore, all social media platforms seek followers and an audience with a specific perspective.
In the extremely competitive social media sector, marketers must save time and effort while ensuring that all operations are directed in their desired direction. Social media management systems enable you to manage multiple channels in a unified system, saving time and effort while producing extremely effective outcomes.
Social media management systems allow you to manage multiple platforms, workflows, analytics, scheduling, and approvals, among other things. Additional capabilities include team management, engagement and brand mentions tracking, integrations, and the ability to automate the majority of your tasks. Instead of monitoring many platforms manually, social media management solutions allow you to obtain richer and more insightful outcomes while saving a significant amount of time. Using these tools may additionally help you to effortlessly automate a variety of manual operations.
Now that we've established the value of a social media management tool, we can move on to the comparison of Hootsuite and Buffer. By the end of this comparison, you'll have all the details you need to reach your own decision as to whether Hootsuite or Buffer is the better option for you.
First, let's get to know more about these two platforms:
Hootsuite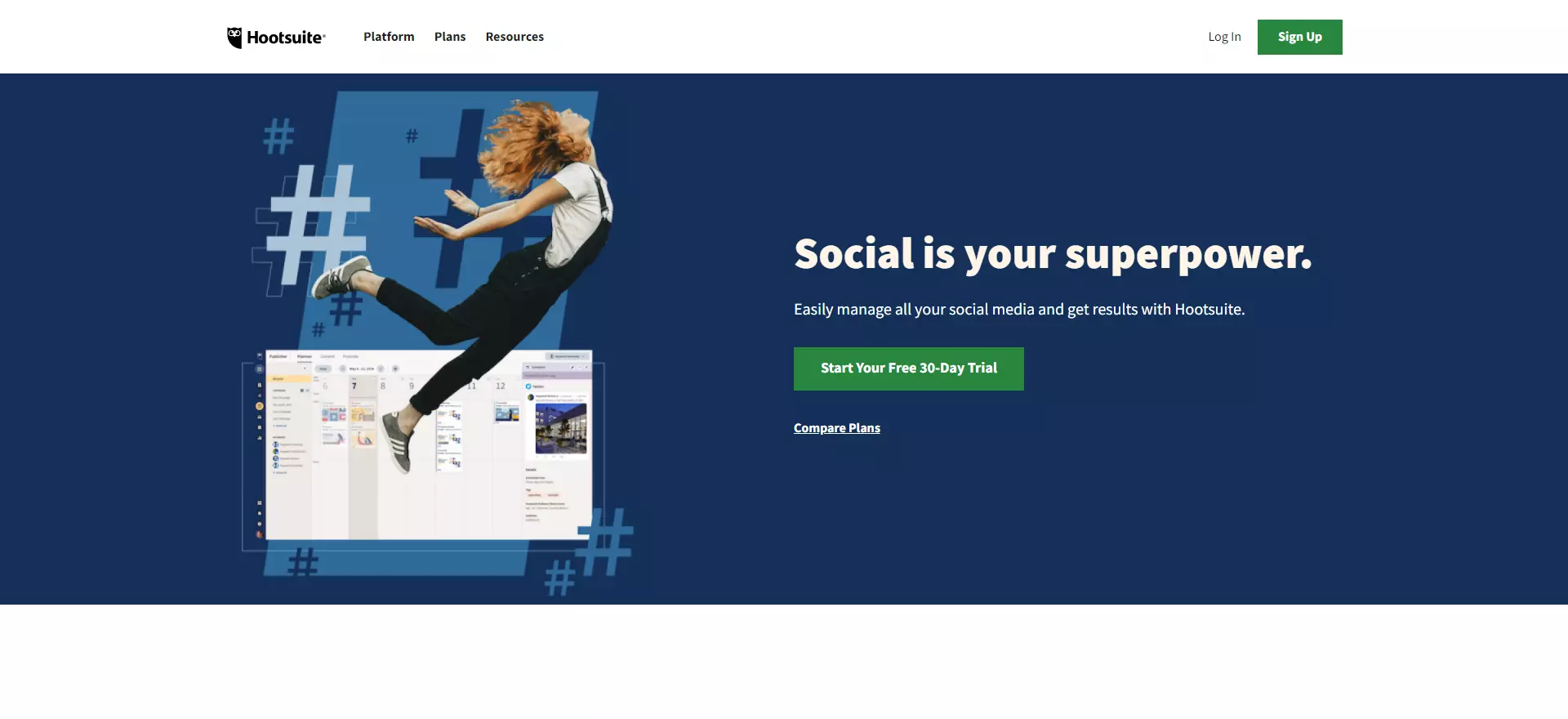 Hootsuite is a social media management software founded in 2008 and is based in Vancouver, Canada. Hootsuite manages social media for businesses all over the world, from microenterprises to major corporations. By incorporating Hootsuite's software across your entire enterprise, you can build your brand, improve customer interactions, and create business results that you care about. Hootsuite helps you schedule posts across various social media platforms (such as Instagram, Facebook, Twitter, LinkedIn, and YouTube).
Additionally, with Hootsuite, you can:
Oversee organic and paid social content simultaneously,
Easily record customer interactions,
Break down silos in how you co-ordinate within with your company,
And acquire real-time insights from social media to create critical business decisions. You can achieve this all from a single intuitive dashboard.
Hootsuite currently has more than 18+ million users, including 800+ Fortune 1000 companies in 175+ countries who trust Hootsuite for managing their social media presence across multiple social networks. Hootsuite is a well-known social media software that helps businesses use their cutting-edge technology to optimize and manage their online presence. Some of their major features include data tracking, optimization, team management, workflows, insights, and automation.
Buffer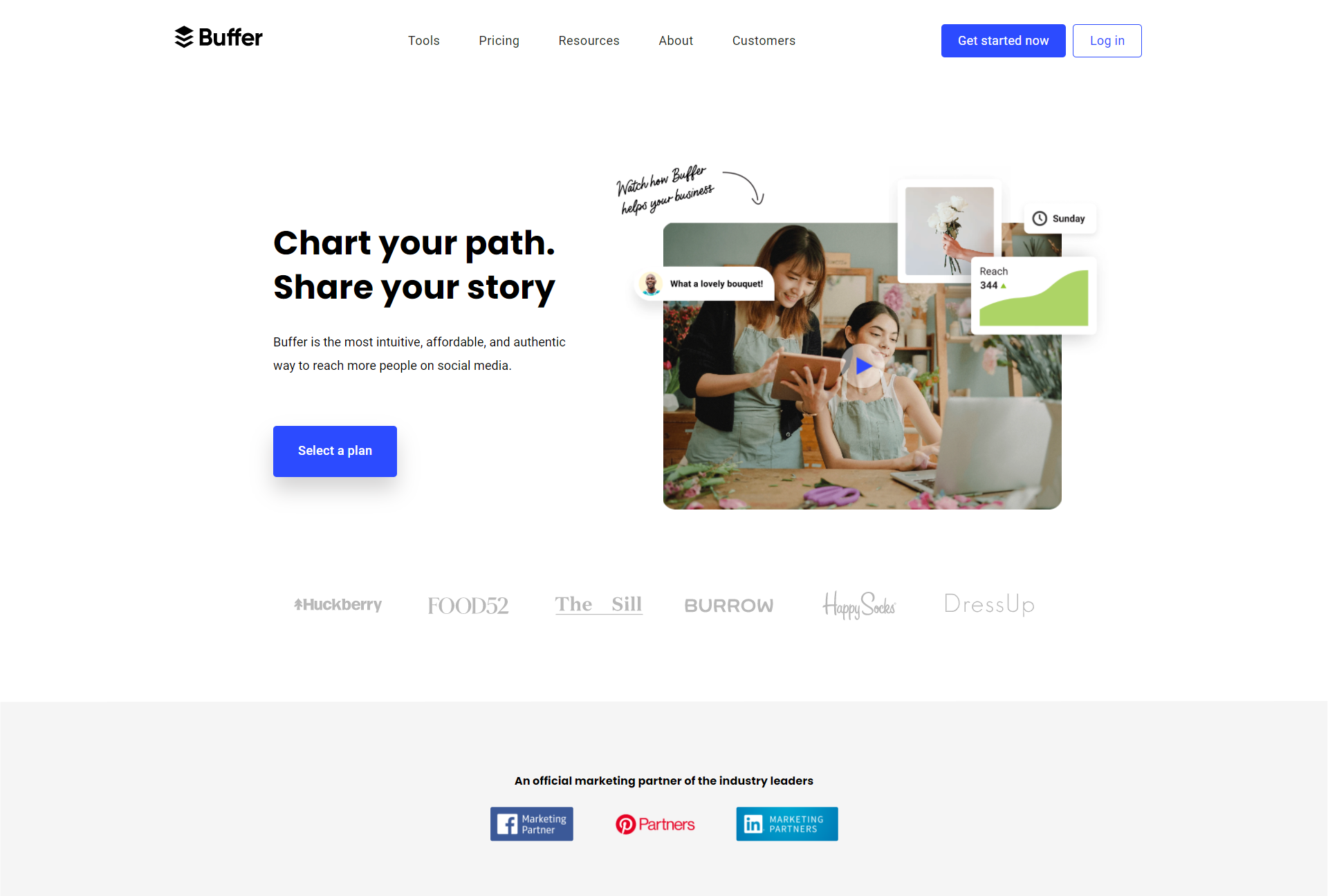 Buffer is a user-friendly, optimized social media management solution that companies, corporations, agencies, and freelancers rely on to drive meaningful engagement and insights on social media. They provide a range of products for publishing, interaction, metrics, and team building (Publish, Reply, and Analyze).
Their solutions are meticulously developed and fine-tuned to assist social media marketers and teams in performing more efficiently and successfully. Buffer is primarily a social media management platform for small to medium-sized enterprises, assisting users in publishing content, engaging with customers, and analyzing their social media performance. It was created in 2010 and is headquartered in San Francisco, California. Buffer supports Instagram, Twitter, LinkedIn, Google+, Facebook, and Pinterest.
Buffer also has a browser extension and mobile apps to share and create social media posts anywhere. They offer a free version of their nucleus, but there are also multiple plans you can choose from depending on your needs. Let's dive into these plans in the next section.
Comparison: Hootsuite vs Buffer
Now that we know a bit about both brands, let's move on and identify which tool is the best fit for your brand. In our comparison, we discovered that Hootsuite is a dedicated social media management solution that allows you to successfully manage all of your social networks from a single and unified location.
In contrast, Buffer places more emphasis on content creation, and its primary capabilities focus on scheduling and uploading content across different platforms. Hootsuite, on the other hand, actively concentrates on social media management alongside its optimized marketing capabilities.
In the first section, we'll dive into the product's usability and the dashboard each solution offers.
1. Ease of Use
These features are critical when you begin working with and using a social media management platform. Each tool's dashboard should provide quick access to key features and facilitate user navigation. For example, if users don't understand how to use specific features, it can lead to significant stress and a drop in productivity. As a result, in addition to having amazing features, being highly user-friendly is essential. Let's find out which tool offers a more user-friendly and accessible dashboard.
Buffer

Buffer is one of the tools that has a well-organized and easy-to-navigate user dashboard. Buffer's primary focus, as described in the preceding section, is on content creation for social platforms. Buffer's interface is sleek and well-maintained, and it displays a queue of all social media posts that are currently scheduled. This includes the number of posts you have queued up for each account. Additionally, it enables you to update any posts you require whenever you feel the need to do so. Your posts are displayed on a clear calendar layout, allowing you to quickly plan out your week's (or month's) worth of content.

Hootsuite

Hootsuite's dashboard is not as crisp and efficient as Buffer's. As previously stated, Hootsuite has more features, which can make it feel overwhelming for first-time users. As a result, it may be slightly less user-friendly than Buffer. Meanwhile, Hootsuite offers a functional, if not particularly appealing, dashboard—but it is significantly more powerful. You can use it to monitor your Twitter feed of profiles you like (resembling what you would see if you used the Twitter app), track Instagram hashtags, or analyze Facebook Page comments.

Verdict:

I'm sure you have a good idea of which of them has a well-designed and easy-to-use dashboard, and that product is Buffer. So, between these two software's, Buffer has a user-friendly and simple interface that even beginners can access. However, keep in mind that Buffer is mostly a content management system with a couple of basic features.

Hootsuite has more integrations and features, which makes it more challenging to use. Buffer is ideal if all you want to do is monitor your planned posts. If you prefer to track other profiles and control replies to your posts, Hootsuite is the ideal tool for the job. Hootsuite is less user-friendly but more versatile. This may be good for larger teams with specific needs, however, Buffer is the easiest to use.
2. Pricing
Price is a major determinant when selecting a solution based on the features listed. As a result, while something may be expensive, this may also correspond to the value it provides. In some cases, the inverse can also be true. Instead, always choose a service that provides more functionality based on your needs, regardless of price.

Buffer' Pricing

The Buffer free plan is ideal for individuals and small businesses who are getting started on their social media journey. They offer 3 Social channels with 10 Posts per social channel for 1 User. This plan is similar to what Hootsuite offers at their free tier.

Billed monthly at $5, the plan lets a single user post on up to 2000 posts per channel. They also offer an unlimited number of channels on which you can schedule your content. This tier contains features such as Performance Overview, which allows you to examine a snapshot of vital metrics like your engagement levels. Individual Post Analytics may also be used to see a history of all of your existing posts and improve their reach.

Buffer's Business Plan Prices

Small Business plan starts at $99 per month - allows up to 25 social media accounts, six users, approximately 2,000 planned posts, Pinterest integration, Calendar overview of each Queue, and increased analytics access.

Medium or Mid-Size Business Plans start at $199 per month - this includes up to 50 social media accounts, eleven users, 2,000 planned posts, and all the features offered in the small business plan.

Large or Enterprise level Business begins at $399 per month - this plan offers a whopping150 social media accounts, 26 users, 2,000 planned posts, and all the features available in the previous plans.

Hootsuite's Pricing

Hootsuite's starting prices are significantly higher than those of Buffer. However, Hootsuite's features are far more extensive in terms of integrations. They can deliver far better value for money and feel more reliable for marketers with advanced needs.

On the free plan, you can add up to 3 social media profiles and plan a restricted amount of posts for both Hootsuite and Buffer. However, Hootsuite restricts you to a total of 30 planned posts. The free plan of Hootsuite includes three social media accounts, one user, and 30 scheduled posts.

Professional (29 dollars per month)

This tier includes 10 social accounts, one user, and unlimited scheduled messages. They also provide automated post scheduling, critical performance data, and a $500 monthly ad spend limit to boost content.

This plan includes twenty social media profiles, three users, unlimited planned messages, and post-scheduling automation. They also offer important performance metrics, configurable analytics, exportable reports, a $2,000 monthly ad spend limit to promote content, and premium integrations.

Business (599$ per month)

This package includes up to 35 social profiles, 5-10 users, unlimited scheduled messages, automated post scheduling, critical performance measures, custom analytics, exportable reports, a monthly ad spend of a maximum of $5,000 and customizable approval workflows.

Enterprise (Custom$/month)

This plan offers custom solutions according to your needs and business size. Their main offerings are:

Tailor-made social media solutions
Curated training services
Integrations with premium business apps

The price of this plan will differ according to the features you want for your brand. After having a free experience with Hootsuite, you can choose the plan by selecting the 30-day free trial.

Verdict:

In the pricing section, these two brands are matched equally because they both offer distinct types of features at different price points. While Buffer is less expensive than Hootsuite, the functions it offers are limited, and the trial time is half that of Hootsuite. Hootsuite starts at a rather premium price, but the features available are far more advanced. Apart from this, Hootsuite's month-long trial period is significantly more useful and profitable. Ultimately this choice comes down to your business's size and social media management needs.
3. Supported Social Networks and Integrations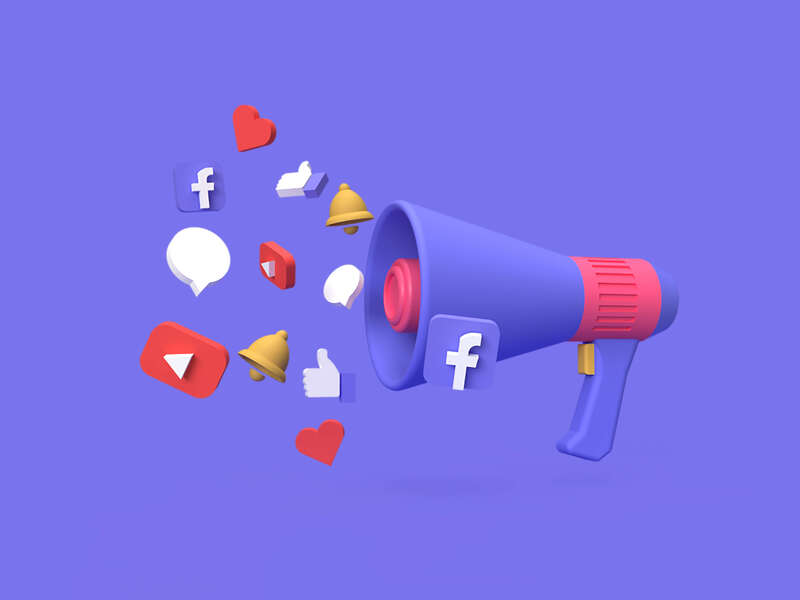 In this section, we will analyze the integrations offered by both the social media management systems and determine which product has richer integrations. But first, we must understand the unique social media platforms that these software solutions support.
Buffer

Buffer supports mainly: Twitter, Facebook (profile & page & group), LinkedIn (profile & page), and their latest addition – Pinterest.

Tools

WordPress (Legacy)
Zapier
Mailchimp
Google Sheets.
Feedly.
Trello.
Twitter.
Airtable.
Facebook Pages.
Pocket.

Hootsuite

Hootsuite mainly supports Twitter, Facebook (profile & page & group), LinkedIn (profile & group & company), WordPress, Instagram, YouTube, Vimeo, Reddit, Flickr, VK, Tumblr, Foursquare, and several more. Through Hootsuite, you can even add other app integrations to boost your marketing efforts. They have an app directory with over 150 native integrations—127 of which are free.

Tools

Zendesk
Bitly
Google Analytics
UserVoice
Feedly
Hubspot
Dropbox
Google Drive
Shopify
Yelp

Verdict:

Buffer and Hootsuite both feature the top three social media platforms—Facebook, Instagram, and Twitter—as and also a few other platforms like Google+ and Pinterest. Hootsuite has a small advantage in that it can also manage WordPress blogs and YouTube platforms.

Based on a thorough examination of all the platforms supported by the two systems, it is evident that Hootsuite covers more channels. Hootsuite not only has more channels but also has a larger range of app integrations than Buffer. As a result, we can say that Hootsuite is the winner in terms of integrations.
4. Scheduling and Posting Content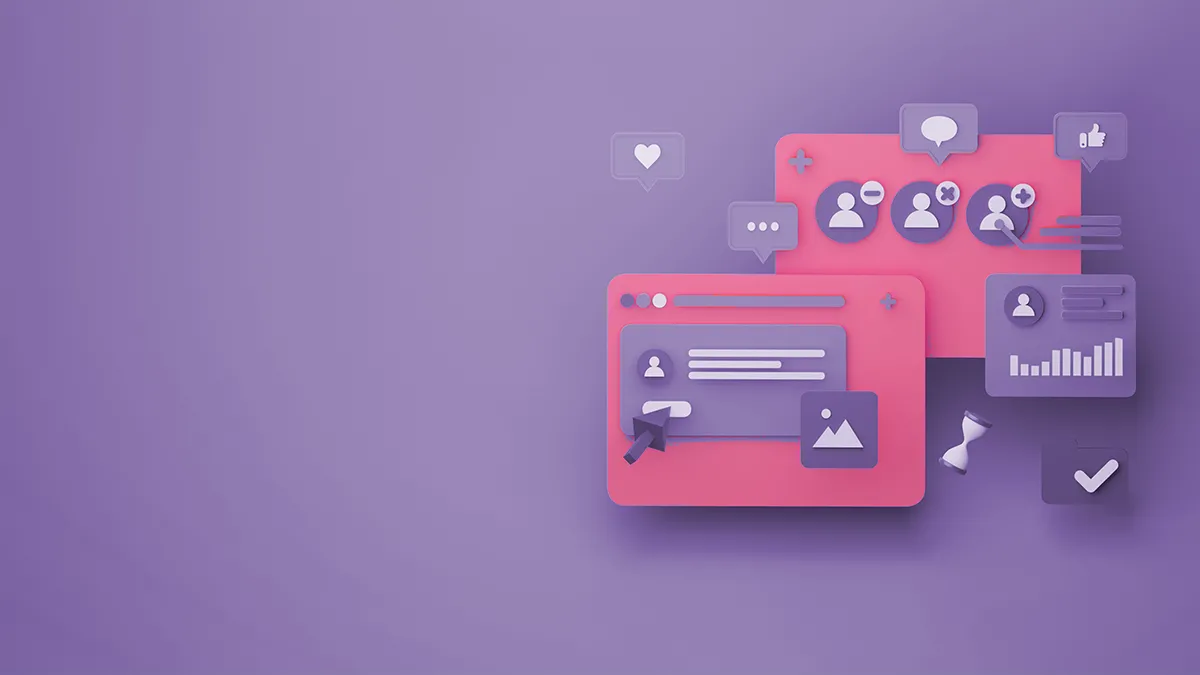 The primary function of social media management software is to schedule and post content across numerous social platforms and manage it from a single location. Buffer and Hootsuite both apps offer features that help schedule several posts long in advance and even tailor your content for each network to make it more relevant to your viewers. This is to prevent any repetition and ensure that what you post is relevant to the site. However, when it comes to planning and scheduling content, the two tools are remarkably different.
Buffer

Buffer is an all-in-one content creation and scheduling platform. Buffer is capable of scheduling and publishing months' worth of content in advance with a single click. Buffer includes a very advanced queue option for bulk posting your content in advance. This functionality can be useful if you want to mass schedule the same content across multiple social networks. You can also quickly audit the same post for other social media networks and preview posts based on other platforms.

You may also use its content library and Canva integrations to create visual content. The content library is great for developing the most engaging graphics for a successful social media campaign. Buffer also allows you to add emojis and other visually appealing elements to your posts. Buffer makes the finest recommendations based on the trends in your specialized industry. Furthermore, it recommends the optimum time to post based on your performance and audience to maximize interaction.

Hootsuite

Hootsuite allows you to customize and post content manually. It also has a stellar auto-scheduling feature that automatically chooses the best time to post content. However, when going with this choice, you won't have the flexibility to decide the order of posts. In auto-scheduling, Hootsuite by itself has the power to arrange the order of your content and posts. Apart from that it also selects the perfect posting date by itself automatically. So, you should only choose the auto-scheduling option when you have content and do not have any problem with its posting time and the order of posts.

It also has a draft function that lets you save incomplete posts. Hootsuite also contains all the features similar to Buffer in terms of planning posts and scheduling content. Some shared features are auto-optimization, best time suggestion, content creation, and many more.

These features help marketers create a content calendar and schedule them for months of easy posting. Through Hootsuite, you can also create a content calendar that would help you refine all of your social channel's strategies. As a result, you can work most effectively and strategically on your social channels, and maintain a healthy flow through a social calendar.

Verdict:

It's a tie! Hootsuite and Buffer both perform admirably as content scheduling and social media management tools. Both provided the same or similar capabilities when it came to content posting. Hootsuite does include additional capabilities such as bulk scheduling via CSV, auto-publishing, and social media calendaring. However, in general, both of these platforms are excellent for content scheduling and uploading.
5. Team Management and Workflows
Team management and streamlined workflows are critical aspects of managing your brand's social media presence and choosing an effective tool for marketing purposes. Most marketers view these two features as a fundamental functions for their business. Marketers expect multiple levels of team management and a highly compatible tool to meet their business needs and team's collaborative tasks.

Buffer

Buffer, as a social media management platform, is primarily focused on content generation and scheduling. Nonetheless, it has strong team collaboration and role assignment features. Buffer allows you to rapidly categorize every user into one among two roles: contributor or manager.

You can do this based on their positions and responsibilities in the account. These capabilities are suitable for small businesses and marketing teams with a limited number of social channels and members. However, for a large-scale firm dealing with hundreds of accounts and members, this can be a precarious situation.

Hootsuite

Hootsuite has great functionality regarding team management and collaboration terms. In addition, Hootsuite gives you a better option to categorize your employees into multiple roles and responsibilities.

You can create Team Members, groups of Team Members, and Organizations which are groups of Teams. For larger companies with a massive social media presence, Hootsuite offers robust features. These categorizations and role-providing elements enable team management and provide large businesses better control even over the intricate aspects of their social media optimization.

You can even create groups for teams on an organizational level. This way, it becomes simpler to enable large-scale marketing efforts. Additionally, Hootsuite also provides you with a routine-wise progress report.

Thus, Hootsuite can be a comprehensive tool for managing the whole team and handling work distribution, management, live chats, and many more to maintain all the work as a team.

Verdict:

Hootsuite wins! Hootsuite offers highly efficient team management and workflows features as a social media management tool. Buffer has some team management features, but they are suitable for small businesses and teams without modern features and better role assigning characteristics. Buffer can be the better option if you belong to a relatively small team of content creators. But Hootsuite comes with all the bells and whistles at a comparable price.
6. Advertisements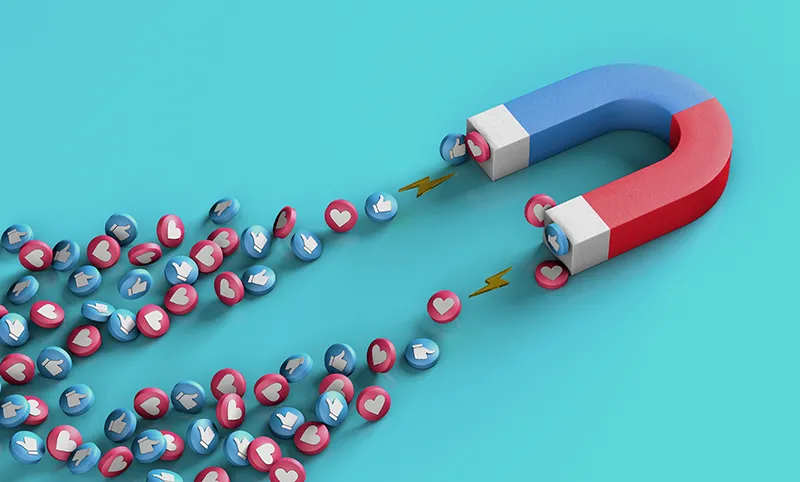 As part of your social media effort, you may need to execute a paid advertising campaign. This typically consists of paying to have posts appear in the feeds of individuals who don't yet follow your brand. This usually requires you to determine specifics such as what the ad is, where it will be displayed, and how long it will appear. Managing advertisements is a difficult facet of social media marketing. Still, with the help of these great social media management tools, you can now schedule and arrange your paid ads.
Hootsuite

Hootsuite is an excellent tool for managing paid campaigns in a single system. Hootsuite's software system is especially helpful when you manually run campaigns. Without Hootsuite, you have to go to specific platforms and run advertising, which can be messy and result in several pointless tabs and annoyance.

However, by implementing Hootsuite's ad campaign management tool, you can enjoy the ease of running, monitoring, and optimizing an ad campaign on a single screen. Hootsuite simplifies your life by providing a single dashboard from which you can generate and manage ads across multiple social media platforms. However, in order to use this tool, you must pay for Hootsuite Ads, the company's unique ad manager.

Buffer

Buffer does not include any features for managing social media ads. To administer your campaigns, you may always use the basic advertising tools provided by each social site. The issue is that this may necessitate toggling between various dashboards. You can still conduct advertising campaigns using Facebook Ads or Google Ads, but you must manage them independently in their respective private platforms.

Verdict:

Only Hootsuite provides paid ad management for your social media. If this feature is critical to your company's success, Hootsuite is the clear winner.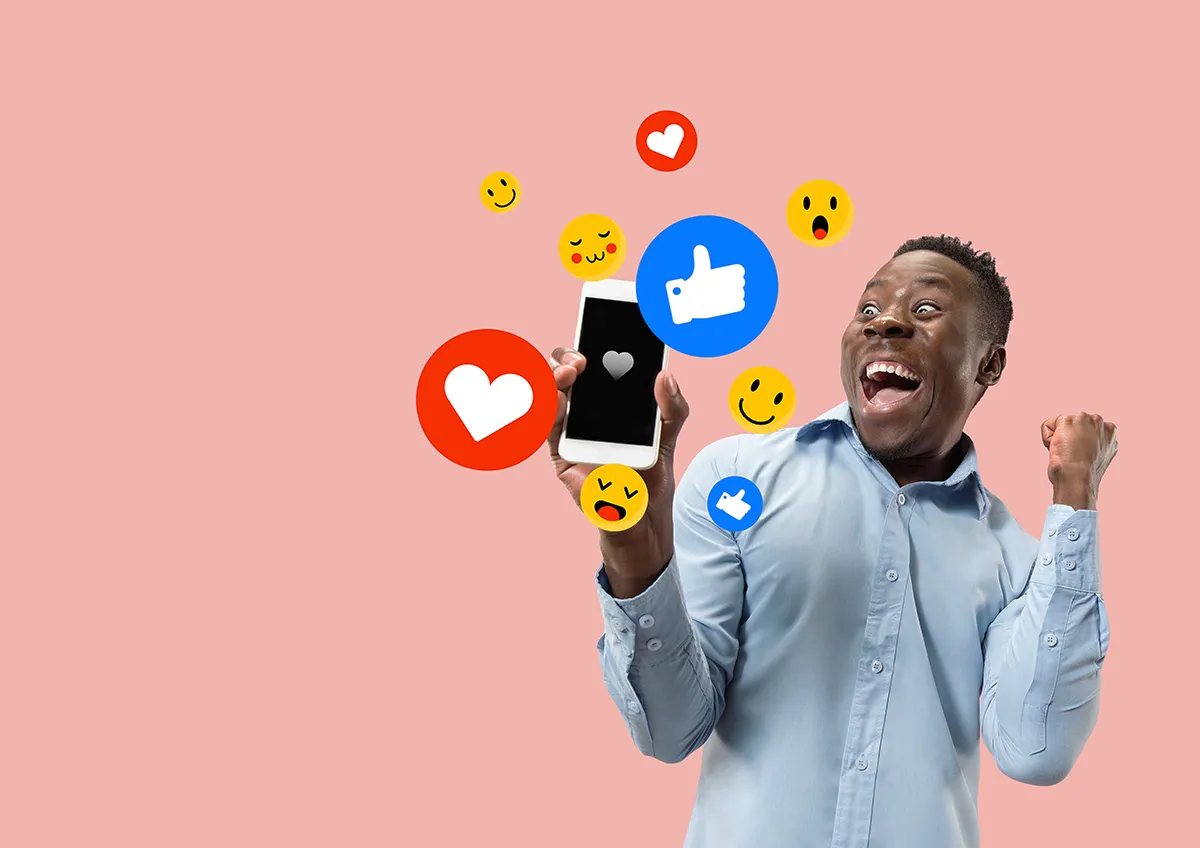 We have covered a majority of the important factors to consider while browsing for social media management software. Managing discussions and communicating with your audience rapidly, on the other hand, is a critical aspect in converting them into potential purchasers. In the following section, we will look at how both apps support such activities.
Buffer

The Buffer Reply app has many useful features, however, one of its drawbacks is that it is somewhat expensive. Furthermore, Buffer does not include any of the discussion tools in their built-in section.

Buffer manages social media interactions with an entirely separate app. Buffer Reply also displays tweets from your community in a real-time tweet inbox. This contains a list of fresh messages—tweets and direct messages—that are displayed in a column. Each user's message appears in the right-hand panel.

From the message panel in Buffer Reply, you may perform any action required to assist, engage, and support the person you're conversing with. The software integrates with other important workplace communication applications, such as Slack. If you upgrade to their Business plan, they will also include keyword tracking as a feature.

Hootsuite

With HootSuite Conversations you can converse with anyone in your team, collaborate, and share messages quickly and effectively. To better manage conversations, you can go with Hootsuite streams. Hootsuite's Streams provides an easy way to engage with your audience and keep a record of activities taking place across all your social channels.

With Hootsuite you can:

Monitor your conversations in a centralized area,
Track your mentions, keywords, and hashtags
And respond right away, rather than visiting all your social profiles individually.

Hootsuite's Search Streams also empower you to keep track of social media elements like hashtags and keywords. Once you set up your searches, search results will be continually updated in the streams.

Verdict:

Hootsuite offers a decent conversation management feature for your social media journey with an inbuilt free manager. If you want to take that further, you can switch to the Hootsuite stream to unlock more amazing features. But Buffer does not offer these features, and you must buy more software if you want Buffer Reply.

Buffer Reply, a separate software, is pricey, but it has more features than Hootsuite's basic bundle. In exchange for the steep price, you get a bunch of valuable tools. Buffer Reply lets you assign discussions to specific team members, add notes to talks so you can recall who reached out previously, and even watch which of your teammates are replying in real-time.
8. Content Curation
Content curation refers to finding valuable content related to the chosen topic, putting it into context, expressing your opinion about it, and presenting it the right way. It usually involves sifting through a vast amount of content to find the most relevant pieces of information and to organize them around a particular topic. Both of these tools offer excellent content curation functionalities for your benefit.

Buffer

Buffer has a content curation tool called Content Inbox that allows you to manage RSS feeds directly from the dashboard. It allows you to search for relevant information and add it to your social media queues. Additionally, with Buffer, you can add your personal touch to your content strategy.

The sole disadvantage of this tool is that it is only available for Pro and Business plans. When dealing with lower-level plans, Buffer offers you an interface with other content curation tools like Pocket and Feedly.

Buffer's content curation features assist you in locating articles, blogs, photographs, or videos that your brand may share and be inspired by.

Hootsuite

Hootsuite provides solutions for finding relevant information for your business within its interface. Columns with keywords or hashtags, for example, can be created on Hootsuite with a few clicks. You can also create columns of people you follow, conduct Twitter or Instagram searches, and share or retweet posts you discover.

Hootsuite and Buffer also provide browser extensions that are compatible with all browsers, including Safari, Chrome, and Firefox. The Hootlet extension makes it much easier to search and add tweets to your social queues. It even supplies you with articles on the topic of your choice.

Verdict:

When it comes to content curation capabilities, both Hootsuite and Buffer provide excellent value for money. Buffer is a great Hootsuite alternative for monitoring RSS feeds but , if you want to analyze social searches, Hootlet is a wise option.
9. Tracking and Analytics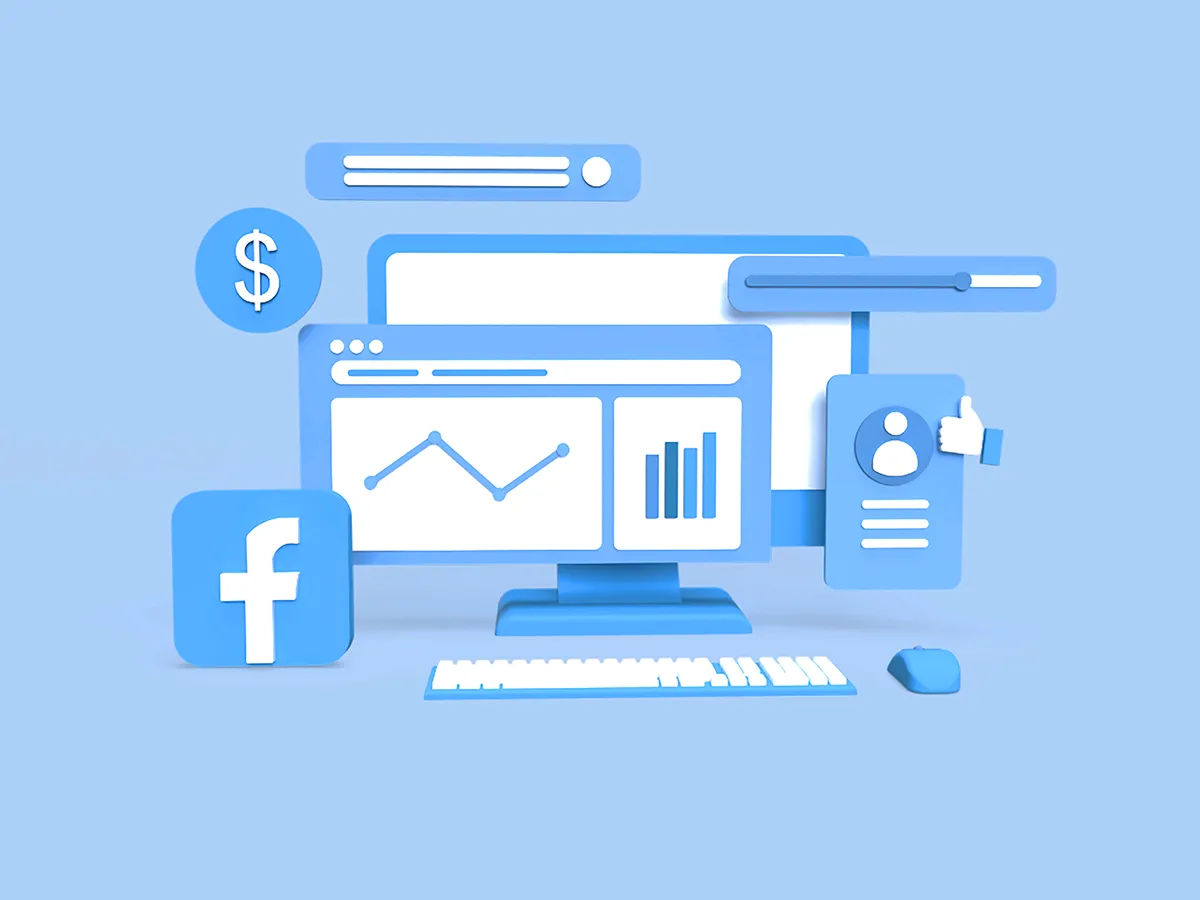 When looking for social media management software, tracking and analytics play a significant role in your choice. As decisions and designs based on real-time stats and audience behavior will provide you 10x times more profit and targeted results. Let's compare which one between Hootsuite and Buffer provides better analytics and tracking features.
Buffer

Buffer does offer a couple of analytical features in their free plans. But they offer a basic level of statistics related to your content and its engagement with the audience. With Buffer you can build real-time reports called broads, to measure which posts people are engaging with and what age groups or demographics are responding. You can also view the real-time insights related to your posts and content.

With the Enterprise plan, you can know who responds to your followers and how quickly they do so as well. And also, you can easily transport all of your performance and data with the help of CSV exportation.

Hootsuite

Hootsuite offers several impressive analytical features that help you track the outcomes of your social strategy. And the best part is that it also provides excellent analytics in its free version.

For a better understanding of the features, let's simplify them.

Hootsuite's free plan provides the necessary analytics tools to get a broad overview of your engagement levels.

The Professional plan: it provides real-time reporting and post-wise engagement metrics. With the help of the Professional Plan and above, you can create real-time reports. These reports can help you measure which posts show high levels of engagement.

The Enterprise plan the: enterprise plan has all of the above and team-level performance overviews. You can even track which team members respond to your followers, the time taken to respond, and more.

So, by using Hootsuite analytics tools, you can quickly get an instant 360-degree view of all your social stats and get to know more about your audience engagement levels.

Verdict:

Hootsuite offers accurate insights and analytics features and gives you insights into the audience in which you are most interested. Both tools provide similar operational and engagement tracking features, while Hootsuite provides at least some of those functions for free and adds real-time reports in the premium version. Conversely, Hootsuite's enterprise plans are significantly more expensive. If you don't require real-time monitoring but want to export CSV files, it might be worth looking into Buffer first to save expenses. But if reporting is a features of immediate concern then Hootsuite is the way to go.
10. Security
When choosing social media management software, data protection plays a vital role. Your social media management tool is bound to contain some of your company's essential accounts and their details, and if they get misused, the consequences can be disastrous. So, let's find out which one of these tools can provide you with the best security and safety for your social media optimization.
Buffer

With Buffer, nobody can log in to your account without a proper and valid user ID and password. Moreover, Buffer provides 2-factor authentication, which adds a powerful extra layer of protection. It additionally records activity logs for the last two weeks so that you can keep tabs on any unauthorized access.

Hootsuite

Hootsuite offers you a double-approval system that stops users from posting to any unreliable network. It provides HTTPS access, keeping your passwords and data safe from prying eyes. You can even set the approval posts permissions feature where any changes people want to make requires permission from the manager.

Verdict:

Hootsuite and Buffer are highly reliable in terms of security and data protection. You need a valid email address or a social media account to log in and use both solutions.
11. Customer Support
Customer support is vital if users find any error or any situation occurs where they do not have adequate knowledge regarding the features of the tool. So, it is indispensable to have a backup guide as a high quality customer support option. Let's compare and find out which of the two tools offer high-quality customer support to resolve all your issues.
Buffer

Buffer's support options are minimal. Buffer's new Reply solution allows customer support staff to deliver assistance via social media channels. But, no phone support is available, and training options for users are minimal. Support is available through email and Buffer's Facebook and Twitter channels.

Hootsuite

The help center has a handy search function. Hootsuite also provides massive articles that help users with the most recent updates. The support team can easily be reached through pages on Facebook and Twitter. It is also easy to submit an issue form to Hootsuite technical team, but there is no guarantee of a dedicated response.

But if you want to, you can easily visit the vast help and training center where you could search the query and find the answer related to your question. Social media is the most effective way to reach the Hootsuite support team for urgent issues. But like Buffer, they do not offer any phone support.

Verdict:

Both Buffer and Hootsuite lie on the same path in the support section. Hootsuite offers various terms of customer support and faster response rates on social channels, and a vast content library for help. Whereas Buffer's new Reply feature helps users reach them quickly on their social media accounts. Before we get into the final decision, let's look at the major pros and cons of both social media management tools.
General Pros and Cons of Hootsuite and Buffer:
Hootsuite
Pros:-

Hootsuite provides a complete guide for social scheduling and content management.
It offers in-depth analytics for tracking and improving social media.
Hootsuite integrates with more than 102 third-party apps, displaying a diverse set of features.
Built-in advertising and social conversation management.
Collaboration options that encourage you to work as an efficient team.
It provides insightful and customized analytics, good enough to present to management or clients without additional work.
It has mobile apps for Android, iOS.

Cons:-

Although the tool is known as free, the features in the free version are quite limited.
The user interface is slightly complicated because of the high number of features. New users may not understand it easily.
Hootsuite has lesser value to offer in comparison to Buffer when it comes to social media content creation.
Buffer
Pros:-

Buffer has Pablo, which can help you create social media images for Facebook, Twitter, Pinterest, and Google+ very quickly.
It lets you select your default shortener as the well-known bit.ly and also offers buff.ly and j.mp.
It will help you to find the best times to post and automatically schedule your posts to get the maximum possible engagement.
Clean and navigable layout.
Very strict with the security of the platform.
The chrome extension allows you to share links, pictures, and videos from wherever you are on the web.

Cons:-

No monitoring tools for mentions. You'll have to monitor mentions from another tool or through the social networks themselves.
It does not offer features that support advertising features over social media.
Not compatible with Hootsuite for content scheduling and management.
Buffer vs Hootsuite: Conclusion
Buffer provides a simple user interface that relies on promoting your own content and allows you to quickly supervise a small team. With less expensive business options, it's excellent for a start up that does not possess a huge amount of resources to commit to social media.
Hootsuite, on the flip-side, provides more advanced user capabilities that go beyond simply managing your own posts. It allows you to analyze your posts, monitor subject searches, and obtain real-time data on how your social activities are performing. The business plans seem to be more costly than Buffer, but if you work for a major corporation with multiple teams, Hootsuite is a great buffer alternative.
Awesome Social- A great Buffer & HootSuite alternative!
So, if you're on the lookout to try an awesome social media management tool, check out Awesome Social! Awesome social is a great Hootsuite alternative an all-in-one social media management software that helps businesses and marketers work in a centralized location and single system. If you're trying to get a better grip over your social presence, Awesome social can help you out!
Awesome social contains every feature that a stellar social media software should include. Additionally, it offers much more than what most tools do to serve you and save your precious time.
With Awesome Social, you can brainstorm more about your brand growth with the power of automation. It helps you easily schedule your posts on different channels and reduces manual labour allowing you to get the best out of your content strategy. With Awesome Social, you won't have to manually publish content and manage each platform constantly. You can easily organize your content according to the media with just a few clicks.
It also displays the performance of your posts on multiple social media platforms. Additionally, you can analyze how your campaigns are performing on different platforms. It also allows you to export your data as sheets for better understanding.
Awesome Social is effective at running and managing paid campaigns through a single location on various platforms. Paid ads management feature facilitates smooth managing and recording of ads. The app also provides social interaction with your clients using its Reply feature. Some significant features offered by Awesome Social are:
With the help of a link shortener, you can easily shorten links that you share over your social platform.

Approval posting is a feature that keeps everything on track. Only the admin can publish through the approval posting feature by approving the changes made.

Using the effective team collaboration and management feature, your whole team can collaborate and seamlessly work for targeted outcomes.

So, if you are looking for something new to try which could meet your needs, definitely give it a shot. Awesome social also offers a free trial of 14 days by which you can get to know more about its features.