There has always been a concern for cybersecurity while transmitting sensitive data. Because of the growth of e-commerce and internet banking, businesses had to safeguard their networks to earn the trust of their customers. This has resulted in a bigger and faster acceptance of electronic signatures, which serve as the user's personal sign of validity on any electronic document.
How we handle documents has also evolved in tandem with the advancement of technology. Electronic contracts and digital signatures have acquired a lot of traction in recent years, thanks to the growing need for modern, efficient documentation. Younger customers have also been a catalyst in the growth of the e-signature industry. Research shows that: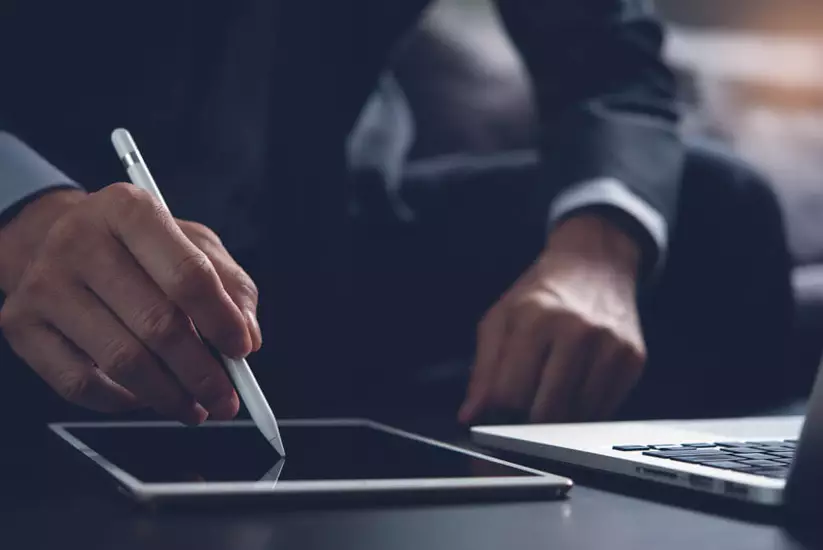 Millennials are the most likely to use e-signatures, accounting for 61% of all users.

Insurance plans (43 percent) and healthcare registrations (38 percent) were the most often e-signed papers in APAC.

Corporate contracts were the most commonly e-signed form of paperwork in India (77 percent).

Legal contracts had the greatest rate of e-signing in Australia (76 percent).

Insurance plans and renewals were by far the most common documents in Singapore to be signed electronically (81 percent).
Additionally, government institutions like the DMV and customs have increased e-signature support for essential papers. With the emergence of COVID-19, the electronic signature industry is expected to develop quickly due to an increase in remote working. Remote work has shifted the focus away from depending on handwritten documentation and toward greater digitalization of transactions. Organizations are on the lookout for workflows that are seamless, efficient, and accessible. E-signature solutions are one of the tools that businesses are implementing to increase their overall efficiency.
However, choosing the perfect e-signature solution for your company can be difficult, with the numerous options available. In this article, we'll explore two well-known e-signature solutions. And hopefully, by the end of it, you'll be able to make the best choice for your needs.
DocuSign is the most popular e-signature application, with millions of users globally. SignNow is a newer docusign alternative for consumers that like simple signing solutions. Today, we'll look at two of these notable competitors in the electronic signature space and see what they have to offer.
DocuSign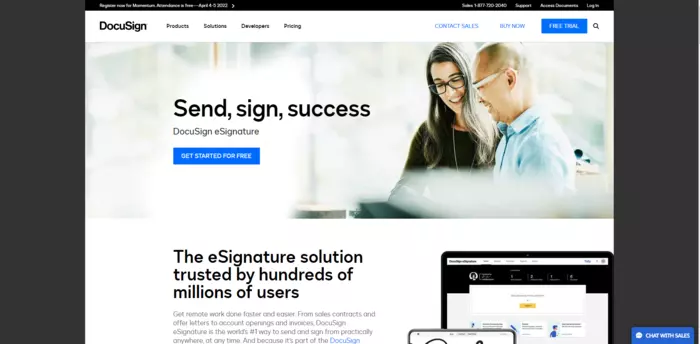 DocuSign was one of the first companies to develop e-signature technology, and it has become one of the world's largest e-signature services. It is a component of their larger cloud-based Framework of Agreement Platform. This platform helps enterprises and sectors quickly revamp and modernize their paperwork workflow. They accomplish everything from creating contracts to signing, delivering, and preserving them—from practically anywhere in the world and on nearly any device.
It also has a large customer base and has received numerous positive reviews. DocuSign's geolocation capture and real-time activity reports enable us to create templates and workflows, access rich statistics, and gather safe and trustworthy online signatures. DocuSign is also available in over 43 languages throughout the world.
SignNow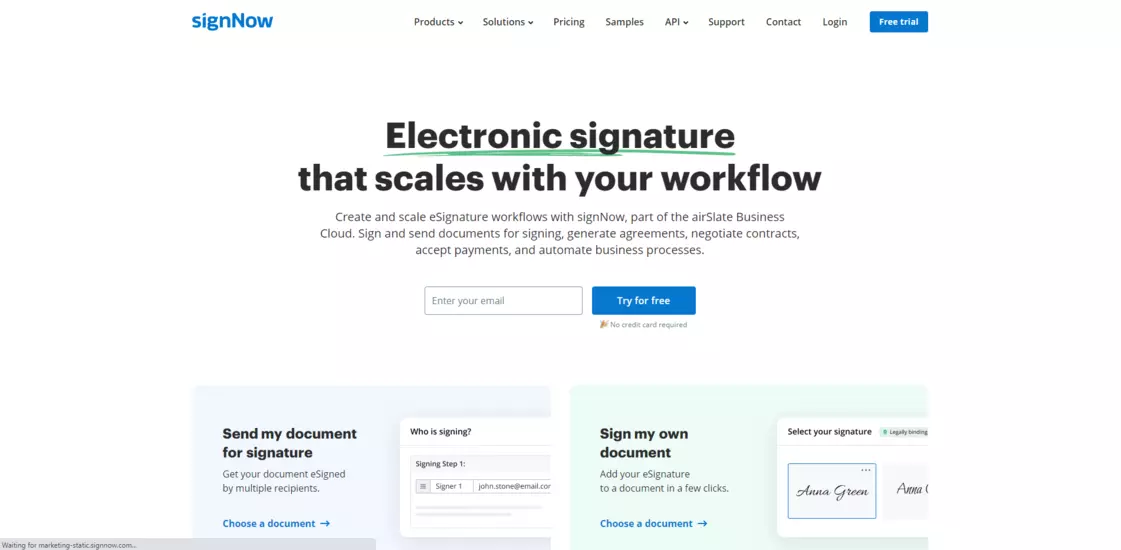 SignNow, a part of the airSlate Business Cloud, aims to make electronic signing easier and more accessible across any device. SignNow has developed rapidly due to its emphasis on cross-device usability, automation, and a clean user interface. Since its inception in 2011, SignNow has been driving the development of electronic signatures.
The brand now provides a wide range of capabilities, such as a HIPAA-compliant electronic signature solution, complex conditional fields, and the capacity to generate document templates. All of SignNow's capabilities are wrapped up in a clean, easy-to-use interface that has received thousands of five-star customer ratings and positioned SignNow as one of the best signature platforms in the industry today.
Now that we've learned a little bit about both tools, let's compare them!
Comparison
1. Pricing and Features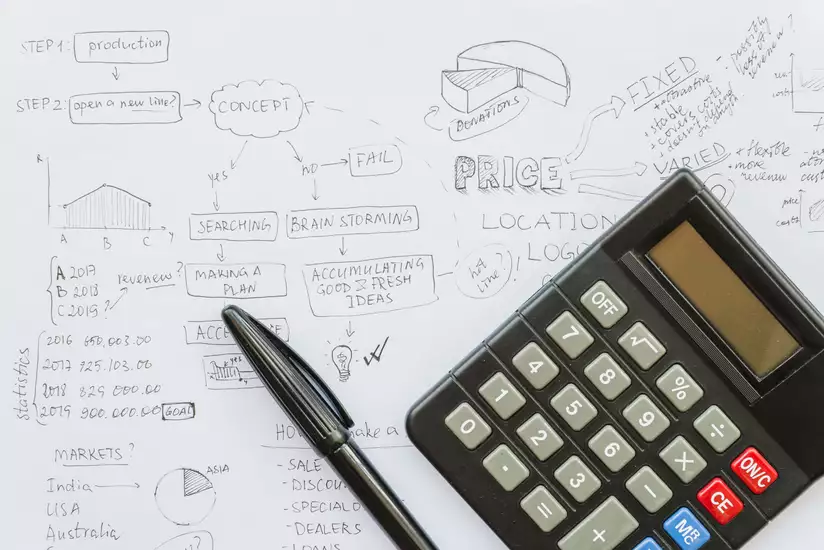 Pricing and features of DocuSign
DocuSign's plans are classified based on the number of Subscribers each plan allows. Individual or single customer plans start at $10 per month, which equates to $120 per year. The plan contains the following elements: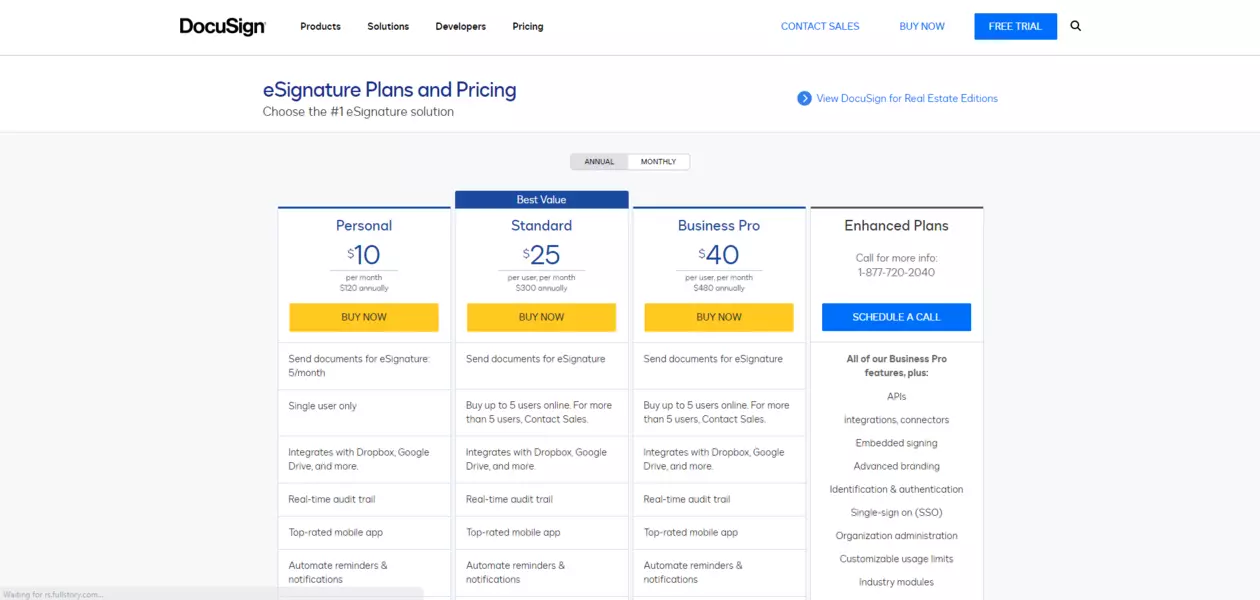 You can sign 5 documents per month
The essential domains
Mobile phone application
Reusable and interchangeable templates
Workflow Process Fundamentals
Tracking in real-time and an audit trail
There are integrations with Google Drive, DropBox, and other services.
Their Standard Plans start at $25 per month on average, for a total annual cost of $300. These are some of the features that are exclusive to the Standard Plan.
You can purchase up to 5 users online.
Integrates with Dropbox, Google Drive, and other services.
Reminders and notifications can be automated.
Reusable templates
Documents that are shared
Colleagues have access to your most important files.
Comments
Templates that are shared
Reports from the team
eSignatures in person
Personalization of branding
Their Business Pro Plans start at $40 per month per person, for a total annual cost of $480. These are some of the features that are exclusive to the Pro Plan.
Shareable documents and templates
The team's report and comments feature
eSignatures in person
Customization and branding
References from signatories
Collaborative fields, skilled fields, and drawing fields.
You can provide your permission with a simple click.
PowerForms
Carry out Transactions
Sms authentication
Bulk Send
SignNow's Pricing and Features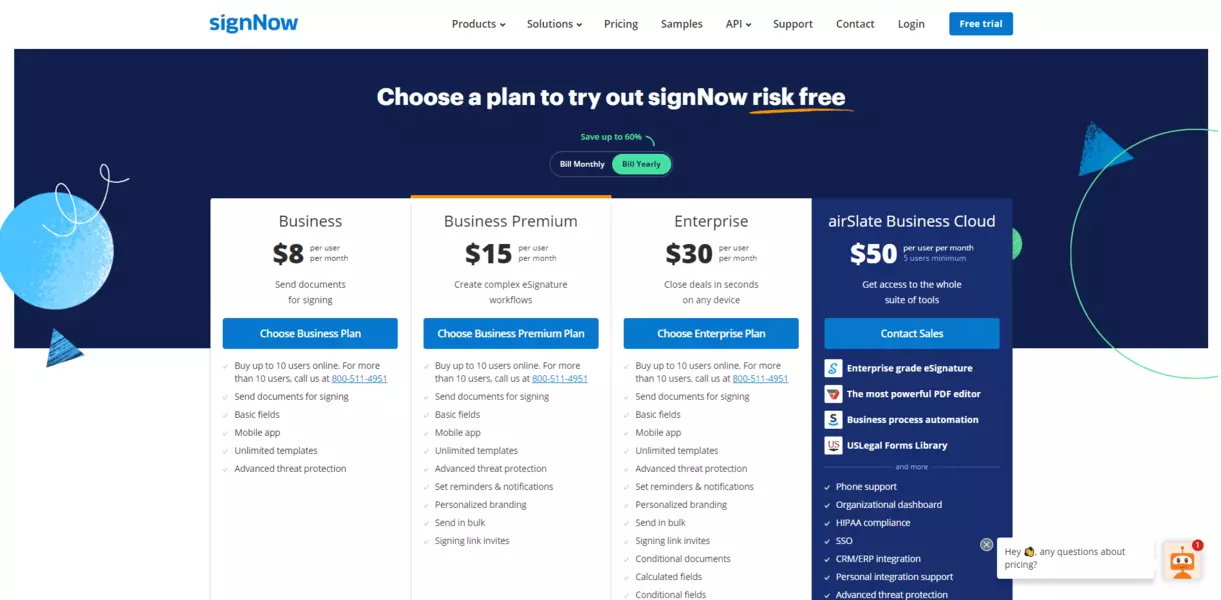 SignNow's plans are divided into categories based on the number of users it enables. Their Business plan begins at $8 per month for a yearly subscription. Their business plan includes the following components:
Purchase up to ten users online.
Documents can be sent for signature.
The fundamental fields
App for mobile devices
Templates are unlimited.
Advanced threat protection
In the yearly plan, their Business Premium rates begin at $15 per month. Their Business Premium plan includes the following features:
The fundamental fields
App for mobile devices
Templates are limitless.
Advanced threat protection
Configure reminders and notifications
Personalization of branding
Send documents in bulk
Using a CSV file, send documents for signing to multiple recipients at the same time.
Invitations to sign the document with a link.
In the annual plan, their Enterprise packages begin at $30 per month. Their Enterprise plan includes the following features:
The fundamental fields
Templates are limitless.
Advanced threat protection
Configure reminders and notifications
Personalization and branding
Send in large quantities
Invitations to sign the link
Documents with conditions
Calculated fields
Fields with conditions
Request for Payment
Attachments for signers
Comparison
In terms of features alone, DocuSign wins due to its advanced analytics and variety of integrations. But for anyone who's looking for a simple, cost-effective solution, SignNow is ideal. Although they don't offer single-user plans, their starter plan fits 5 users making its value for money much higher than DocuSign.
Verdict for features: DocuSign Wins! Verdict for pricing: SignNow Wins!
2. Integrations
The basic installation process for both e-signature systems is quick and straightforward. Both firms make it simple for users to edit their profiles, add photographs and signatures, and set up logos with only a few clicks in a jiffy. The same applies to the integrations however, accessibility varies.
SignNow and DocuSign both offer interfaces with several significant software solutions available today. But DocuSign provides a more comprehensive set of integration choices at a cheaper pricing tier.
SignNow customers may have access to minimal connectors such as Dropbox, Google Drive, or OneDrive to store and export files. But many of the crucial integrations need the airSlate Business Cloud membership, which costs $500 per month.
DocuSign users have additional options for integrations, both concerning variety and affordability. Even when utilizing DocuSign, customers will need to choose the Advanced Solutions enterprise plan to gain access to advanced integrations, API integrations, and other features.
DocuSign supports over 350 connectors, including Salesforce, DropBox, Oracle, Microsoft Office 365, Google Drive, Workday, and many more. In comparison, CRM connectivity is only available in the Enterprise suite. Apart from that, DocuSign supports all third-party and bespoke API integrations, on even the most inexpensive single-user subscription.
Verdict: DocuSign Wins!
6. User-friendliness of PandaDoc vs. DocuSign
When deciding which signature solutions are right for your company, user-friendliness and support choices might be crucial. DocuSign and SignNow provide different possible solutions at the small business and business levels. SignNow goes well beyond what DocuSign has to give for small businesses solely because they have a live chat representative who can direct you to information, generate tickets, and aid with maintenance.
You do not need to contact helpdesks or email help. You simply open the chatbox and begin typing. DocuSign's regular support plan includes access to the community site and knowledgebase with online case filing and maintenance. They provide enhanced customer assistance options when you pay more – and this is where the support is immense for larger corporations.
While this comes at an extra fee, DocuSign provides support plans that guarantee you 24/7 live phone help and issue submission response rates in a few hours. While you will have to pay an additional fee for this function, it may be worthwhile if you appreciate the extra assistance package.
Verdict: It's a tie! DocuSign is the clear option for large-scale enterprises. But SignNow is a much more accessible option for small businesses and is a lot more user-friendly. If you're looking for an easier UI, SignNow is the way to go.
2. Security comparison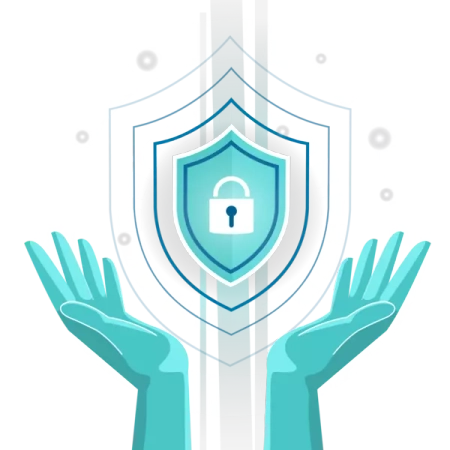 DocuSign retains some of the most extensive security features of any DTM. They adhere to the heaviest security protocols. The company is ISO 27001 and SSAE 16 certified, and information is held in data centers built to the same security standards. DocuSign's Signature System follows globally renowned electronic signature criteria and employs industry-standard Public Key Infrastructure (PKI) digitally signed software.
In comparison to SignNow, DocuSign provides more thorough information about its security protocols. DocuSign has a webpage that has a variety of reports on business security, a safety brief, and security and legal processes. DocuSign also offers a website where you can access whitepapers on their security measures. DocuSign's e-signed documents are legally binding in the US and the EU.
SignNow signatures are also legally enforceable and fulfill the ESIGN Act's identification and verification criteria. They guarantee the legality of every entity created on their platform. You can use it with confidence for your company and daily duties because each operation is legal. SOC Type II certification is also used to safeguard stored files by SignNow. SignNow also offers a webpage detailing their compliances and security measures.
Verdict: It's a Tie!
4. Customer Service and Support options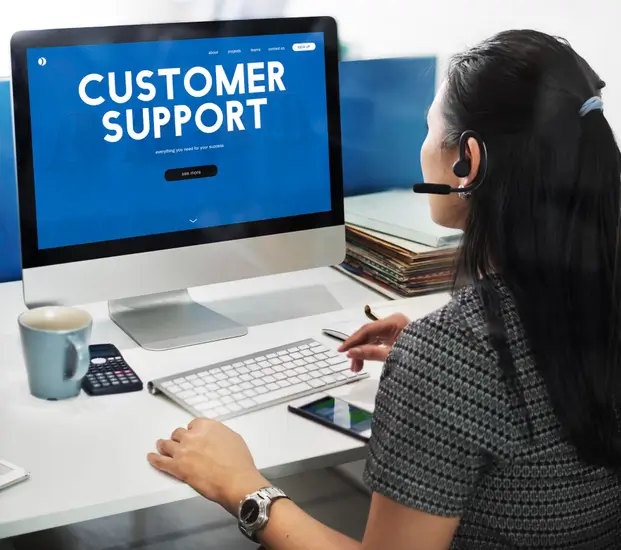 DocuSign exhibits a favorable overall reputation, with an average rating of 4.5 from Gartner and G2. Recent reviews tend to compliment the software's usability and performance. Notable features include a simple UI and a protected document history. On G2, DocuSign is regularly touted as a "time saver," "customer service," and "business operations."
The main downside appears to be user confusion about how to use the product appropriately. One user reported difficulty altering signers after initiating a documented procedure. Salespeople should keep this in mind given the dynamic nature of their engagements.
SignNow is widely used in several industries, including sales, retail, and marketing. This makes sense given that they are intended for face-to-face interactions with customers and clients. According to Gartner's 4.4 rating average, the main audience appears to be small enterprises that are satisfied with the standard tier of services. SignNow has a G2 rating of 4.6 out of 5 stars, with the most frequently mentioned features being "User Interface," "Customer Service," and "Easy."
Verdict: It's a Tie! Both companies have similar ratings and reviews across websites.
In Conclusion
SignNow, as previously said, is best suited to small businesses. It is cost-effective while ensuring a high degree of satisfaction and safeguarding the privacy and legal validity of all of your documents. SignNow is an excellent choice for small organizations that can get by with simple templates and don't need connectivity with anything other than Dropbox, Google Drive, and other basic user applications.
DocuSign is a better option for larger businesses that wish to leverage more integrations, manage more templates, and benefit from quick document management. If your company is expanding or you need to sign up a significant number of customers for a plan, DocuSign is unquestionably a better option. DocuSign also offers more CRM connections, reporting, and analytics for firms that want to integrate their systems.
Awesome Sign: A Superb E-Signature Alternative
So, if you want to try out some amazing e-signing platforms like DocuSign and SignNow, put Awesome Sign at the top of your list! Awesome Sign is one such solution, which allows you to easily e-sign documents. Awesome Sign simplifies the process of updating, signing, and managing documents from any device. To discover more, sign up for a free trial here!