The rise of digitization worldwide during the past ten years has given a massive boost to the growth of e-signature tools. The international electronic signature market size managed to reach $2.8 billion in 2020. It is set to grow to $14.1 billion. by 2026, with multiple reasons for its growth. Some of them are:
Governmental investments and encouragement to adopt digital documentation.

The increasing move towards cloud-based solutions and storage of documents online.

The rising number of artificial intelligence partnerships with digital signature brands.
All of this has led to most modern companies adopting an e-signature tool for their documentation. Finding the proper electronic signature solution for your company can be difficult, especially with so many alternatives. If you've done any research into the industry (a simple Google search I mean), you've probably come across Adobe Sign and DocuSign.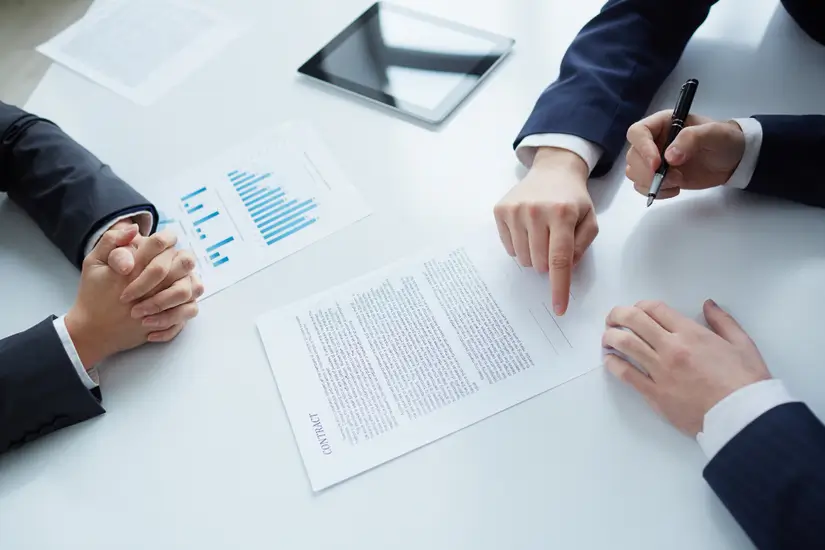 The current market leaders are Adobe Sign and DocuSign, with DocuSign being number 1 in the industry. DocuSign (NASDAQ: DOCU) is the industry leader in electronic signatures, having gone public in 2018. Its stock has increased by more than 200 percent year to date (YTD). Unlike its most significant competitor, Adobe, its primary business is e-signatures.
DocuSign has a market share of around 70%, making it the biggest competitor in the e-signature world. Whereas Adobe Sign shows a smaller market share than DocuSign, at roughly 5%. But both tools provide capabilities that can help you streamline your document management and close agreements more quickly. But how do they compare in terms of what they have to offer and what they are worth?
Today, we'll look at a handful of the most significant features that each product has to offer. But before we get into that, let's understand why we need electronic signature tools.
What is an electronic signature, and why do we need it?
In its most basic form, an electronic signature is simply a sign that is made electronically. It works similarly to handwritten signatures in that it allows signatories to approve or agree to the provisions of a document. An electronic signature is a method of authenticating the signatory and certifying the document's integrity using computers.
We can make signatures using online signature creators or makers for all our digital documents. Multiple tools allow us to sign documents effortlessly and some among them are Adobe and DocuSign. The significant merits to using electronic signatures are:
It is environmentally friendly. With e-signature tools, you can go paperless and offer sustainable documentation alternatives to your customers. In less than 20 years, using an eSignature solution could save 2.5 billion trees.

It is a highly secure form of documentation. With security safeguards like automatic independent verification, you can rest assured that your documents will reach the proper individuals. This independent verification process, also known as Knowledge-Based Authentication (KBA), is necessary for certain IRS forms such as the 8878 and 8879 and keeps your clients' papers secure.

Digital documentation ensures that you can track your signatories. You can easily see who has opened, signed, or approved a document, as well as who is causing delays. Without the physical paper, you'll have a complete paper trail of who accessed the document.

Ease of use makes it a highly convenient product for your customers and employees. Clients may sign quickly and easily from any location and on any device! Connecting your eSignature solution to your client portal software is essential in a time when clients want real-time access to documents.

It helps cut down hours spent signing documents by hand and offers an easy method of documentation. After removing manual procedures and replacing them with digital solutions like eSignatures, businesses see a 70 percent to 80 percent improvement in their efficiency.
Electronic signatures are the future of documentation with our move towards digitization. So, if you're looking into different options for your brand, the most popular tools are DocuSign and Adobe Sign. Let's first examine DocuSign and its various features.
DocuSign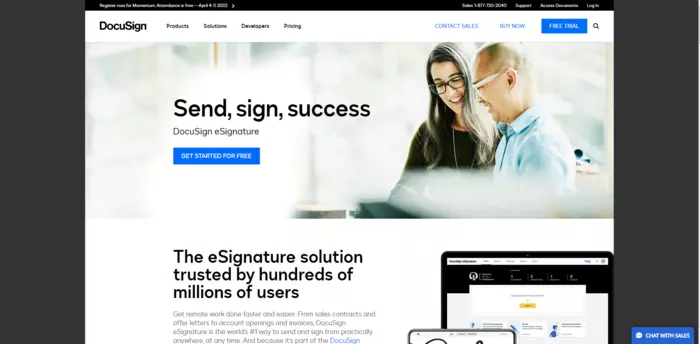 DocuSign was one of the first companies to develop e-signature software, and it now offers one of the most popular e-signature solutions in the world. It's part of their larger cloud-based System of Agreement Platform, which allows businesses of all sizes and industries to rapidly revamp and digitize their entire agreement process.
They do it all from preparing agreements to signing, enacting, and managing them—from almost anywhere in the world, on virtually any device. DocuSign is available in a total of 43 languages around the world, beating Adobe which offers only 34.
DocuSign is the most popular online signing platform with a large user base and scores of good reviews. DocuSign's geolocation capture and real-time status reporting help us create templates and workflows, access advanced analytics and obtain secure and dependable online signatures. DocuSign also integrates with Google Drive, Salesforce, Dropbox, and several other popular services.
DocuSign offers a lot of capabilities to both individuals and organizations starting at $10 / month for single users, with robust Standard and Pro options.
Adobe Sign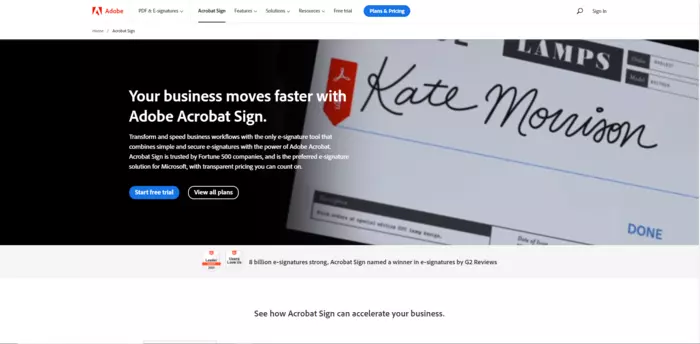 Adobe Sign allows users to use trustworthy, authorized electronic signatures to manage and store documents and forms. It lets you sign documents, request signatures, and track processes from anywhere using the web and mobile devices. It also includes internal applications that you use every day.
Customers can sign using e-signatures or compliant cloud signatures on their desktop or mobile devices without having to download anything. Users can create repeatable content and workflow templates to ensure that everyone on their team produces consistent outcomes.
Adobe Sign goes beyond signatures by assisting customers in achieving paperless operations such as form generation, collaboration, and a range of document approval kinds. In the last year, Adobe applications opened more than 300 billion PDFs.
Personal users pay around $9.99 per month for Acrobat Pro DC with e-sign, $14.99 monthly for Acrobat Pro DC with enhanced e-signing, and $19.99 per month for Acrobat Pro DC with advanced e-signing.
Acrobat Pro DC with e-sign costs $16.99 per month for a team, $21.99 for Acrobat Pro DC with advanced e-sign features, and Adobe Sign for business and enterprise costs $21.99 per month which they can customize according to the needs of the company.
These are the shared features between Adobe and DocuSign's e-signature software.
Their core features are the following:
1. Creating Documents
DocuSign's and Adobe's primary selling points are their e-signature software. With the help of DocuSign and Adobe, you can carry out several tasks. The use cases under this section include -
Screenshots of Documents
Support for a Wide Range of File Formats
Converting PDF Forms
Drawing
Integration of the Cloud
Storage
2. Data fields for information access
You can integrate DocuSign and Adobe Sign with other apps to automatically fill out forms, saving you time and reducing errors.
Some of the major features under this category are
Document Analytics
Document Management
Custom-built enterprise methods
Notifications And Reminders
3. Workflow for Signing
You can choose and order any number of signers with DocuSign and Adobe. You have total control over every stage of the process, including assigning recipients different roles and access beyond signing rights.
You can send documents to multiple signatories, use templates with specific permissions(you can specify each receiver's actions in your process, such as signing, modifying, asking signer attachments, or just accepting a document.)
4. Authenticating Signatures
Both Adobe and DocuSign offer 2-step authentication for signatories. Both Adobe Sign and DocuSign offer the option for users to automate the process of electronically signing documents and obtaining legally binding digital signatures as part of their core offerings. They also offer custom templates and digital seals for documents worldwide.
A digital seal is a piece of data that is applied to an electronic document or other data and certifies the integrity and source of the data. For electronic transactions within the internal European market, the phrase is used in EU Regulation No 910/2014 (eIDAS Regulation).
These were the major shared features between Adobe Sign and DocuSign. The features they don't share are among the following:
DocuSign:
Advanced Analytics
Biometric Phone Authentication
Collaboration and Markup tools
Dynamic forms
Advance Correct
Agent Role
CC Anywhere (Carbon Copy)
Adobe Sign
Designate and Reassign User Licenses
Automated Form Field Detection
Customizable Time Stamps
Workflow Triggers for Documents
EU Qualified Time Stamps
Mobile Sending
Self-Serve Forms
Color-Coded Receivers Fields
Now that we know what their major features are and what each tool offers, let's dive right into the comparison.
Adobe Sign Versus DocuSign
1. User Interface and Usability
Both Adobe Sign and DocuSign offer the option for users to automate the process of E-Signing documents and obtaining legally binding digital signatures as part of their core offerings. Both firms stress the convenience of signing from anywhere, including mobile devices and online desktop platforms. Except in circumstances when network connectivity is required to perform the signature, each service also offers offline document signatures.
After you've uploaded your papers, both Adobe Sign and DocuSign provide straightforward drag-and-drop tools for inserting signature fields into documents in a variety of formats. The signature process in Adobe Sign and DocuSign is pretty similar once you've finished preparing the document.
Your signatories will receive an email informing them that their signature is required. Signatories will then be guided through the process of making their signatures and signing the file by the platforms. While this is going on, the system will keep you updated on the document's status, letting you know who has signed it and who hasn't, and allowing you to issue reminders to keep things moving. Overall, both Adobe Sign and DocuSign offer evenly matched levels of features in terms of usability.
Verdict- A tie! Both tools are great e-signature options if you aren't looking for anything beyond basic usability.
2. Customizations
Branding options are available in both Adobe Sign and DocuSign to help you personalize the customer experience. Throughout the e-signing process, you can add trademarks, taglines, and personalized messages. Customers can create logos, document colors, and button colors in each software after creating a company profile on their account's admin page. Advanced options for modifying headers, footers, and URLs are also available.
It's even possible to modify the XML and HTML files, however, this capability is only available on the enterprise level of DocuSign. These modifications are reflected in any document associated with that brand identification. This is done as soon as the image uploads and changes are complete. Both solutions, without a doubt, provide sufficient functionality to let customers design their accounts with the correct brand feel.
But Adobe Sign provides additional possibilities that are available at a lower price even in the single-user plan. Adobe's settings and menu style are more intuitive and user-friendly for beginners. Adobe also offers downloadable templates for headings, footers, and logos making it easier to use on the go.
Verdict- Adobe Wins! Adobe Sign also offers more branding possibilities at a reduced pricing Spoint. When it comes to customization and unique options, Adobe edges out.
3. Integrations and collaborations with other apps
Both Adobe Sign and DocuSign offer a robust set of integrations that make it more convenient to upload documents and use business applications with their respective platforms. For instance, Adobe Sign has Microsoft's support after being selected as their recommended e-signature solution in 2017. As a result of Microsoft's support, Microsoft 365, and all Microsoft products have all been integrated into Adobe Sign's software.
Aside from Microsoft, Adobe Sign features numerous integrations with CRMs, HR software, and a slew of other applications, including those on the Adobe software list. DocuSign, on the other hand, offers hundreds of direct integrations with a variety of partners. This includes Microsoft and practically every other integration that Adobe Sign supports, plus more.
While Adobe Sign provides integration possibilities that most businesses would require, some of the more effective integrations are only available to enterprise customers. You'll need an enterprise subscription to use most of the prebuilt integrations. DocuSign, on the other hand, offers all of Adobe Sign's integrations and more at a lower price point.
Verdict- DocuSign wins! Simply by looking through DocuSign's broad integration library, you're more likely to find a native integration solution that works for you.
4. Customer Service and Support options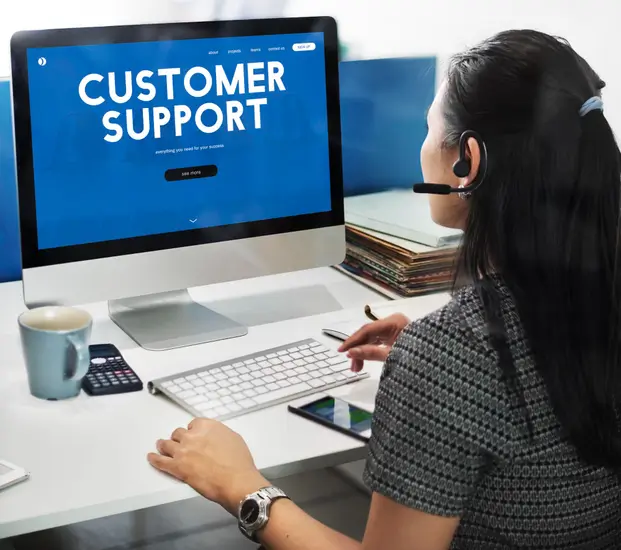 Adobe Sign provides live chat help 24 hours a day, seven days a week. However, phone and email assistance are only available with more expensive options. DocuSign also provides live chat assistance 24/7, and tickets with a longer response time. In contrast to Adobe Sign, DocuSign allows you to enhance your service for faster response times at a reduced cost.
While both providers give a wide range of support services, the level of assistance you require will depend on your plan. Adobe Sign, for instance, provides live chat help 24 hours a day, seven days a week, but phone and email support for higher-level issues like deployment, licensing, and IT requires a Pro or Enterprise Plan.
In addition to the self-service options available through the DocuSign help hub, the software provides 24-hour chat support for senders and signers. They also offer the option to submit tickets with a goal of a 24-hour response.
DocuSign goes a step further by giving improved support choices in addition to the basic subscription levels. You can continue with the basic support plan with DocuSign or subscribe to a plan with speedier response times and more escalation methods.
Verdict- DocuSign Wins! Their reputable customer service is part of their recipe for success. Adobe Sign offers similar options, but the price will remain a barrier to many.
5. Multiple device accessibility and real-time document tracking
Both Adobe Sign and DocuSign documents are incredibly easy to access, authenticate, and track. Customers can sign forms using their preferred devices – Ipads, pcs, or laptops – or seal them with a mobile signature. DocuSign mobile apps are available for iOS, Windows, and Android smartphones. Adobe Sign has smartphone apps that are available for iOS and Android devices.
Both tools are equally accessible across different devices and tools. Adobe Sign and DocuSign have a tracking feature that allows you to monitor the signing process. You can keep track of anything on their 'Manage' section. It allows users to see which forms have been E-Signed, which documents are awaiting signatures from you or others, which have been finished, and which have expired.
Both products include a search function and a filter to help users discover the information they need. You can also track the status of files across organizations and delve deeper into the document lifecycle using Adobe Sign's Enterprise and business plans. So when it comes to these features, both DocuSign and Adobe Sign are equal.
Victor- it's a tie again!
6. Pricing plans and offers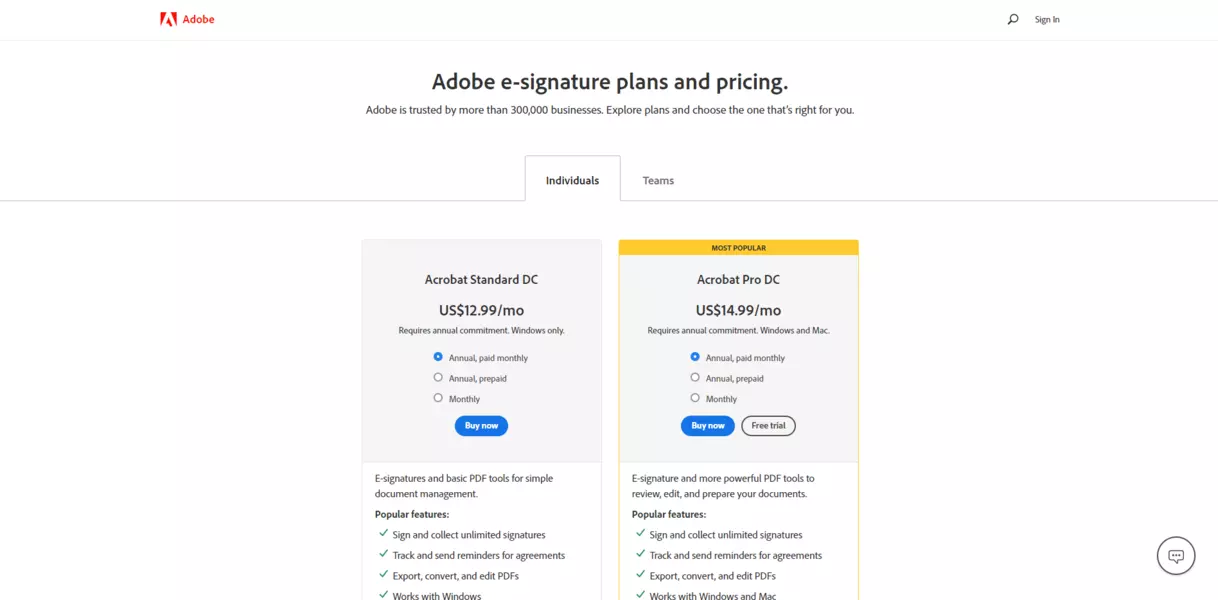 Adobe Sign and DocuSign provide two pricing levels for corporations as well as a $10 entry fee for individual customers. The base tier of DocuSign's plans starts at $24.99 monthly per user with a maximum of three users. It costs $39.99 per user per month to upgrade to their business plan, which allows for numerous users and adds the ability to handle transactions.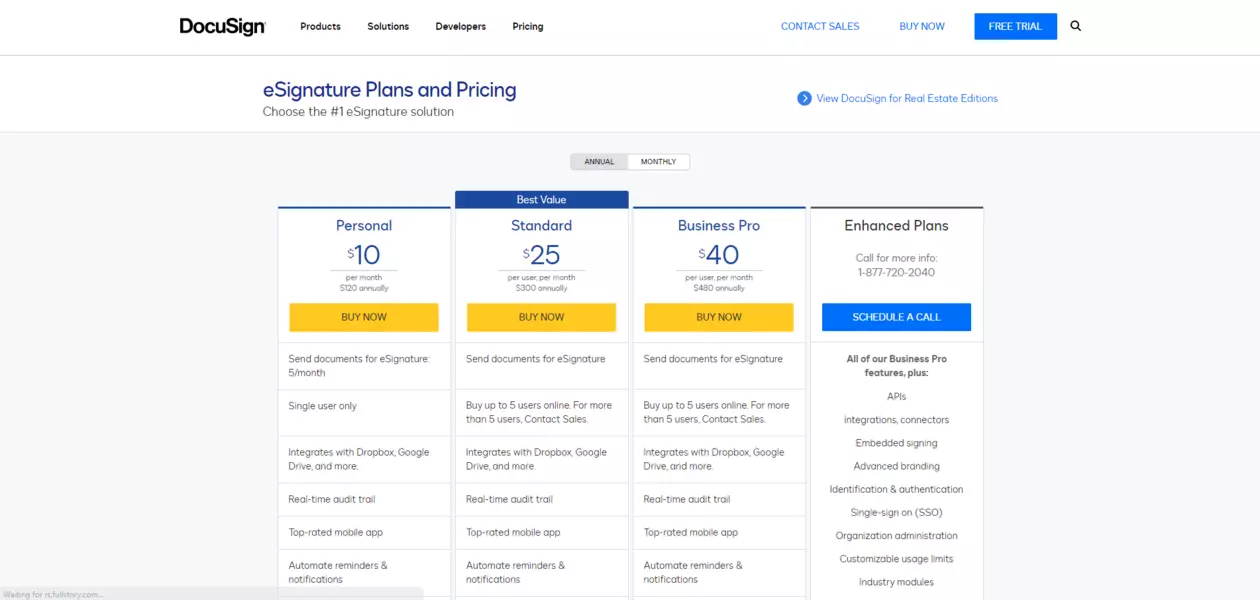 The cheapest Adobe Sign plan is the small business option, which costs $34.99 per user per month and has no user restriction. Their commercial plan costs $39.99 per month per user, which seems like a paltry price to pay for advanced form and customer support features, but it demands a three-year commitment. While both solutions appear to be very similar, DocuSign is a more cost-effective corporate option for those seeking customized branding, notifications and reminders, and document comments.
Verdict- DocuSign wins! When it comes down to the tiniest details in terms of price DocuSign is the cheaper Adobe Sign alternative.
7. Customer ratings and reviews
DocuSign and Adobe Sign have several beneficial ratings from a wide range of users all around the globe as they're both popular solutions. Adobe Sign's limited amount of connectors and concentration on larger enterprises are frequently critiqued by users. DocuSign, on the other hand, is frequently chastised for the restricted number of signature options available in its lowest-cost tiers.
G2's ratings for Adobe Sign are at 4.4 out of 5 stars, with 865 reviews currently. Whereas DocuSign has a 4.5 with around 1,855 reviews right now. Popular mentions for Adobe Sign's product involve the words "Contract Management", "Easy", "Saves time" and more. In contrast, DocuSign has "Time Saver", "Customer Service", and "Business processes". The most helpful review is this one for Adobe Sign's software. While DocuSign's most helpful review is this, with it being from 2013.
Gartner rates both Adobe and DocuSign at a 4.5, keeping them at an equal standing. But in terms of customer numbers and market share, DocuSign is the clear winner. But in terms of likeability, there is no clear winner, which leads us to yet another draw.
Verdict- it's a tie!
8. Data protection and documents safety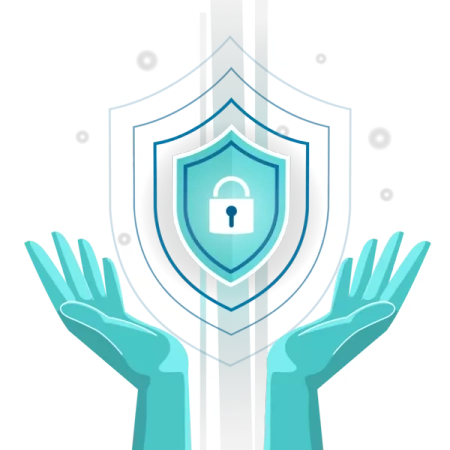 To keep your data and documents secure and confidential, both DocuSign and Adobe Sign use industry-standard security measures. They also follow several government laws that ensure the legality of their online signatures. Adobe Offers a highly detailed overview of their security and safety measures. This whitepaper covers multiple categories which include- document certification, identity management, hosting and security, and so on.
Whereas DocuSign offers a webpage that offers multiple whitepapers for different areas. Some of these whitepapers include- product security, a security brief, and security and legal processes. Both apps offer extensive information regarding their security and safety measures. DocuSign provides users with a larger number of resources for their security measures.
Adobe Sign does not offer as much data as DocuSign, but all of their information is much easier to access. As most of Adobe Sign's security details are covered in one whitepaper, it's a lot more convenient for users. But DocuSign also marginally outperforms Adobe Sign in terms of SMB protection. Adobe Sign, on the other hand, has a more extensive network of security options, if you have a large-scale organization.
The answer to this category isn't as clear, we can say that Adobe Sign wins in terms of catering to large enterprise security. Whereas, DocuSign is the winner for smaller and medium-sized businesses in terms of security provisions.
Verdict- the win depends on what you need.
These were the major areas of competition for both e-signature tools. If you're still confused about what's best for you, let's break it down further in the final section.
The final verdict
DocuSign is an excellent solution for small, growing, and corporate enterprises. DocuSign allows for a wide range of user counts, starting with a free plan and progressing to enterprise plans. Adobe Sign is designed for user licenses ranging from 100 to 499, so it's more suited to a smaller business.
Adobe gives you a lot more alternatives for your branding and personalizations at a lower price point. It also allows you to use a payment getaway even if you have an individual user plan. In contrast, DocuSign only allows you to use this function if you have a Business Pro package.
If you frequently modify and personalize PDFs, you may save money by integrating Adobe Sign with Adobe Acrobat in the Adobe Document Cloud package. But if you need to weave signature procedures across your website and other business-related tools, DocuSign is the way to go. DocuSign's low-cost API connectors extend the potential of your signature workflows. Both tools offer similar features and functionalities making it hard to pick the right one.
This debate won't ever reach an objective conclusion because both tools offer great features. These features can help different types of companies, and only once you test them out can you decide what works best for you. Gaining e-signatures and integrating signing software can be confusing with all these options. But, the best thing to do is to try out different tools to find out what suits your needs.
Awesome Sign : A great alternative!
So, if you're on the lookout to try some awesome e-signing tools, check out Awesome Sign ! Awesome Sign a great docusign alternative, and is one such solution that allows you to easily e-sign your documents. Awesome Sign allows you to easily update, sign, and manage your docs from any device. Click here to sign up for a free trial and discover amazing possibilities for signing all of your future paperwork.