The way we do business has changed as a result of technological advancements. To keep their workers safe, many companies have embraced the hybrid work structure, especially following the Coronavirus pandemic. As a result, businesses have had to deal with a variety of issues, such as signing agreements without meeting face to face. Electronic signatures have become an important part of speeding up company procedures and transforming the modern landscape.
But many of us have the tendency to confuse the meaning of an electronic or online signature with a digital signature. An electronic signature, as defined by the eIDAS is the following:
"'electronic signature' means data in electronic form which is attached to or logically associated with other data in electronic form and which is used by the signatory to sign;" (eIDAS Article 3.10)
In contrast, a digital signature is a scientific and cryptographic notion that is commonly utilized to provide actual and practical examples of an electronic signature. The ETSI TR 119 100 definition is as follows:
"Data appended to, or a cryptographic transformation of a data unit that allows a recipient of the data unit to prove the source and integrity of the data unit and protect against forgery e.g. by the recipient." It's important to distinguish between the two technologies since not all electronic signatures are digital signatures.
Moreover, the user understanding of electronic signatures is another concept you should know. Electronic signatures have the same appearance and functionality as written signatures. When you sign your e-signature, the same things eventuate as when you sign your initials on paper.
The only distinction is that you won't need a pen this time. Instead of printouts, you may receive electronic versions of the signed documents.
One of the main advantages of e-signatures is their simplicity. Because they take less time to complete, turnaround times are reduced. Lower expenses, more effective document management, and more privacy are all benefits of an e-signature solution. E-signatures, in a broader sense, refer to any signature that is made electronically rather than on a tangible piece of parchment.
Electronic signatures could be used to verify the information of a document, but not all electronic signatures have the same amount of security in the eyes of the law. If you work in a strictly regulated area that deals with personal and/or corporate information or data – such as financial services or accounting, Hrm, legal, or health, to mention a few – you may want to investigate a more secure solution.
An eSignature is typically as genuine as a handwritten signature, but there are some limitations to consider during the process. After you've prepared yourself with the legalities, select software that will assist you in determining whether the supplier is authorized, trustworthy, and secure.
Independent users, businesses, and other institutions are now signing papers using completely legal electronic signatures. There are also eSignature for official solutions available, which are designed to aid authorities in the signing of important paperwork. Smart gadgets, such as PCs and cellphones, can easily sign papers, improving efficiency and saving time. eSignature software applications are now being used in a variety of industries, including: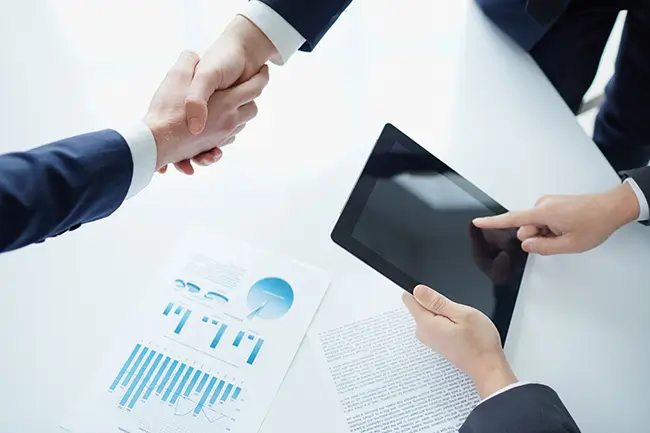 Industries that are using e-signature technology daily :-
1) Healthcare e-signature

HIPAA-based electronic signatures and global federal privacy regulations protect sensitive records in the biomedical research and healthcare industries. Secure data storage, confidentiality, and authorized forms of e-signature and e-documents have long been major concerns. A signature that complies with federal rules improves document security while simultaneously increasing compliance is essential.

The degree of documentation that doctors must complete is disproportionately high in comparison to the time spent with patients. Doctors spend 27% of their time in their clinics treating patients and 49.2% of their time on documentation. Even when physicians were in the doctor's office with patients, just 52.9 percent of their time was spent chatting with or evaluating them, while 37 percent was spent on paperwork. Healthcare professionals should use an eSignature service to speed up the collecting of doctor and patient authorization while retaining a standard of compliance that equals or exceeds conventional signatures.

This is why several advanced medical institutions have implemented HIPAA-compliant e-signature software. Handling patient data on paper is tedious, time-consuming, and expensive, additionally, patient confidentiality is much harder to protect when on paper. Successful healthcare businesses must effectively manage contracts for patients, suppliers, doctors, staff, and partner organizations.

2) Real Estate

Paperwork associated with real estate transactions has always been a large undertaking. To execute a deal, multiple authorities must sign off on it. It has been a long and winding road. Realtors that use E-Signature for Real Estate documents, on the other hand, have been able to avoid all of these headaches.

This is primarily because of the following reasons:

All institutions and organizations benefit from an 83 percent increase in approval speed and an 86 percent reduction in document expenses with an e-signature solution. 2017 (ESRA)
Organizations that employ e-signature software can save up to 85 percent on paperwork handling costs.
Compliance tools for requirements such as the ESIGN Act, UETA, and eIDAS are now included in most e-signature solutions. They assure that e-signatures are lawful in all countries, using encryption technology and auditing trails for enhanced privacy.

A normal property sale entails a large amount of documentation, such as a Sales Contract, No Opposition Certificates from several authorities, and an Agreement To Sell, among other things. All of these papers can now be prepared online with immediate legal assistance. Things are made easier by the fact that they can be electronically signed from the comfort of a computer or smartphone.

3) The financial sector

There is a lot of paperwork processing in the finance industry. Almost every transfer of funds, as well as the registration of other documents, necessitates the use of a signature. Financial institutions as well as other industry participants have learned that paperwork signing has cost them a lot of revenue and time. The documentation needed has proven to be time-consuming and tiresome, frequently costing firms a significant amount of money.

Electronic records strive to solve this situation, and they are just as secure as physical records, if not more so. Instead of wasting funds and effort on faxing and mailing documents, financial corps and professionals can use computer files that reach their clients swiftly and can be signed promptly. Clients used to go to financial institutions to open an account, get access to loans, and complete other transactions and activities.

Now, e-signature services for banks eliminate such steps by guaranteeing that any papers that require signatures are signed online and sent to the appropriate recipients. To set up an account or get your loan application approved, you don't have to go to a bank. This transition not only enhances the client experience but also simplifies the operations for bankers and staff members.

4) The legal sector

In recent decades, the legal business has developed at a fast pace, with revenues expected to reach $908.26 billion in 2025, rising from $713.7 billion in 2020. Lawyers must handle reams of paper on a daily basis to finalize deals in this industry, which is heavily reliant on reports and documents. Law firms are one of the highest consumers of paper, spending an estimate of $1,000 per individual per year, or $83 per month. According to another study, a single attorney produces 20,000 to 1,00,000 copied pages each year.

It demonstrates how an increase in the market for legal assistance has a direct impact on physical paperwork. If you're a lawyer who's frustrated with signing dozens of papers for hours on end, you should use electronic signatures to instantly sign each official document in under a minute. Professionals can use this software to produce, sign, and use legally binding papers online from their workplace, on the go, at home, or in a remote place at any time and from any region.

E-Signatures are easy to deploy on any handheld tablet, laptop/desktop, or smartphone. They're a great way for law firms to exchange documents, transmit material, and engage with clients. Law firms can use electronic signature systems to optimize their legal operations in a variety of ways. Employees at law firms can utilize electronic signatures to sign legal papers quickly and easily from anywhere around the world. Much like the healthcare sector, legal documents do require a higher level of security and compliance. So you should look into e-signature software that complies with your nation's regulations and signature standards.

5) The retail industry

Although most businesses have implemented electronic signatures, the retail industry has been a bit delayed in integrating this software. It's unclear why this is the case, but it could have something to do with the notion that it's less visible how electronic signatures can help retailers. The advantages of e-signatures are significantly more obvious in industries where documents are crucial to everyday operations (like real estate or healthcare). But the truth of the matter is that there are numerous advantages to employing e-signatures for any business that has transactional operations. For instance, it can aid in the speeding up of the purchasing process and the reduction of paper waste.

Electronic signatures are also more confidential and tamper-proof when compared to handwritten signatures, which can improve security and protect your company from future threats. Moreover, e-signature software is also effective and streamlining onboarding processes within any industry. The retail industry is constantly hiring and training new recruits which further drives the need to implement e-signature software to speed up these processes.

Take, for example, a huge apparel business during the holiday season. They need work to keep up with the heavy seasonal demand, but the structure of the short-term work market makes it tough to plan ahead. As a result, the hiring or outsourcing process, from job posting through onboarding, must be as efficient as possible. This makes e-signed contracts all the more necessary for retailers to ensure they rapidly hire and onboard new employees.

These are five of the most prominent industry users of e-signature technology. What's more interesting is how each of these industries uses e-signature solutions to their benefit. If you're wondering what I'm referring to, it is the different departments within each industry that requires e-signature solutions. For instance, what are the major departments you feel would benefit from e-signature solutions? If you thought of sales, marketing, HR, finance, or more, you're on the right track. We'll delve into the different departments that benefit from e-signature software in the next section of this blog post.
The different departments that commonly use e-signature software
1) Sales

We'll divide this department into two main categories-

Both branches within the sales department garner major benefits from using a robust and intuitive e-signature solution. For every sales department, the main benefit of an eSignature system is that it shortens the "sales cycle." Getting estimates, contracts, nondisclosure agreements, and intermediary papers approved in an electronic form can cut down on time spent waiting in phases of the process. As a consequence, the entire process has been sped up and organized.

According to Hubspot, barely 39% of a sales representative's time is dedicated to selling or communicating with leads and clients. Additionally, HBR research recently found that administrative tasks account for 21% of a salesperson's work. Offering your agents the tools to be productive and economical is the best way to enhance performance.

When your sales staff uses electronic signatures, you'll discover that the business's workflow efficiency improves. Consider that for a moment. All of your documentation becomes digital, allowing you to effortlessly communicate accurate information inside the same framework without the fear of information leakage.

Your field sales teams don't need to lug around a bag of paperwork and can instead use a mobile e-signature documentation system. Most e-signature solutions are accessible across all devices and platforms making the work of your agents much easier. This also boosts customer convenience as they don't have to spend time signing paperwork. Furthermore, e-signature solutions can provide a remote sales sector with the software they need to sign papers online.

2) The Human Resource Department

When onboarding a new employee, an e-signature system can help HR staff speed up their internal operations. Simultaneously, a business that uses such a device to make this task easier stands out from the crowd for its innovative use of the software. This use of convenient software is critical in today's highly global environment to recruit top intellectual talent. Electronic signing software ensures positive first contact with prospective future employees, particularly at a time when millennials make up a large portion of the market.

Additionally, research shows, that during COVID-19, employees had to make do with restricted availability of workplace photocopiers, scanners, delivery services, and more due to lockdowns and temporary disruptions. As a response, HR professionals have adapted to this paperless document ecosystem by making extensive use of E-Signatures.

This fuelled an increase in professionals signing papers in the cloud from their smartphones, tablets, and PCs. As a result, self-signing increased by 3,173 percent among HR professionals in Q2, while requesting signatures increased by 2,158 percent.

Recruiters and applicants both benefit from the adoption of eSignatures. The applicant can verify any paperwork connected to the employment process, such as NDAs, labor contracts, and other associated papers, at any time and from anywhere using e-signature software. For the HR staff, collecting all paperwork in an electronic medium when it is correctly signed on time helps to cut down on the time it takes to review and archive all of the paperwork for each application cycle.

3) Accounts and finance departments

Before capital can leave a company, bills, budget approval, projections, and customer agreements must all be signed. Accounts and finance are one of the most paper-intensive departments, with thousands of papers passing through on a daily basis. Each document must be thoroughly reviewed, approved, and returned to the right person.

The authorization process can take a long time, and a typical workflow requires several persons before reaching the final sign-off stage. Documents staying in one division for days before going to the next is a regular problem, and keeping track of progress can be challenging.

Currently, 30% of all agreements are accessed through a smartphone web browser. This emphasizes the importance of implementing an e-signature solution for your team's necessities. Biometric authentication technologies, such as writing intensity and rhythm, are currently being integrated into E-Signature solutions. They also integrate with well-known third-party programs such as HR, ERP, finance, and workflow management software.

Regardless, with extensive proposals and agreements typically spanning multiple pages, even the most skilled financial experts run the risk of skimming a paper and signing anything without thoroughly understanding every clause. Due to the confidential nature of many papers, security is also a major concern.

E-signature solutions that include powerful long-term digital signatures, as well as support for the PDF/A archive format, assure that papers cannot be manipulated and will be usable for many years to come – regardless of software platform changes. This is especially important when huge sums of money are at stake. This makes e-signature software an indispensable tool for professionals within the financial industry.

These are the three teams within every business that benefits from e-signature solution deployment. Now that we know the different industries and teams that profit off of e-signature software, let's get into some of the best e-signature solutions available to buyers worldwide.
Top 3 E-Signature Solutions
1) Awesome Sign for an effortless e-signature solution for small and mid-sized businesses

Awesome sign is a powerful cloud-based electronic signature tool designed for businesses and teams to manage their documents and signature workflows. It helps businesses solve their core issue of managing and tracking multiple signature requests from their prospects, customers, employees, and vendors. Although their features aren't as complex as DocuSign's, Awesome Sign offers users the chance to sign documents effortlessly.

The Awesome sign software is a part of the AwesomeSuite's business suite application. AwesomeSuite works towards empowering businesses to digitize their process with ease with a core focus on increasing productivity, and delivering an awesome customer experience. With the help of Awesome Sign, businesses can skip the hassle of manual signatures and go paperless. Enabling them to not only reduce their carbon footprint but also reduce office costs. Ultimately, Awesome Sign provides everyone with a simple, user-friendly documentation signing program. It's one of the best on the market, and if you're on a budget and only need a simple tool to sign your paperwork

2) DocuSign for a comprehensive documentation solution for large-scale enterprises

DocuSign was one of the first firms to establish e-signature software, and it currently provides one of the most widely used e-signature solutions on the market. It's part of their bigger cloud-based System of Agreement Platform, which enables companies of all sizes and sectors to redesign and automate their whole contracting process.

From preparing contracts to signing, enacting, and maintaining them, they can do it all from practically anywhere in the world, on almost any device. Additionally, DocuSign is offered in a total of 43 languages worldwide. DocuSign's pricing plans are the industry average across most tiers. They offer all the most common and necessary e-signature software solutions at a reasonable price. But DocuSign is not the most feasible option for freelancers, smaller businesses, and individual users.

3) Dotloop, the ideal e-signature solution for real-estates specific purposes

DotLoop is a popular e-signature software solution for agents that includes both transactional management and broker capabilities. Dotloop offers all the real-estate-specific e-signature solutions you need. For realtors, teams, and brokerage departments, it is one of the most comprehensive, accessible, and robust e-signature solutions available.

DotLoop is a service built specifically for the real estate industry, intending to allow clients to organize their paperwork and record signatures. The configuration of the system is simple. It all starts with the creation of a listing by a real estate agent. The realtor then has access to a workstation where they can focus on finalizing the deal. Dotloop is the ideal e-signature software for those within the real-estate sector. It isn't a generic solution for those desiring simple e-signature solutions and is tailored to meet the demands of a real estate professional.

Much like Dotloop, there are several e-signature solutions being created to cater to specific industries and teams. The importance and necessity of an e-signature are felt worldwide as companies are constantly innovating new signature solutions. This brings us to the final question of the article, what are some factors to keep in mind when buying an e-signature solution?
Key takeaways when buying an e-signature software
Now that we've reached the end of the post, let's dive into what you must keep in mind when buying your e-signature solution:

User-friendliness and convenience A free trial is available from most eSignature providers, make sure to join up for each alternative to discover how user-friendly and efficient it is. You should, in most cases, use an eSignature service where signing a document should not take more than 10-20 seconds. Additionally, check to see if the service is mobile and cross-device compatible. This is significant since the majority of users will want to browse, review, and sign contracts while on the road, resulting in a better customer experience.

Check your e-signature provider's security standards Examine an e-signature seller's methods for detecting and preventing privacy violations in relation to the requirements given above. It's critical to learn about the company's security policies, licenses, strong reputation, and security audit regularity. Due diligence on a company's security processes and systems may reveal historical privacy violations, information loss incidents, or other dangers such as a lack of cloud security capability. Cloud-based e-signature solutions have a much higher chance of being secure and well-protected so they should definitely be your top options.

Capabilities for integration and automation Is the e-signature solution API-enabled and SDK-supported, allowing developers to quickly create integrated solutions? They should often provide pre-built connectors for popular corporate systems such as Salesforce, as well as sample code and development team help. To facilitate straight-through execution, the e-signature platform should interact with your institution's upstream and downstream processes. Optional processing stages such as customizable data capture, material insertion, and numerous signature alternatives must be supported by the solution. For an e-signature system, automated workflows are essential. When dealing with documents, a bulk-send feature can also save you a lot of time.
These are the major factors you should keep in mind while purchasing an e-signature solution. In addition to the factors listed above, it's critical to choose a vendor with industry experience and a thorough understanding of your company's specific requirements. Awesome Sign, is great if you work in the retail sector and need less complicated e-signature software. Dotloop, on the other hand, might be the best option, if you work in the real estate industry. So do your homework and look into the vendor's reputation and track record with current clients – you want to work with someone who is sincerely invested in the profitability of your e-signature venture.