For nearly three decades, electronic signatures have aided businesses in improving and speeding up their services. Nowadays, e-signature solutions offer a vast array of perks, more than just the simplicity of electronically signing alone. The era of doing documentation entirely on paper is long gone, especially when deadlines are approaching.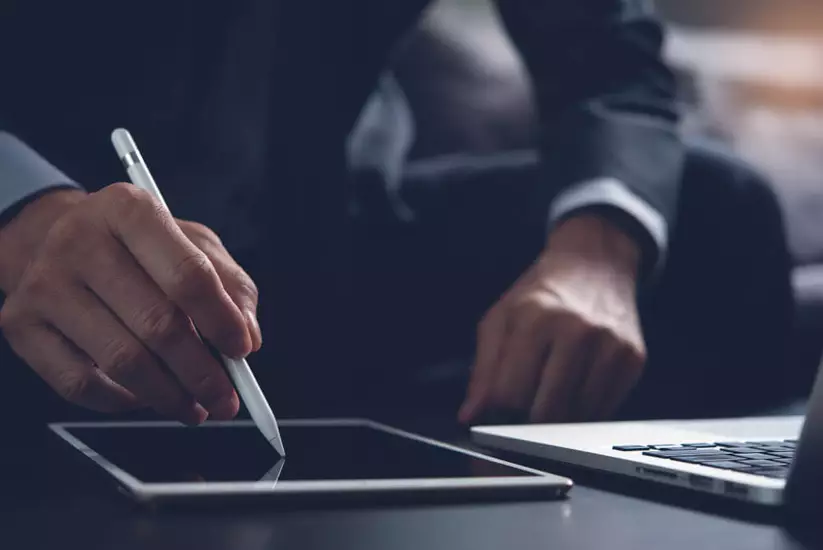 E-signatures can bring significant savings in helping firms of any size remove paperwork constraints by streamlining documentation processes across teams such as logistics, marketing, and Human resources, among others. E-signature tools, like document management apps, digitize the process of documentation. This is significantly more practical than the traditional handwritten method. Some statistics that show the growth of e-signature solutions worldwide are:
E-signatures are used by 40% of surveyed organizations for heightened security, 39% for enhanced efficiency, and 53% for successful stakeholder interactions.

The worldwide electronic signature industry is expected to surpass $16.8 billion by 2026, at a 33.1 percent CAGR.

71% of people who do not use e-signature solutions think it is more secure than a handwritten signature. DocuSign has become one of the leading firms in the e-signature industry, but one of its alternatives, PandaDoc, has also received significant traction. We'll explore the characteristics of both DocuSign and PandaDoc in our comparative article to help you choose between the two solutions. During our analysis, we discovered DocuSign and PandaDoc to be both straightforward and simple-to-use programs.
Both solutions contain the following essential features: legally enforceable signatures, templates, a text editor, reporting requirements, customizable signing, and record keeping. Furthermore, the most preferred memberships for both DocuSign and PandaDoc are just under $60 per month. First, let's understand what each company offers and its definitions.
Pandadoc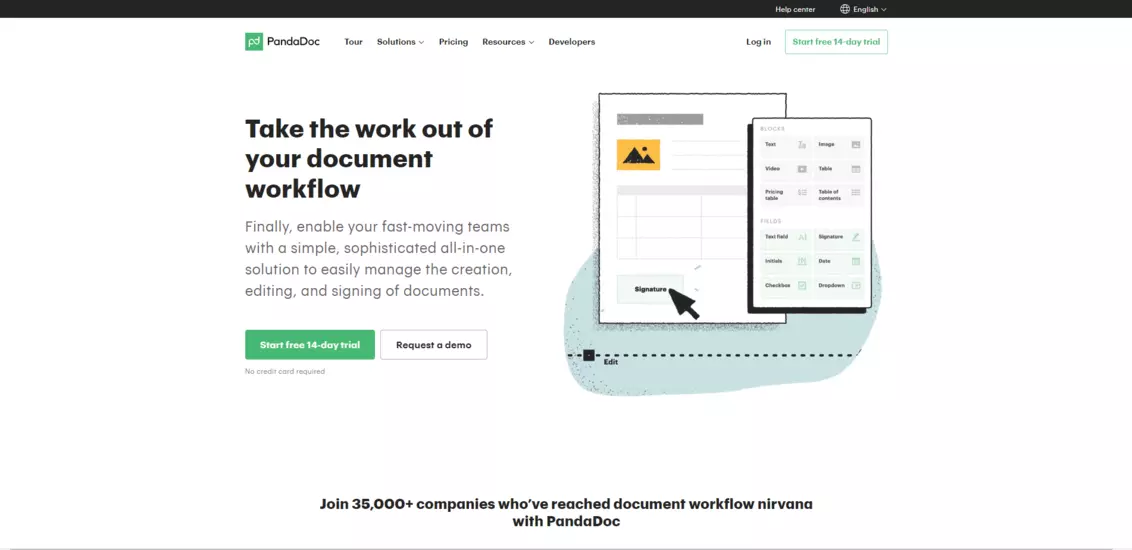 PandaDoc is a document management tool that assists users in the creation of contracts, quotations, hrm documents, agreements, and other documents. The solution is typically utilized by sales and advertising teams, as well as corporate executives. PandaDoc provides the tools you need to build customized proposals or change one of their pre-made templates.
You can create proposals, store them in a cloud database, distribute them to customers, and check overall progress all in one location. PandaDoc, which is designed for sales operations and established enterprises, promises to speed the proposal process while streamlining sales and marketing responsibilities. PandaDocs' products are also available in seven languages worldwide.
DocuSign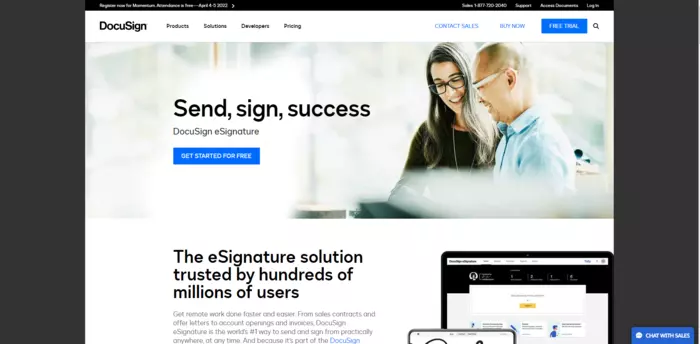 DocuSign, which was founded in 2003, has played a critical role in the advancement of e-signature software. It is a cloud-based e - signature tool that is suitable for companies of all sizes. It is a component of their broader cloud-based System of Agreement Technology, which enables organizations of all sizes and sectors to rapidly overhaul and modernize their overall agreement process.
They do everything from drafting deals to executing, adopting, and maintaining them—from essentially anywhere in the globe and on nearly any platform. DocuSign is accessible in 43 distinct languages worldwide. Reusable templates, location tracking, application, and integrated systems, information and analysis, mobile usability, workflows, and safety and compliance — DocuSign is brimming with innovative capabilities that make execution easier.
Now that we've understood both e-signature software companies and their solutions, let's move on to the comparison.
Comparison
1. Pricing and Features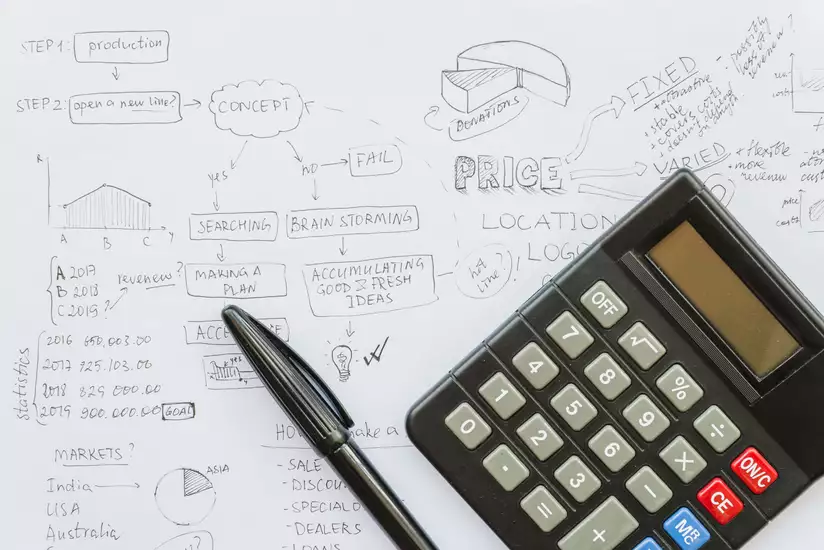 DocuSign Pricing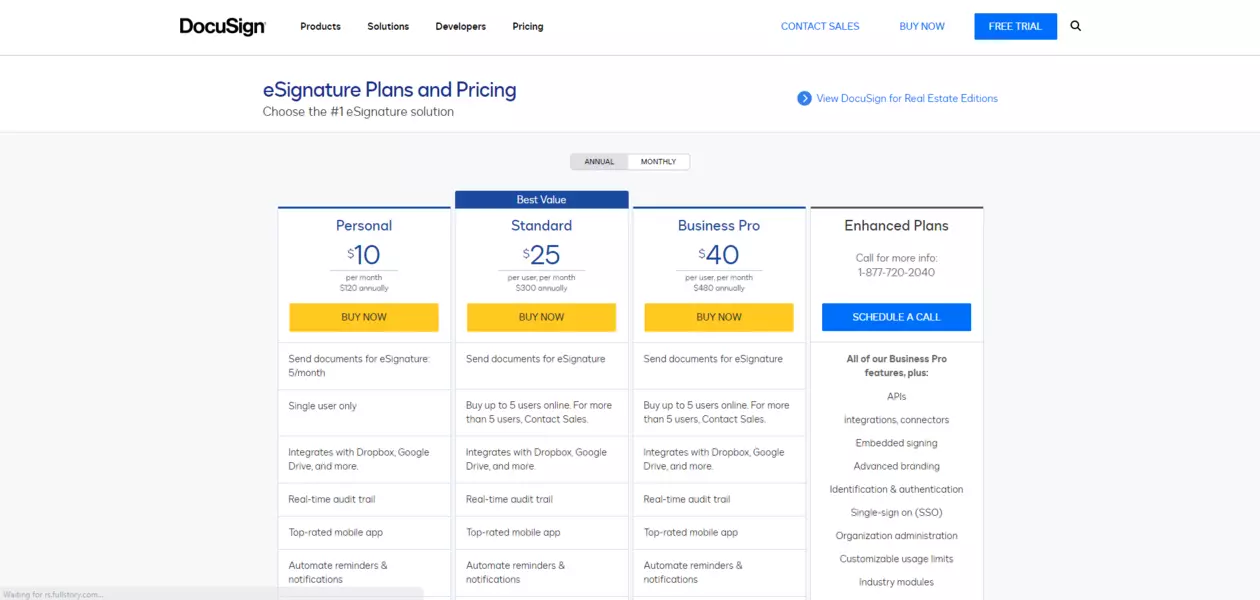 DocuSign's plans can be classified according to the number of Users each plan enables. Single or personal user plans begin at $10 per month which amounts to 120 dollars per year. The plan includes the following features:
There can only be one user.
Documents to sign: 5 each month
The essential domains
App for mobile phones
Templates that are reusable and interchangeable
Fundamentals of Workflow Processes
Real-time tracking and audit trail
Integrations with Google Drive, DropBox, and other services are available.
Their Regular Plan costs $25 per month per user and usually amounts to $300 per year. They offer the following features:
Document e-signatures
The fundamental fields
Applications for mobile phones
Templates and styles that are reusable
Workflow processing
On a real-time basis, there is an audit trail.
Integrations with applications such as Google Drive and Dropbox
A large number of languages
Reminders and notifications
Their Business Pro Plans begin at $40 a month per person, for a total of $480. These are some features that are only available with the Pro Plan.
Shareable documents
Templates That Can Be Shared
The team's reports and comments
In-person eSignatures
Branding and customization
Signatories' references
Collaborative fields, skilled fields, and drawing fields
With a single click, you can give your consent.
SMS confirmation
PowerForms
Conduct Transactions
Send in Masses
The pricing structure for DocuSign is ideal for large enterprises. Apart from that, here are some features that are specific to DocuSign:
Advanced Analytics
Biometric Phone Authentication
Collaboration and Markup tools
Dynamic forms
Advance Correct
Agent Role
CC Anywhere (Carbon Copy)
PandaDoc's Pricing and Features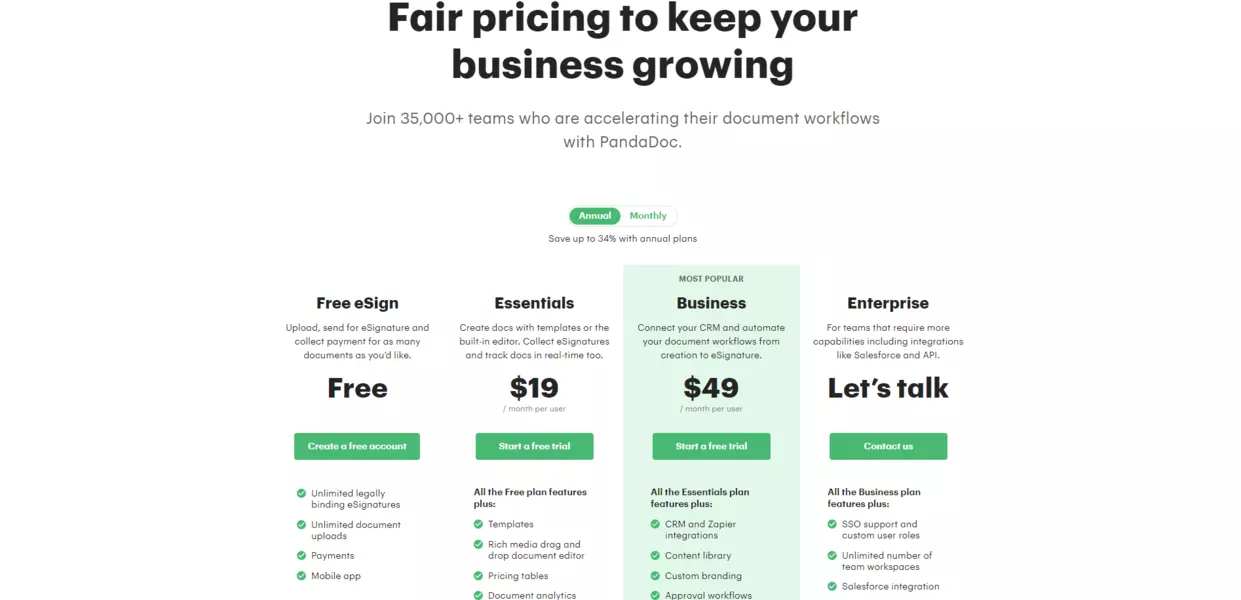 PandaDoc provides a completely free plan for a single user. DocuSign's free version, on the other hand, only allows for three signatures. PandaDoc's free plan includes the following features:
1 person per month
Upload, send for eSignature and take payments for an unlimited number of files.
legally enforceable e-signatures
The number of document uploads is unrestricted.
Mobile App
Their Regular Plan is $19 per person each month. They provide the following benefits:
Use templates or the built-in editor to create documents.
Collect eSignatures and track documents in real-time as well.
All of the benefits of the Free plan, plus:
Templates
Document editor with rich visual drag and drop
Tables of prices
Analyzing documents
Email and chat help are available 24 hours a day, seven days a week.
Each month, their Business Plan costs $49.00 per person. They offer the following advantages: All of the benefits of the Essentials plan, plus:
Integrations with CRM and Zapier
Library of content
Personalization and branding
Workflows for approval
($) Forms
Send in bulk ($)
Email and chat help are available 24 hours a day, seven days a week
The cost for PandaDoc's Enterprise Plan must be discussed and negotiated with PandaDoc. They offer the following advantages:
All of the features of the Business plan, plus:
Support for SSO and configurable user roles
There is no limit to the number of team workspaces that can be created.
Integration with Salesforce
Reporting on user performance and content
API ($)
The pricing structure for PandaDoc is ideal for small businesses and freelancers. Apart from that, here are some features that are specific to PandaDoc:
PandaDoc provides a collection of customizable standard templates. These save you time and ensure that your content is accurate.

PandaDoc allows you to alter the content of your uploaded Word document files immediately within the PandaDoc app. This is useful for making small changes to a file.

PandaDoc features a content library where you may save all of the information that you commonly use in your papers. Legal claims and bespoke branding elements are examples of information that can be stored in the content library.

Recipient Analytics PandaDoc features statistics that allow you to track your users' actions when dealing with your documents. Sales representatives use this data to better understand consumer behavior and win more deals.
Comparison
When we get into the specifics of both companies' plans, we can find that there is no definite victor. DocuSign has significantly more complex functionality than PandaDoc. PandaDoc, on the other hand, is great if all you want is to sign your documents for a low cost.
DocuSign is suitable for large-scale businesses and those searching for analytics and detailed reporting options. PandaDoc, on the other hand, is a better docusign alternative for freelancers and small businesses wishing to sign documents with a touch of flair.
Verdict: a tie! Both organizations provide distinct services and bring unique qualities to the table. DocuSign is the unmistakable victor in terms of features, as they provide significantly more extensive possibilities. In comparison, if we're talking about price PandaDoc is the affordable option with fewer integrations.
2. Security comparison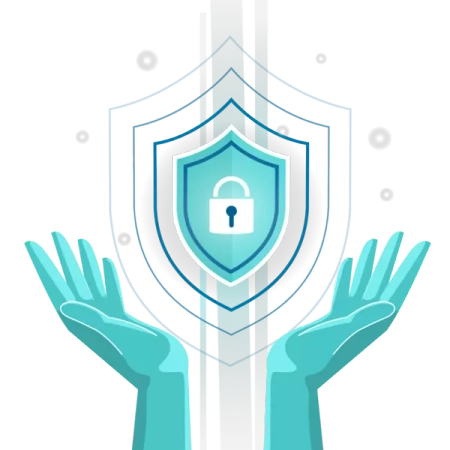 PandaDoc Protections PandaDoc has SOC II Type II accreditation and indicates that it can supply enterprises with an SSAE 16 SOC 2 assessment upon inquiry. The solutions are maintained by Amazon Web Services (AWS), which uses cutting-edge data centers that are designed to remain operational even during peak instances of business use or in the event of an outage.
The organization also emphasizes its adherence to the European-based data protection and the General Data Protection Regulation (GDPR). PandaDoc secures its content with AES-256 and other data encryption, then keeps it in a Level 1 cloud that is SOC, FISMA, and PCI DSS compliant. They've established procedures to ensure that the employees who have access to personal information are those who have specific reasons to access it. PandaDoc offers a webpage with short descriptions of its security details.
DocuSign Protections DocuSign continues to deliver some of the most advanced privacy features of any DTM. They follow the most stringent security measures. The organization is ISO 27001 and SSAE 16 certified, and data is stored in data centers constructed to the same security level. DocuSign is still the only DTM that complies with the ESIGN Act. DocuSign also adds a degree of protection to its products, guaranteeing that your company completely conforms with industry standards.
DocuSign's Signature System complies with internationally accepted electronic signature rules and makes use of industry-standard Public Key Infrastructure (PKI) digitally signed software. DocuSign, in comparison to PandaDoc, provides more detailed information regarding their security methods. DocuSign maintains a website with a range of whitepapers on various topics. Among the whitepapers accessible are business security, a safety brief, and security and legal processes. DocuSign also has a webpage with a variety of whitepapers for various topics.
Verdict: DocuSign Wins! DocuSign provides a more detailed look into their security measures for users. They cover several resources and follow most regulations globally. PandaDoc does cover all the major regulations and is legally binding, so it is still a great alternative to choose.
3. Integrations
DocuSign
DocuSign enables over 350 integrations, including, Salesforce, DropBox, Oracle, Microsoft Office 365, Google Drive, Workday, and several others. The CRM integration, on the other hand, is only accessible in the Enterprise suite. Aside from that, DocuSign allows all third-party and customized API integrations, including the most basic single-user plan.
This includes limitless document input, bulk transfer options, and other features. DocuSign allows you to create an unlimited number of templates. This allows more freedom as an enterprise evolves. DocuSign also offers a larger scope of integration options across all plans. Though several essential Crm software connectors, including Salesforce and Microsoft, are restricted behind tailored prices at the enterprise tier.
PandaDoc
PandaDoc also offers plenty of integrations with third-party applications. These integrations include:
Pipedrive
PayPal
Soho
Stripe
Google Drive
HubSpot
Quickbooks
They also offer various Zapier integrations to optimize your workflow. You can connect applications such as:
Google Sheets
Slack
Microsoft OneDrive
Freshbooks
PandaDoc also offers the PandaDoc API, which allows you to collect and securely store signatures while customizing your proposal documents from within your application. You can also embed the PandaDoc API to your site and other applications to collect signatures and signed PDFs securely.
Verdict: DocuSign Wins! DocuSign offers the most integrations in general among most e-signature software. PandaDoc offers a sizeable number of integration options and connectors for their users.
4. Customer Service and Support options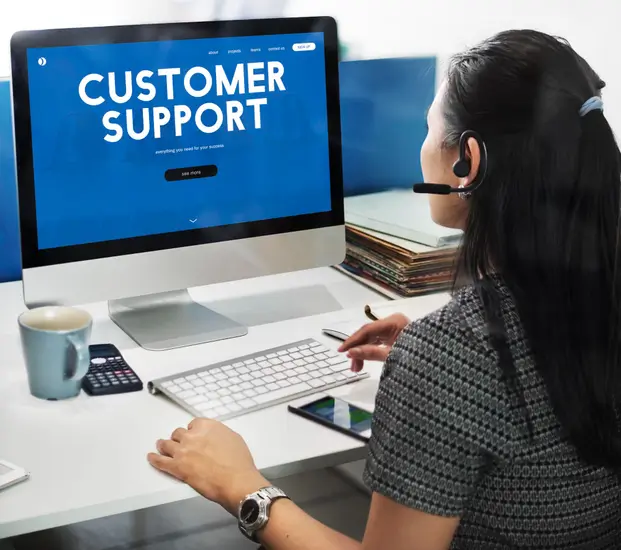 Customer Feedback on PandaDoc
PandaDoc looks to be widely used in businesses such as sales, retail, and communications. That makes sense given that they are designed for face-to-face communication with consumers and clients. The core audience appears to be from larger enterprises that are happy with the enterprise tier of services, as indicated by the 4.4 rating average given to them by Gartner. PandaDoc also has a G2 rating of 4.7 out of 5 stars, with the most common mentions being "Contract Process," "Time Savings," and "Easy." But
Some users appear to be having issues with the smartphone app, with complaints regarding its slowness. Others said PandaDoc's online billing features were too limited. Some users expressed a desire for the organization to provide additional sales training.
DocuSign Customer Feedback
DocuSign seems to have a positive user image, with an average score of 4.5 from Gartner and G2. Recent evaluations continue to praise the software's ease of use and performance. Popular features include a simple UI and a secure document history. DocuSign is frequently mentioned as a "time saver," "customer service," and "business operations" on G2.
The major disadvantage appears to be user uncertainty about how to utilize the product properly. After starting a document workflow, one user encountered difficulties changing signers. Given the dynamic nature of their transactions processed, sales professionals should keep this in mind.
Verdict: It's a Tie!
5. Support and training options
PandaDoc and DocuSign both provide tools to assist clients to get the most out of their offerings and solve any problems that may arise. Both sites provide written and visual content to help customers teach themselves how to utilize e-signature technologies. PandaDoc's on-demand learning choices are fairly restricted, especially when compared to DocuSign University, which offers hundreds of sessions in many languages.
If you believe your team will want a lot of assistance learning how to use the product, DocuSign may be a better option. If you do run into difficulties, both PandaDoc and DocuSign include a resource center, user forums, and mail and live chat customer assistance. One significant distinction between the two is that PandaDoc does not provide telephonic assistance. If this is crucial to you and your firm, you should go with DocuSign, which does provide phone assistance.
Verdict: DocuSign Wins!
6. User-friendliness of PandaDoc vs. DocuSign
PandaDoc and DocuSign were both created with a slightly distinct set of end customers in mind. PandaDoc was created with sales teams in mind and offers features that would appeal to them, such as flexible pricing tables and interfaces with common CRM programmes. This is why PandaDoc's solution is extremely user-friendly as it does not require any software expertise.
However, because PandaDoc is geared at sales, it may not be the best answer for a non-sales team or a business wishing to use a single signature tool across multiple departments. DocuSign provides a more adaptable collection of tools and services that can be used by teams other than sales, PandaDoc may be exactly what you're looking for if you need an easy, seamless sales-specific signature solution. However, if you require additional flexibility, DocuSign should be considered.
Verdict: PandaDoc Wins! While DocuSign does have effortlessly flexible solutions, PandaDoc is easier to use for amateurs.
The final verdict
PandaDoc, as we've already mentioned, is ideally suited to small firms and freelancers. It is affordable while maintaining a high standard of satisfaction and protecting the confidentiality and legal validity of all of your documents. PandaDoc is a fantastic alternative for small businesses that can get by with minimal templates and do not require integration with anything other than Dropbox, Google Drive, and other simple user applications.
DocuSign is a better alternative for larger firms that want to use more integrations, manage more templates, and enjoy swift document management. If your company is growing or you need to sign up a large number of consumers for a plan, DocuSign is definitely a better alternative. DocuSign also provides more CRM connectors, reporting, and analytics for businesses wishing to scale up.
This debate will never be resolved objectively because both tools have excellent functionality. These features can benefit many types of businesses, and only by putting them to the test will you be able to determine which ones work best for you. With so many alternatives, obtaining e-signatures and integrating signing software might be perplexing. However, the best thing to do is to experiment with various tools to see which one best meets your needs.
Awesome Sign: An Amazing Alternative
So, if you're looking to experiment with some fantastic e-signing tools like DocuSign and Pandadoc, add Awesome Sign to the top of your search! Awesome Sign is a great pandadoc alternative , allowing you to simply e-sign papers. Awesome Sign makes it simple to update, sign, and manage your documents from any device. Sign up for a free trial here to learn more!