People have utilized a variety of methods to accomplish transactions throughout history. It was customary practice in prehistoric days to depend on eyewitnesses' corroboration or stamps to keep documents sealed till they were delivered. Individuals employed markers or emblems to prove they had physically endorsed a document by the Medieval Era. Authorizing papers by writing out an individual's name become commonplace throughout time.
For those who had a mountain of paperwork to sign, the invention of a signature device, also known as an autopen, eased the process. Let's fast forward to the present day. Many firms have moved away from printed papers and toward digital counterparts, which are frequently kept in the cloud. Signatures have gotten more digitized as the paperwork has become more electronic.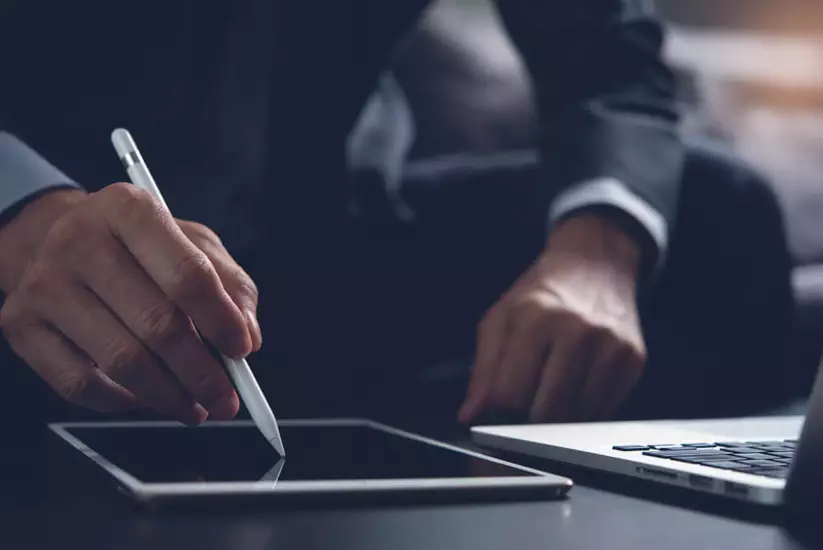 Several documents and contracts can now be signed electronically rather than on paper. Electronic signatures, often known as e-signatures, allow us to sign lawfully valid documents without having to print anything or pick up a pen. They are much handier than a typical signature in that they may be utilized to sign a contract from anywhere in the world.
This helps eliminate the need for the recipient's physical presence and gives the signatory far more access to signature processes. It's easy to understand how e-signatures are becoming an essential application for several organizations globally. If you're still not convinced of the effectiveness of an e-signature solution, research will prove its potential. According to a report by Forrester and Adobe:
Workers saved 1.5 hours per transaction on average by decreasing handwritten signature procedures. Enterprises save substantial time by digitising and automating previously laborious pen and paper signature operations.

On average, minimizing the usage of physical documentation yields a $6 per transaction potential savings. Organisations save money on transportation, paperwork, ink, scanners, and printers by converting to an electronic signature procedure.

Businesses save 2 hours per document by digitising registration processes. By using electronic tools to speed up onboarding and registration processes, businesses can save two hours on these typically error-prone operations.
These are just some of the several benefits e-signatures solutions offer us. Most of us are aware of what e-signatures are and what they entail in a document. But, let's delve into the definition of e-signature software and its legality worldwide.
What is an e-signature solution?
According to the European Union, an electronic signature is defined as the following:
"An electronic signature is an electronic indication of a person's intent to agree to the content of a document or a set of data to which the signature relates. Like its handwritten counterpart in the offline world, an electronic signature is a legal concept capturing the signatory's intent to be bound by the terms of the signed document."
In general, e-signatures are exactly as the name states are electronic signatures. They are either typed on a keyboard or written with the help of a stylus on a digital document. Most e-signatures are legally binding in different parts of the world as long as they follow government regulations.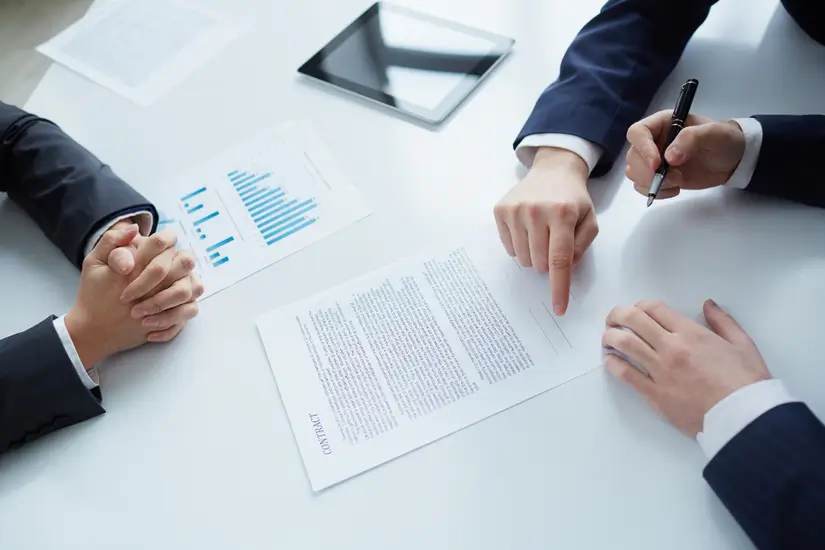 Electronic signatures are accepted as legally binding proof in both the United States and the European Union. With the help of the ESIGN Act, the United States has granted e-signatures the same level of validity as a handwritten signature.
The US currently accepts e-signatures and view them as legally binding as long as they follow these standards:
The intent to sign- this means that the person signing the document intends to verify their identity.

Clear and absolute consent from the signatory. This refers to the readiness of the person willing to sign the document for business or personal purposes.

Proof of a record of the e-signature within a system that retains the integrity and credibility of the signature.
Currently, the EU accepts "digital signatures" as part of their Electronic Identification and Trust Services Regulation (eIDAS). They define three security levels for electronic signatures: simple (SES), advanced (AES), and qualified (QES).
The EU, on the other hand, only acknowledges the QES, or qualified electronic signature, as legally enforceable. As they are created after receiving certification from authorities, qualified electronic signatures are legally binding. They employ a cryptographic key as verification of the QESCD for this (Qualified Electronic Signature Creation Device).
Several other nations have taken similar steps towards legalizing e-signature solutions. One reason for this is that most organizations use a variety of e-signature software in current times to speed up their documentation processes. With the rise of digitization and the pandemic, electronic signatures have become a critical asset for enterprises all over the world.
An e-signature solution is a must for any organization or even freelance workers. This brings us to the question, what are some of the best e-signature alternatives for DocuSign?
9 Best DocuSign Alternatives
1. Awesome Sign : Best Free DocuSign Alternative for Small Businesses & Teams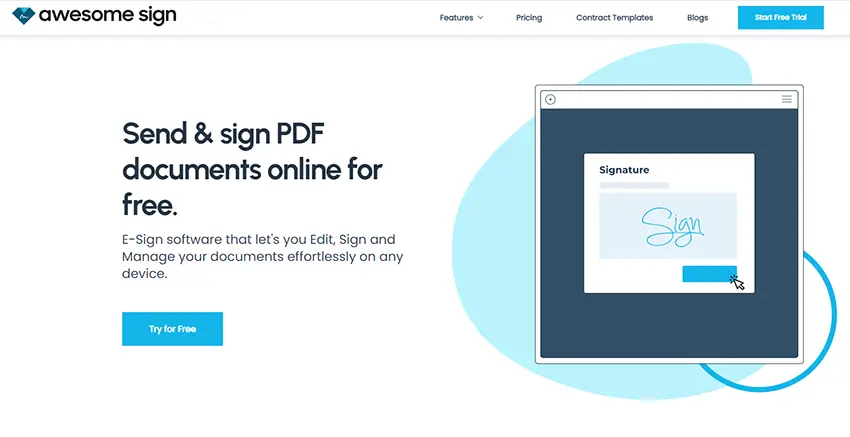 Awesome sign is a powerful cloud-based electronic signature tool designed for businesses and teams to manage their documents and signature workflows. It helps businesses solve their core issue of managing and tracking multiple signature requests from their prospects, customers, employees, and vendors.
Awesome sign is part of the AwesomeSuite's business suite application. AwesomeSuite works towards empowering businesses to digitize their process with ease with a core focus on increasing productivity, and delivering an awesome customer experience. With the help of Awesome Sign, businesses can skip the hassle of manual signatures and go paperless! Enabling them to not only reduce their carbon footprint but also reduce office costs.
Awesome Sign Pricing Plans
Awesome Sign offers 3 different pricing plans which are called Free, Essential and Professional.
With a free plan, businesses can e-sign up to 3 documents for free! These are some of the main features that come for free:
3 free documents per person E-signature and delivery workflows The basic fields

In the essential plan, Starting at 4.99/, users and businesses can sign, "SEND" and "RECEIVE" multiple documents. These are some of the features that come under this plan: The basic fields Integrations to Google Drive, Dropbox, One Drive, and more Cloud storage and organization of documents Bulk sending of documents Multiple documents per user

In the professional plan starting at 14.99 /users can sign and send documents along with the following features: Unlimited document sending for users Users can customize their signature portal to their own brand name. They also get access to multiple template libraries that lets them sign pre-built templates with ease. Integrations to Google Drive, Dropbox, One Drive, and more Cloud storage and organization of documents Bulk sending of documents

These are the major features of Awesome Sign's Suite. DocuSign offers more complex features but can come with a steep learning curve. In contrast, Awesome Sign comes with the necessary integrations and tools for anyone who wants to sign a doc on the go!
Advantages of Awesome Sign
Awesome sign connects with all cloud storage applications for users to quickly access their files and documents for signature.
The core focus is on productivity Awesome sign makes the document editing and signing experience seamless for the end-users.
All the signatures are legally binding and timestamped Awesome Sign allows all users the opportunity to track the document audit trail.
For people who are not extremely technical, the ease of usage is great. Most sign-off procedures have been improved, digitized, and optimized.
With their lower price levels and simple features, they offer excellent value for money.
2. Adobe Sign : Best DocuSign Alternative for Businesses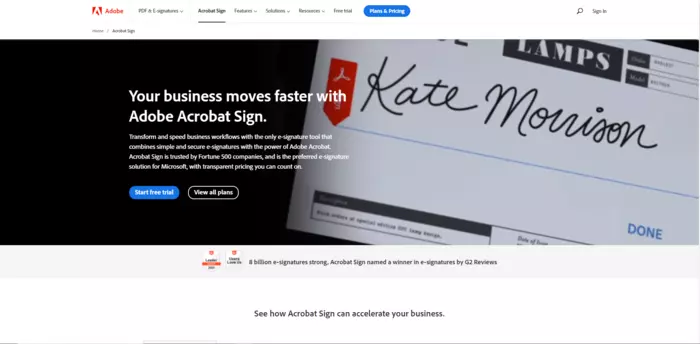 Adobe Sign helps users to collect and store documents and forms using trusted, approved electronic signatures. Using the web and mobile devices, you can sign papers, seek signatures, and track procedures from anywhere. Internal applications that you utilize on a daily basis are also included.
Customers can sign on their mobile and desktop devices using e-signatures or compatible cloud signatures without downloading anything. Users can design templates for repetitive material and workflows to guarantee that everyone on their team generates consistent results. Beyond signatures, Adobe Sign helps clients achieve paperless operations like form production, collaboration, and a variety of document approval types. Adobe apps opened more than 300 billion PDFs in the last year.
Adobe's pricing plans
Acrobat DC Standard Individual user plans begin at $12.99 per month. It calls for a yearly commitment. It's solely for Windows, and it's an annual subscription that's paid monthly. For easy document management, this tier includes E-signatures and basic PDF utilities.
Notable features include:
Sign and collect as many signatures as you would like.
Keep track of agreements and send out reminders.
PDFs can be exported, converted, and edited.
Compatible with Windows
Adobe Acrobat Pro DC Individual user plans begin at $14.99 per month. To review, amend, and prepare your documents, this tier includes E-signature and more advanced PDF capabilities. Popular features include:
Sign and collect as many autographs as you want.
Keep track of agreements and send out reminders.
PDFs can be exported, converted, and edited.
Compatible with both Windows and Mac.
Advanced PDF comparison tools, redaction tools, customizable and editable PDF creation tools, and more.
User plans for the Acrobat Standard DC Team plan start at $14.99 per month. For easy document management, this tier includes E-signatures and basic PDF utilities.
Sign and collect as many documents as you want.
Keep track of agreements and send out reminders.
PDFs can be exported, converted, and edited.
Windows only
Admin Console access
E-signatures and more powerful PDF tools to easily review, edit, and prepare your documents. Popular features are:
Sign and collect unlimited signatures
Track and send reminders for agreements
Export, convert and edit PDFs
Works with Windows and Mac
Admin Console access
Advanced tools to quickly compare PDFs, redact information, create searchable and editable PDFs, and more
They have customizable pricing plans beyond these tiers that offer several separate features and capabilities. The following are some of the Adobe Sign specific features:
User Licenses Can Be Assigned and Removed
Form Field Detection that is Automated
Document Workflow Triggers with Customizable Time Stamps
EU-approved time stamps
Sending Self-Serve Forms from a Mobile Device
Receiver Fields with Different Colors
Adobe Sign is another app that's ideal for enterprise-level organizations with the need for custom company documentation. Adobe offers some of the most diverse and weighty design customizations alongside a robust e-signature solution. But for someone just interested in signing a document, these features may seem unnecessary. But before we get to the conclusion, let's look at its pros and cons:
PROS
The signatures are unbreakable and legally binding, and the software allows users to go through the entire procedure with remarkable efficiency.
Aside from just that, the cloud-based system allows you to sign papers from everywhere and transfer them to other parties while on the go.
Your documents can be tracked using a web browser or a mobile app.
Compared to DocuSign, Adobe Sign provides additional design customization possibilities that are available at a lower price even in the single-user plan.
Adobe also offers downloadable templates for headings, footers, and logos making it easier to use on the go.
CONS
The disadvantages are primarily on the usability side. Users have commented that the procedure of distributing papers could be simpler and that when they send out documents, they found themselves entering a great deal of information.
Users have also mentioned having difficulty adding forms and data fields; it is not as simple as it can be.
Apart from these minor drawbacks, the software is slightly expensive. Adobe will charge you $13 per month if you are an individual user.
There are alternative options on the market that offer similar features and functionality at a lower price point.

Adobe Sign, much like DocuSign is better for medium and large-scale businesses that care about branding and personalization. But Adobe Acrobat unlike DocuSign offers far more comprehensive design features making it a compelling alternative to DocuSign's product.
For detailed comparrison check out Adobe Sign vs Docusign
3. Dropbox Sign ( Formely HelloSign) : Best DocuSign Alternative with Document Management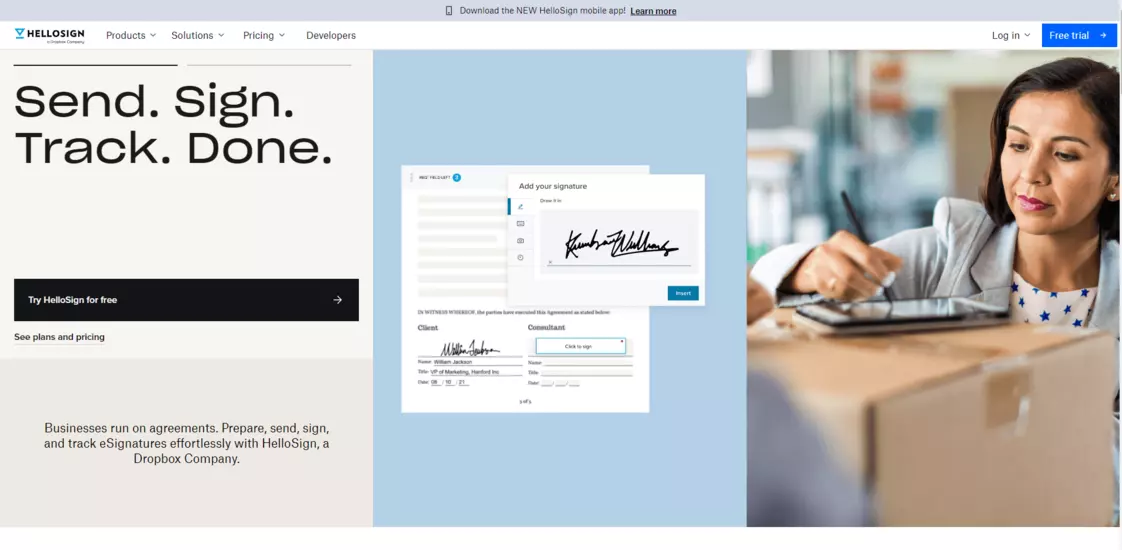 Dropbox Sign is an electronic signature and digital transaction management (DTM) application that includes document signing, signature tracking, and regulatory compliance. In the most expensive tier above the free version, Dropbox Sign has a big advantage in that it permits nearly unlimited signatures. The Dropbox Sign products are organised into three tiers, each with its own set of distinguishing features.
With automatic mail notifications, in-person signature captures, and more, Dropbox Sign is designed to simplify your business and make DTM easier, whether you use the online app or the smartphone app. Dropbox Sign is now available in 22 languages, making it even more accessible to document creators and recipients all across the world. It's a great choice for freelancers because it offers a free version that lets you use Dropbox Sign's basic features. Dropbox Sign is a great alternative to DocuSign for those looking to create simple, sleek signature processes.
Dropbox Sign's pricing plans
Their Single User Essentials Plan starts at $15 per month and costs $180 per year. The features of their entry-level plan are as follows:
You have an unlimited number of signature requests each month.
There are five different template possibilities.
Reminders and Notifications for Mobile Browsers
Information on the Signatories
Data authentication
Various Languages
Templates with links
The Individual Users DropBox and eSign Plan costs $24.99 a month and includes the following features. Features from their prior essentials package are also included in this list:
Dropbox Professional's Features
There are three terabytes of encrypted file storage available.
Send files up to 100GB in size.
Offline folders for mobile devices
Documents with watermarks
Priority chat support
Within 180 days, files can be recovered.

Their Standard Plan starts at $25 per month per user and costs $600 per year. At the most basic level, they provide the following functions for 2-4 users:
You have an unlimited number of signature requests each month.
15 Templates to Choose From
Notifications and reminders
Information about the signer
a mobile app and audit trail
Data Validation in a Variety of Languages
Templates with links
Team-based features for branding bulk documentation
Integrations with SharePoint and Salesforce
There is no defined entry-level price point for Dropbox Sign's Premium plans. This price tier is for individuals that require enterprise-level e-signature software. Apart from that, HelloFax, HelloWorks, and Dropbox Sign API are some of Dropbox Sign's unique features. From the beginning, the company has been committed to enabling paperless offices.
PROS
Dropbox Sign integrates with popular apps such as Salesforce and Zapier.
For customised mailings, it's simple to save a template and add in one-off documents. After you've set up the documents, all you have to do now is enter the contact information and you're ready to go.
Dropbox Sign is a better choice for freelancers and small enterprises who only need to sign documents.
Dropbox Sign offers white labelling services, which allow businesses to remove the Dropbox Sign logo from their papers. Dropbox Sign is one of the few options in the industry that allows businesses to separate themselves from their electronic signature service provider.
CONS
Dropbox Sign does not allow you to alter the text of uploaded documents, which can make it difficult to use when the document has errors.
Dropbox Sign does not allow you to collect payments through your documents, which is an important function in most e-signature solutions because many contracts entail payments.
In terms of connections and app connectors, Dropbox Sign is one of the more limited tools available. They don't have many features that are useful for huge corporations or organisations.
It's pricey, with a single-user package starting at $15. Dropbox Sign is a great option for freelancers and small businesses who can afford the higher price points. The cost feels a little overwhelming but their total customization capabilities make them a great choice for companies that concentrate on their brand image and PR.
For detailed comparrison check out Hellosign vs Docusign
4. SignNow : Best DocuSign Alternative for Workflows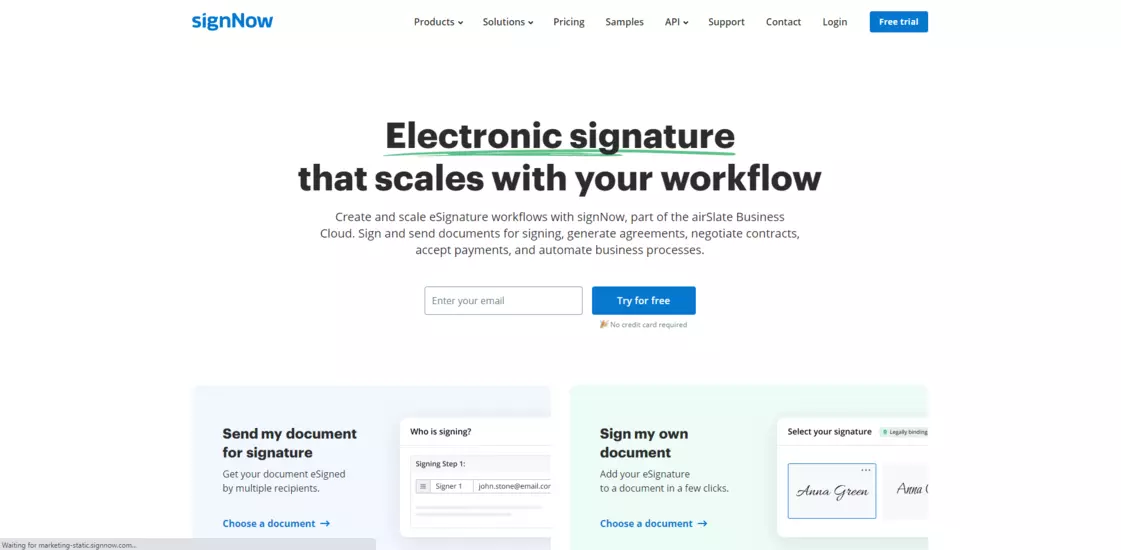 SignNow, which is part of the airSlate Business Cloud, seeks to make electronic signatures more accessible and easier to use on any device. SignNow has grown quickly as a result of its focus on cross-device usability, automation, and a simple user experience. SignNow was designed with any market in mind, so it works well when adopted across any industry. SignNow has been at the forefront of electronic signature development since its founding in 2011.
It works with the most popular internet services, including pretty much the entire Google suite of applications. It also integrates with a variety of workflow and document management apps for Android and iOS devices. The company currently offers a variety of features, including a HIPAA-compliant electronic signature solution, complicated conditional fields, and the ability to create document templates. All of SignNow's features are included within a simple, easy-to-use design that has garnered hundreds of five-star customer reviews.
SignNow's pricing plans
The plans at SignNow are categorised into groups based on the number of users they support. A yearlong subscription to their Business plan starts at $8 per month. The following features are included in their business plan:
Up to ten users can be purchased online.
It is possible to send documents for signing.
The essential fields
App for smartphones and tablets
The number of templates available is limitless.
Advanced threat defense
Their Business Premium pricing starts at $15 per month for the yearlong plan. The following features are included in their Business Premium plan:
The essential fields
App for smartphones and tablets
There are no limits to the number of templates you can use.
Advanced threat defense
Reminders and notifications can be set up.
Branding personalization
Send a large number of papers
Send papers for signature to several recipients at once using a CSV file.
Invitations to sign the document with a link
Their Enterprise options start at $30 per month on an annual basis. The following features are included in their Enterprise plan:
The fundamental fields
Advanced threat defense
Reminders and notifications can be set up
Branding and personalization
Send in bulk
Invitations to join the link's mailing list
Documents that have restrictions
Conditions in the fields
Payment Request Form
Signers' attachments
SignNow has some of the least expensive entry-level e-signature software available right now. It is one of the best DocuSign alternatives as it provides users with a far more cost-effective solution. Although they do not offer single-user accounts, their beginning package can accommodate up to 5 users, making it a better value for money than most e-signature solutions.
PROS
The simplicity of use is ideal for someone who isn't particularly technical. It has simplified, automated, and streamlined most sign-off procedures.
They provide a great value-offering with their lower-level price points and easy-to-use features.
SignNow's bulk sending feature is useful and ideal for anyone interested in sending mass documents for work.
SignNow signatures are also legally binding and meet the identification and verification requirements of the ESIGN Act. Every entity created on its platform is guaranteed to be lawful.
CONS
The interface for emailing documents might be improved; for example, the message to the sender could be accessible and changeable without the need to click to reveal it.
Customers of SignNow may have access to basic connectors for storing and exporting files, such as Dropbox, Google Drive, or OneDrive. However, many of the critical integrations necessitate the $500 per month airSlate Business Cloud membership.
A document's signatory is disallowed to add comments or other material. This can be particularly troublesome for contractors who are submitting documents that demand a response other than a signature.
If you have a narrowly defined problem, getting help from customer support can be difficult.
At the end of the day, SignNow offers a simple, user-friendly document signing software for all. It is not the best in the market, but it could be great if you're on a tight budget and just need a simple tool to sign your documents. It's ideal for freelancers and small businesses, medium-sized and enterprise-level organizations may not benefit as much from SignNow.
For detailed comparrison check out SignNow vs Docusign
5. PandaDoc : Best DocuSign Alternative for Quotes, Contracts, and Proposals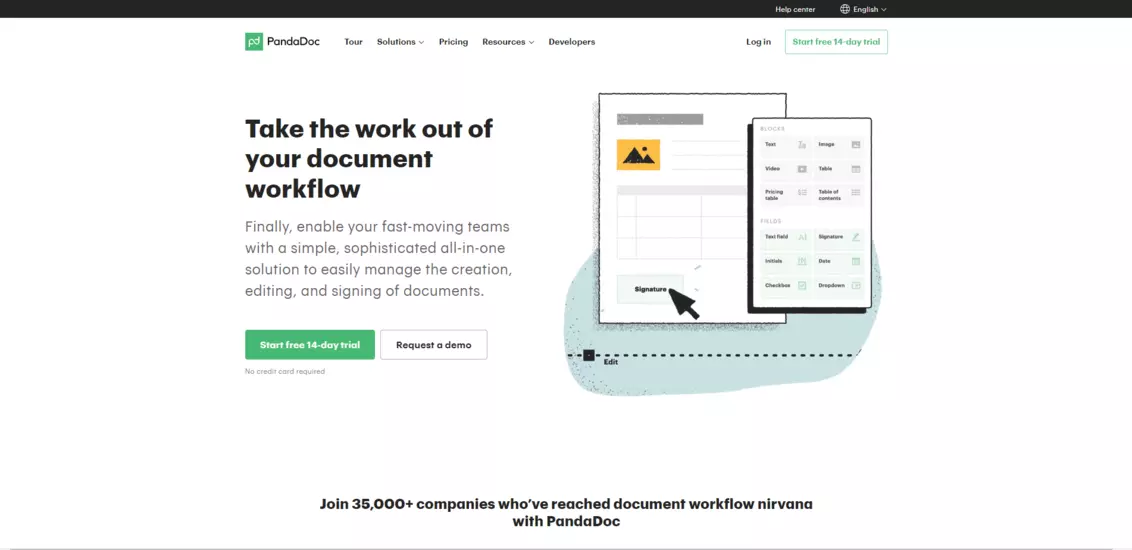 PandaDoc, which was created in 2011, helps over 30,000 growing businesses succeed by helping them organize their document workflow. PandaDoc is an all-in-one documentation workflow automated platform that enables fast-growing teams to develop, organize, and sign electronic files such as proposals, quotations, and contracts faster. PandaDoc is a cloud-based document management system that enables users to create reports, quotations, HR papers, contracts, and more.
PandaDoc provides you with all the tools you need to generate unique proposals or change one of their pre-made templates. All in one area, you can create proposals, store them in a cloud-based library, distribute them to clients, and keep track of your total progress. PandaDoc promises to speed the proposal process while streamlining sales and marketing duties, making it ideal for marketing firms and established enterprises. After customizing your PandaDoc profile to meet your needs, you may either submit a previous proposal or alter one of PandaDoc's templates.
PandaDoc's pricing plans
PandaDoc is one of the few e-signature solutions that offer a free package for users. DocuSign on the other hand only offers a free version temporarily, making PandaDoc a great DocuSign alternative in comparison if you're looking for a free tool. The Sandbox user plans, which are entirely free, provide the following features:
Unlimited test documents for a single user
Access to the Template Editor and the Content Library
API logs for webhooks and webhook logs
Monitoring page
Transactions
Mobile App
PandaDoc's Essentials package starts at $19.00 per month and includes functionality for 1 user. The following are the features included with the Essentials plan:
All of the benefits of the Free plan, plus:
The ability to use templates or the built-in editor to produce documents.
In addition, you can collect e-signatures and track documents in real-time.
Templates
Rich media document editor with drag-and-drop functionality
Tables of prices
Analyzing documents
Email and chat help are available 24 hours a day, 7 days a week
PandaDoc's Business package starts at $49.00 per month and includes capabilities for 1 user. The following are the features included with the Essentials plan:
All of the benefits of the Essentials plan, plus:
Integrate your CRM to your document processes and automate the process from production to eSignature.
Integrations with CRM and Zapier
Library of content
Individualized branding
Workflows for approval
Forms
Sending in bulk
Email and chat help are available 24 hours a day, 7 days a week
PandaDoc's Premium plans have no specified entry-level price point. This is the price tier for those that need enterprise-level e-signature software. User performance and content reporting, as well as an unlimited number of team workspaces, are included in this package. Let's look at the pros and cons now that we've learned a little more about the app's features.
PROS
The user interface is intuitive, and the dashboards were simple to explore right away. Beginners will find this to be one of the most user-friendly e-signature services.
A really handy free plan that includes a lot of the features that make PandaDoc so great. Like other e-signature applications, the free plan doesn't skimp on features.
Excellent drag-and-drop tools that make the report creation process go faster.
Dozens of ready-to-use templates allow you to quickly build proposals.
A Catalogue functionality that alleviates the worry of determining the best price for your proposal.
Excellent statistics and tracking capabilities that help you improve your process in the paid tiers.
CONS
Because each user requires a separate subscription, accounts cannot be shared among team members. This makes the paid tiers significantly more expensive, making them only accessible to individual users or small businesses with sufficient funding.
In terms of drafting pitches on the go, the mobile app is currently fairly limited. This might be tough for those who work in fast-paced environments such as sales or marketing.
Because you can't modify a document once it's been sent out, any errors will remain on the document.
Some documents can end up in spam folders, causing the documentation signing procedure to take longer.

PandaDoc is the perfect free plan e-signature solution for people worldwide. But beware, the paid versions come with weighty price points and no team plans.
For detailed comparrison check out Pandadoc vs Docusign
6. DotLoop : Best DocuSign Alternative for Real Estate Businesses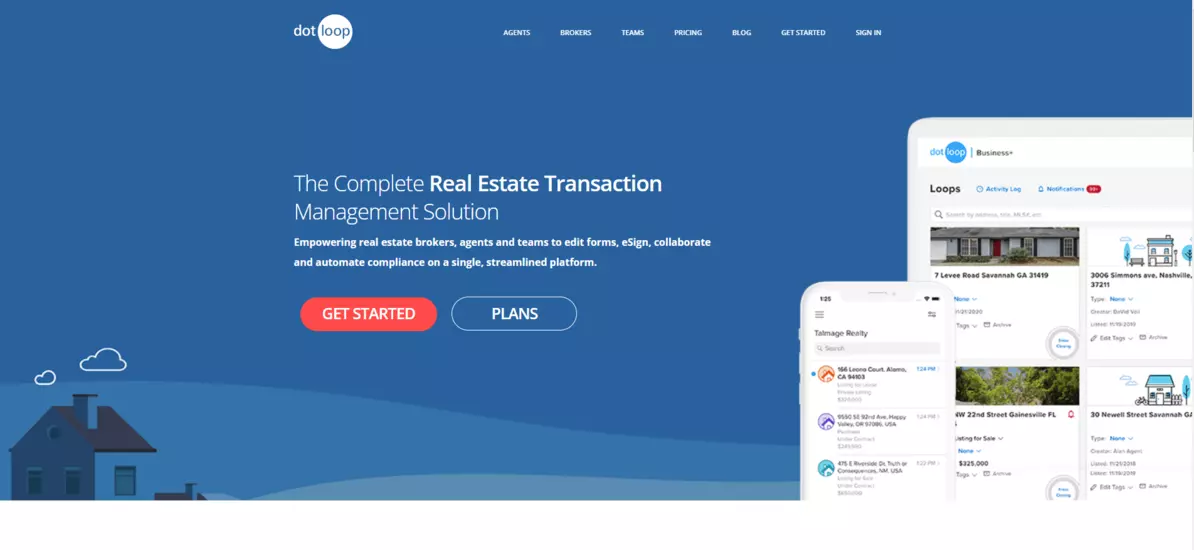 Real estate firms are always on the hunt for new technology that will help them advertise and sell houses faster and more profitably. Using an electronic signature solution improves the production, management, and transmission of legal documents related to a home or business purchase. Each sale may include a stack of papers and a lot of back-and-forth between buyers and sellers. DotLoop is a popular e-signature software solution for agents that includes both transactional management and broker capabilities. Dotloop offers all the real-estate-specific e-signature solutions you need. DocuSign's real-estate e-signature solutions fall short as they aren't entirely personalized the way Dotloop's offerings are.
For realtors, teams, and brokerage departments, it is one of the most comprehensive, accessible, and robust e-signature solutions available. DotLoop is a service built specifically for the real estate industry, intending to allow clients to organise their paperwork and record signatures. The configuration of the system is simple. It all starts with the creation of a listing by a real estate agent. The realtor then has access to a workstation where they can focus on finalising the deal.
Dotloop's pricing plans
The prices on DotLoop are defined by the different user roles. For Agents, the Dotloop premium price plan starts at $29 each month. The following are the key features available:
Unlimited payments and transactions
Document Editor with Lots of Features
e-Signatures that are safe and legal
Secured Backup with Audit Trail
SMS (Short Message Service)
Real-Time Notifications Signed in Person
Document Scanner in a Mobile App
Links to Simple Offers
PDFs can be split and rotated.
Integrations
Templates for Documents
Templates for Tasks
Clause Supervisor
Include PDF Attachments in Add-to-Team
The prices on DotLoop are determined by the different user roles, the second plan is for teams. Dotloop's pricing plan for teams starts at an undisclosed price. The following are the key features available:
These are extra features available on top of the individual plan:
Include PDF Attachments in Add-to-Team
When sharing a paper with others, including a PDF version.
VOIP Phone, Email, and Chat Online Faxing Reporting and Support Charts
Workflows for Compliance that are Automated
Full visibility into transactions with custom branding
Dedicated Customer Service Manager
The pricing plan for Dotloop for Brokers begins at an undisclosed price point. The following are the key features available
Feeds from the Multiple Listing Service and Associations
Secured Backup with Audit Trail
Real-Time Notifications Signed in Person and SMS
Include PDF Attachments in Clause Manager Add-to-Team
Charts & Reporting
Online Faxing, VOIP Phone, Email, and Chat Support
Workflows for Compliance that are Automated
Compliance in Multiple Offices
Personalized Branding with transparent payment processes.
A Dotloop expert is available to help you and your company get the most out of the platform.
Dotloop is the best e-signature software for those within the real-estate sector. It isn't a generic solution for those desiring simple e-signature solutions and is tailored to meet the demands of a real estate professional.
PROS
A diverse set of tools that enable you to work together in real time and cooperate effortlessly.
The platform's processed data is securely stored in cloud-hosted encrypted databases. Dotloop makes the process of real estate documentation go more smoothly.
All project documentation and highlights are displayed on a single page for everybody to see. Converge online with your agents, buyers, and other parties to discuss, share papers, and do other things to stay up to date and in sync.
By including papers in the loop, you can quicken the sharing and collaboration process. There's no need to email or upload large PDF files.
For both Brokers and Agents, e-signatures make discussions proceed more quickly and smoothly.
CONS
It is a real-estate-specific tool that won't be of use to most people who work outside that sector. Dotloop is not a good option for anyone, even within the real estate space if they're just looking for simple e-signature software and nothing more.
According to customer reviews, it's not as simple to sign for the signatory, who could be a buyer or seller, as it is with other e-signature options. Dotloop requires the signer to scroll and look for the appropriate spots to sign or fill out forms. As a result, unfilled documents are more likely. Dotloop also lacks a simple date feature that automatically fills in the date when the document is signed.
You must manually select a date, and if the date is tomorrow when you sign and you filled out the form today, you will have missed their termination deadline. Because it's difficult to persuade signers to fill out fields, getting them to fill out the date can feel nearly impossible.
7. Eversign : Best DocuSign Alternative for Streamlining Business Processes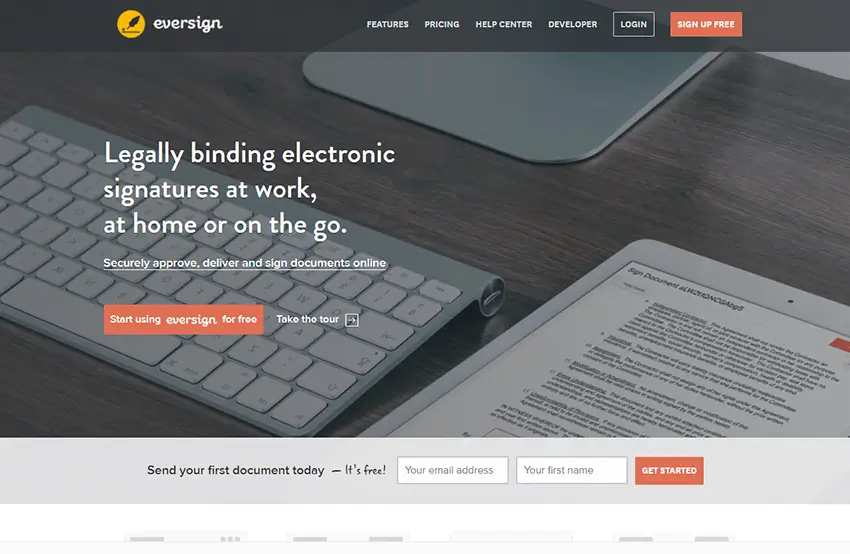 Eversign is based in Vienna and is owned by Stack Holdings, a modest but well-known SaaS tech firm with approximately 4 million active users across all platforms. The firm's product is a simplistic electronic signature software that only accomplishes one thing properly. SMBs account for roughly 90% of their clients. Eversign is an electronic signature solution that empowers you to sign and authorize electronic files from anywhere in the world, easing corporate operations with legally enforceable authentication.
The software is a great fit for all sorts and sizes of businesses, including startups, growing businesses, and large organisations aiming to move away from paper-based processes and toward electronic and paperless ways to finalise agreements, certify approvals, and more. When you streamline internal and customer signings and approvals using eversign, your speed skyrockets. Documents authenticated using eversign are protected with 256-bit SSL and processed by a secure infrastructure that is carefully monitored. It's easy to integrate with common business apps. Furthermore, you can enter your electronic signature on any file using any device without jeopardising security.
Eversign's pricing plans
Eversign's free package includes 1 user's capabilities. The features provided in the Free plan are as follows:
Each month, 5 documents are accessible
There are no templates available.
2 SMS Points
Documentation for 3 APIs

Eversign's Basic package includes 1 user's capabilities. The features offered in the basic plan are as follows. It makes use of the most basic eSignature functionalities, making it perfect for small groups. It costs $9.99 per month or $7.99 if paid annually. The features are as follows:

Unlimited access to documents
Templates (three)
Credits for 10 SMS
Documentation for 10 APIs
App Integrations
1 Team Member
Premium Service and Support
The Professional package from Eversign allows for up to 5 users. For up to 5 team members, get the complete array of eversign features. It costs $39.99 per month or $31.99 if paid annually. The characteristics are as follows:
Documents indefinitely
10 Examples of Templates
Credits for 20 SMS
There are 25 API Documents available.
Integrations with other apps
Premium Assistance
Signing in Person
The Professional package from Eversign allows for up to 15 users. For up to 15 team members, improve your company's workflow and efficiency. It costs $79.99 per month or $63.99 if paid annually. The
characteristics are as follows:

Unlimited documents
Templates (25+)
Credits for 40 SMS
API Documents (50)
App Integrations
In-Person Signing with Premium Support
Personalized Branding
Eversign offers several pricing tiers to meet your specific requirements and is very transparent about the features on each tier. Eversign is a commendable alternative to DocuSign for those needing a free plan for their e-signature software similar to PandaDoc. But before we get into the final conclusion let's take a look at its pros and cons.
PROS
There are sufficient features for a wide range of domains. Eversign is simplistic, but it still contains everything you need for easy document management.
Many customers, particularly SMBs and self-employed people, like it for giving a variety of features for a low price.
Documentation and storage are not an issue because eversign enables you to save your required documents to the platform. You can also set them to expire on a specific date, relocate them to a more protected private area, or permanently delete them from Eversign.
Eversign adheres to all identification and compliance standards set forth in the United States and Europe. That means that documents signed with the eversign software will be lawfully valid in a court of justice.
CONS
The in-person signature feature, as well as the templates feature, are exclusively available to high-tier customers. A lot of features are restricted, and you can only benefit from them if you upgrade to a better plan.
There are only a handful of native CRM connections and interfaces. Larger competitors may usually be integrated with a greater number of third-party apps to produce a more efficient documentation process.
It isn't the most intuitive or user-friendly e-signature solution on the market. There is a learning curve to fully comprehending how to utilise the software.
Eversign is a great option for those who are just looking to sign a couple of documents on the go. It isn't an ideal solution for large-scale enterprises or big businesses as the features come at a relatively high cost.
8. Signeasy : Best DocuSign Alternative for Small Businesses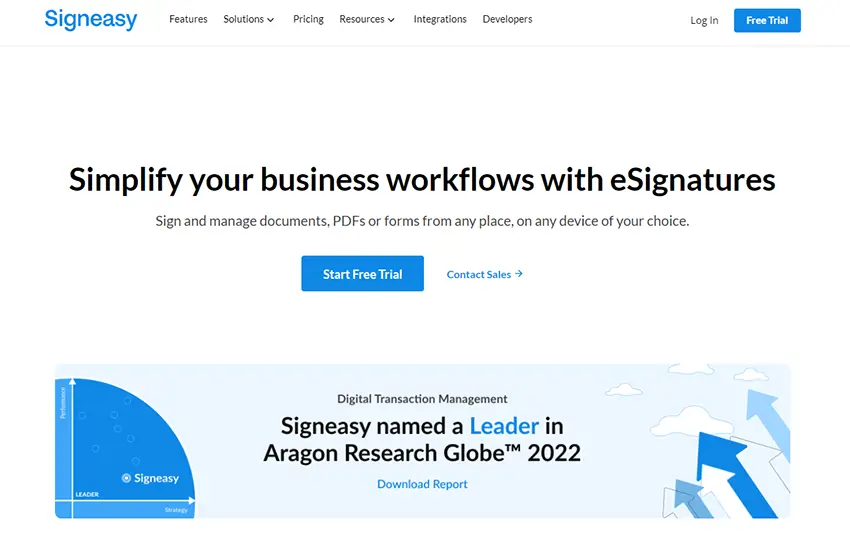 Signeasy was among the first-ever document e-signature app created for mobile when it launched on the App Store in 2010, bringing a new era of efficiency and enabling electronic signatures widespread across online and mobile. The organization was among the first to support new gadgets like the iPad and new platforms like Android when they were released. Signeasy has remained at the frontline of electronic signature development, surfing the tide of our rapidly changing SaaS-powered digital environment.
Signeasy's simple and reliable technology is trusted by over 130,000 customers from 150 nations to cut contractual turnaround times, close agreements faster, enhance customer experience, and decrease environmental impact. Many prominent efficiencies and productivity software, such as G Suite, Office 365, Dropbox, and Box, along with prominent email providers like Outlook and Gmail, are all supported by Signeasy. Signeasy's iOS and Android apps have been downloaded over 6 million times, and it frequently appears among the top 100 bestselling business apps on the App Store.
Signeasy pricing plans
The Basic plan from Signeasy includes 1 user's capabilities. It only uses the most basic e-signature features, thus it's suitable for small organisations. It costs $15 per month, or $8 per year if paid in advance. The following are the characteristics:
Email assistance is available.
Send documents to be signed (5 times per month)
Apps for iPhone, iPad, and Android are available.
The Team plan from Signeasy gives you access to up to 5 users. It takes advantage of a wide range of e-signature features, making it ideal for medium-sized organisations. It costs $25 per month, or $15 per year if paid in advance. The following are the characteristics:
Support via email and chat
Send documents for signing (at a rate of $100 per month)
Apps for iPhone, iPad, and Android are available.
With mobile apps, you may collect signatures in person.
5 different types of templates
Team members can use the templates.
QR codes and public links allow for contactless signatures.
User management dashboard for administrators
Integration with Google Workspace
The Business package from Signeasy begins with around three users' capabilities. It makes extensive use of practically all e-signature features, making it ideal for large-scale businesses. It costs $40 per month, or $25 per year if paid in advance. The following are the characteristics:
An account manager who is dedicated to you
Unlimted documents
Apps for iPhone, iPad, and Android are available.
With mobile apps, you may collect signatures in person.
Templates are limitless.
Team members can use the templates.
QR codes and public links allow for contactless signatures.
User management dashboard for administrators
Integration with Google Workspace, Microsoft Teams, and Outlook.
Integration with Salesforce costs $10 per user each month.
Send password-protected documents.
Individualized branding
Reports on team usage
Compliant with HIPAA
These are the major features and price plans offered by Signeasy's e-signature software. Signeasy as the name implies is one of the most user-friendly and intuitive e-signature software available on the market.
PROS
Your papers, revisions, and audits are all fully traceable. Ease of use, the ability to email and download documents, good customer service, and compatibility with PC and Mac.
SignEasy makes signing simple and painless. This allows businesses to optimise their workflows and speed up business activities such as releasing, purchasing, budgeting, marketing planning, and permits, among others.
Both sequential and simultaneous signing is supported by the software. This allows you to send documents to several persons for signatures. Users can choose to streamline the procedure by having receivers sign the documents in a specific order or all at once.
Other popular productivity products, such as Dropbox, Zoho CRM, and Google Drive, work well with SignEasy.
CONS
Customers have noticed flaws and irregularities in the programme, such as contracts not being transmitted or stored.
There is no notification if the document is seen after the initial view, and there is no record to look up manually.
Templates can't be modified once they've been created. You have to start over if you make an error.
There isn't a workflow for managing documents like there is in Docusign. At least in the version, enterprise-level capabilities were absent. For a casual user who may only use the product a few times each month, the monthly subscription is a tad pricey.
In order to send a bulk upload, you must send a link via email, rather than sending the document directly from the software.
At the end of the day, Signeasy is a good DocuSign alternative if all you want is an e-signature app. DocuSign offers much more comprehensive features at a similar price point but can be more complex in nature.
9. SignRequest : Simple & Easy DocuSign Alternative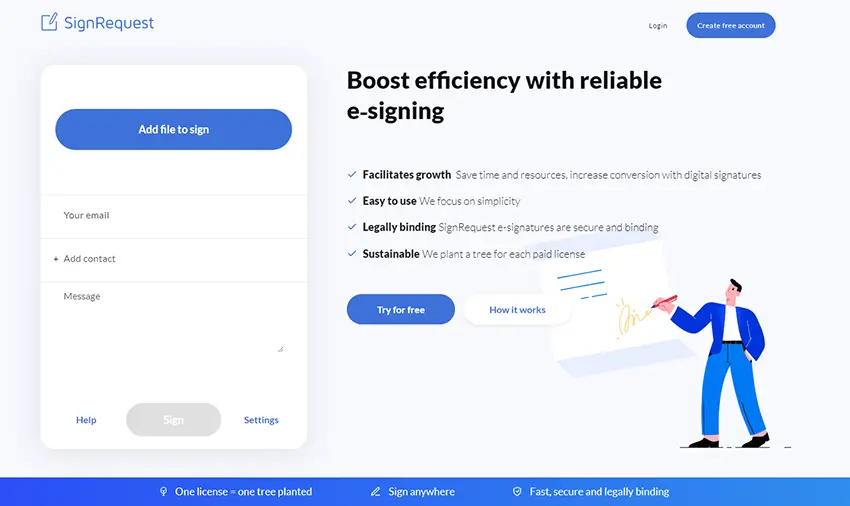 The world is increasingly transitioning to a paperless and digital society. SignRequest's digitized (electronic) signatures are a critical component of this transformation. SignRequest stands behind their low-cost solution because they feel that electronic signatures should no longer be a high-priced specialty item, but rather a commodity available to everyone. This is made possible by SignRequest.
While retaining the highest levels of protection, the process is simple, quick, and legally binding. It's now one of the top-rated e-signing solutions in the industry; it's simple to use and less expensive than most competitors. They've also lately announced a new partnership: SignRequest has decided to join Box. They claim to be working together to create the world's best content cloud for businesses, while also working to improve e-signatures and extend their use around the world.
SignRequest pricing plans
The SignRequest Professional package comes with roughly 1 user's capabilities. It takes advantage of almost every e-signature function, making it suitable for freelancers and small teams. It costs €9 per month which is roughly $10 and comes with a 14-day trial period. They have the following characteristics:
Documents are unlimted
Ensure a secure audit trail
5 templates for 1 team
17 languages with custom branding
Email assistance is available.
Signing link for the general public
Personalized landing pages
Decide on the signing order.
Attachments from the sender and the signer
Verification of text messages
Select an authorization method.
Notifications about the status of your documents
Send numerous documents in a single email
Send reminders
The SignRequest Business package is for a team. It makes great use of almost all e-signature features, making it perfect for small and medium-sized businesses. It costs €15 a month and comes with a 14-day trial period. They have the following characteristics:
Unlimited documents + all professional features
There are no limits to the number of teams that can be contained
Templates are limitless.
Options for sending in bulk
Premium Connectivity
Options that can be customised
SignRequest is one of the few European contenders to appear on this list making it ideal for those living in the region. Now that we know a bit about their pricing plans, let's get right into the pros and cons.
PROS
SignRequest is simple to set up and use, and the free version has a lot of features. It works as an excellent DocuSign alternative to DocuSign and other existing applications on the market, just like other free e-signature tools.
Overall, a fantastic resource for managing signature-required communication, with excellent value for money and excellent customer support.
The software is easy to operate. The system is up and running, and it's quite user-friendly.
SingRequest is well-known for providing excellent customer service and a cost-effective e-signature solution for businesses all around the world.
You just need to attach your PDF document, select where signatures are necessary, compose your email message, and send it to the person whose signature you require. The processes are highly streamlined and efficient.
CONS
A key drawback is the lack of the option to generate a direct link to an unsigned document (for example, to include in an email).
Many firms send papers to each user individually at times, and when they send bulk documents to individual users, managing and tracking the documents becomes extremely difficult.
It can be a nuisance to put many documents in one envelope to be signed.
The API is functional, but there are a few edge cases with specific documents that cause the API to crash. According to customer feedback, further work needs to be done to make the APIs more robust and error-proof.
It can be inconvenient to have to frequently upload documents and other files.
Overall SignRequest is an excellent e-signature solution that is a great DocuSign alternative for users worldwide.
In Conclusion
It can take a long time to sign paperwork online. Before sending your digital document to the receiver, you may need to open it, alter the structure, copy it, sign it, scan it back into your desktop, and restructure it again. This is where electronic signature apps, also known as eSignature apps, can help. In a matter of seconds, you may sign and send documents.
With so many amazing DocuSign options to choose from, the best way to discover which one is right for you is to give them a try. Many of the e-signature systems we've reviewed today provide a free trial or a free version, allowing you to quickly determine the best fit for your company. However, we believe that Awesome Sign is the best option. While we'll be the first to acknowledge that being objective in these situations is difficult, Awesome Sign is the only solution on this list that includes substantial features in all of their plans. Click here to experience a free trial with Awesome Sign!