Real estate agencies are constantly on the lookout for new technology that will allow them to list and sell homes more quickly and profitably. Adopting an electronic signature solution ensures enhanced methods of producing, managing, and transmitting legal papers associated with a home or corporate purchase. Each sale may entail a pile of papers and extensive back-and-forth among clients and sellers.
Optimizing this method may appear completely out of reach for realtors who are managing multiple sales at once. Fortunately, a plethora of services has emerged to help agents and brokerages prosper. Documenting every property's purchase and sale can feel especially exasperating when done by hand.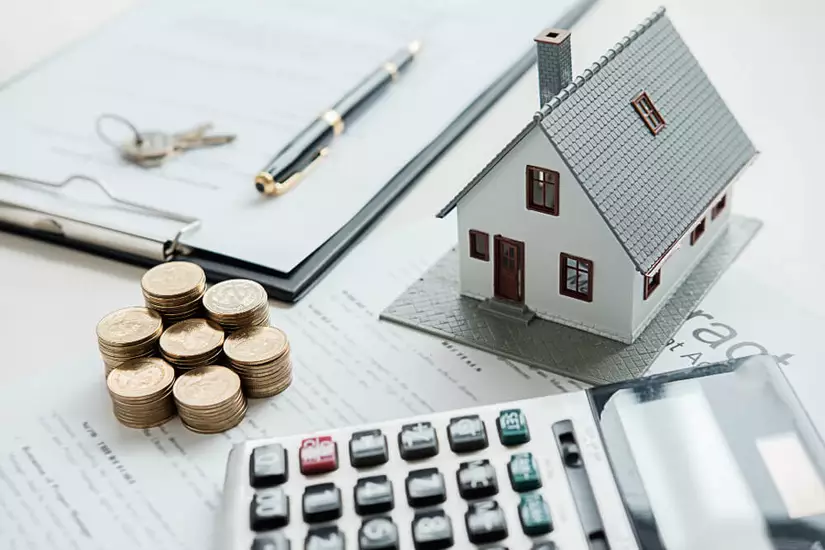 Due to the continual adaptation to virtual businesses e-signature verification solutions are in high demand. The international electronic signatures market was evaluated at $3.56 billion in 2020 and is expected to expand at a CAGR of 33.2 percent from 2021 to 2030, reaching $61.91 billion by 2030. And E-signature deployments typically take nine months for large corps, 5.5 months for mid-sized companies, and 2.3 months for small firms.
Due to the Covid-19 outbreak, electronic signature solutions became an ideal option to document all paperwork online. Realtors can significantly benefit from the use of e-signature software in current times. We will break down the pros and cons of real estate e-signature solutions DotLoop and DocuSign in this article.
We'll examine both platforms to answer a fundamental question: Which is the superior electronic signature solution for a realtor? You'll be able to examine the merits and cons of both platforms, as well as how they differentiate from one another, through these observations.
Let's get this ball rolling!
Dotloop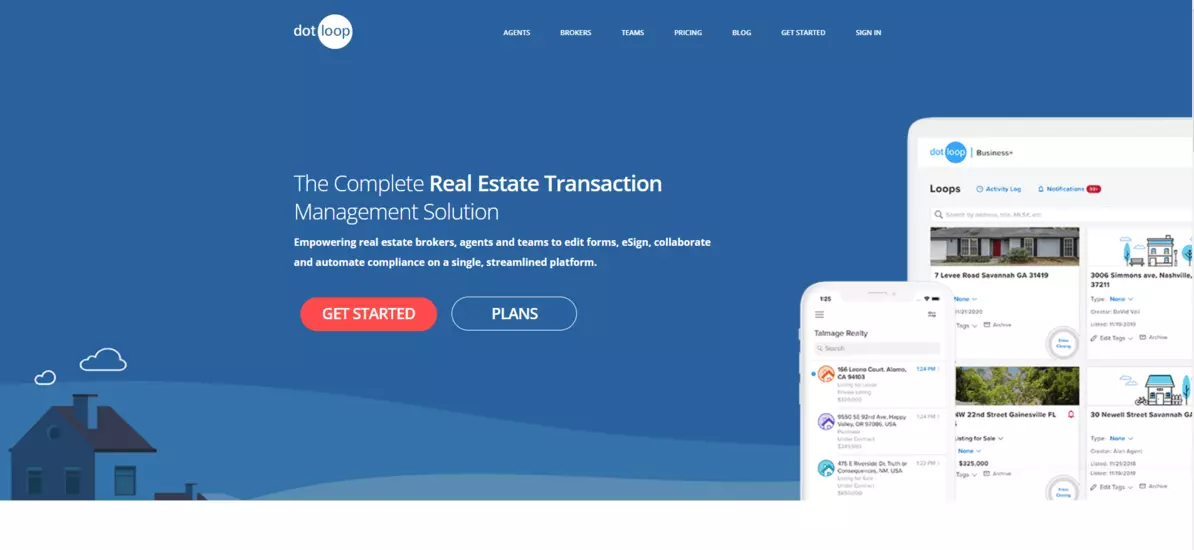 DotLoop is a popular e-signature software solution for agents that contains a full transactional management element as well as broker functionality. DotLoop was created in 2008 and is based in Cincinnati, Ohio. It is one of the most comprehensive, accessible, and robust e-signature solutions for realtors, teams, and brokerage departments.
DotLoop is a solution designed exclusively for the real estate sector, intending to enable clients to organize their papers and record signatures in them. The system's setup is straightforward.
The user interface is based on the principle of "closing the loop." It all begins with an agent establishing a listing. Following that, the realtor can access a workstation where they can concentrate on closing the deal.
DocuSign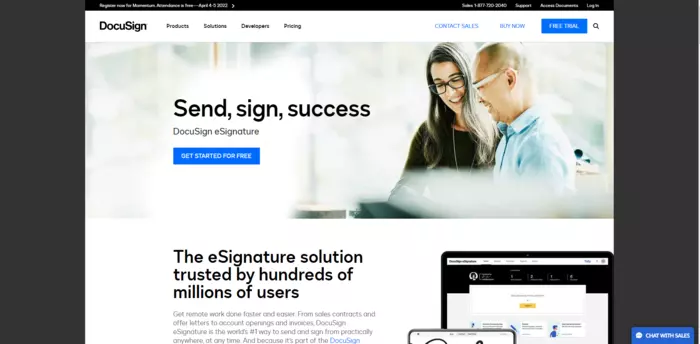 DocuSign was one of the first companies to build e-signature technology, and it now offers 1 of the most renowned e-signature software solutions worldwide. It's part of their larger cloud-based System of Agreement Platform. This allows businesses of all industries and fields to quickly revamp and update their documentation lifecycle.
They accomplish everything from contractual drafting to signing, adopting, and monitoring docs—from practically anywhere in the world and on essentially any device.
The most popular online signature platform is DocuSign. DocuSign's geolocation recording and real-time performance auditing enable us to create templates and workflows, acquire rich statistics, and gather safe and trustworthy online signatures. DocuSign is also easily accessible in over 43 languages throughout the globe.
Now that we have an idea of what both companies do, let's move on to the comparison!
1. User Interface and Usability
DocuSign makes it incredibly simple to shift towards an electronic signature solution. Because the site was created solely to assist customers in signing deals online, that is exactly what it provides as soon as you register. When you've uploaded your initial file, you may easily prepare it for online signing. Afterward, you can save or deliver it right away. After logging in for the first session, you can perform your first assignment in minutes from start to end. However, with several options and functions available, a novice user may become overwhelmed with the site at first.
DotLoop's UI can feel a lot more complex in comparison, due to its comprehensive capabilities. Because DotLoop is designed to provide a solution for selling rather than merely signing paperwork, it will probably take you more to it set up when compared to a simple signature platform.
This includes adjusting your preferences, creating a personalized account, and importing and organizing documents. Because the software is more sophisticated than DocuSign, it, therefore, has a significantly high learning curve.
Verdict- DocuSign wins! But mind you, this is solely because it is more user-friendly than Dotloop.
It's an ideal solution for you if you want a highly user-friendly e-signature platform. The reason for its win is that it isn't a highly specialized real estate e-signature solution when compared to DotLoop. If you want a comprehensive solution for your real estate selling needs DotLoop is your go-to!
2. The E-signature Process
While there are minor differences, the e-signature method for DotLoop and DocuSign is relatively similar. DocuSign integrates the signing procedure with the whole of the document creation workflow. The realtor uploads or generates a document and prepares it for electronic signing then emails it to gather electronic signatures.
DotLoop, on the other hand, employs a somewhat different method. Because DotLoop is built for listing management, agents must first establish a new listing. The platform then requests information from the agent, such as names and residences, to be used later when building a document. If the realtor is already producing a listing, this provides for a speedier signing procedure because they won't have to enter any information repeatedly.
Dotloop also auto-fills all essential fields inside a file when a user picks it for delivery. Agents will not have to individually type as much data and will be able to complete the signing procedure more quickly. The process is pretty similar from the buyer's point of view. Customers, vendors, and agents can peruse the contract and digitally sign it, as well as make a comment or propose modifications. This step is repeated until the file is fully approved and everything is in order. When it comes time to sign, DocuSign and Dotloop provide in-person signature options, allowing agents to carry their iPad or Android devices to a meeting and instantly sign.
Verdict- Dotloop Wins! DocuSign is still a powerful contender in this case, but it isn't the best due to the context that Dotloop creates for its consumers.
DocuSign is an excellent choice for individuals who do not want highly specialized real estate signing features. However, DotLoop has carved out a niche that allows for greater specialization. Dotloop crosses the finish line thanks to those extra steps.
3. Pricing
DotLoop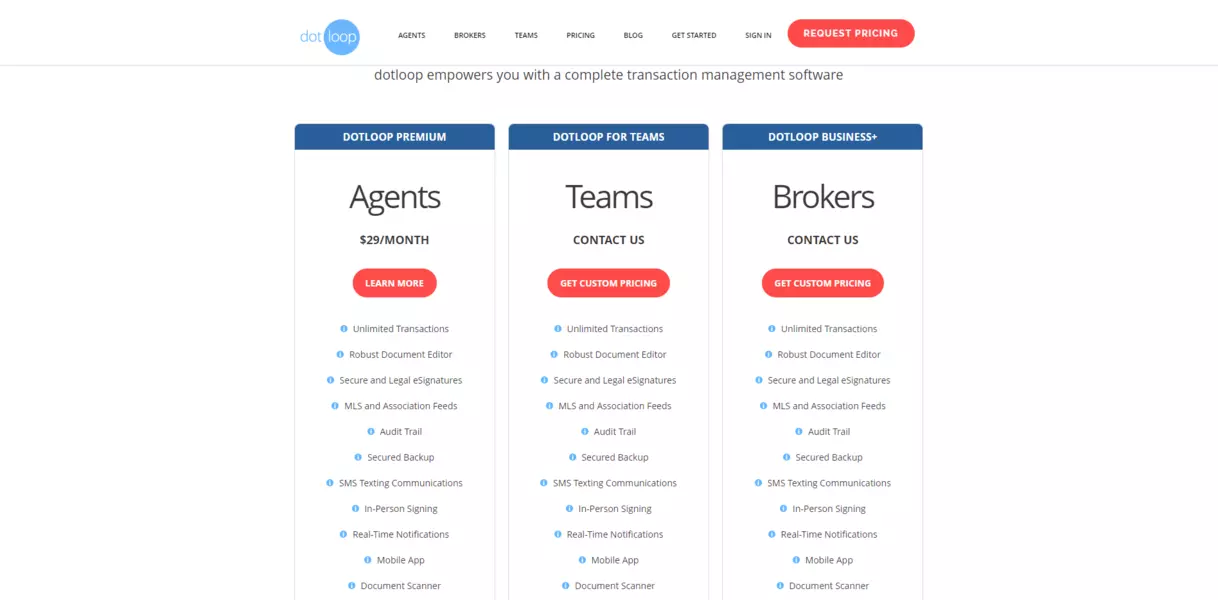 DotLoop's prices are determined based on different user roles. DotLoop Premium, which costs $29 each month, is available to single agents. This covers unlimited payments, backups, cellphone and email assistance 24 hours a day, bespoke document templates, and a couple of other features.
The software provides pricing depending on the demands of organizations or brokers. More complex solutions, such as bespoke branding, multiple workspace compliance, and a specialized success consultant, are available to customers. Nonetheless, because this is a fairly specialized platform, its solutions are expensive, with DotLoop's cost far exceeding the industrial norm.
DocuSign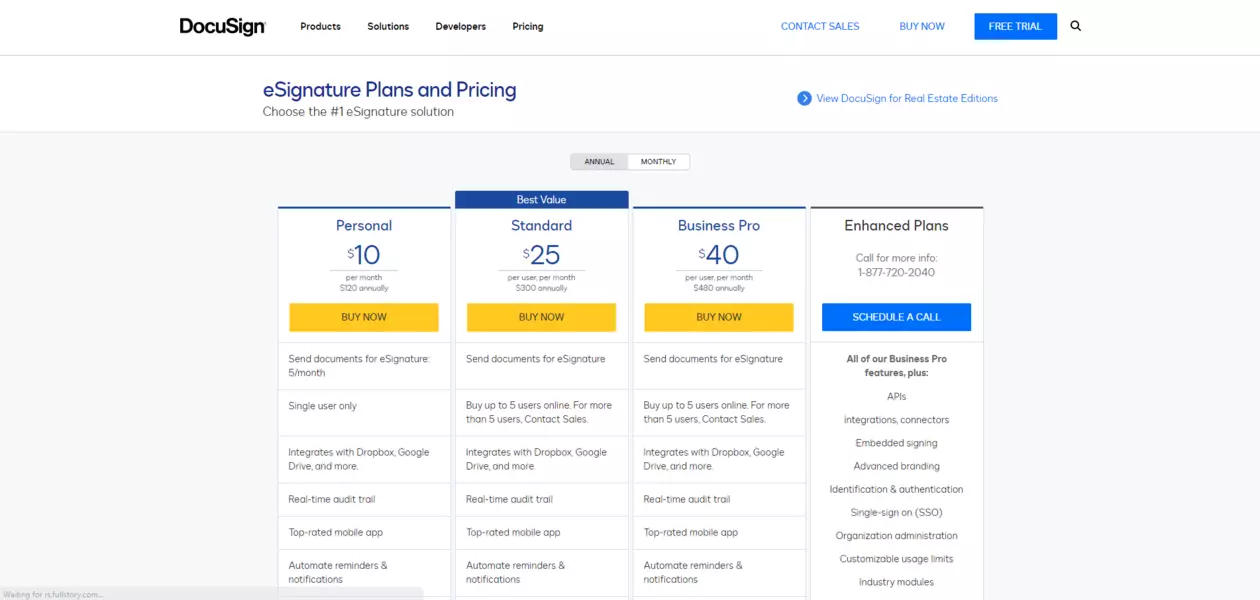 The real estate solution from DocuSign is less expensive.
The Real Estate Starter package starts at $10 / month and includes a single-user subscription, reusable templates, and robust integrations. It does, however, restrict agents to delivering only five files each month for digital signing. DocuSign for Realtors is available for users that require additional complex features.
This tier begins at $20 each month and incorporates comment sections, in-person signing choices, attachment capabilities, and configurable processes. Their Real Estate Plan starts at $25 per month with features similar to the Realtor's plan. Lastly, brokers with more advanced requirements can reach out to DocuSign for specific rates on a Real Estate PLUS Broker customized plan.
Their pricing plans are largely following industry norms, and it also enables greater flexibility and scalability, with prices ranging from $10 to $20. Because neither company provides a "forever-free" alternative, you must pay to use either solution at any rate.
Verdict: DocuSign is the winner! DocuSign is the less expensive option when it comes to the finer points of pricing.
4. Integrations and collaborations with other apps
If you're looking for a platform with a large variety of integrations, DocuSign is the place to be. DocuSign has a remarkable amount of integrations with practically every digital product that a business might need. Once you consider the systems' integration with Google and Evernote, this truly sticks out. With its API, you may combine even more applications.
More isn't necessarily better, though. At least, this is what DotLoop's method appears to imply. DotLoop concentrates on effectively integrating with the technologies used by real estate agencies rather than giving as many connectors as feasible. If you compare Dotloop vs DocuSign just on the range of integrations offered, DocuSign comes out on top. However, Dotloop provides the integrations that should be most significant to real estate firms.
Dotloop's integration with CRM systems like Zillow and financial tools like Quickbooks and BrokerSumo contributes to its position as a premier transactional management solution. DocuSign is a solid solution in this regard, although it's important to remember that the majority of DocuSign's integrations only use it as a signature service. Dotloop allows you to accomplish more than just e-signatures. You can monitor property, compile customer reviews, make sales, and do a variety of other things.
Verdict- It's a Tie! DocuSign has an extensive number of integrations in its arsenal, but more isn't always superior. Dotloop excels in the areas that matter most to brokers and agents.
4. Customer Ratings and Reviews
DocuSign and DotLoop are both prominent solutions, with numerous beneficial user evaluations from a wide range of customers across the world. Dotloop's product is frequently mentioned in conjunction with the words "Contracts," "Estate Agents," "Estate Transactions," and others. DocuSign, on the other hand, has "Time Saver," "Ease," and "Digital Signatures" on G2.
DotLoop, based on over 152 user ratings, has a 4.2-star average rating in G2. Users prefer the site because of its sophisticated real estate functionalities, such as connections to other experts they work with. They especially like the efficient and precise user interface, as well as the opportunity to produce and manage all of their virtual papers.
The majority of the unfavorable user evaluations focus on how time-consuming the procedure might be despite oversimplifying other operations.
DocuSign for Real Estate, on the flip side, is highly ranked on G2, with a score of 4.6 stars. Customers like how simple it is to utilize when they grasp the feel of it. They compliment the ease with which papers may be found and retrieved, as well as the premium customer support experience.
Users frequently express dissatisfaction with the regular customer service's reliability and timeliness. DocuSign has a minor advantage over DotLoop in terms of customer reviews, both in quantity and value, albeit by a little margin.
Verdict- DocuSign Wins!
5. Data Protection and Security Resources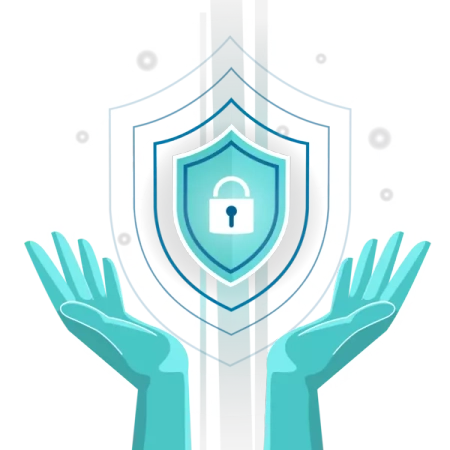 DotLoop's security is on par with what users could anticipate from most e-signature solutions. DotLoop members possess any data they enter onto the system, and the company vows to never reuse or disclose that data for any reason. DotLoop tells clients that they have put in place physical, digital, and organizational systems to help protect and secure the data we gather online, despite the fact that it doesn't say anything about the security protocols it employs.
That does not entirely resolve our query, however, we do know that no DotLoop data breaches have been disclosed, thus customers have no cause to doubt the platform's security and protection. DocuSign, on the other hand, elevates security to a whole new level. DocuSign has ISO 27001 and SSAE 16 accreditations and is operated by the most reliable certification requirements and cryptographic technology readily accessible.
DocuSign stores all data using the greatest levels of encryption, and the system is the only Digital Transaction Management (DTM) provider that complies with the ESIGN Act.
DocuSign provides numerous types of signer authentication, improved intent verification, tamper-resistant seals to preserve your papers, and private and uninterrupted access to all of your DocuSign files. If security is your top priority, DocuSign provides the highest level of protection available in any e-signature platform.
DocuSign has a webpage with a variety of whitepapers for various topics. Product security, a security brief, and security and legal processes are among the whitepapers available. Dotloop, too, has a webpage with a link to its security and privacy policies. However, DotLoop's resources aren't as extensive or broad as DocuSigns'.
Victor- DocuSign Wins!
The Final Verdict
DotLoop is ideal for Real Estate agents who are looking for more
Dotloop truly thrives in this area. DocuSign is a solid e-signature solution that gets things done — but it's difficult to match the functionality that Dotloop delivers to businesses throughout the real estate market. We've previously mentioned it, but Dotloop enables an atmosphere in which the agent can handle every facet of the real estate procedure.
This extends it past the signing procedure and into something resembling a task and transaction tracking tool. DocuSign is chosen by customers who require a virtual signature interface that enables them to capture electronic signatures more efficiently. Whereas e-signature capture is simply one step in the Dotloop system.
DocuSign for Realtors who just want to collect e-signatures
DocuSign may well be the mainstay for part-time agents and businesses that currently have their unique transactional workflow when it relates to getting forms filled and sent. If implementing a totally different platform or migrating your agents' workflow to a new software would be more effort than it's worth, DocuSign does offer a specialized solution with just the appropriate amount of features.
In that instance, DocuSign may be a better choice. To get everything to function effectively with Dotloop, you'll need to implement the complete platform. Electronic signatures are offered, but the workflow is over-arching. However, you may acquire the same type of solution that DocuSign offers through other companies as well.
Verdict- DocuSign wins! When it comes down to the tiniest details in terms of price DocuSign is the cheaper alternative.
An Awesome Alternative
Awesome Sign is a great docusign alternative, for new users in the Real Estate realm who are looking for an easy-breezy e-signature solution! As we've previously mentioned, to get everything working properly with Dotloop, you must install the entire software. Although electronic signatures are available, they are only a single aspect within the framework of DotLoop's solution. DocuSign is a great contender, but it can be complex for beginners looking for an e-signature solution on the go.
So, if you're on the lookout to try an awesome e-signing tool, check out Awesome Sign! Awesome Sign is one such solution that allows you to easily e-sign your documents. Awesome Sign allows you to easily update, sign, and manage your docs from any device. Click here to sign up for a free trial and discover amazing possibilities for signing all of your future paperwork.